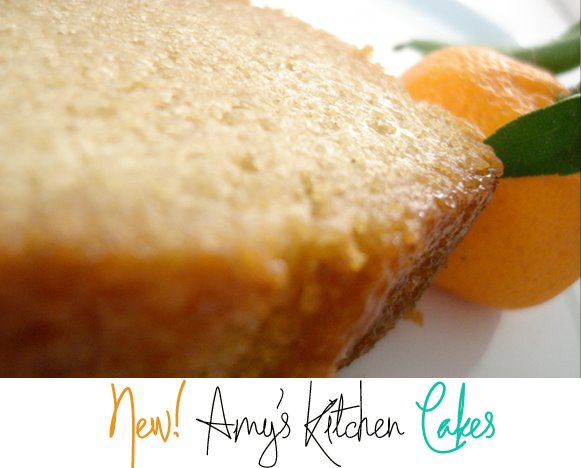 …I promised a few "cake" reviews in honor of my birthday weekend. So soak it up while it lasts folks! Come Monday I'll be back to blogging frosty spirulina smoothies and warm tempeh-maple wraps. …both delicious in their own right.

Amy's Kitchen Cakes – I've discovered a new dessert cake that's moist, fluffy and authentic. It's healthy. It's vegan. And it comes in two bold natural flavors- chocolate or orange. And it's from one of my favorite brands, Amy's Kitchen.
I was browsing the Amy's kitchen website, as I often do because it is a pretty awesome site. And I came across a few new Amy's products. Tamales, vegan. I tried the Tamales Verde and loved them. I blogged it of course. Also new….cakes!
For the longest time I have been hoping that Amy's would come out with a few more dessert options, besides their flaky-crusted, petite frozen apple pie. I'm not a huge fan of apple pie in general, but I have enjoyed Amy's version a few times-with a scoop of vanilla soy fro-yo. So when I spotted the new cakes in chocolate and orange flavors, I was thrilled to taste test them ASAP.
Click on for my review and more yummy cake photos…

Amy's Kitchen Cakes-Chocolate and Orange
Shelf-Appeal: It's in the freezer section. In a cute little box. The cake comes in a paper wrapper. Easy to store, labeled vegan and non-dairy. You won't believe it's frozen after your taste it though.
Label Check: Nice. The orange is 180 calories per slice. About 6 slices per cake. The chocolate is 170 calories. 2 grams protein per slice, and 6-8% RDA iron. The orange even has 8% RDA of Vitamin C. 6 grams of 'healthy' fat per slice. Sweetened with organic evaporated cane juice. And the orange flavor cake has organic orange juice as its third ingredient. Nice. Sodium is only 130 mg. Which is low considering that most people think frozen foods are always super high in sodium.
Taste test: Moist. Moist. Moist. Amy's cakes beats, hands-down, the texture and taste of every frozen cake I have ever tasted. The orange flavor has strong orange zest and vanilla tones. The chocolate is not too sweet at all and has a warm 'cocoa' and vanilla taste. One of my favorite things about cake is that crumbly stickiness. Amy's captures that 'eat the crumbs with a fork' texture. Fluffy, yet rich. Not too dense or firm. Delicious dessert or tea cake-you decide. Oh and there is no nasty after-dessert sugar rush. This cake just makes you feel good. It's the orange cake glow effect. Or the cozy chocolate cake afterglow….

Price: SRP $3.89 – $4.49/11oz Wow, six slices for this price is impressive. I frequently pay $3.50 for one slice of a yummy vegan cake at my corner organic grocery store here in NYC.
Last Word: This is frozen? I won't tell if you don't. This is all-natural, dessert cake decadence, without the work. Keep two in your freezer at all times. You never know who will drop by for a treat.
Check out the new cakes on Amy's website. And do your own taste test when you spot them in stores. Yum.