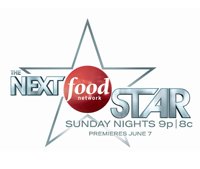 On last night's, week eight episode of The Next Food Network Star, the contestants were still at the Eden Roc in Miami! Lucky ducks. Here is my episode review. Find out why I disagree with one of the judges, and why I think $15 is insulting…
Foodie Elite. Wow. What an amazing cast of chefs to cook for. Morimoto, Sunny Anderson, Bobby Flay, The Neely's, Rick Bayless, Emeril, Tyler Florence and more. Talk about nerves! The contestants had $1K to shop with. So why oh why did Jeffrey only spend $317? Why oh why? Grab some $100 olive oil, some aged balsamic, aged cheese (since they all eat it on the show), a trio of the $30/lb mushrooms. Heck, I would've made a huge gourmet mushroom dish-maybe a few white truffles shaved on top. That $317 really bothered me. That's like taking Obama to McDonald's for your one time lunch. OK, so that was a little harsh. Bad example. But I just wish Jeffrey would've pulled off a better meal since he beat out Debbie. Oh, and if you did the math, the contestants had $50 to spend on each VIP guest. But Jeffrey spent only just over $15 on each guest-for three courses. Ahhh! Morimoto (and the other VIP's) deserve more than a $5 course. Insulting. OK, I've vented. Now onto my other issue…
Judges Words. On the show blog, judge Bob (who I love) keeps calling Jeffrey the zen-master. I don't see it. He sweats a lot. He gets that nervous look on his face and freaks me out-as a viewer. I think Bob is correct when he calls him vanilla, unsurprising. I don't really see the excitement in what he might do next. Awesome insight. I just don't think Jeffrey is that Zen. Melissa has greater moments of "ZEN" than Jeffrey. OK, can you tell yet who I indeed think and want to win!
Last word: GO MELISSA! Wow, what an awesome lady. Sweet and can be, but with a backbone that bites-in a good way. When she started talking about her mom who committed suicide I was shocked! How can someone be so bright and sunny and have gone through something like that? It just emphasizes the strength and determination in her character to succeed and to bring light into her world and those around her. Melissa will win. Yes she will.
Oh, and did you know that casting for the next show has begun?! Check it out on the foodnetwork.com. And yes, the July 31st NYC casting will be on my list this week. Trying to bring a vegan face to the Food Network! Or at least to the audition room…
Please sign my petition for more 'special diets' programming on Food Network. Such as raw, gluten free, vegetarian, vegan, organic, diabetic, low-fat, sugar-free, local, low sodium and more…. 79 signatures so far. Sign it here: http://www.thepetitionsite.com/1/food-network-special-diets-show
Watch it: Sunday nights on The Food Network.