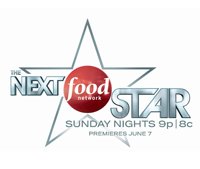 Did you watch last night's episode of The Next Food Network Star? Here are my week five contestant rankings. And my "who I think crashed and burned" reactions to the Rachel Ray show demo. And I have to ask, are the judges seeing things that we aren't???….
Who crashed and burned: Jamika and Jeffrey. Both indeed "hard to watch". Jeffrey? You are so 'chivalrous, right? Why not throw Jamika a bone? Jamika, throwing a pity party is not going to get you the prize. The kitchen is hot, but you have gotta sweat it out and rise above the flames.

Week Five Reactions:
* Melissa did great in the brussel sprouts kids challenge. She has a lot of cool tips that I'd love to hear. And I like her over-powering energy. It's easier to tone it down than tone it up.
* Debbie. She always makes amazing food that I really want to eat-when it's vegan. Those sweet potato chips-yum! And she did great on the RR show demo. But I agree with Bobby that she needs to stop explaining her food choices with "I am Asian so I add ginger…" etc. She's so cool and calm, lets just hope she doesn't turn 'chef nerdy' and stays 'chef fun'.
* On to Michael. Still a very likable guy with some awesome recipes. His big problem: confidence! Get some Michael, or you might be saying bye bye to your stardom.
* Jamika. She showed a lot of weakness this week. And quite frankly I thought she was gone. But judge Bob T loves her! Are they seeing something I'm not, because i still just don't get his "raw talent" comment. Sorry Jamika, I do totally empathize with your stressed-out level though when you feel like you aren't producing your best work.
* Jeffrey was my BIG annoyance this week. I started out liking him. Then I was bored. Then confused. Now annoyed. His personality comes across as fake and he didn't even try to throw the demo to Jamika. Yes, she could've stuck her neck out, but Jeffrey and his "chivalrous" persona should have thrown her a bone. Quite frankly, I think Jeffrey should've been in the bottom two with Jamika.
* Katie got voted off. It's always the healthy girls that get kicked around! This decision made me mad. I think Katie's 'big' personality when talking to the kids was right on. Her chicken looked horrible, but all in all still better than Jamika and Jeffrey in my book.
* And PS, I was thrilled to see tofu in the kids challenge. But not-so-pleased that it was grouped with squid and brussel sprouts as a 'kids hate these foods' food. C'mon. Give kids my Coconut Rice with Tofu Pillows and they will beg for more!
So here are this week's rankings, by moi:

My The Next Food Network Star rankings (Week Five):
*+/- indicates how they moved on my rankings
1. Melissa n/c
2. Debbie +1
3. Michael -1
4. Jamika +1
5. Jeffrey +1 (still last)


On Who Went Home: Voted Off: Katie This shocked me a bit. I think Katie deserved to go to Miami. But in the end there will only be one winner. And I still think it will either be Melissa or Debbie. I like Melissa, but Debbie seems to be the front runner.
Be sure to check back each week when I'll update my rankings and let you know who I think should be winning. Hopefully, the judges will get it right!
Oh, and did you know that casting for the next show has begun?! Check it out on the foodnetwork.com
Watch it: Sunday nights on The Food Network.