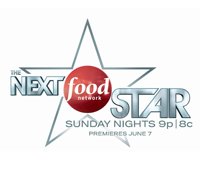 Did you watch last night's episode of The Next Food Network Star? Here are my week four contestant rankings. And my "Lobster Blueberry Pot Pie?!" reactions to the random-food-combo challenge recipes. And this week, I'm a little peeved about the contestants choices, as Bobby says, "No one is grabbing the title!"….

Week Four Reactions:
* I'm still loving Melissa. She's my fave to win thus far-still.
* Debbie always delivers, but her dish was a bit blah this week. I know, I know, she got whacked in the face by Michael. But even still, I whipped out a Thanksgiving dinner on crutches one year so beat that!
* On to Michael. Gosh, my blink about him was that I liked him. And I still do. A lot. In fact this week he has stolen my number two ranking, right behind Mel. He's got a spark and always delivers creative food.
* Now for my annoyances. Is it just me or do a few of the judges (Bob Tuschman) like Jamika too much? What has she really shown or proved in her skills? Yes she is super friendly, but I think a bit too friendly. Where's her edge? This is Food Network, but not PBS!
* Another blah for me is Jeffrey. He's fading fast and I've lost interest.
* Katie continues to disappoint. Enough said.
* Teddy is gone. A bit shocked by this. I thought, honestly, Jeffrey should go for his horrible Lobster Blueberry Pot Pie. Who does that?! Who pairs shellfish with berries. Even a vegan like me finds that incredibly odd.
* And, PS, the lack of veg-friendly food options and ingredients is continually bugging me. Where is the tofu, seitain or tempeh? Why do they always have to cook with meat??? Frustration ensues once again….
So here are this week's rankings, by moi:

My The Next Food Network Star rankings (Week Four):
*+/- indicates how they moved on my rankings
1. Melissa +1
2. Michael +2
3. Debbie -1
4. Katie +2
5. Jamika n/c
6. Jeffrey -3


On Who Went Home: Voted Off: Teddy So far, once again my last place ranked person from last week has gone home. Does that mean Jeffrey is next??? We'll see…
Be sure to check back each week when I'll update my rankings and let you know who I think should be winning. Hopefully, the judges will get it right!
Oh, and did you know that casting for the next show has begun?! Check it out on the foodnetwork.com
Watch it: Sunday nights on The Food Network.