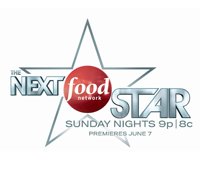 Did you watch last night's episode of The Next Food Network Star? The contestants traveled to MIAMI! The stayed at the Marriott's Eden Roc hotel. Here are my week six rankings. And my "only one person thought of a veggie option appetizer?" reaction to the Nikki Beach Club South Beach Party. And find out what too much drink and not enough food, tipsy judge and Food Network chef blurted out this classic quote: "People are tackling people for a shrimp!" Hilariousness….
Get Bobby Some Snacks! The stand-out highlight of this episode for me was watching a tipsy Bobby Flay strut into the chef's area/prep area with a cool comment of" "So hungry. We've got lots of hungry people out there." Then Bobby steals a chicken skewer, gives a 'cocky Bobby' head tilt and shouts, "Get that food out!" …as he struts back to the party. Hilarious. My favorite Tipsy Bobby Quote "People are tackling people for a shrimp!"
Watch the Episode 6 Re-Cap Video on the Food Network website and at the -01:04 minute mark you can hear Bobby's now famous shrimp tackling quote. Video Link Here.

Week Five Reactions:
* Melissa is my hero. She is the only contestant who bothered to do a vegetarian option. True it had cheese on it (not vegan-friendly), but still much better that the other all meat and fish options. Thank you Melissa! Moms always think of these things don't they? Melissa is my choice to win the show-and I predicted this from episode #1.
* Debbie. Selfish this week. She only cared about her own dishes. She was not a team player, even though her food seems to be awesome. Maybe she's not so 'Food Network' and more 'Martha Stewart'. By this I mean, Food Network chef's work together a lot, and to fit in you have to be a team player! A Martha Stewart type chef/host, likes to do things on their own-without the confines of a network brand to box them in. I love both types of chefs, but Debbie, my advice: you need to soften up next week to get viewers support back.
* Michael. He got the vote-off. Sad. I loved his energy, but his lack of on-camera confidence killed him. Yes he is an over the top personality, but at least his authenticity shown through.
* Jamika. I'm still split on her. I still don't feel like I know her culinary point of view, that catch phrase the show keeps repeating. However, she in uncontroversial in all ways thus far. That is both good and bad. Her food seems to be doing well though.
* Jeffrey was awesome in the JetBlue challenge. But other than that, he still doesn't totally connect to me. And store bought chips in Miami? Not cool.
So here are this week's rankings, by moi:

My The Next Food Network Star rankings (Week Six):
*+/- indicates how they moved on my rankings
1. Melissa n/c
2. Jamika +2
3. Jeffrey +2
4. Debbie -2


On Who Went Home: Voted Off: Michael A little frustrating to see the only young and fun person go home, but I guess Food Network knows what they are looking for and Michael just wasn't it. I'm sure Michael will have no problems finding a place to freely voice his unique culinary perspective and larger-than-life in-person style. Good Luck Michael-I'd be a proud guest at one of your dinner parties any day of the week. I'll bet they are unforgettable!
Be sure to check back each week when I'll update my rankings and let you know who I think should be winning. Hopefully, the judges will get it right!
Oh, and did you know that casting for the next show has begun?! Check it out on the foodnetwork.com
Watch it: Sunday nights on The Food Network.