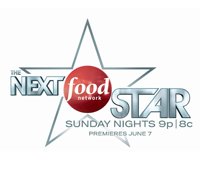 Did you watch the week three episode of The Next Food Network Star? Here are my week three contestant rankings. And my "you stole Paula Deen's recipe?!" reactions to the Teddy vs. Eddie drama. And as Bobby said "a little chivalry in the kitchen goes a long way"…

Week Three Reactions:
I'm still liking Melissa. I also love that Debbie stood up for herself against Teddy. I am sooo glad that Eddie went home. His eye-rolling and rude comments were making me steam with anger. Bobby Flay was right "a little chivalry in the kitchen goes a long way…" I'm still a bit bored with Jamika and Katie still isn't delivering for me. I actually started to like Michael a bit more this week. I am interested to see what he can do. Can I come to one of those $1,000 dinner parties? Jeffrey: I like his skills, but he isn't very good at opening up on camera-so far. But I think the Paula Deen cookbook comment sealed the deal on who needed to be kicked to the curb: Eddie.

My The Next Food Network Star rankings this week (Week Three):
*+/- indicates how they moved on my rankings
1. Melissa +1
2. Debbie -1
3. Jeffrey n/c
4. Michael +3
5. Jamika n/c
6. Katie n/c
7. Teddy -3

On Who Went Home: Voted Off: Eddie Glad he is gone. I really like his cool California attitude-at first. But he couldn't balance the attitude out with some, well…chivalry.
What are your contestant predictions and reviews?? Leave them in the comments!
And be sure to check back each week when I'll update my rankings and let you know who I think should be winning. Hopefully, the judges will get it right!
Love the show, can't wait for next week. Oh, and did you know that casting for the next show has begun?! Check it out on the foodnetwork.com
Watch it: Sunday nights on The Food Network.