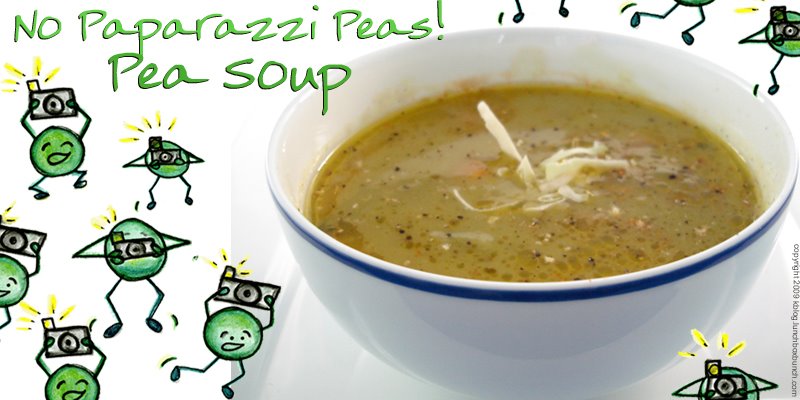 Peas are incredibly healthy.
One cup of peas contains 9 grams of protein, 9 grams of fiber, 26% RDA of Vitamin A, 38% RDA Vitamin C, 14% RDA iron and zero fat!
What a super superfood!
So here is a warm and hearty way to make your peace with peas: pea soup!
Click on for my recipe for amazing No Paparazzi Peas! Pea Soup!
Here's my take on vegan pea soup. I love fresh pea soup. But that is tricky to find in the winter. I also love dried split pea soup. But for nutrient-sake, I love using frozen whole peas. Frozen veggies retain a very high amount of nutrients and taste. Buy a higher end brand of organic peas at Whole Foods for your best bet on taste. Here it is:
NO PAPARAZZI PEAS! PEA SOUP RECIPE
1 pound bag frozen whole peas, organic is best
1 vidalia sweet white onion
1 shallot
2 bay leaves
1 tsp. cayenne
1-2 tsp. sea salt
2 tsp. fresh ground back pepper
⅓ cup olive oil
1 cup diced carrots
4 large shiitake mushrooms
3 tablespoon Veganaise
1 ½ cups vegetable broth
To Make:
Saute olive oil with sliced mushrooms, diced onions, chopped shallots and half of carrots. (About 2-3 minutes, stir constantly.)
In a sauce pan, add peas, broth, salt, pepper, cayenne, bay leaves and veganaise. Bring to a boil.
Add sauteed ingredients.
Simmer for ten minutes, covered.
Serve in cozy hot bowls. (Remove bay leaves.)
Garnish with fresh parsley, fresh ground black pepper and a dollop of veganaise.
Options:
Protein-rich: To add even more protein to this soup, add cubed boca spicy chik'n burgers to top of soup when served.
Creamier: To make creamier soup: Substitute half of broth with soy milk. Add a few more scoops of veganaise.
Spicier: Add more cayenne.