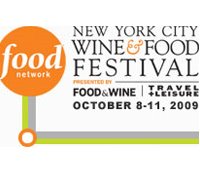 The 2nd annual Food Network New York City Wine & Food Festival presented by Food & Wine Travel + Leisure magazines takes place October 8-11, 2009. Tickets went on sale today, June 15th. And yes, that sushi-rolling class with Morimoto and the Times Talk with Frank Bruni and Anthony Bourdain are both already sold out. More Buzz…

About the 'for a good cause' Festival. Festival Founder and Director Lee Brian Schrager of Southern Wine & Spirits of America, launched the inaugural Food Network New York City Wine & Food Festival which benefits the hunger relief organizations Food Bank For New York City and Share Our Strength. 100 percent of the net proceeds from the festival directly benefit these community based initiatives.
Sold Out Already! There is four months to go until the event, but foodies of all ages couldn't miss out on getting a sushi rolling class from Morimoto himself, for only $60 I might add. Not bad. And that Times Talk with Anthony Bourdain and interviewed by Frank Bruni for only $30 has also sold out. And Food Meets Fashion is sold out too. Those fashion-foodies love a party.
What's Left? A lot. My side-note: the only vegan-emphasized event I found was the Whole Foods Culinary demo with vegan and animal advocate Alicia Silverstone. They don't promote it as veg, but most of you may know Alicia's strong vegan-advocate voice in the press. But other tickets also still available are cooking demos, parties and interviews with Food Network stars like Giada, Tyler Florence, Sandra Dee, Ina the Barefoot Contessa, Paula Deen, Guy Fieri, Rachel Ray, Martha Stewart and even more. If you want to make it into NYC from Oct 8-11 2009, I highly suggest getting your tickets now. Last year most events sold out long before the event date.
My only annouance?….
My Annoyance. I'm a hardcore vegan NYC foodie. But I still love to go to restaurants like Le Bernadin, Mercer Kitchen, Public, Spice Market, Craft, Stanton Social, Jean-Georges and more and find a way to eat vegan. It always (usually) works out great. So I always wonder why an event like this doesn't embrace all the amazing vegan chefs and restaurants in this city like Pure Food and Wine, Candle 79 and Blossom and allow them to participate. I can probably answer my own question: there is no veg-friendly hosts on Food Network! They need a vegan or even vegetarian host that people like. Boy I'd love that job.
Buy NY WINE AND FOOD Festival tickets here.