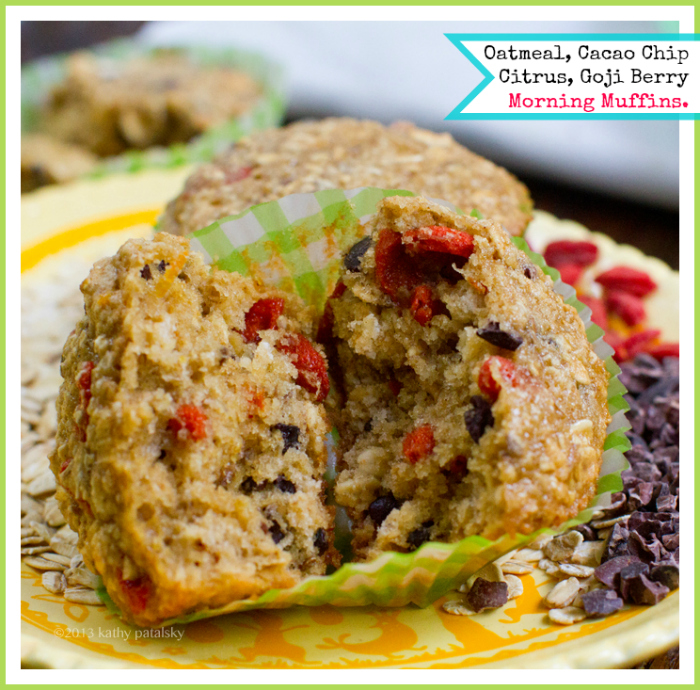 Grab your rolled oats and bake up a batch of these Oatmeal Citrus Goji Berry Cacao Chip Morning Muffins and enjoy them all week long!..
If you love blueberry muffins, try these plump-goji-berry muffins with tender antioxidant-rich goji berries in every bite! Rich chocolate (cacao nibs!) and bright citrus flavors accent the sweet-tart pink goji berries. Nutty oats and a sprinkling of flax seeds bring these tender, moist muffins together. A hint of coconut, vanilla and cinnamon too! These exotic superfood muffins gives me a sunny, tropical feeling with each bite. Perfect for your culinary transition to brighter spring flavors! Vegan, wheat-free recipe ahead..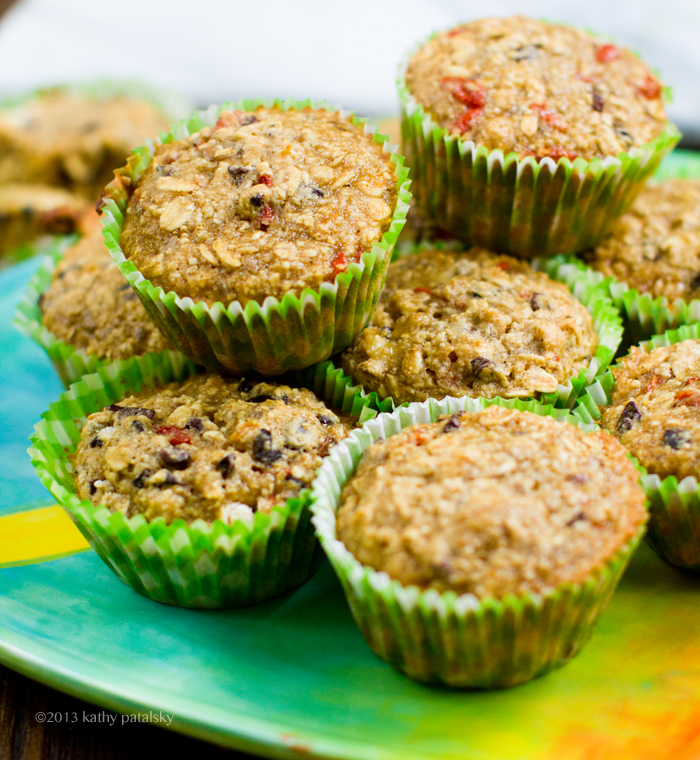 Monday mornings bring me into the kitchen. And morning muffins are always wonderful to make towards the start of a work week because you can pop them in baggies, store them in the fridge or freezer and nibble them all week long. These superfood-infused oatmeal muffins baked up fluffy and moist with bright goji berry sweetness, bittersweet rich cacao nib flavor (though you can substitute dark chocolate chips if you'd prefer) and rustic, earthy tones from the plentiful rolled oats in each bite. These muffins are "flour free" and quite a healthy-delicious way to start your day. Pair with a latte and happiness finds its way to your taste buds!..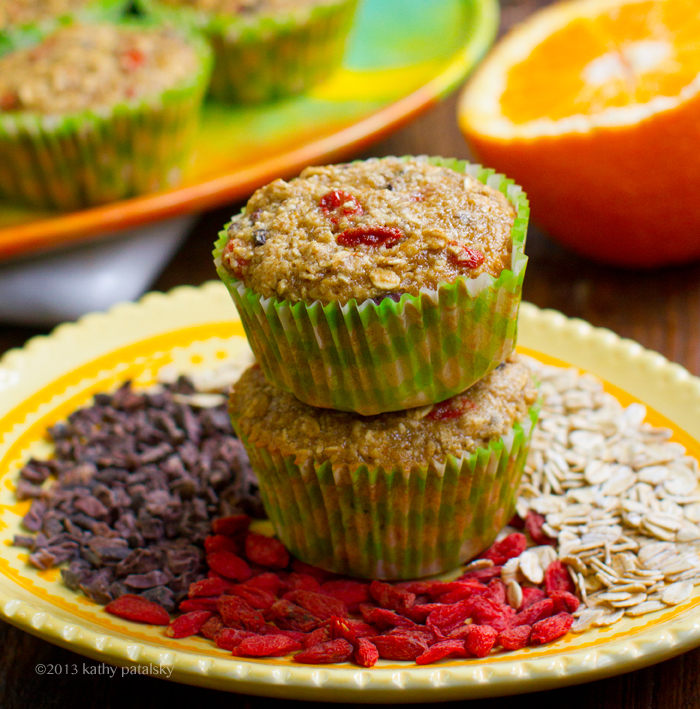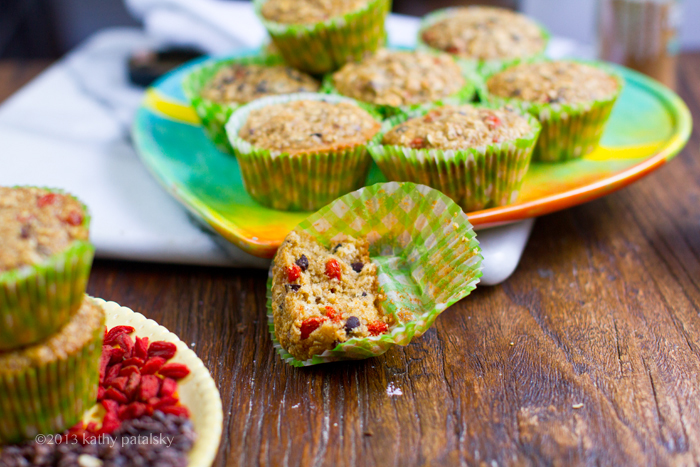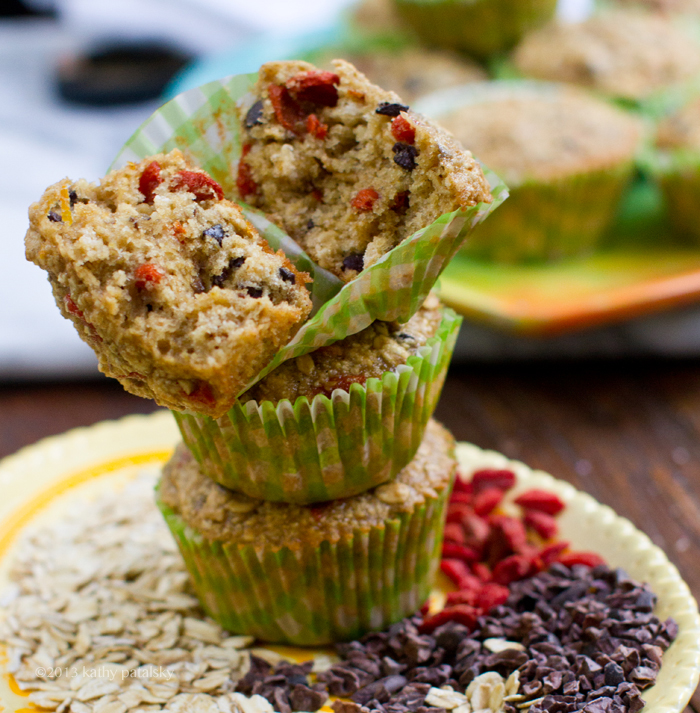 The soaked goji berries. Soaking softens them up and plumps them to a more fresh and moist state rather than hard and chewy: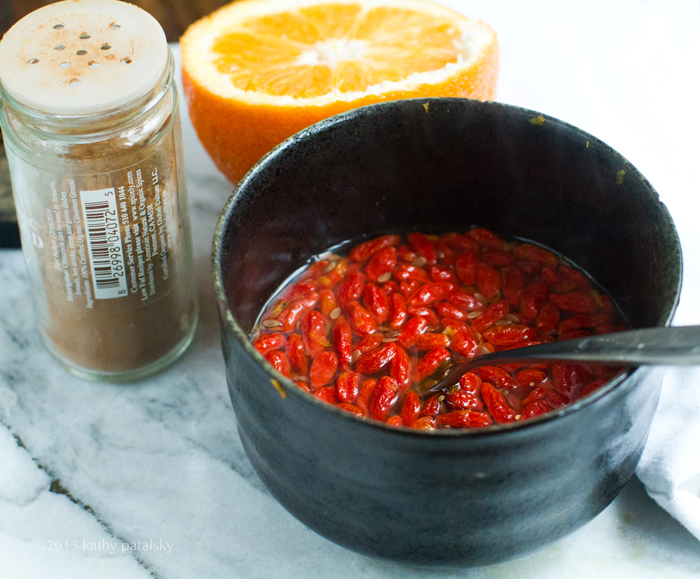 The blender-processed rolled oats to make one-step "oat flour"..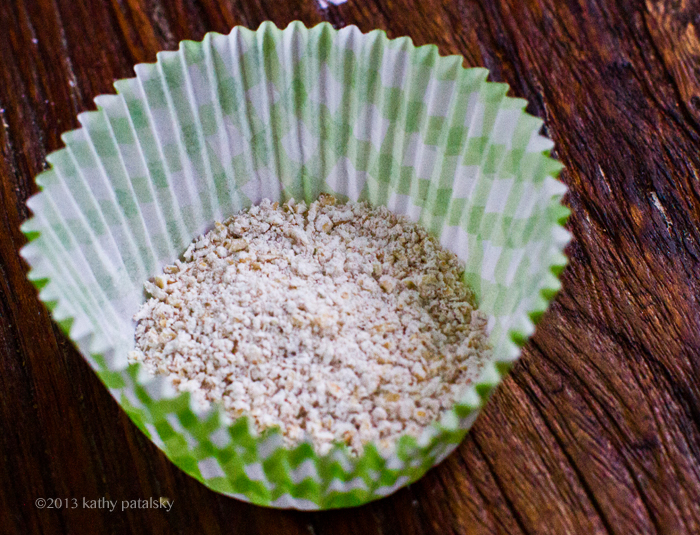 Before going into the oven..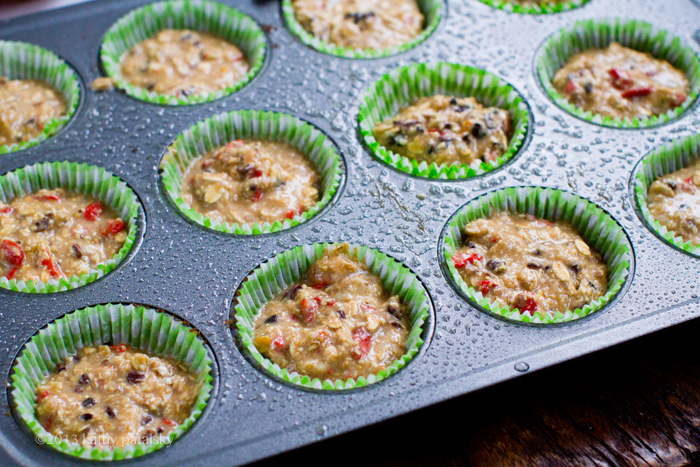 Chocolate and berries. Count me in. Pair a muffin with a spicy non-dairy chai tea latte, matcha latte or espresso latte and swoon your way to a happy day. Those cacao nibs get even better when they soften up, so serve these muffins warm for the most flavor. And feel free to use dark chocolate chips (or CAROB!) in place of cacao nibs if the bitter rich nibs are a bit too strong for your tastes.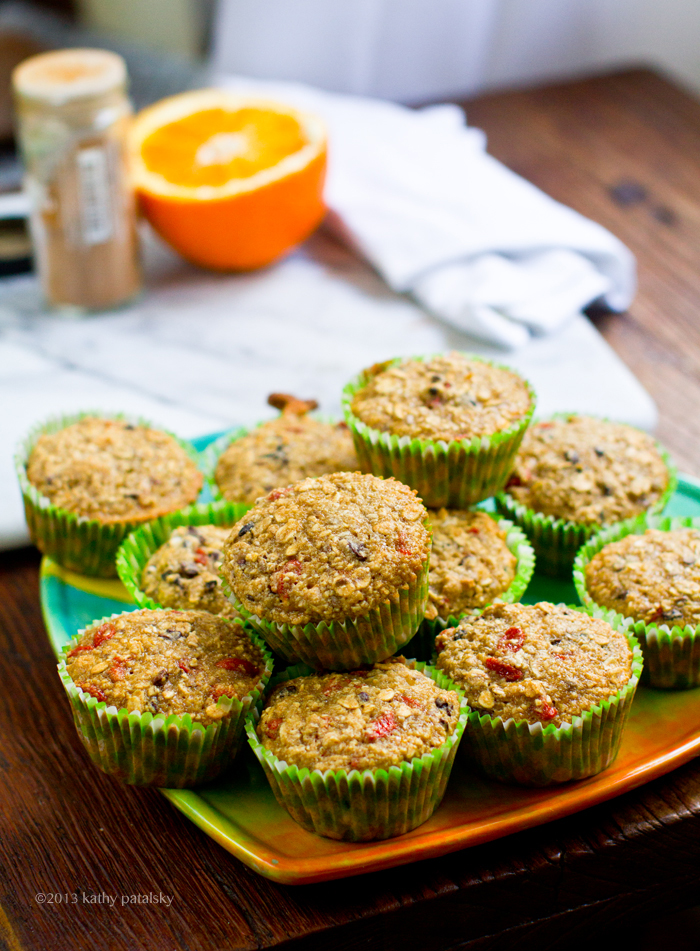 Oatmeal Goji Berry Cacao Chip Morning Muffins
vegan, makes 14 muffins
½ cups rolled oats (kept whole)
1 ⅔ cups rolled oats, blended into "oat flour"
*not as fine as wheat flour, but a nice dusty, crumbly texture
2 teaspoon baking powder
¾ teaspoon pink salt (any salt will work)
1 cup coconut sugar (or basic organic dry sugar)
a few dashes cinnamon
Wet Goji Mixture:
½ cup goji berries
⅔ cups boiling water
2 ½ tablespoon organic coconut oil
2 tablespoon orange juice
½ teaspoon orange zest
1 ½ teaspoon flax seeds, whole or crushed
¼ teaspoon vanilla extract
Fold in:
⅔ cup almond milk, room temperature (so you do not harden the coconut milk when blending)
1 small banana, mashed
¼ cup coconut flour (or substitute with more oat flour or any flour you'd like – wheat flour works if you want to use that)
⅓ cup raw cacao nibs or dark chocolate chips
optional ideas:
* ¼ cup chopped or finely processed pecans
* 1-2 scoops vanilla or plain vegan protein powder for a boost of protein
* substitute the almond milk with silken tofu or soy yogurt for added protein
Directions:
1. Preheat oven to 350 degrees. Line baking muffin cups.
2. Boil ⅔ cup water and add to a small bowl with the goji berries, flax seeds. Allow to soak until berries are very tender. Also add to this bowl: orange juice, zest, vanilla and coconut oil. The warm liquid will melt the coconut oil.
3. Process the rolled oats. I used my Vitamix (wet blade worked fine.) Combine all the dry ingredients in a large mixing bowl.
4. Fold the wet goji mixture into the dry ingredients. Stir until a thick oat-y mixture forms. Fold in the banana, almond milk, coconut flour and cacao nibs.
5. Add batter to muffin cups. Bake for 18 minutes at 350 degrees. Cool and serve warm. These taste really yummy with a tiny slather of vegan Earth Balance spread.
Calories per muffin: around 160, fat: 4g, protein: 4g – good dose of vitamin A from the gojis and antioxidants from the cacao and berries.