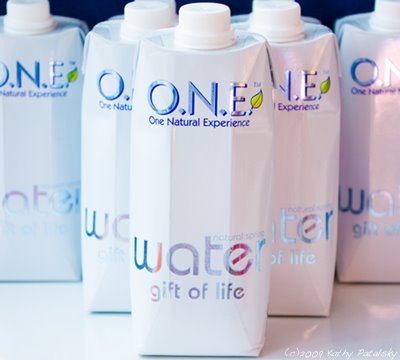 O.N.E. (One Natural Experience) a company famous for it's coconut water in the cool shiny blue Tetra Pak packaging, has recently launched a new product: O.N.E. Water!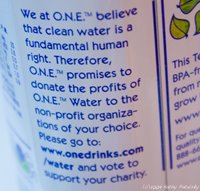 O.N.E. Water is G.O.O.D. Good for the planet and good for society. O.N.E. is donating 100% of the profits (after operating expenses) to non-profit organizations. How amazing is that?! You can even VOTE for your favorite charity online.
Spring Water. Fresh spring water from Canada. NOT in plastic. Nice. The water is drawn from the plateau on the Blue Mountains and is sustained by rain and snowfall. My Review ahead…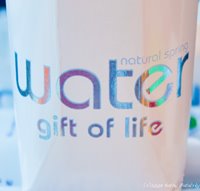 My Review: O.N.E Water
Shelf Appeal: Well, as always, O.N.E. has the coolest packaging on the shelf. I could very easily see this cool white Tetra Pak in the fridge at the Delano in South Beach….Oh and the twist off cap is very user friendly.
Taste Test: Yum. Tastes like very pure spring water! …which it is. Pure spring water from the Blue Mountains tastes amazing! Better than your average spring water for sure.
Label Check: Well it has zero calories, so that's nice. And the mineral analysis is right on the box, so that's also nice to know. But the best part: "There are also no pesticides, herbicides or chemical fertilizers used, resulting in 100% natural spring water."

Price Check: All the profits go to charity, so that should make you feel great about your purchase of this water.
Last Word: Finally, a natural spring water minus the plastic and plus the profits-to-charity! This water is number O.N.E.
Read more and take the poll on the O.N.E. Water website!