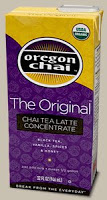 While ordering a soy chai at my corner health food store on the lower east side of NYC, I was shocked when the counter girl shouted out,
"We're out of chai!" but the she did something that caught me off guard. She came out from behind her counter, grabbed a box of Oregon Chai off the shelf and proceeded to make my chai. Wow, so I could just buy that and save four bucks??? Hmm, this deserves a closer look and a Kathy product review.

So is it really possible to get that barista-made chai flavor at home???
Oregon chai is sold in a box. Its simple instructions? Add 1 part chai mix to 1 part soy milk. Its ingredients? Black tea, honey and spices. yum. Note that the powdered mixes by Oregon Chai DO include dairy ingredients. The liquid in the box is dairy-free and vegan.
Lets review…
Oregon Chai, boxed chai concentrate.
(Vanilla and original flavors tested)
Shelf-Appeal: It's in a box. Woo hoo. (Sarcasm.) However, better than plastic.
Label Check: 90 calories in a half cup. Makes 1 cup of chai. Sweetened with honey and evaporated cane sugar. Lots of organic stuff in there.
Taste Test: Spice, sweeter than in my local health food store. They must use a bit more soy to tea…Spicy bite is there though! I have a milk frother, so that adds a great store made quality. Aside from money, it is great to stay cozy at home and have some chai. For an extra black tea kick, add a black tea bag to your chai.
Price: $3.69 at Trader Joe's. Yay. $5.19 at my corner store. Boo. (But then again, a large chai is $3.50-$5 each…
Last Word: There is currently to boxes stocked in my cabinet. Enough said.
Want to read more Kathy Reviews?
Click on the My Reviews category on your screen, or below:
Vitamin Water vs. Trader Joe's Knock-Off
Wendy's Kids Meal
Chestnuts, Snack Food?
Probiotic Top Five List!