PB&J everything please. This Swirled PB&J Vegan Cheesecake is made using a simple cashew and coconut cream vegan cheesecake base and adds nutty, rich peanut butter and ooey gooey jam swirled on top. The crust is a simple raw nut and dried fruit combo.
So the next time you crave a vegan cashew cheesecake, consider swirling some PBJ flavors on top. Get my recipe + watch the recipe video! And read my open letter to PB&J..
An open letter to pb&j..
Dear PB&J,
Thank you for always being there for me. You are a vegan, go-to sandwich I can always count on for lunchbox bites, beach picnics, long bike rides, hikes and road trips. You are rich and creamy with slathered nutty peanut butter and sweet jam or jelly. I hope you don't mind that sometimes I use almond or sunflower butter. But that doesn't change your brilliance. You don't even go bad if left in a sunshine-drenched lunch sack for a few hours. You are loved by all so I can easily share you. You never get soggy or fall apart on me like other sandwiches can. And you contain lots of good things like protein, fiber, antioxidants and healthy fats. Oh and even kids love you!
So today, PB&J, I give you a nice salute by swirling you with some creamy vegan cheesecake.
Thanks for being awesome.
~ Kathy
For the crust I used mostly Brazil nuts and Medjool dates, but you could also use walnuts, dried plums and more. I love how versatile raw crusts can be!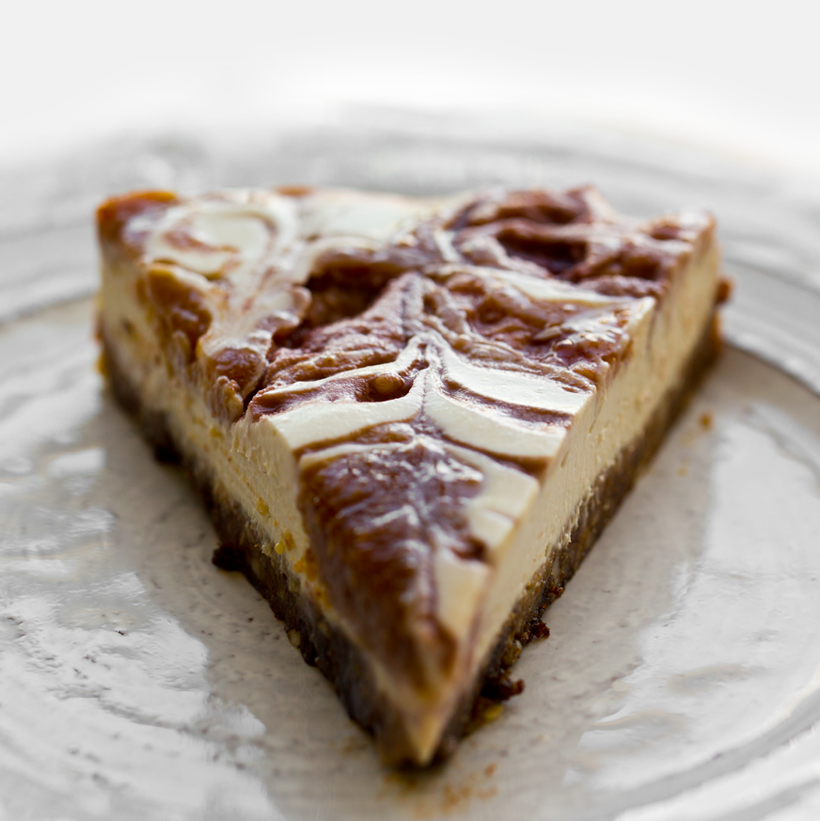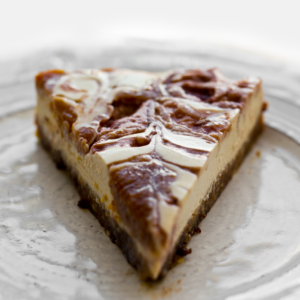 PB&J Vegan Cheesecake
This creamy cashew-coconut cheesecake is rich and amazing with PB&J flavors in every bite.
Print
Pin
Servings:
1
9″ Cheesecake
Ingredients
Crust:
2 cups raw nuts (I used Brazil nuts, walnuts and pecans)

1 ¼ cups Medjool dates, pitted (you could also try with dried plums or another dried fruit, though dates are my favorite!)

1 tablespoon ground flax seed
Filling:
3 cups raw cashews (soaked)

¼ cup maple syrup

coconut cream – from 1 can full fat coconut milk, chilled – use only the coconut cream

1 teaspoon vanilla extract (optional)

¾ teaspoon salt

½ cup lemon juice (freshly squeezed)
Topping:
½ cup softened peanut butter

½ cup softened jam or jelly (add a few spoonfuls warm water if needed to soften)

for pan: virgin coconut oil
Instructions
Crust: Add the raw nuts and flax to a blender or food processor. Pulse or blend until crumbly fine chunks are made. Do not over blend and get a butter. — Add the dates or dried fruit to the blender and process until a cookie dough-ish texture forms. You will need to stop blending and scrape down the sides a few times to blend.

Using coconut oil or vegan butter, grease a 9" round baking dish (I used a springform cake pan). Pour the crust mixture into the pan and press down to flatten into a dense crust.

Filling: Process all filling ingredients in a blender or food processor until silky smooth.

Pour filling over top the crust. Then swirl the peanut butter and jelly over top. Swirl with a toothpick as desired.

Chill in the fridge overnight. Tip: I like to place my cheesecake in the freezer for 5-10 minutes before serving if I was the texture to be extra firm for slicing.