Craving a cozy cookie-baking sesh this time of year? These are the healthy, happy cookies for you! Peanut Butter Banana Cookies with dark chocolate swirls all splashed over top. These simple cookies are vegan and gluten-free and have a rich peanut butter flavor and fluffy cake-y texture. They are so good dipped in chai tea or hot cocoa. And the chocolate on top is a lovely accent!
Plus some ramblings on this season of HOPE..
Hope. Hope. Hope. I feel like this is the season of hope. And to quote my Anthropologie "U" is for unicorn plate above..
"Those who don't believe in magic will never find it."
Magic. Hope. Whatever you want to call it. It changes us. It lifts our heads and dries our eyes. Puts a flicker in our spirit and reminds us to never give up on our dreams, or to be crushed by challenges. Hope. Magic. The idea that something amazing is just around the corner for us. We all need that in our lives. When we feel it, find it, we cling to it like our umbrella in a rainstorrm. Hope. Believe in it and meditate on it. Believe in magic. I mean, if my unicorn plate says you should, you probably should. Right?
And to anyone out there feeling hopeless, for whatever reason, I am sending you a big holiday hug. You are not alone. Especially this time of year. I am here! If you are reading this, you are a huge part of MY life. And I am so glad you are here visiting my blog and hearing my message and reading random recipes from my kitchen. Thank you.
When life is rocky and messy and soul crushing, those moments hurt. But it is the act of being hopeful and coming out on the other side, even stronger than before, that makes human.
So, anyways. Thanks "U is for unicorn" plate for that bloggy writing inspo.
Hope. Hope. Hope. Keep it with you.
And maybe have a cookie too… 😉 xoxo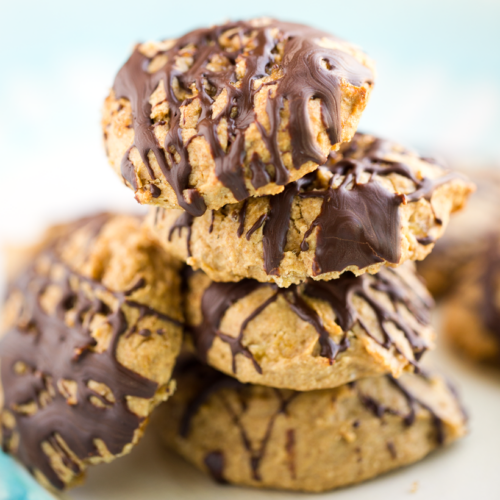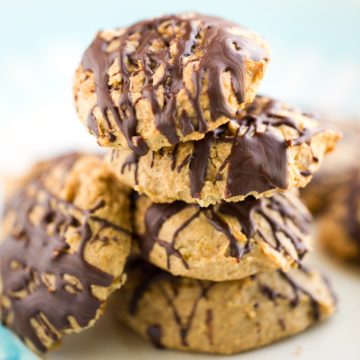 Peanut Butter Banana Cookies with Chocolate Swirls
Vegan and gluten-free peanut butter cookies with a yummy chocolate swirl on top.
Print
Pin
Ingredients
Dry:
2 cups oat flour (Or sub with all-purpose flour, or a gluten-free blend)

1 teaspoon baking powder

¾ teaspoon cinnamon
Wet:
¼ cup maple syrup 

1 flax egg (3 tablespoon ground flax seed + ¼ cup water)

¼ cup peanut butter, melted

¼ cup vegan butter, melted

1 teaspoon vanilla extract

1 mashed banana

1 teaspoon salt
Chocolate:
¼ cup vegan chocolate 

1 teaspoon virgin coconut oil
Instructions
Preheat oven to 350 and line a baking sheet with parchment paper.

Combine all the wet ingredients in a large mixing bowl. Then fold in the dry ingredients.

Dough will be fluffy and thick, if using all oat flour the dough will be a bit sticky. Scoop into balls and add to baking sheet. Optional: press down on the cookies with a fork.

Bake at 350 degrees for 10-12 minutes. Allow to fully cool before adding chocolate.

When ready for chocolate, melt the chocolate and coconut oil in a mug in the microwave OR use a double broiler on the stovetop. Drizzle the melted chocolate over the cooled cookies.