These Banana Pancakes and made using mashed ripe banana, oat flour and a hint of cinnamon and vanilla. Fluffy texture and made using vegan ingredients.
Banana Pancakes are perfect for Sunday brunch or a cozy weekday treat. Serve with your favorite warm mug and maybe a side of fresh fruit or juice. Fresh-squeezed grapefruit or OJ and a steamy hot latte would be perfection.
Plus read about my wild kitty adventure last Friday and my fave song from the new Taylor Swift album, Lover…..
Can't wait? Jump to the Recipe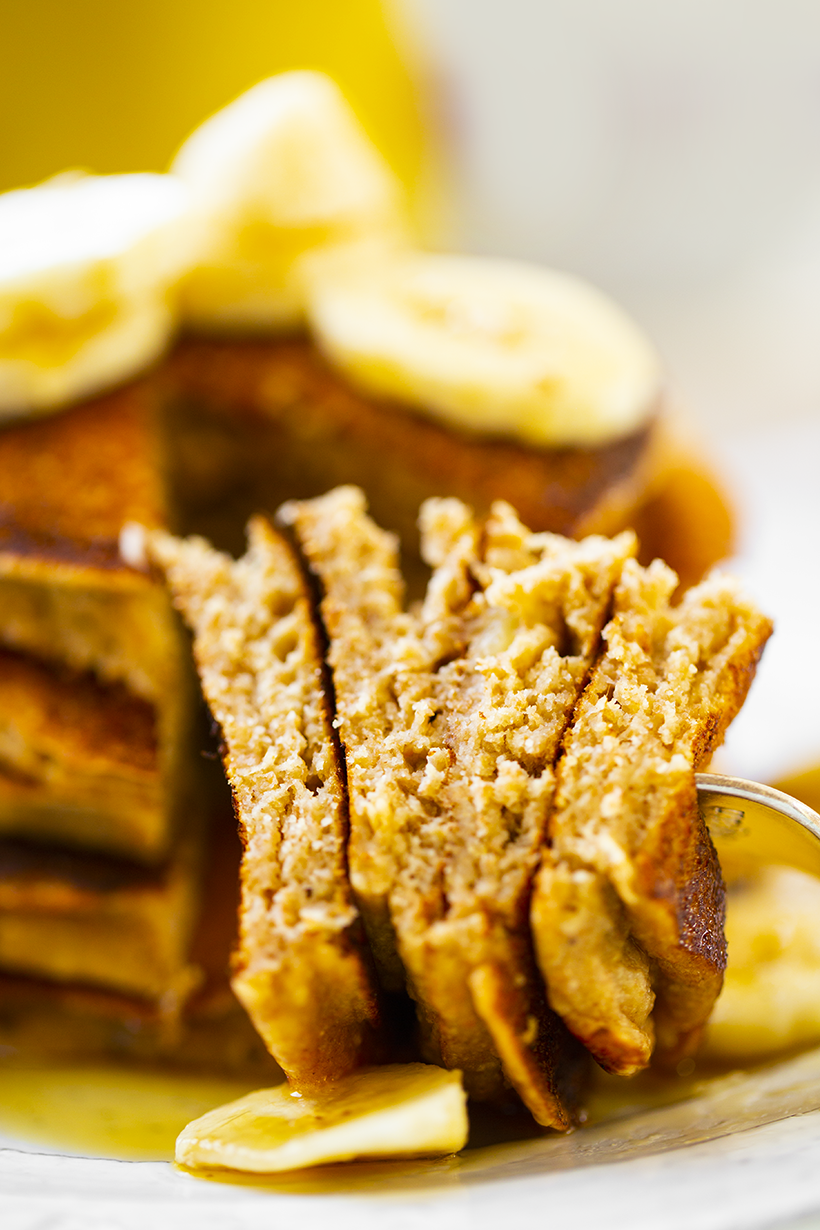 Fluffy Vegan Pancakes
My favorite thing about this recipe is how fluffy these banana pancakes are. Even though they do not contain eggs, they have a lovely lightness to them. The mashed banana really helps to develop a spongey, fluffy texture.
What Flour to Use for Banana Pancakes? A traditional all purpose flour is totally fine. But I personally love a nuttier grain. I love buckwheat and spelt and oast. Today's pancakes are a mix of oat and spelt. Spelt is not gluten-free, so if you need to modify, simply sub with your fave gluten-free flour.
Love those yellow mugs? Check out this post all about the brand that I'm obsessed with.
The perfect pancake sip: try a foamy latte made from espresso or matcha or even rooibos tea.
What is the Best Baking Surface for Pancakes?
This is a trick question because one might say a griddle is the best because it is large and flat so you get an even surface and plenty of space to speed things along. But really, your favorite skillet will totally work The real secret for perfect fluffy banana pancakes is all about the temperature of the cooking surface…
Oh, and I used this skillet to cook these.
Temperature Trick for Pancakes.
My secret for the best pancakes is to turn the stove on low while I am prepping all my ingredients and whisking things together. Of course you should always keep and eye on a stovetop that is 'on' and not being 'used.' But this allows the skillet to preheat.
Preheating the skillet long enough evens out the surface a bit and makes sure you get a sturdy cook as opposed to uneven and too high heat. I let me pan warm for about ten minutes on medium and low and then once I was ready to cook the pancakes, back to medium.
If you simply turn on your stove, add a skillet, oil and pour the batter without pre-heat, you may find that your first few pancakes just don't cook through as evenly.
Toppings. Simple maple and banana works really well for these banana pancakes. Or you could try making my favorite quick blueberry topping. Or try strawberry.
Ps. My kitty rescue adventures last Friday, are on Instagram.
Lover. Editing all these pics I have been listening to the new Taylor Swift album, Lover. And I have to say my fave song is "The Archer." I love the emotional, drama-y song and this one has all the feels. I also love "The Man" and "Paper Rings." Oh, and "Cornelia Street" is also great. And "You Need to Calm Down" too! Ok, it's a fun album.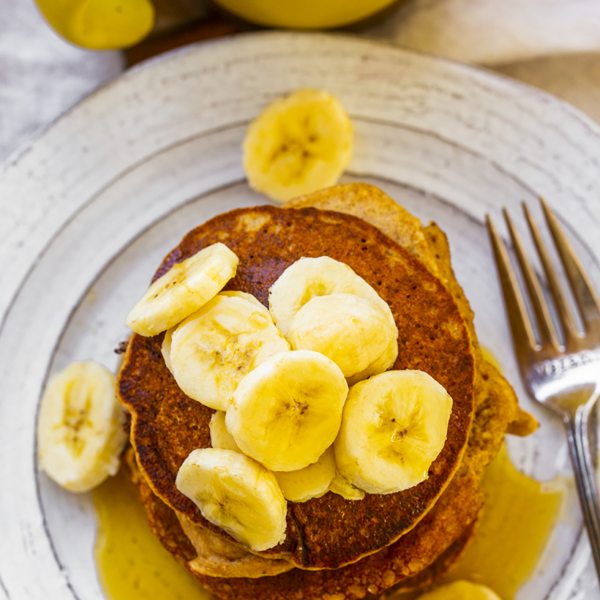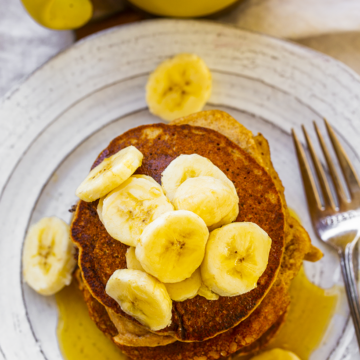 Fluffy Vegan Banana Pancakes
These vegan, fluffy banana oat pancakes are perfect for weekend brunch or a cozy weekday breakfast.
Print
Pin
Ingredients
Wet Mixture:
1 ½

cups

soy milk

,

unsweetened

1 ½

ripe bananas

2

tablespoon

vegan butter

,

melted

2

tablespoon

coconut sugar

1

teaspoon

vanilla extract

2

teaspoon

ground flax or chia seeds
Dry Mixture:
1

cup

spelt flour

½

cup

+ 2 tablespoon oat flour

2

teaspoon

baking powder

⅛

teaspoon

salt

a few pinches of cinnamon

a few pinches of lemon zest – optional

oil

,

for the pan (I used EVOO)
Instructions
Preheat the pan. Start on medium for two minutes, then lower to low for another five minutes or so until it is nice and evenly heated. Just be careful not to touch it or forget that the stove is on low.

While your skillet is warming, you can add all your wet mixture to the blender. Blend from low to high until smooth.

In a medium mixing bowl, add in all the dry ingredients. TIP: I like to make my own oat flour because I find it has a thicker, nuttier texture than store-bought, which I like, so if you do this, just make it before you start any other blending – so the container is dry. I usually just make oat flour in my Vitamix using whole rolled oats.

Stir the dry mixture together, then slowly whisk in the wet mixture. Continue whisking until smooth and fluffy. Let the batter sit for at least three minutes before using – this helps the oat flour plump up a bit more. Especially important if you are using a heartier homemade oat flour.

Add a very thin layer of oil to your pan, turn pan up to medium or medium-low and pour your batter.

Cook pancakes for 1-2 minutes, then flip. Cook for another 2 minutes. Larger pancakes will need longer time.

Serve warm with favorite toppings.
Equipment
skillet

mixing bowl

beater

spatula
nutrition estimate | per serving
Calories:
130
kcal
|
Carbohydrates:
20
g
|
Protein:
4
g
|
Fat:
4
g
|
Saturated Fat:
1
g
|
Sodium:
68
mg
|
Potassium:
236
mg
|
Fiber:
3
g
|
Sugar:
4
g
|
Vitamin A:
194
IU
|
Vitamin C:
2
mg
|
Calcium:
94
mg
|
Iron:
1
mg
Pin this recipe for later..
Not enough time to make pancakes? Check out my 12 Five-Minute Vegan Breakfast Ideas..
Or, try this spin on the recipe using Peanut Butter..
If you want to tweak and experiment with this recipe, try adding nut butter. Peanut butter is a really yummy addition to these pancakes! Creamy peanut butter, sweet circles of banana, cozy rolled oats, a pinch of flax seeds, a hint of vanilla, plenty of cinnamon and a waterfall of dark amber maple or raw agave syrup over top. Lazy breakfast approved.
How to make these Peanut Butter Banana Oat Pancakes: Soften two to three tablespoon peanut butter and add it into the banana blender. Also add three tablespoon of soy milk to balance out the thickness of the peanut butter. And when you are whisking together you batter, it should be good to go, but if for some reason you find it a bit watery or even a bit too thick – you can always make tiny tweaks to liquid or flour.