These vegan Peanut Butter Chocolate Chip Cookies are rich and buttery with peanut butter flavor in every bite. Loads of melty chocolate chips in there too.
This recipe will come in handy over the holidays too! Cookie exchange, holiday get-together or party of one? I got you.
Perfect pairing? You can try almond, soy, pea or any other plant milk you love. Crumble these over top some banana ice cream or a vanilla smoothie. And I definitely think these cookies pair well with any cozy night in, binge-watching your latest fave TV show. Bonus, these cookies will make your whole house smell amazinggggg. Think, vanilla bean peanut butter clouds bouncing around your kitchen type aromas. Plus, what's new with me!..
(Ps. don't miss the recipe tweak/update noted below..)

Rich peanut butter flavor..

Melty chocolate chips..

Peanut butter cookies are one of my all time favorite recipes to make. And since I realized that I don't have a straight-up, basic recipe for Peanut Butter Chocolate Chip Cookies here on the blog, I knew I needed to post this one for you guys.
For the egg replacer, I used a flax egg, but you could also try using apple sauce or even a mashed banana. I like the fluffiness of the flax egg though. My trick for a great flax egg is to grind the flax seeds very finely and then use warmish water when you whisk things together.
Basic Flax Egg = 1 tablespoon ground flax seed + 4 tablespoon water

What's new with me? One thing is that I recently started a new writing class. It is a night class, a few times a week, so that involves trying to keep my eyes open and brain turned on until 10pm at night, sometimes 10:30 and beyond if we go over. I am a total morning person when it comes to getting work done, so night classes are a challenge for me – but I think that is why I love it: the challenge.
I have really enjoyed challenging myself and taking some classes the past year in subjects like art, photography and writing of all sorts. Blogging for over ten years is amazing, but I never want to feel stuck or bored, and learning new skills helps me avoid that feeling. Classes not only let me learn new skills and use my creativity in new ways, but they also get me out of the house and interacting with others just like me. Which, any work from home person will tell you is greatly welcomed. I mean, I love my cat co-workers and doing phone calls with brands and colleagues from home, but nothing beats face-to-face interaction.
And there are some really great networking opportunities that can stem from classes. So as you can see, I'm a big advocate for the 'never stop learning' mantra. So if you are thinking about doing something for yourself in a different area of wellness – sign up for a class. Fitness classes are great, always awesome too, but our brains love the exercise too!
Have you taken a class for your career or to learn or develop a new hobby or skill? I would love to hear about it!
So, these cookies.. Total 'study snack' material. Bake up a batch of these and your homework session feels a whole lot cozier. Study sesh, holiday party, any day of the week, for anything, like, ever…
In a baking mood? Try these!

For the chocolate chips, I used semi-sweet from Guittard. It can be a challenge to find REALLY amazing vegan chocolate chips, but these are absolutely my favorite right now.
For the peanut butter, you can use creamy or chunky, whatever your preference. Just make sure it is well stirred so that the texture is neither too dry or too oily.
Recipe Update! So I made these a second and third time to test things further .. oh and we just really love them. And I found a tweak you can choose to make if desired. So if you want your cupcakes a bit fluffier and more spread make these modifications:
1 – Do not chill the dough before baking
2 – Add 1 teaspoon apple cider vinegar + another tablespoon of sugar + ⅛ teaspoon baking soda
The cookie batch from those modifications..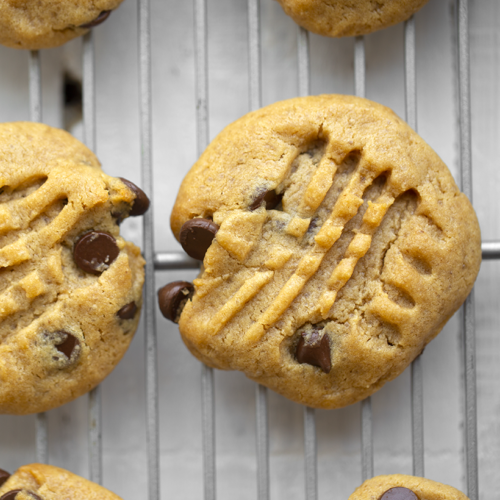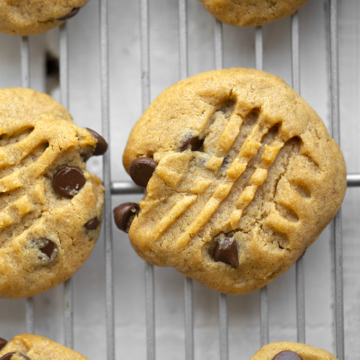 Vegan Peanut Butter Chocolate Chip Cookies
These buttery, nutty peanut butter cookies are speckled with melty chocolate chips. Vegan.
Print
Pin
Ingredients
1

tablespoon

finely ground flax seed

4

tablespoon

warm water

5

tablespoon

vegan butter

½

cup

peanut butter

1

tablespoon

vanilla extract

⅓

cup

raw turbino sugar

⅓

cup

brown sugar, organic

¾

cup

all purpose flour

⅛

teaspoon

salt

2

teaspoon

baking powder

1

cup

vegan chocolate chips
Instructions
Combine the flax meal and warm water in a small dish. whisk together and let sit for at least three minutes to gel up a bit.

In a large mixing bowl, combine the flax mixture (flax egg), vegan butter, peanut butter, sugars and vanilla. Beat until mostly smooth and fluffy.

Add in the flour, salt and baking powder. Beat again until fluffy. Fold in the chocolate chips.

Transfer the dough to a small bowl (or keep in the large bowl if your fridge can handle it) and chill the dough for at least fifteen minutes before using.

While the dough is chilling you can preheat the oven to 350 and line a baking sheet with parchment paper.

Remove the dough from the fridge, it should be nice and chilled. Roll into small balls and place on the parchment. Repeat until all the dough is used. Press down on the cookies using a fork, to get a criss-cross pattern in the center.

Bake at 350 for 9-12 minutes. Remove from the oven and allow to sit for two minutes until transferring to a cooling rack to finish cooling. Serve warm or store leftovers in sealed baggies for later.
nutrition estimate | per serving
Calories:
3059
kcal
|
Carbohydrates:
356
g
|
Protein:
53
g
|
Fat:
177
g
|
Saturated Fat:
61
g
|
Polyunsaturated Fat:
32
g
|
Monounsaturated Fat:
52
g
|
Trans Fat:
1
g
|
Sodium:
1331
mg
|
Potassium:
1855
mg
|
Fiber:
24
g
|
Sugar:
238
g
|
Vitamin A:
2673
IU
|
Vitamin C:
1
mg
|
Calcium:
746
mg
|
Iron:
21
mg
Pin it for later: