After an amazing weekend of being all fancy at a wedding, I was craving cupcakes. Fluffy amazing cupcakes. These Peanut Butter Chocolate Swirl Banana Bread Cupcakes fit the bill and are simply dreamy. I was so happy that the cupcake part came out so well, moist and fluffy! (Oh, and everyone who hates the word moist, is it ok to use when describing cupcakes? Pondering this..)
The cupcakes are so good that you could totally eat them frosting-free, but for extra amazingness, swirl on some choco-pb frosting and pat yourself on the back for being an impressive little baker. Oh, and fun fact, my fancy frosting tube tool totally went missing right before I needed to frost these babies, so I had to macgyver-up a tool using parchment paper and plastic bags. Not very elegant but it sort've got the job done. Moral of the story is, your frosting doesn't have to be perfect for these to be the best cupcakes ever. Don't be intimidated by perfect frosting swirls you see online – cupcakes are so easy!
Hope you love these and have a cupcake-worthy day…
A few life side notes..
1. Wknd Fun. I got to get all fancy for a wedding this weekend. It was amazinggggg. One of the most special and fabulous weddings I have ever been to. It was a solid chance for me feeling princess-y … which was a huge change from the yoga+sweatpants uniform I have been wearing too much the past year..
Oh and ya, I'm basically 16 and he's Justin Timberlake. #ShawnMendes
2. I'm back to gluten in moderation. I'm trying to go back to eating gluten after about ten months off it for thyroid/Hashimotos/autoimmune experimenting. So far so good. I have no clue if gluten free does anything PRO or CON for my thyroid issues. But I miss it so much and just want to see what happens. So these cupcakes used whole wheat flour. But you could use a gf blend if you want. If you use gluten free flour, you might want to add a flax egg too.
Anyways…. back to these amazing cupcakes! Happy week to you.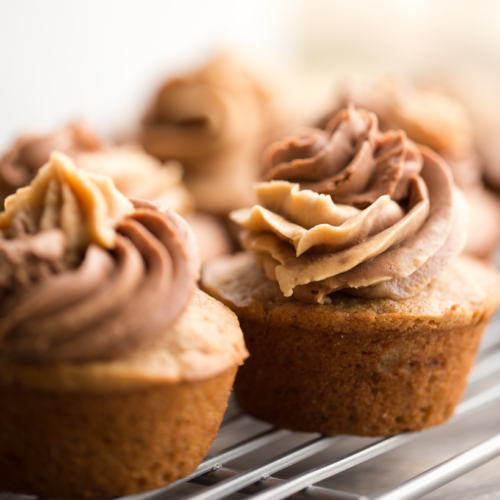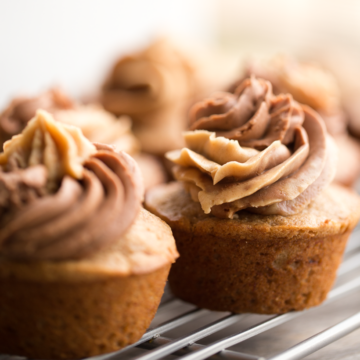 Peanut Butter Chocolate Swirl Banana Bread Cupcakes
These dreamy banana bread cupcakes pair perfectly with peanut butter and chocolate frosting. Vegan and amazing.
Print
Pin
Ingredients
2 ripe bananas

1 stick vegan butter (½ cup) – softened

1 cup vegan sugar 

1 tablespoon vanilla extract 

½ teaspoon apple cider vinegar 

1 teaspoon cinnamon 

2 cups flour, whole wheat pastry flour used 

2 teaspoon baking powder 

½ teaspoon baking soda (optional) 
FROSTINGS: 
1 ½ cups powdered sugar, organic 

⅓ cup vegan chocolate, melted 

½ cup vegan butter (1 stick) 

1 ½ cups powdered sugar, organic

⅓ cup peanut butter, softened and oily

½ cup vegan butter (1 stick)

coconut oil for baking pan
Instructions
Preheat oven to 375 and grease muffin tin with coconut oil.

Add the banana, vegan butter, cider vinegar and vanilla extract to a large mixing bowl. Beat well with mixer.

Add the cinnamon, flour, baking powder and baking soda. Beat on low with a hand mixer until a batter forms.

Fill the muffin tins. Bake at 375 for 25-30 minutes, or until the edges start to brown and the tops are nice and fluffy.

Cool muffins for ten minutes in pan, then carefully remove and cool on a cooling rack for at least and hour. Speed up the cooling process by placing muffins in the freezer!

Frostings: These are super easy! You combine the three ingredients for each frosting in a large mixing bowl. Mix with a hand mixer until fluffy. Chill and swirl on top!

Process: You want to first combine the vegan butter with either the peanut butter or melted chocolate. Beat until smooth and fluffy, then add in the sugar and beat until whipped and smooth and fluffy.

Now all you have to do is get the frosting on the chilled cupcakes. You can use a spatula and just swirl it on top. Or you can pipe it on top like I did for a few. I add the frosting to two different frosting bags, then add them together in one larger bag and swirl them out together.