Sorry I have been MIA with new recipes this week guys. I have been immersed in a fun brand project, developing a bunch of recipes. My kitchen has gone from polished and clean to complete culinary-warzone-style chaos, dirty spoons and dishes stacked across messy counters and ingredients everywhere. But part of the fun of cooking is playing and making a big mess. Clean up is the tricky part. But whenever I am cleaning up in a hurry I think of the end scene in Adventures in Babysitting, you know the one where she is rushing to clean up the kitchen before the parents get home. #80sMovies = life
No-Bake Peanut Butter Cookie Dough Bars. Today, a recipe that is easy, sweet and actually pretty healthy for you! Just five basic ingredients! I was attempting to make peanut butter eggs for Easter, but ended up loving the texture of this peanut filling so much that I just made it into bars and used a bit of the leftover as a tasty crumble. So if you love all things peanut butter, chocolate, cookie dough and bake-free, give these a whirl!..
And you will be happy to see that these are pretty darn good for you too! Healthy treat..
UPDATE: Yup these bars are addictive. After a long Saturday at the beach I came howe and devoured a falafel rice bowl (quickly) because all I really wanted was one of these bars! There is something about sunshine and/or beach days and chocolate and peanut butter, amiright?
Some of my beach pics from today..


Love love love Sandpiper birds. So adorable scurrying along the foamy waves.
(back to the orig post…) 🙂

These bars are really easy and fun. I love playing around with coconut flour because it helps me make no-bake desserts with a baked texture.
Date-Sweetened. These bars actually have two versions. The one using Medjool dates and one without the dates, just using regular vegan sugar – raw or coconut sugar. You could also play around with maple or agave syrup if you'd like.
Note: In the photos, I used the 'alternate' sugar version as the crumble topping and the date-version for the filling/bar part, but both versions work for both uses (crumble and filling.)
Peanut Butter Egg Version. If you want to get fancy, you can roll the filling into egg-like shapes, freeze them, then dip them in the melted chocolate for vegan 'Easter eggs.' I did this for a few and loved them. Actually I think the sugar version works well with this because it is slightly sweeter than the date-sweetened version.
Egg-shaped version:

So anyways, I am just really glad to get a recipe up this Friday afternoon! There is a bright yellow late afternoon sunbean peaking through the window and the kittens are lazily napping. MrWhite has learned to find his little late afternoon sunbeam that lands right on his kitty bed. It is one of those beds that uses suction cups to stick to the sliding glass door. The cats love it.
And this weekend I have a lot of photo editing to do and hopefully some time to play in the sun.
Alternate version, using regular sugar instead of Medjool dates:

¾ cup vegan sugar (raw or coconut are two options)
3 tablespoon hot water
2 tablespoon virgin coconut oil, melted
1 cup peanut butter, softened
¼ cup coconut flour
½ teaspoon vanilla extract
pinch of sea salt
Directions: Combine the warm oil, hot water and sugar. Stir briskly to melt the sugar. Fold in the peanut butter. Then fold in all the remaining ingredients. Add more or less coconut flour to create a cookie dough texture. If your dough ends up a bit too dry, add in a few more spoonfuls of water or oil. Follow the same directions above after step three.
No Coconut Flour? Sub with shredded coconut or you could also try oat flour.
More beach pics..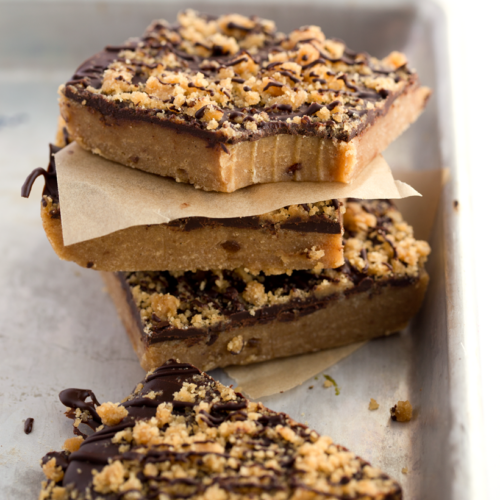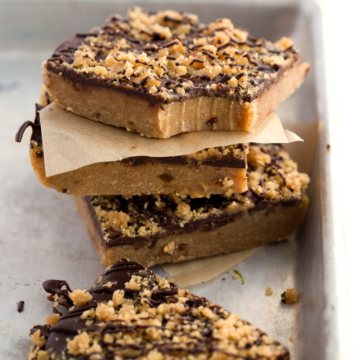 No-Bake Peanut Butter Cookie Dough Bars
These tender peanut butter cookie dough bars are sweetened with dates and are a no-bake dessert! Gluten free and vegan. 
Print
Pin
Ingredients
Peanut Butter Filling:
6 Medjool dates

½ cup peanut butter, creamy/salted (softened)

¼ teaspoon vanilla extract or vanilla bean paste (optional)

3 tablespoon virgin coconut oil, melted

⅓ cup warm water

2-3 tablespoon coconut flour
Chocolate:
¾ cup vegan chocolate chips

1 tablespoon virgin coconut oil
Topping:
reserve 1-2 tablespoon of filling for crumbly top.

optional: sprinkle of coarse or fine sea salt (fleur de sel would be perfect!)
Instructions
Remove the pits from your dates and soak in warm water for 2 minutes. Drain water and add dates to blender.

Add peanut butter, vanilla extract and water. Blend from low to high until smooth – this will take a few minutes. If the mixture is too thick for your blender you may need to add a few more spoonfuls of either oil or water.

Pour the peanut butter mixture into a medium bowl and add the coconut flour. Fold and stir until a cookie dough-like texture forms. You want it nice and moist though – not too dry.

Line a rimmed baking sheet with parchment paper. Pour the cookie dough onto the parchment and smooth out with your palms. You can make the bars as thick or thin as you'd like. (Remember to reserve a bit of the filling for the crumbly top.)

Place the peanut butter baking sheet in the freezer for about five minutes, just to cool a bit.

Chocolate: Warm your coconut oil and chocolate and stir briskly until melted. You can use the microwave or a double broiler method.

Remove your peanut butter baking sheet from the freezer and pour the chocolate over top, and crumble the filling over top. Place the baking sheet back in the freezer. Chill for about ten minutes.

Finally, do a final drizzle of chocolate over top, along with some optional coarse sea salt. Place back in the fridge for five minutes.

Remove the bars a final time, slice and serve!