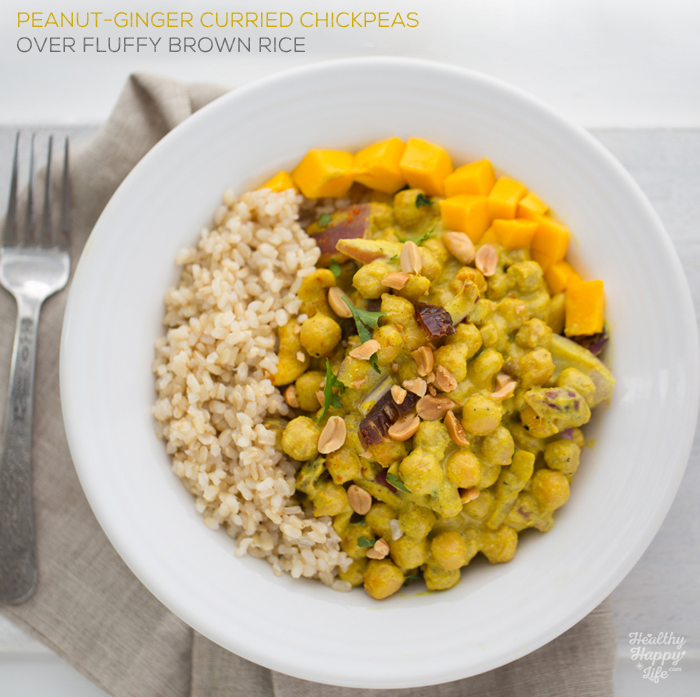 Back from a busy long weekend at SXSW in Austin, hosting the official vegan meetup, I was craving comfort food! And before I post my SXSW wrap-up post, expect that later this week, I was just dying to post a recipe. So I pushed my giant pile of papers off my desk, they crashed onto the floor as I tossed my head back and laughed sinisterly, while concurrently ripping up my long to-do list as I strolled over to my kitchen and clicked on the stove. Ok, ok so I didn't really do that, I did hop in the kitchen, but the desk-side destruction part was all in my quite active imagination. But cooking on a Monday afternoon just feels so good, it had to happen. I hope YOU can hop in your kitchen tonight or sometime this week and inhale the lively aromas from this recipe and feel the same sense of "Ahhhhhhhh, home-cooked food, yes. This." That I did.
This Peanut-Ginger Curry Chickpeas over Fluffy Brown Rice is so incredibly yummy, I seriously cannot wait to eat more of it for dinner tonight! Peanut buttery, spicy curried ginger, chickpea bliss, fluffy rice, sweet and sassy goodness…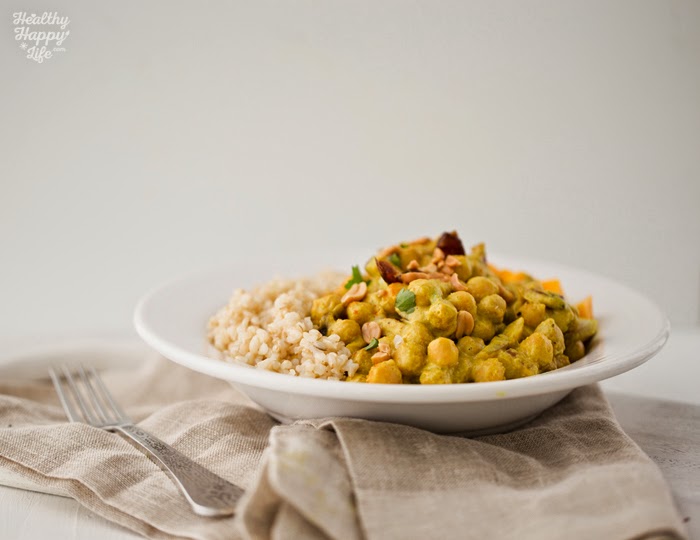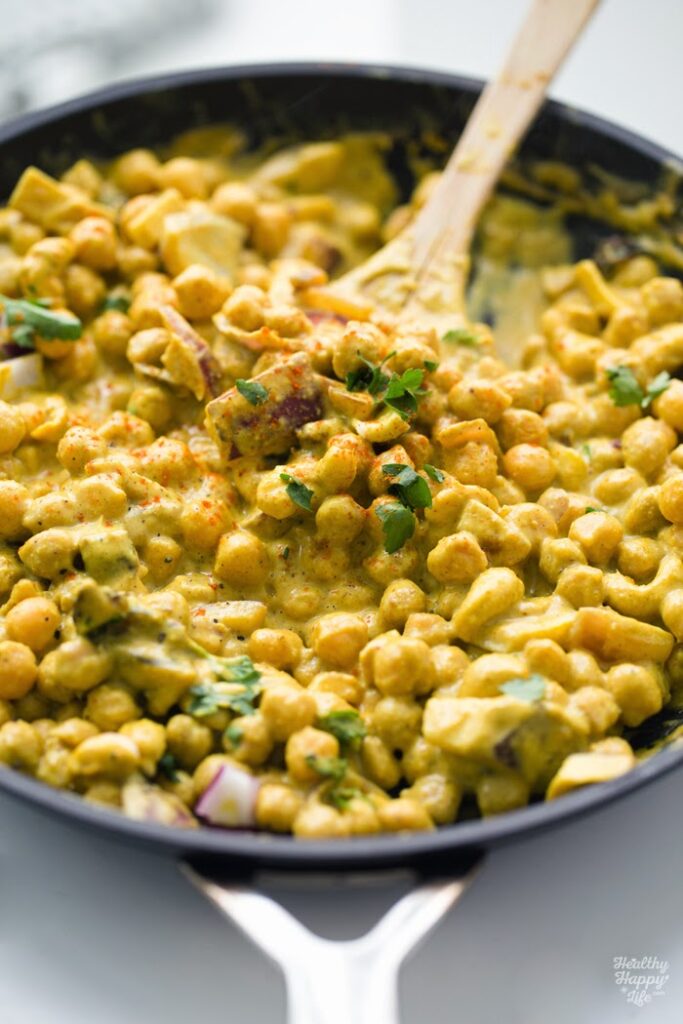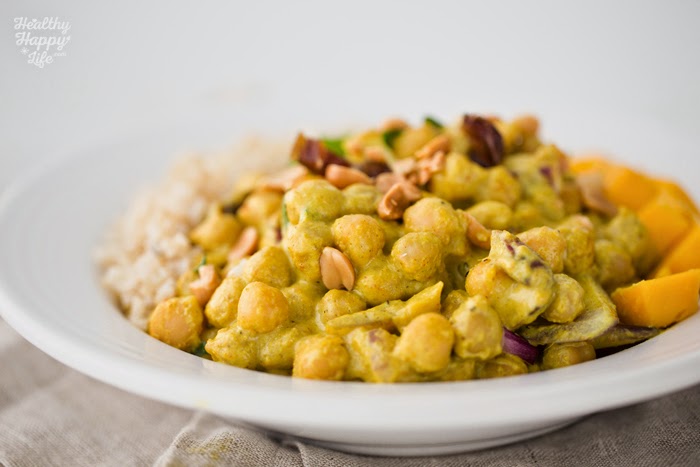 The sauce… creamy peanut ginger curried bliss..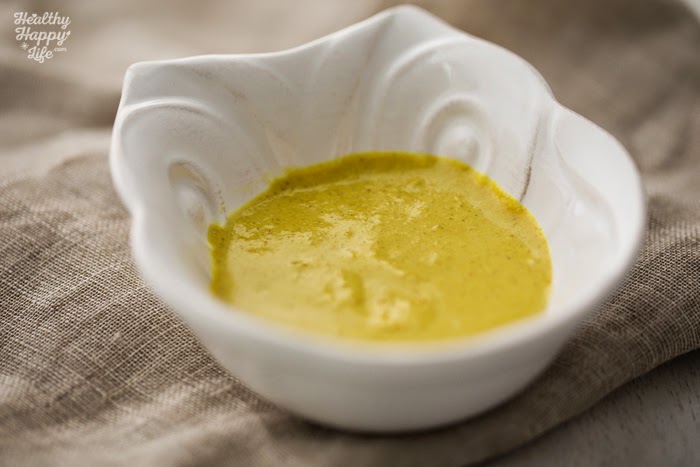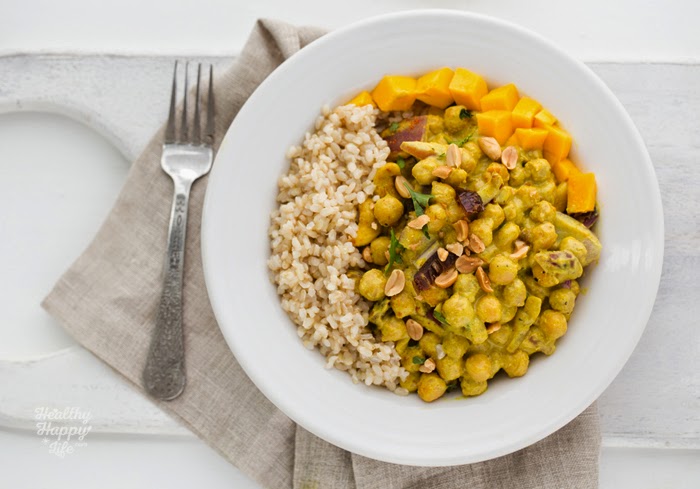 Thank you to everyone who has supported the launch of the new Finding Vegan App! In the first 6 days since launch, over 500 people have downloaded the new iPhone App! I am so excited that vegan recipes are now more accessible for so many people!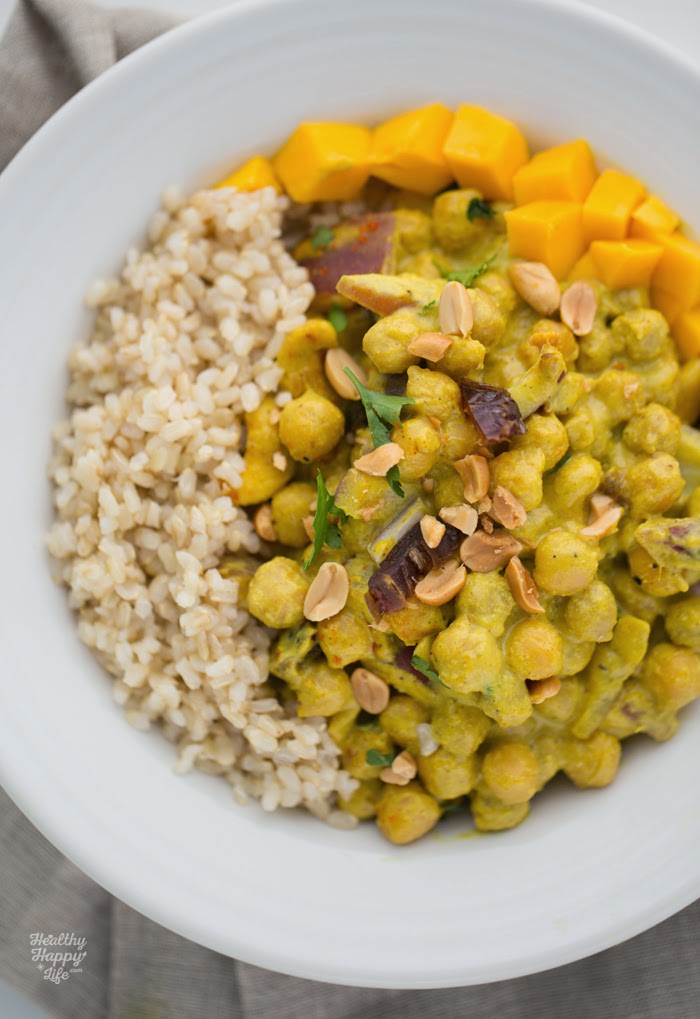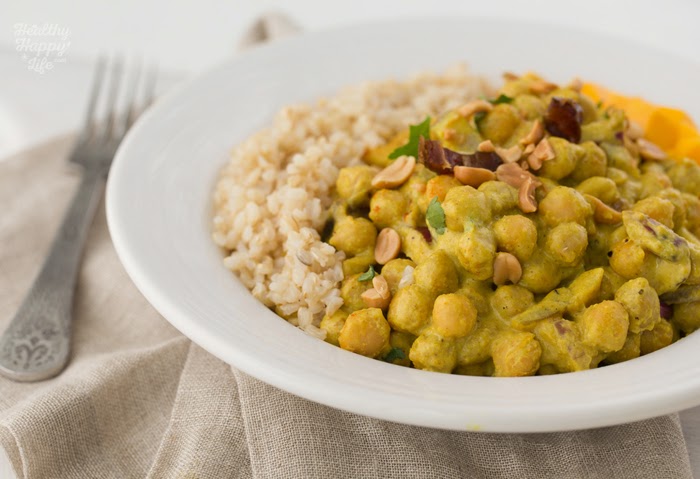 Peanut-Ginger Curry Chickpeas over Fluffy Brown Rice
By Kathy Patalsky
Published 03/16/2015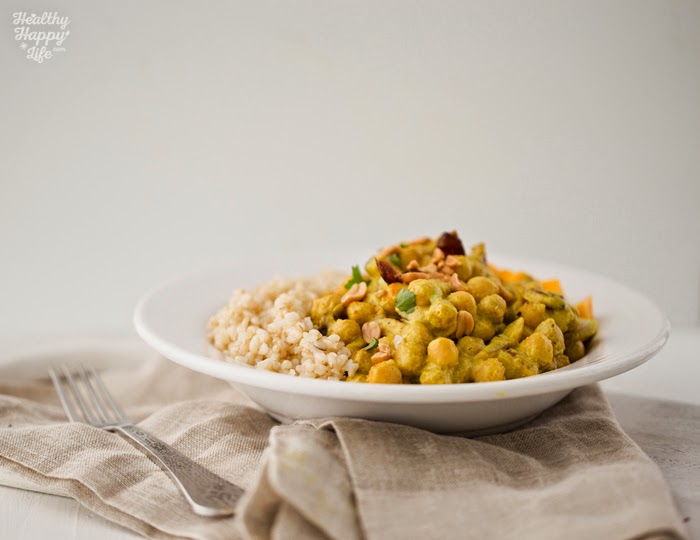 Creamy, spicy, sweet, flavorful chickpeas, onion and cashews are accented with dates and ginger. Served over warm and fluffy brown rice. Vegan and gluten-free.
Ingredients
2 cans chickpeas, drained and rinsed
1 red onion, med-large in size, chopped
1 cup non-dairy milk (lowfat coconut, soy or almond work well)
2 teaspoon curry powder
⅓ cup peanut butter
¼ cup cashews, raw
¼ cup maple syrup, grade B
1 tablespoon fresh ginger, peeled and roughly chopped
⅓ cup flat-leaf parsley, chopped
2 Medjool dates, pitted and chopped
salt + black pepper + cayenne + turmeric (to taste — I used about ½ teaspoon salt)
4-6 cups fluffy cooked brown rice (to serve) — pre-cooked
optional: diced mango to serve
optional: chopped peanuts and fresh parsley as garnish
Instructions
Warm up a skillet over medium heat. Add in half of the onion and ginger. Dry saute for a few minutes until onion softens.
Add in the peanut butter, non-dairy milk, curry powder and maple syrup. Stir well until a yellow thin sauce forms. Lower heat a bit if edges being to brown – peanut cooks very fast, so watch for burning.
After about 1-3 minutes of simmering the sauce and onions and ginger, turn off heat and transfer ¾ of this mixture to a high speed blender – trying to get all the ginger bits into the blended mixture.
Blend until smooth and golden.
Turn the stove back on to warm the skillet over medium heat. Add the drained and rinsed chickpeas, chopped dates, cashews and rest of the onion, the other half. Spoon about half of the blended sauce over top the chickpeas and stir continuously for 2-5 minutes until chickpeas are cooked and sauce thickens. Again, watch for over-browning of the sauce.
If desired, pour more sauce into the chickpea skillet — you can also set it aside and add it as desired to serve. Do a taste test and then add salt, pepper and optional cayenne and turmeric to taste.
When the chickpeas are tender and sauce thickened, sprinkle the parsley into the mixture and stir. Turn off heat and set aside.
Serve with a bowl of warm cooked fluffy brown rice and the chickpea mixture spooned generously over top. Add optional mango as a side garnish, and optional crushed peanuts over top. Fresh green parsley too. Serve warm, but delicious warm or chilled!
Yield: 4 servings
Prep Time: 00 hrs. 10 mins.
Cook time: 00 hrs. 20 mins.
Total time: 30 mins.
Tags: entree,rice,chickpeas,peanut butter,stew,dinner,onion,ginger,beans,easy,vegan,vegetarisn,