Sometimes you look at the clock and realize it is three or four PM. Hm. You don't feel so hot. You had that smoothie for breakfast then were running around, fueled by adrenalin and anticipation for the next thing on your "to-do" list and now you are suddenly exhausted and starving and somewhere in between lunch and dinner. You don't want a snack, you want a meal, but you don't want to spoil your appetite for dinner. Or do you? Your relationship status with your stomach at this moment is: complicated. You are hungry and have zero plans to feed yourself. You waited too long. Blood sugar dropped. Hangriness set in. But then you say screw dinner and give me something amazing and hearty.
Sometimes you fail at "food" for the day. Even though feeding yourself is part of Life 101. But it happens to all of us. Sometimes way too often.
Then other times, angels sing, rainbows sparkle and you have your culinary act together and know exactly what you want to eat and how to get it. Maybe you are even making it yourself and BOOM you have all the ingredients on hand. Nothing tastes better than that type of meal. Hashtag nailed it.
This recipe is your way to prepare for one of those times! So when deep hunger kicks in, the type where an apple or a pbj or some hummus and carrots or a snack bar or even a giant smoothie just won't do, how about this. Some hearty peanut buttery soba noodles with tender, fluffy cubes of tofu and perky green broccoli all smothered in the best peanut sauce ever.
This is that.
Today we make my Easy 3-Step Peanut Soba Noodle Bowl with Tofu & Broccoli!..
The three steps..
1. Whip up homemade peanut sauce in your blender.
2. Cook noodles and lightly boil broccoli and tofu.
3. Toss! Toss everything together and serve. Warm or chilled.
I love this recipe because it contains so many healthy ingredients!
Buckwheat noodles (soba) are gluten free (when made with 100% buckwheat) and rich in protein, iron and a unique bioflavanoid called rutin.
Tofu (non-gmo and organic) is a high quality source of plant-based protein.
Peanuts are also a good source of protein and healthy fats.
Broccoli is a super veggie! Broccoli is actually quite high in protein too (one bunch contains 17g protein!) and it is a cruciferous veggie with cancer-fighting properties among other antioxidant benefits.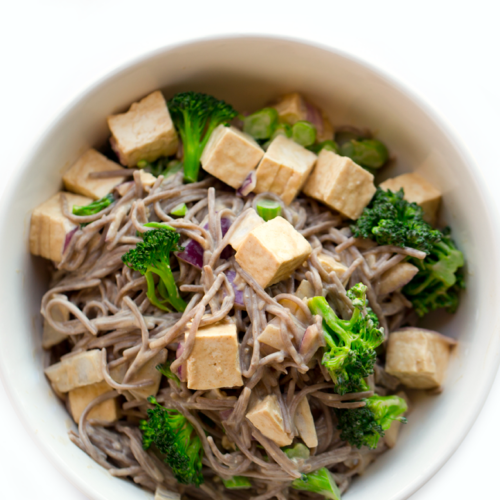 Easy 3-Step Peanut Soba Noodle Bowl with Tofu & Broccoli
Creamy peanut sauce meets tender soba noodles, fluffy tofu and delicate florets of broccoli. Perfect meal bowl!
Print
Pin
Ingredients
2 cups broccoli florets (organic)

8oz firm tofu, cubed (organic, non-gmo)

8oz soba noodles (I used 100% buckwheat noodles)

peanut sauce to taste – recipe here

½ cup red onion, diced

optional: salt and pepper and red chili flakes to taste 
Instructions
Blend your peanut sauce ahead of time or you can even make a day in advance. Set aside.

Bring a large pot of water to a boil. Use a bit more water than you think you will need. Add the soba noodles. Cook for 7-8 minutes or until tender.

Strain the noodles and rinse in cold water. Set aside.

Using the same large pot, bring another pot of water to boil. When boiling, add the broccoli. Boil for 1-3 minutes just enough to make tender but still firm and green. Using a strainer, remove the broccoli. Them add the tofu for one minute. This should plump and fluff the tofu. Remove with a strainer.

Add the tofu, broccoli and red onion to a large mixing bowl. Add ¼ cup of sauce and toss well. Then add in the noodles. Gently toss well – try not to break the noodles if they are still slightly warm.

Add more peanut sauce to taste. Also add salt, pepper or chili flakes to taste. I even like a splash of sriracha sometimes for heat.

Serve warm or chill in the fridge and serve chilled. Delicious as a leftover too!