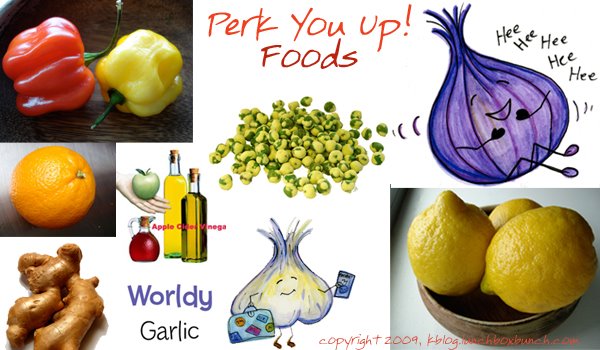 Sometimes, especially in winter, our bodies can feel sluggish, dull, tired and slow.
Here is a great list of foods that will assist your body in "perking itself up".
Read more for the list to live by…These foods range in types. But most perk-you-up foods will stimulate the body or nourish your digestive system with active and raw enzymes.
Spicy, active/live/raw, acidic, nourishing, probiotic, activating, stimulating and warming.
Perk You Up Foods:
1. ginger
2. garlic
3. apple cider vinegar
4. cayenne
5. probiotic-rich foods
6. chilies
7. juices (fresh-pressed)
8. lemon or lime
9. citrus-all
10. wasabi
11. red pepper flakes
12. black pepper
13. chai spices
14. curry spices
15. parsley
16. basil
17. raw onion
18. cinnamon and nutmeg
19. lean proteins
20. coconut water
The list can go on, but these are a few of my favorite easy-to-add to recipes perk you up foods.
Try some cayenne in your cocoa.
Try some ginger and garlic in an olio pasta dish.
Try some raw onion on your morning bagel and cream cheese.
Try some parsley on your soup.
Try some cinnamon and nutmeg in your mashed sweet potatoes.
Try some raw basil on your lunch sandwich.
Try some lemon and pepper on your salad.
Try some wasabi roasted nuts.
Try some apple cider vinegar on your steamed fish.
Try some balsamic vinegar on your fruit salad.
Perk it up! Get creative! "Sluggish foods" like grains, potatoes, carbs and stews can all be perked up with the foods on this list. Great for the winter-time-sluggish feeling.