Taking my recipe for Toasted Walnut Cheesy Pesto one step further, here is a delicious idea for a "one-dish dinner" done Italian style. Three easy steps go into this dish… 1) make the pesto 2) cook the pasta and 3) blanch and saute the veggies. Then you're ready to assemble the ingredients into your serving dish.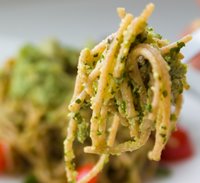 Simple and satisfying flavors are represented: pesto, garlic, fresh oregano, broccoli rabe, brussel sprouts, shiitake mushrooms, sweet onions and spelt pasta. Ideal for an 'I don't know what time we are eating' dinner, this dish can sit happily in a warm oven for a few hours – marinating the flavors together until you are ready to dig in.
What you'll need:
*A casserole dish or pan
*A saute pan for the veggies
*A large pot of boiling water
*A large bowl of ice/water (ice bath)
*Kathy's Toasted Walnut Cheesy Pesto
*Your favorite pasta, I love spelt or whole wheat angel hair with my pesto sauce.
*One bunch of broccoli rabe
*Misc. Veggies: I used brussel sprouts, shiitake mushrooms and sliced onions. (Any combo of pasta-friendly veggies you have on hand will work.)
Garnish/Seasoning extras:
*Olive Oil, sea salt, black pepper, red pepper flakes
*An acid: Lemon juice or red wine vinegar
*Vegan Parmesan cheese for sprinkling
*Fresh oregano leaves (and/or other fresh green herbs)
*Tomatoes, grape tomatoes or sun dried tomatoes are my preferences.
Let's make dinner!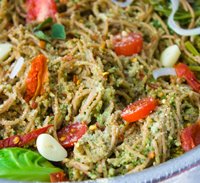 STEP ONE: PESTO
Make the pesto. Instructions here: Kathy's Pesto Recipe.
Stick the pesto in the fridge until you are ready for it. Save a few of the fresh basil leaves for garnish.
STEP TWO: VEGGIES
Wash the broccoli rabe and remove any dead leaves.
Chop the broccoli rabe into the desired size. I like it simply cup into one or tow pieces.) It will shrink quite a bit when blanched.
Wash and dry any other veggies you are using.
(I used shiitake mushrooms, onion rings and quartered and halved brussel sprouts.)
Bring you pot of water to a boil. Make sure the water is salted.
Blanch you excess veggies-brussel sprouts etc.
Blanching instructions here: Blanching 101.
Remove from water when ready and submerge into ice bath for a few seconds.
Set aside.
Repeat this process with the broccoli rabe.
Start a saute pan on med-high heat with some olive oil. I also added some lemon juice to the pan.
Add some garlic and add the toughest veggies first. For me, this is the brussel sprouts. Then I added the shrooms and onions. In a few minutes, the veggies are perfectly tender. I seasoned the lightly sauteed veggies with some black pepper, lemon juice and salt. I then plated the veggies right into my serving dish. You can arrange them to one side, or in a circle around the edges.
STEP THREE: PASTA
Remove the pesto from the fridge to let it soften. Bring the water back to a boil-the veggie water can be reused-it does have a few nutrients that leaked out from the blanched veggies. Cook your pasta. Drain. Add to a bowl. Add pesto and toss well. Add a few spoonfuls of pasta water to loosen the pesto.
ASSEMBLY:
Lay the pasta in the pan and begin to garnish with Parmesan cheese sprinkles, fresh oregano leaves, sliced grape tomatoes, fresh basil, and red pepper flakes.
Cover dish and either serve while everything is still warm, or stick in an oven to re-heat to hot, or stick in a warm oven until you (and your other diners) are ready to eat.
Serve with some garlic-EVOO crusty bread. This dish even goes well with tempeh cubes if you are seeking a protein boost. Edamame is even a nice green addition to the pasta.
Enjoy!