In celebration of PETA's 30th Anniversary, one of my favorite peanut butter brands, Peanut Butter & Co. has released special edition: PETA Butter!
..so fun.
I was anxious to head over to Peanut Butter & Co's Greenwich Village NYC sandwich shop and pick up my very own jar. Visions of PETA Butter & Jelly Sandwiches, PETA Butter on toast and of course, PETA Butter Cookies danced in my head. My salute to PETA's 30th anniversary via … cookies!..
Peanut Butter & Co. Shop in NYC's Greenwich Village:

Cookie Baking to Celebrate PETA's 30th Anniversary…
Before:

After:

About PETA Butter: "Peanut butter is used on one of the most popular sandwiches in America — and it's vegan — so PETA Butter was a natural choice," said PETA President Ingrid Newkirk.
The 16-ounce jars are available online (or in-store NYC) for $5 — with a portion of all sales donated to PETA's Pledge to Be Veg campaign.
PETA: 30 Years of Loving Animals. PETA turns 30 this year – they were founded in 1980. To think, I have never lived in a PETA-less world. I also turn 30 this year!
Celebrate PETA's 30 years in style. PETA's 30th Anniversary Gala later this month is SOLD OUT – but you can still celebrate in your own kitchen by making these ooey gooey, delicious PETA Butter Cookies! Perfect for the cool fall weather ahead.
Toasted Coconut PETA Butter Cookies:

Raise a frosty glass of soy milk and an oven-fresh cookie and clink your glasses in "cheers" to PETA. They deserve it…

How PETA Inspired Me. In many ways, it was PETA that inspired my veganism. Back in high school I remember flipping through a shockingly upsetting PETA brochure on the truth about Factory Farming. I sobbed and sobbed after viewing the photos and captions.
And to be honest, for a long time I was very confused by PETA. I was perplexed by my love/hate relationship with them. I'd see them flashed in the news about throwing red paint on fur coats at fashion shows the headlines describing the activists as "extreme" – a few were even arrested all in the name of animals. My young ignorant mind immediately judged them to be "extremist" "obnoxious" and even a little "annoying".
But then I grew up. I read more. I learned. And the truth is scary. PETA's passion and "over-the-top" mentality all makes sense to me now.
Animals are defenseless, voiceless creatures who live in our sometimes very cruel world. Animal abuse, factory farming and animal product-heavy diets create devastating circumstances for millions of animals every year. Animals that never see the light of day, never see a kind face, never feel a warm embrace or sunbeam. These animals need a strong, powerful, aggressive voice on their side. PETA is that voice.
PETA: "People for the Ethical Treatment of Animals (PETA), with more than 2 million members and supporters, is the largest animal rights organization in the world."
See PETA's awesome "Map of Accomplishments" here.
You can read all the PETA Victories here.
PETA's Celeb Supporters have included: Pam Anderson, Alicia Silverstone, Cloris Leachman, Paul McCartney, James Cromwell, Alyssa Milano, Bea Arthur, Stephanie Pratt, Lea Michele, Olivia Munn, Patricia Arquette, Mickey Rourke, Shane Mosley, Ron Artest, Famke Janssen, Dominic Monaghan, The Go-Go's, Holly Madison, Kelly Osbourne, Simon Cowell, Eva Mendes, Kim Basinger, Charlize Theron – and more!
..I like to think of PETA as a "protective mother" of sorts. You may stop and stare as they passionately scream and yell in fury when they see their child in pain or done an injustice – but you know what – they made you look, right?
So I want to say bravo! to PETA-founder Ingrid Newkirk and her strong team of supporters behind her.
Here's my PETA Butter Cookie salute to PETA – this batch is for you. I raise my soymilk glass to you. 🙂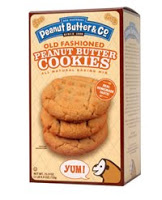 Peanut Butter Cookie Mix. Since I was in the PB&Co store I picked up some vegan peanut butter cookie mix. The box instructions call for non-vegan things such as butter and eggs – but my simple veganized ingredient add-ins make this a very easy pb cookie recipe. You can use any boxed peanut butter cookie mix – but if you want to try the PB&Co brand you'll be in for a treat. It is awesome! And since you will already be ordering PETA Butter from PB&Co – why not throw in some PB Cookie Mix too?!
You can buy it at their store in NYC or online.
I made four variations of my PETA Butter cookies:
* Toasted Coconut PETA Butter Cookies
* Swirled PETA Butter Cookies
* Chocolate Chip PETA Butter Cookies
* Kitchen Sink – all of the above
My recipe and variations…

PETA Butter Cookies
vegan, makes about 2 dozen cookies or 3 dozen mini cookies
1 box PB&Co Peanut Butter Cookie Mix
½ cup applesauce, unsweetened
2 tablespoon Peanut Butter, I used PETA Butter
*PB&Co's mix is already very peanutty, but I like to add in an extra heaping spoonful of PETA Butter.
¼ cup water
⅓ cup virgin coconut oil (or your fave vegan fat/oil)
dash of cinnamon
variations:
– vegan chocolate chips dotted on top
– raw coconut shreds folded in or sprinkled overtop
– swirl of peanut (PETA) butter drizzled on top of each cookie before baking
– "kitchen sink": fold in chips, coconut, more pb, nuts
Directions:
1. Hand stir the cookie mix with all the ingredients.
2. Preheat oven to 350.
3. Drop or spoon cookie dough onto parchment paper lines baking sheets.
4. Bake for 10-12 minutes.
5. Allow to cool.
Serve warm with frosty cold non-dairy milk