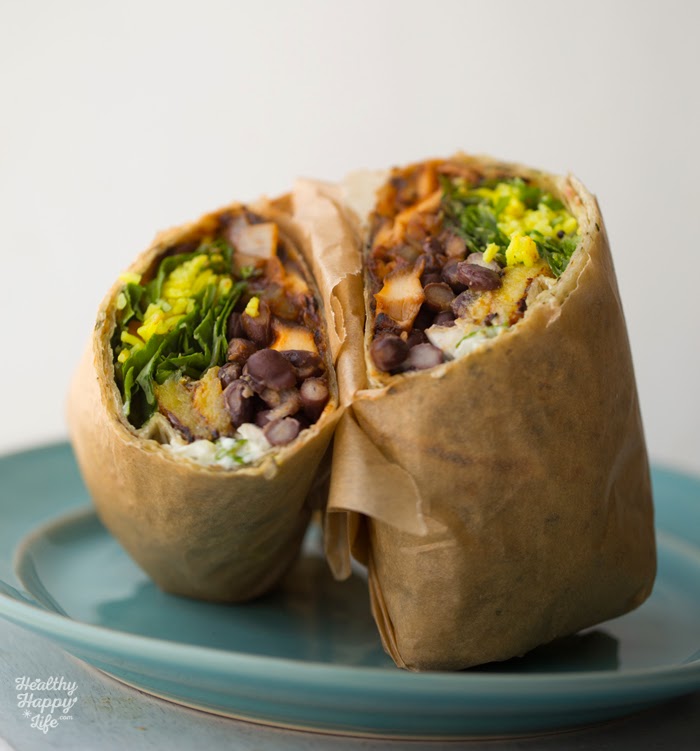 These Plantain Black Bean BBQ Wraps make a delicious handheld dinner. Crispy, caramelized, sticky-sweet plantains mingle with black beans and a spicy, flavorful shiitake mushroom-onion BBQ sautè. Add in some lively greens, buttery avocado and some optional add-ins like salsa, citrus and vegenaise and you have yourself a very cravable meal. Wrap up dinner! … or not, actually all these filling ingredients make a delicious "burrito bowl" too!..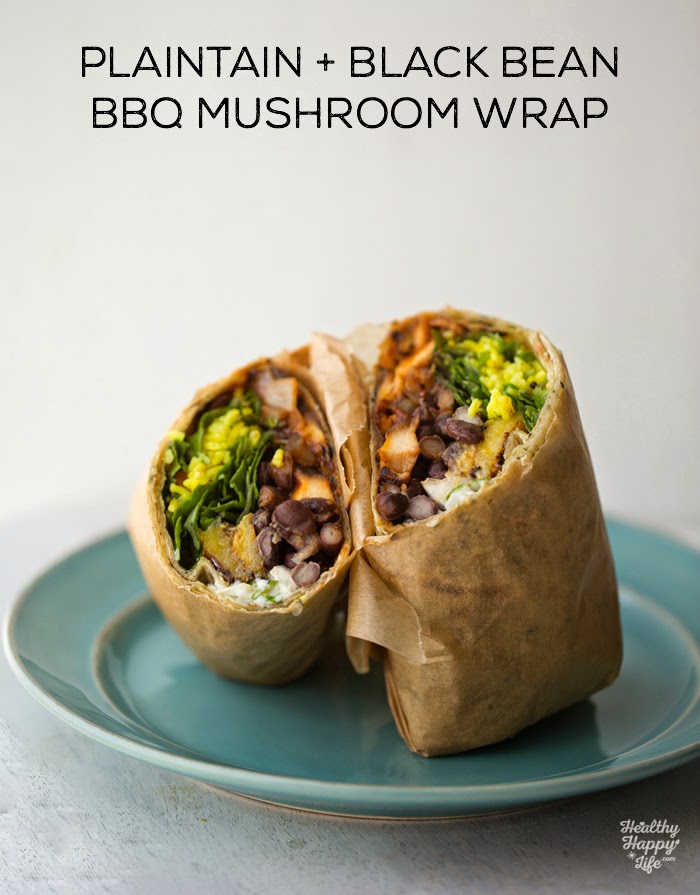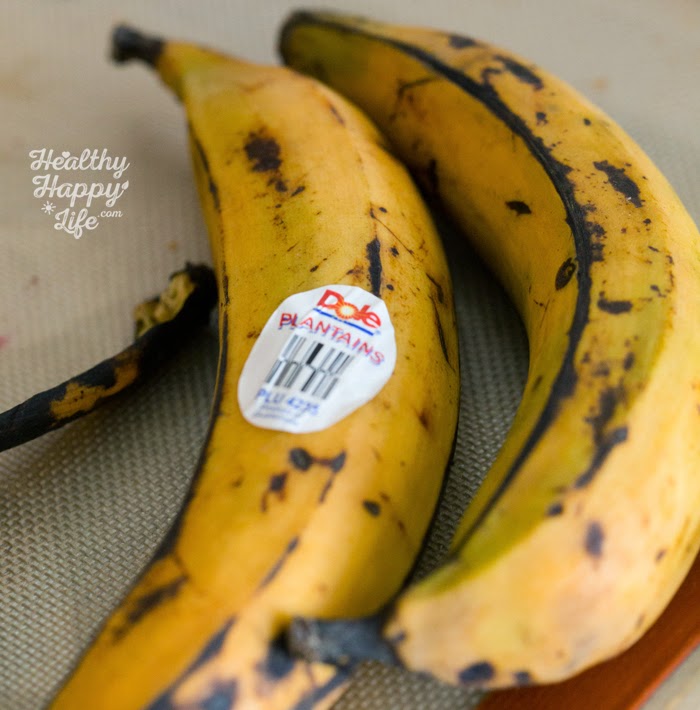 Ripeness of my plantain.. the black peel.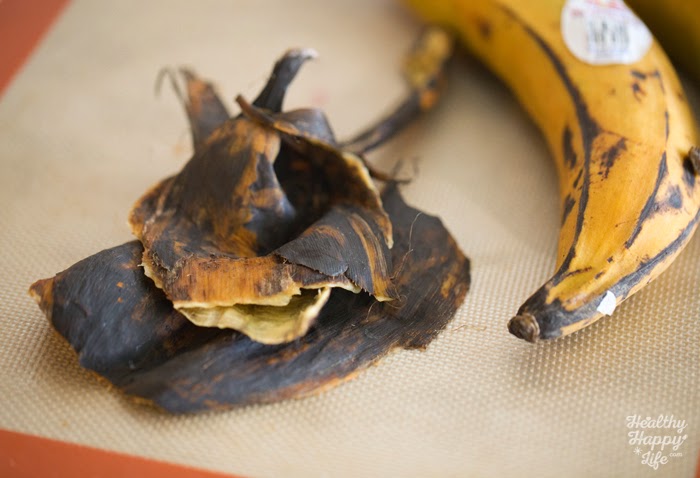 sticky sweet in just a quickie sautè!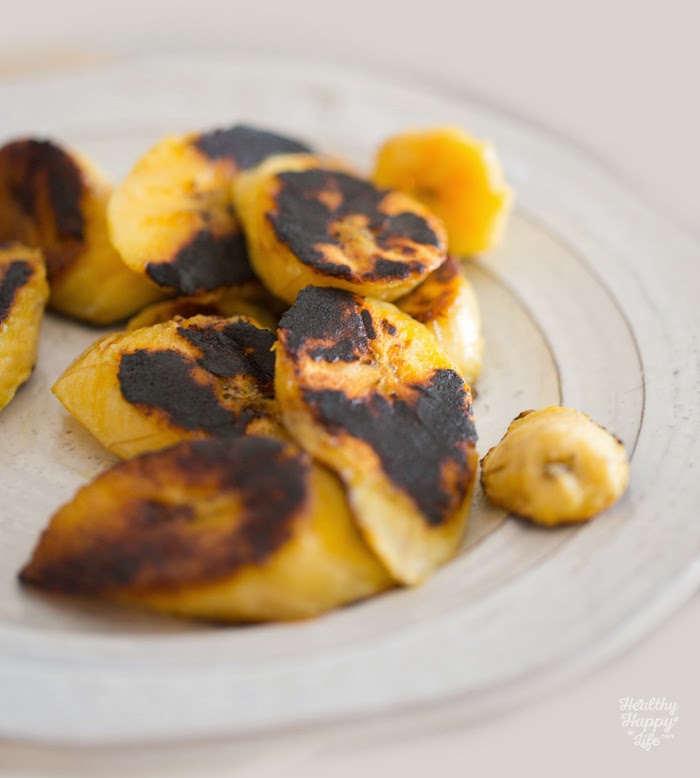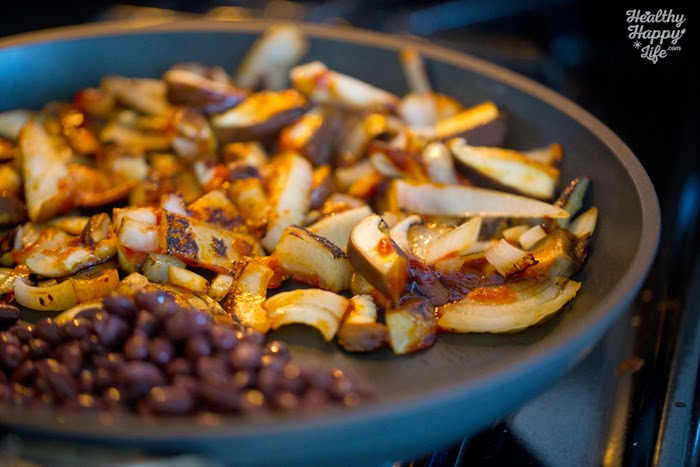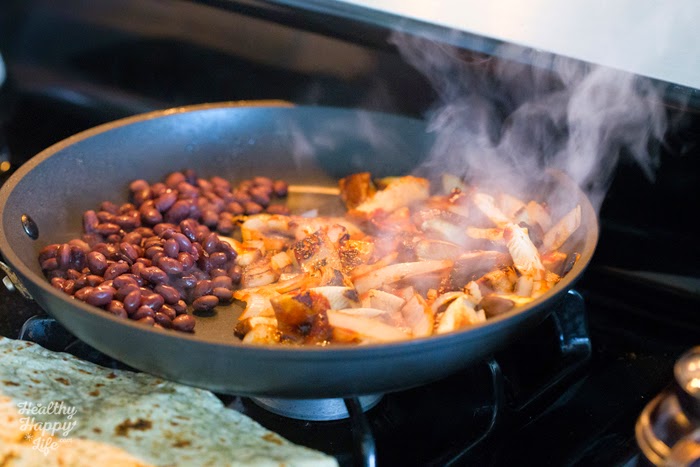 Warm that wrap or tortilla before adding filling – this helps to fold up the wrap..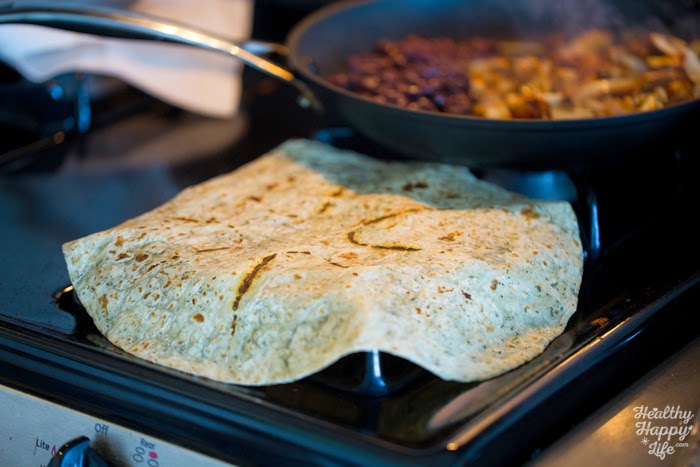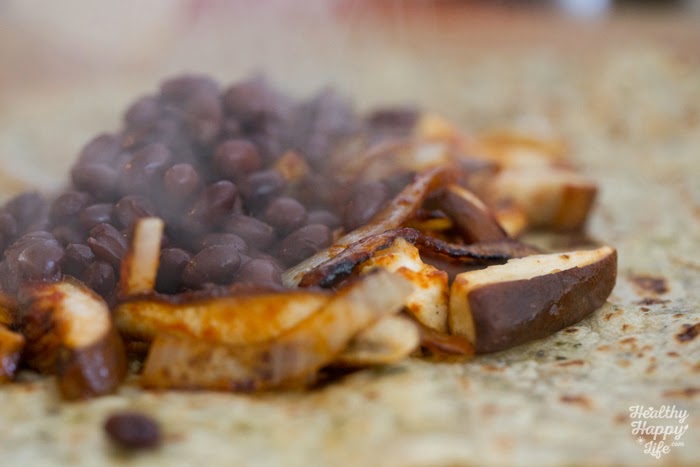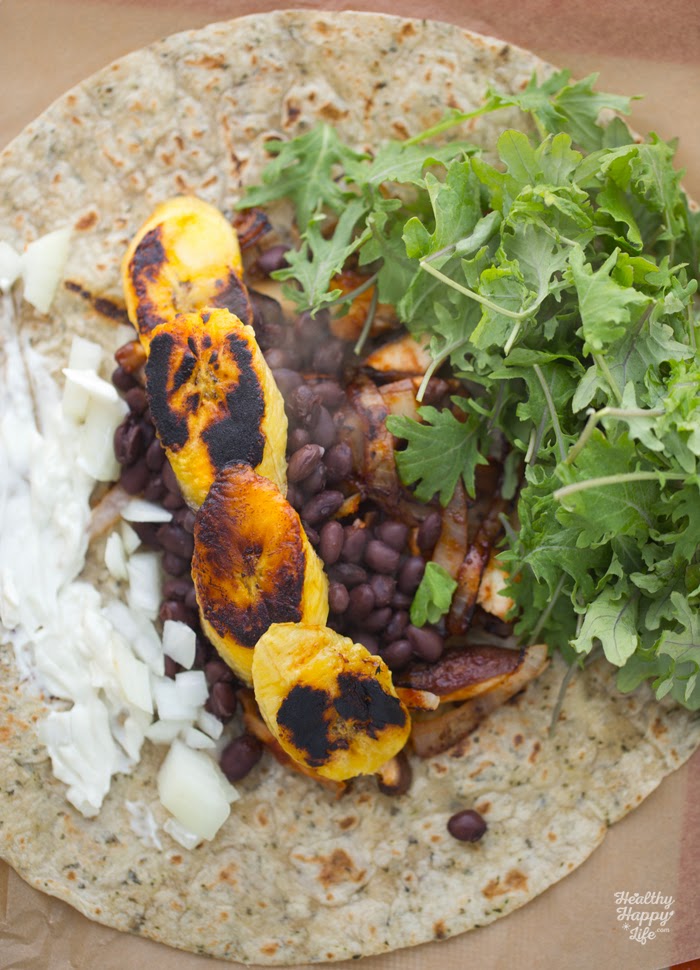 wrap it up..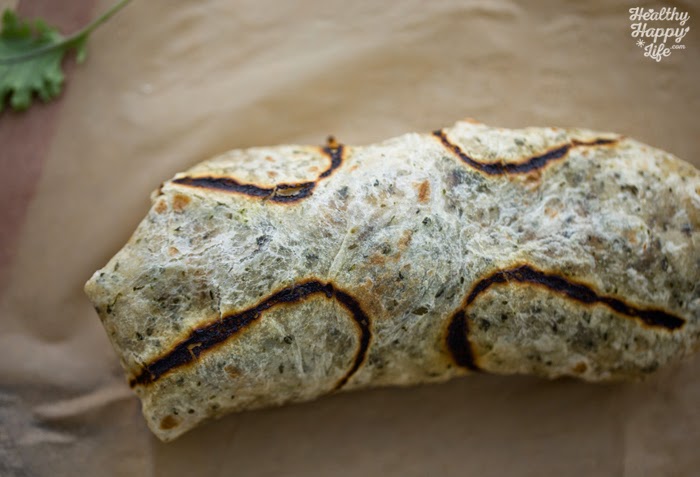 slice and serve..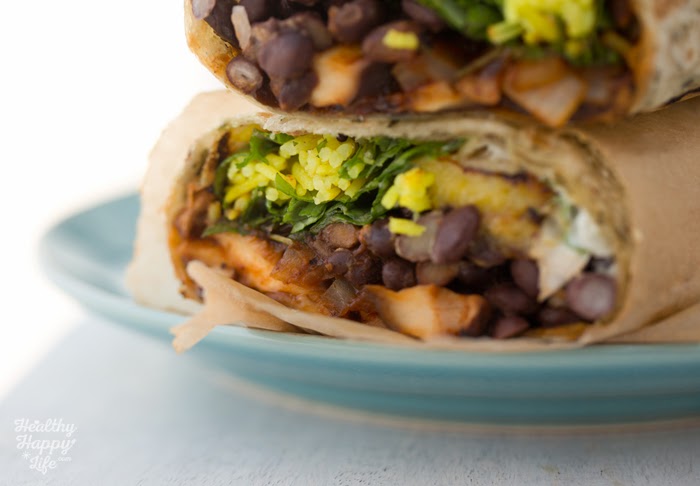 Plantains. Raise your hand if you think that plantains are a highly underrated food. *raises hand*
I have always swooned over plantains with their sticky sweet, starchy flavor and texture, like a cross between a sweet potato, banana and own unique hearty, exotic flavor.
I think the name "plantain" is not doing these banana look-a-likes any favors. I mean, plantain just screams "plain" – am I right? But these amazing vegetables are a good source of fiber, vitamins A and C, potassium and are about 220 calories each. The sweet flavor is remarkable. Nothing plain about them to me!
But my favorite thing about plantains is that they are SO easy and fast to make. You could actually use them in place of a sweet potato in sautè recipes and more, but they cook much more quickly than a potato.
How-to cook a plantain – sticky sweet style: You simply wait until the plantain is good and ripe, aka dark-skinned. Black. The flesh should be soft and sticky, yet still firm enough to slice. Then you simply warm up a tiny bit oil oil or vegan butter on a hot skillet and add the sliced plantains. In a few minutes they are done!
One of my favorite pairings is plantains with black beans. The nutty, savory beans pair perfectly with skillet-cooked plantains. Add in some spicy salsa, maybe some rice and a few other veggie accents and you have a delicious meal.
You can serve today's recipe in a big bowl or served as a wrap, like I did here.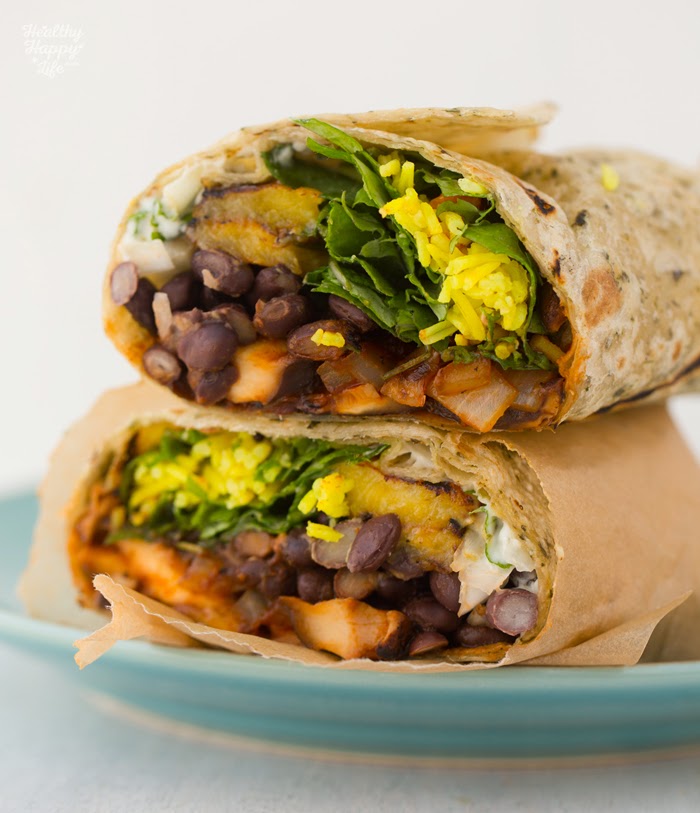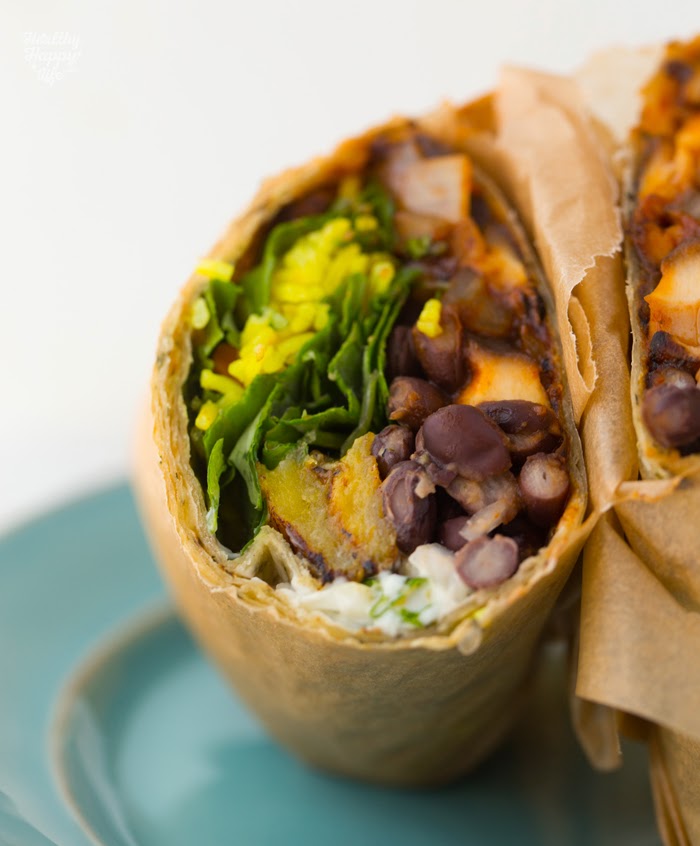 Plantain Black Bean BBQ Wraps
By Kathy PatalskyPublished 02/17/2015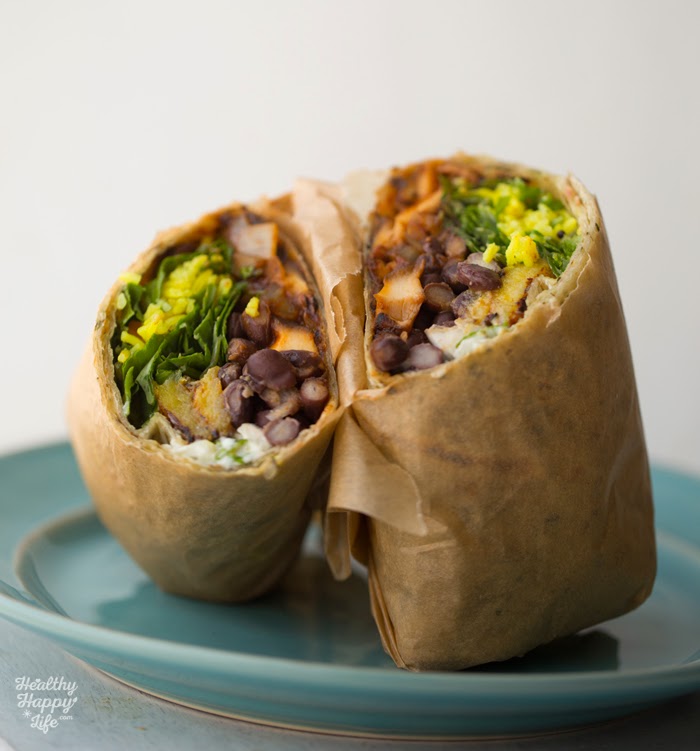 Serve in a wrap or wrapless in a big bowl, black beans, plantains, BBQ mushrooms and more.
Ingredients
2 cups cooked black beans
1 large ripe (black) plantain, sliced
½ – 1 avocado, diced
1 onion, diced — set aside a handful of onions to add raw if you'd like
1 ½ cups leafy greens (baby kale used)
1 ½ cups shiitake mushrooms
¼ cup BBQ sauce
2 large wraps or tortillas
1 cup cooked turmeric rice (cooked rice + a pinch of turmeric for color)
1 teaspoon virgin coconut oil or EVOO
2 teaspoon vegan mayo
2 tablespoon salsa — or a squeeze of lime juice (optional)
½ cup sweet citrus, diced (optional)
Another optional add-in: I love tempeh or Beyond Meat chick'n or tofu added to the BBQ mixture too!
Instructions
Start off by adding ½ teaspoon oil to a skillet, over high heat. When the oil is hot, add in the sliced plantains. Cook for 1-2 minutes on each side. They will be blackened when ready – crispy and caramelized on the outside and soft on the inside. Remove plantains from skillet and set aside.
Add the other ½ teaspoon oil to the still hot pan, along with the mushrooms and onion. Sautè for 2-3 minutes or until the edges brown. Lower heat and add the BBQ sauce. Sautè with sauce for another 2 minutes. Then push all the BBQ mixture to one side of the pan and add the black beans to the other side. Toss them around on the warm skillet for 1-2 minutes to warm them.
If using turmeric rice, use freshly cooked, warm rice (any variety) and toss with ½ – 1 teaspoon turmeric. If your rice is pre-cooked and cold, you can warm it next to the black beans on the skillet.
Warm the wraps by placing them directly on the stovetop burner for 5 seconds while the heat is on. Then flip and warm for another 5 seconds. Be very careful that your wraps do not catch fire over the open gas flame. You could also warm them in the oven. Heat an oven to 400 degrees, wrap the wraps in foil and warm for 5-10 minutes. Or warm in the microwave for a few seconds. You want your wraps to be warmed when you fill them so that they soften and fold easily.
Assembly: Place the warmed wraps on a sheet of parchment paper. Add a scoop of the BBQ mushroom mixture, a scoop of black beans, a scoop of rice. Then add a generous handful of the leafy greens. Then add avocado and the optional citrus and salsa. Slather the vegan mayo on the wrap and carefully fold things up! Roll the sealed wrap up in the parchment paper and slice to serve. Watch me wrap a wrap in this video post – video one!
Yield: 2 wrapsPrep Time: 00 hrs. 10 mins. Cook time: 00 hrs. 15 mins. Total time: 25 mins. Tags: entree,sandwich,wrap,plantains,black beans,vegan,dinner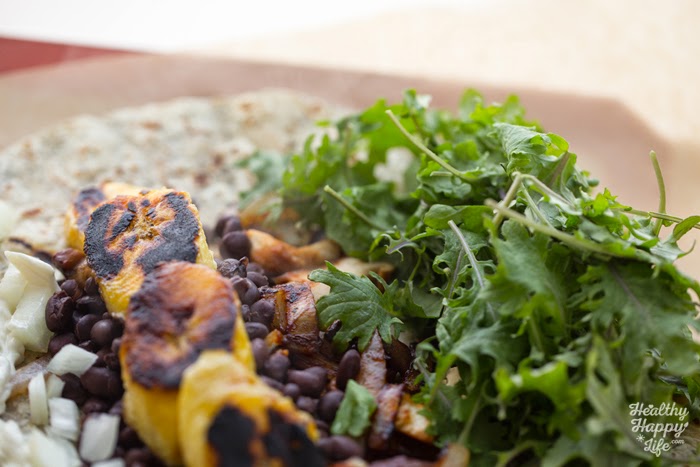 turmeric rice optional..