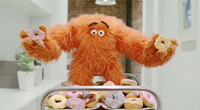 Hunger. Is it good or bad? I was fascinated by Weight Watchers new program mascot (as seen on TV), the "Hungry" Monster, from the new Momentum program. But it got me thinking, is hunger really a bad thing?

Weight Watchers seems to think that hunger should be avoided at all costs. Their new volumetrics-style, higher fiber program guidelines seem to hint that staying constantly full or satisfied will help you lose weight.
But what about the good factors about hunger? What about the taste of a healthy meal when you are hungry compared to when you just ate a snack an hour ago. And didn't mom always say that snacking before dinner would "spoil your appetite?"
It's an interesting debate. Thus I started a poll of the topic. I hope you will take it and join in the conversation regarding hunger. Or is it the "hunger monster"…

Read about and see the hunger monster commercials here.