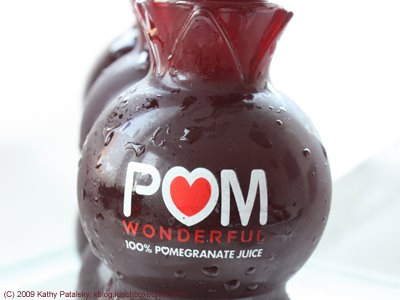 Pomegranate juice is indeed a super juice.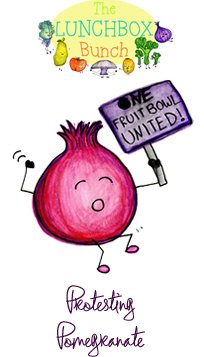 But
not all Pomegranate juice brands on the market are created equal.
This California girl is a big fan of
POM Wonderful
. All their pomegranates are hand picked from their orchards in the sunny San Joaquin Valley of California.
POM Wonderful never uses imported juice.
Juice Craving Society:
There is a plethora of
super tonic-fruit-juice-vitamins-added-power-water
beverages on the market today. Many of them are filled with sugar, flavorings, and colorings.
POM is 100% juice.
Yay.
Click forward for my official
POM Wonderful
review, photos and recipes – and a bunch of

amazing

pomegranate health facts
.
POM Wonderful 100% Pure Pomegranate Juice



Shelf-Appeal: I've adore the POM bottles. Two or three plump round spheres built into the bottle help you keep track of how much POM juice you have consumed. I like to drink one sphere in the AM and one in the PM. Sturdy bottles.


Label Check:

Per 8 ounces,

POM juice has 150 calories

, 0 fat, 0 sodium, 520 mg potassium (

15% RDA

), 40 grams carbs. Compare that to 170 calories in grape juice. Not "on the label" but in the literature, you will find that POM is backed by $25 million in world-class research. Some of the possible benefits include

increased prostate health, cardiovascular health, erectile dis function

and most striking is that

POM juice ranks highest on the Antioxidant Potency Index

when compared to red wine, orange juice green tea, acai juice, concord grape juice and blueberry juice. Antioxidants,

help fight free radicals

, slow the aging process and overall make you feel good.

POM is full of good stuff

.


Taste test: POM is the most complex juice I have ever tasted. It's kinda like wine. It starts out bright and crisp with a fresh tart bite, then is slows down into a sweet almost peppery flavor and the end taste is similar to sweet tart grape juice only lighter. I adore cold POM smoothies. I also love sticking my POM bottle in the freezer for about fifteen minutes until it gets incredibly cold and just a bit frozen. The clean bite of sweet POM juice really spells refreshment in an addictive way.



Price: Here in NYC the pricey corner store sells POM for $4.99 each. It's obviously more expensive than the carton of OJ…but you get what you pay for folks!



Last Word: I drink a super juice every morning. Sometimes its acai, fresh juiced OJ, or super greens. POM is the newest addition to my AM juice rotation.

STUDY DETAILS:
Check these facts out folks…

-After only three months of drinking 8 oz. of POM daily,

blood flow to the heart improved by 17%

, and worsened by 18% in a placebo group. The study included 45 patients with coronary heart disease.
-45 men with recurrent

prostate cancer

drank 8 oz. of POM for two years and experienced prolonged PSA doubling time from 15 to 54 months. PSA is a blood marker for prostate cancer and the longer the doubling time, the lower the risk of cancer.
-Hundreds of scientific tests show that

POM is a superior source of antioxidants

, with more and better antioxidants than red wine, grape juice, blueberry juice, Green tea, cranberry juice and vitamin C and vitamin E.
-Drinking 8 oz. of pomegranate juice per day for two weeks

lowered the incidence of LDL oxidation

, believed to be a key factor in arterial plaque formation.

FOR MORE INFO ON POM WONDERFUL CLICK HERE

RECIPES:

Protesting Pomegranate Smoothie!
12 ounces POM Wonderful juice
1 cup frozen strawberries and/or blueberries
1 banana
¼ cup plain vegan yogurt
¼ cup

fresh

berries
6-8 ice cubes

Blend: All juice and frozen ingredients on high. Slowly blend in yogurt and fresh berries. Serve with a straw and tiny "One Fruit Bowl United" tooth-picket sign. YUM!

Kathy's POM PERFECT POM-Iced
Do This:
Blend 12 ounces of POM with ten ice cubes.
Simple and delicious.
Oh, and
healthy.