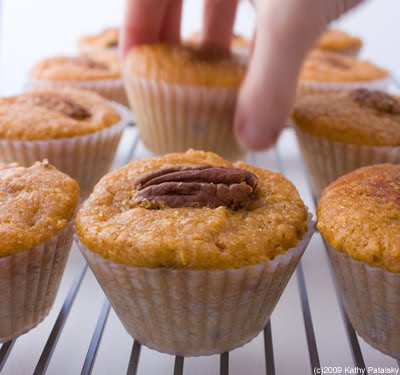 Fall is in the air and I've gone and bought a pumpkin. There's no turning back now.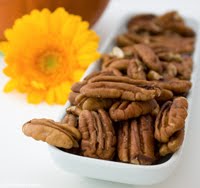 First Muffins of Fall. I've given in to the changing of the seasons: crisp air, turning leaves, cinnamon pine cones piled outside Whole Foods Market and the taste of spiced apple cider bought at the fall Farmer's Market. And while I'm feeling festively fall I decided to make my first batch of muffins for the season. My recipe: Vegan Pumpkin Spice Apple Pecan Muffins. No oil added. These muffins are light as air and sticky sweet. They taste like puffed up pumpkin butter pillows. Get the recipe and surrender to fall…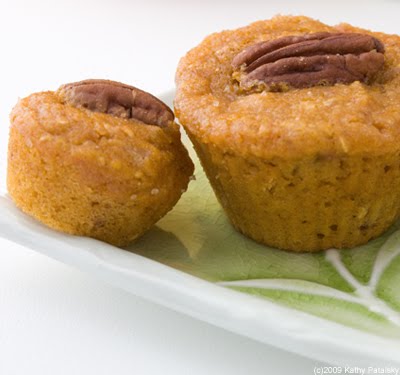 No Oil Added. I decided to try something new with my pumpkin muffins, no oil added! I know how hydrating the canned pumpkin can be, so I figured these muffins wouldn't really need any more moisture. And since there are plenty of decadent pecan nuts folded into the batter, the taste would be superb. Trust me, these no oil added pumpkin muffins are super soft and tasty. You won't miss the drizzle of oil you are used to putting in your muffin batter.
Egg Substitute. For this recipe I used vanilla soy yogurt as my 'egg substitute' It keeps my muffins moist and fluffy while adding a light vanilla essence without the need for vanilla extract. Plus it adds a bit of soy yogurt protein as well.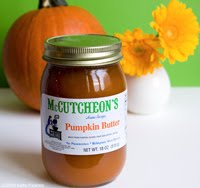 Pumpkin Butter. I used McCutcheon's Pumpkin Butter. It's vegan. It contains pumpkin, sugar, fruit acid and spices. It's delicious by the spoonful. It gives these muffins a dose of warm gooey sweetness that only pumpkin butter can add.
Pumpkin Spice Apple Pecan Muffins
vegan, makes 2 dozen medium muffins
dry ingredients:
1 ⅔ cups wheat flour
½ cup oats
1 tablespoon baking powder
1 cup fine sugar
1 teaspoon salt
½ teaspoon cinnamon
½ teaspoon nutmeg
⅛ teaspoon cayenne
wet ingredients:
1 can of organic unsweetened pumpkin, 15 oz.
4 tablespoon Vanilla Soy Yogurt
4 tablespoon Vegan Pumpkin Butter
Fold in:
1 cup crushed raw pecans
1 cup fresh Honeycrisp apples, finely diced
topping: 24 whole pecans for decorating and a spiced sugar mixture, see step 5.
optional: 3 tablespoon flax seed meal, 1 cup golden raisins
Directions:
1. Combine all your dry ingredients.
2. Stir in your canned pumpkin, yogurt and pumpkin butter. Combine until batter is free of lumps.
3. Lightly crush your pecans (keep out 24 whole pecans for toppings). Fold your pecans and apples into the batter. Fold in any other ingredients like flax seeds, raisins or more nuts.
4. Fill your greased or lined muffin tine. Dot each muffin with a whole pecan.
5. Make a spiced sugar mixture by combining a bit of sugar, cinnamon and a pinch of cayenne in a bowl. Sprinkle a bit on top of each muffin.
6. Bake at 375 degrees for 20 minutes or until top of muffins has lightly browned and firmed up. Cool on rack for 10-20 minutes before removing.

Recipe Short-Cut: Super-easy method – – instead of using dry ingredients (flour, sugar, salt, baking pwdr) you can use a basic high quality muffin mix. Make sure the ingredients are high quality, natural and vegan. Whole Foods has a few great options, even a few that are gluten free.

Recipe Long-Cut: Use fresh pumpkin, cut and pureed from a whole pumpkin! If you do this I applaud you. It's a lot of work, but oh boy FRESH pumpkin muffins ot pumpkin pie are divine treats of fall.
Apple Note: You don't have to use honeycrisp, just try a sweet tart apple with a thinner skin (not granny smiths).
Enjoy! Perfect compliment to spiced hot chai tea.
Store in freezer or eat in next few days. Muffins freeze very well, so make a lot and have muffins for a long time.