It's a tomato. It's an onion. It's some lettuce. A slab of cheese. …..BORING!
Kids are missing out on some major nutritional benefits when their diet misses out on FRUIT! Usually fruit is eaten as a sideline food. While veggies are used in recipes. Well here are a few very simple ideas to dress up your FOOD with sweet healthy FRUIT!
….PS …. Can you guess what fruit is in the sandwich pictured here???? Read on to find out! ….its a PEACH!!!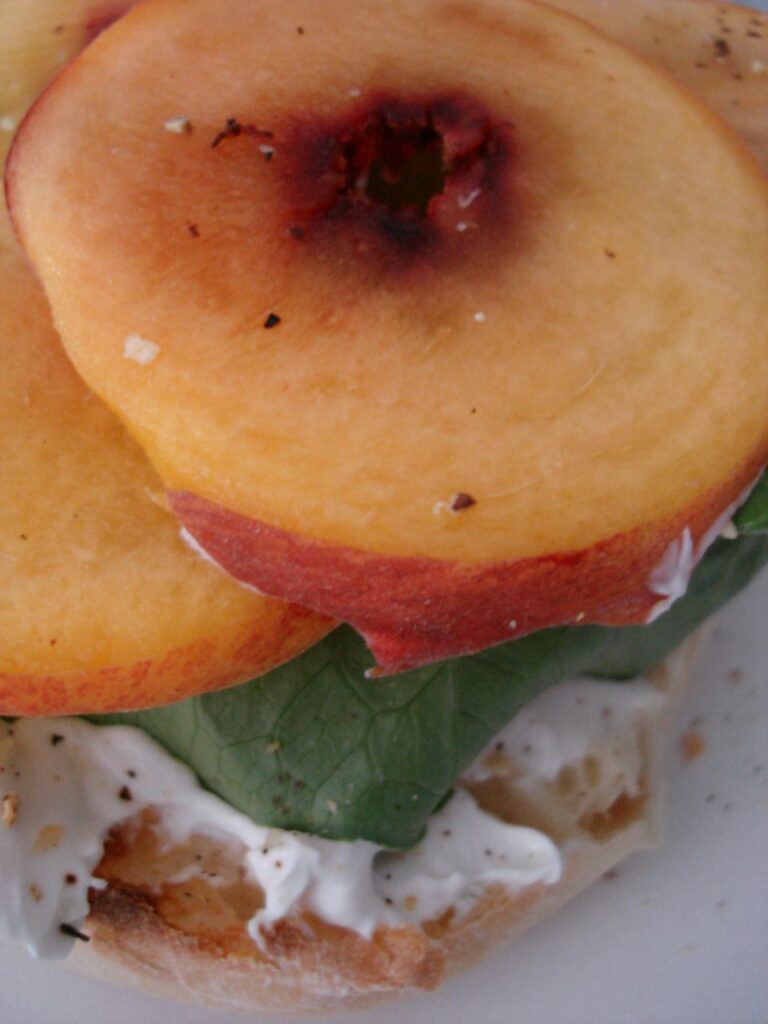 This is a delicious PEACH-CREAM CHEESE-RED ONION-LEMON PEPPER-BIALY SANDWICH! yum right?
Here are a few more ideas:
1. Peachie Cream sandwich (pictured)
-thinly sliced peaches
-tofu or regular cream cheese
-thick sliced red onions soaked in olive oil and a pinch of salt and pepper
-crunchy green lettuce leaves
-toasted bialy or bagel.
(stack as a sandwich and enjoy!
2. California-Sweet Burrito
-black beans
-avocado or guacamole
-mandarin oranges
-mango , diced
-green cabbage, shredded
-cilantro
-salsa on side
-burrito tortilla, whole wheat pref'd
(fill tortilla with ingredients, roll and enjoy!)
3. Little Lost Grape Citrus Salad
-sliced grapes, green and red
-diced oranges
-thinly sliced vidalia onions
-thinly sliced green apples, soak in olive oil and black pepper
-spritz of lemon juice
-2 cups arugula
-oil/rice vinegar dressing
(toss well and serve)
4. Cheesy apple-pear Quesadilla
-thinly sliced apples and pears
-mozzarella or veggie cheese
-corn or flour tortillas
(melt cheese on tortillas, in saute pan. Remove from skillet and quickly layer with fruit. Place second tortilla on top. Re-saute both sides for 30 seconds. Do not over heat fruit.)
5. Good Morning Opera Singing Kiwi Cup
-sliced kiwis'
-plain or vanilla yogurt
-granola
-handful of your favorite nuts
(Kiwis taste great in yogurt…. and are high in vitamin C!)
6. Pineapple Maui Onion Veggie Burgers!
This one is a classic. Making your favorite burgers? Simply add a thick vidalia onion as well as a thick slice of pineapple. You can also add another layer of mango or peaches to the burger. If you can open your mouth wide enough—stack it high!!)
…These are just a few suggestions to get you started. Try being creative with FRUIT in your FOOD and your kids (big and small) will adore the sweet tastes you feed them!!!
Kathy