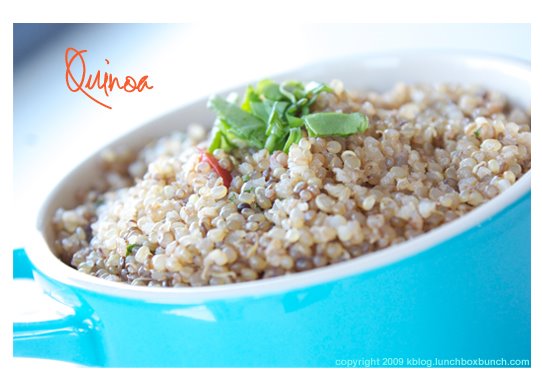 I'm pretty hyped up about Quinoa.
It's a superfood of a grain, though it's actually a seed.
Quinoa dishes have been popping up on a ton of trendy high-end NYC restaurants, which makes me a happy foodie. Spiced Quinoa at Counter, Quinoa Croquettes at Public and Quinoa Risotto at Felidia's. Nice.
This tiny, fluffy, creamy and nutty flavored superfood is high in amino acid rich protein, high in fiber and an excellent source of several minerals. It contains 58% RDA of manganese.
And that's not all folks. Keep reading for the complete 101 on quinoa…
QUINOA
ORIGIN: Quinoa (KEEN-wa) is the seed-like fruit of the plant Chenopodium quinoa that has been cultivated in the Andes since ancient times.
AESTHETICS: It looks like couscous. But is incredibly different. It is a whole food product-not processed glutanous flour-like couscous is. Quinoa is fluffy, nutty, and when cooked/steamed becomes incredibly light and fluffy, yet maintains an intriguing heartiness in texture when you chew.
NUTRITION: Quinoa is incredibly rich in amino acid containing protein. Here are a few more nutrition stats:
QUINOA, 1 cup
calories: 222
fat: 4 grams
carbs: 39 grams
protein: 8 grams
fiber: 5 grams
vitamin A: 0
vitamin E: 6% RDA
vitamin C: 0
manganese: 58%RDA
calcium: 3% RDA
iron: 15% RDA
magnesium: 30% RDA
phosphorus: 28% RDA
*Quinoa absorbs flavors amazingly! Thus makes it a perfect compliment to intense herb, spice or natural flavors.
*Try toasting the raw grains before cooking for an intense nutty flavor.
*Preparation is much like rice. Simply cook with a liquid and you are all set.
*It is highly recommended that you rinse the raw quinoa very well before cooking.
I will be posting a yummy quinoa recipe eventually, but for now, check our this recipe from Whole Foods: Roasted Bell Peppers Stuffed with Quinoa.
TIP: I suggest first trying quinoa from a restaurant or deli counter. Whole foods usually has quinoa in its prepared foods section. It is smart to taste test quinoa done by a pro before you attempt it yourself. Just a suggestion. (You can also decide if you like the taste and texture of this unique and nutritious food.)
EXTRA TIP: Trader Joe's has a Quinoa sliced bread that is very yummy. It is exceptionally soft, yet is still high in nutrients due tot the quinoa ingredient! It is as fluffy at that unhealthy white flour fluff bread. Just make sure your TJ's cashier doesn't smash it under a bag of apples.