Disclosure: This post is sponsored by Duda Farm Fresh.

Summer is my favorite season for big, beautiful salads and veggie-filled bowls. I find that I crave salads more when it is hot outside, probably because salads are hydrating and offer up a wide array of nutrients. One challenge people often have when trying to make a "salad" into a meal is that they do not just want veggies in their bowl. Well, plant-based recipes can easily solve that problem using ingredients like legumes, nuts, seeds and grains. As well as using hearty, nutrient-rich veggies like one of my faves: fresh summer corn.
Today I am boosting my salad bowl with a base layer of protein-rich quinoa, some hearty black beans and plenty of sweet and colorful corn. This Quinoa Corn Black Bean Fiesta Bowl has spicy-sweet-zesty flavors from lime and chipotle dressing, and is topped with avocado and hot sauce to taste. You can serve with a fork, or layer the mixture into corn tortillas for tacos!
Easy dinner or lunch recipe coming your way, plus I am chatting all about summer corn today..
The secret ingredient is the sweet corn. Corn adds color and sweetness which contrasts perfectly with savory ingredients like beans, avocado, quinoa and olives..

Hot sauce on top!..

Thank you to Duda Farms for sponsoring this post. I simply couldn't bring you guys all the content and recipes that I do without the support of my amazing sponsors. Over on the Duda website, they have a lively assortment of inspiring recipes and other goodies for fruit and veggie lovers like me. You can check out their Freebies section with a few free downloadable e-books. And their recipes section has a bunch of vegan options. I am especially in love with this vegan Mexican Street Corn recipe, with a coconut-cashew-lime sauce. It looks so good!
A few of my favorite uses for fresh summer corn:

– Corn bread. I love baking corn bread year-round, but it tastes especially amazing when using fresh corn. Here is a really delicious corn muffin recipe, but I also have an epic classic corn bread recipe coming up this weekend or early next week.
– Salads. I love adding corn to salads because it adds sweetness, fiber and texture and beautiful yellow color! Corn pairs so well with more salty ingredients like black olives or zesty ingredients like red onion or bell pepper. I love this summer reboot salad.
– Corn on the cob. Simple and perfect! Some summers when I was a kid, we had a few corn stalks in our backyard, and I always loved picking the fresh corn, then my mom would boil it. My sister and I would eat it simply with loads of butter and salt. Did you ever roll the hot corn right in the butter slab like we did?? Today I still love basic corn on the cob with a generous slab of vegan butter and some salt or nutritional yeast or even vegan Parmesan cheese.
– Corn fritters. I love these easy summer corn fritters.
– Corn Cake Bean Balls. These are a fun appetizer.
– Corn risotto for an elegant summer entree.
Corn is an excellent source of Folate, Thiamin and Fiber. It has a good amount of protein, potassium, phosphorus, magnesium and Vitamin C. Fresh corn is sweet and hydrating.
How to choose corn: Look for bright green husks with healthy silky stalk fibers sticking out the top. You can peel back the husk and check for plump firm juicy kernels. Choose corn that is a bit heavier in weight – that is a sign of hydration and freshness.

How to prepare summer corn: I usually remove the husk and very quickly drop the corn into a big pot of boiling water. This brightens up the kernel color and tenderizes the texture. You can also eat freshly picked corn raw, though the colors don't pop quite as much and the texture is slightly different, a bit more 'crunchy' I would say. Both options are delicious though. You can also roast corn in the oven or pop it on a grill! Grilled corn on the cob is a summertime favorite for a reason! So many options.
Rustic farm fresh corn vibes going on over here. Swoon. #summer

I love working with Duda because sustainability and environmental care is built into their brand values, and as a consumer that is something that is very important to me. I also love that Duda is Non-GMO. "Our dedicated team of farming experts uses traditional breeding practices to develop high-quality products, growing and harvesting them in the best-possible conditions for peak-freshness. We choose not to use any type of genetically modified seed or crop to grow our products."
Disclosure: This post is sponsored by Duda Farm Fresh, but all opinions are my own.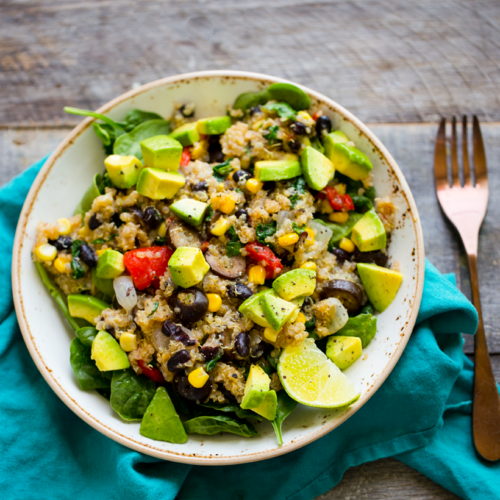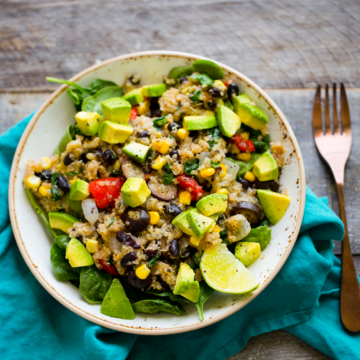 Quinoa Corn Black Bean Fiesta Bowl
This one bowl meal is packed with healthy ingredients and flavor. Sweet corn, fluffy quinoa, onions, peppers, spinach and a chipotle spice and lime flavor accent. 
Print
Pin
Ingredients
Quinoa:
1 cup dry quinoa

2 cups water

½ cup onion, diced

1 ear of Dandy ® Sweet Corn, kernels sliced off

1 cup sliced black olives

¾ cup roasted red bell pepper, chopped

2 cups spinach, chopped

1 cup cooked black beans (from a can, drained. Add the full can if desired.)
Dressing:
2 limes, juiced + pinch of lime zest

2 tablespoon agave or maple syrup

½ teaspoon chipotle powder (this adds heat and smokiness)

½ teaspoon ground cumin

1 tablespoon extra virgin olive oil (If you like a richer dressing, you can add another tablespoon)

¼ teaspoon salt + ⅛ teaspoon black pepper
Topping:
hot sauce or salsa

1 avocado, diced

Additional: Leafy Greens (spinach or kale)

Optional: nutritional yeast, crushed tortilla chips or chopped cilantro are nice optional accents as well
Instructions
Quinoa: Add the quinoa, water and onion, plus a pinch of salt to a large pot, over high heat. Bring to a bowl. Then close wit lid and reduce heat to low. Simmer for 17 minutes, then turn off the heat, but do not remove the lid yet. Let quinoa sit for another ten minutes with the lid on. then uncover and fluff the quinoa with a fork.

In a small bowl, whisk together the dressing. Set aside.

In a large mixing bowl, combine the olives, spinach, black beans, bell pepper, corn and the dressing. Toss well.

Fold the quinoa into the large bowl of veggies. Allow the warm quinoa to wilt the spinach and help marinate all the ingredients together.

Do a taste test! If you want more flavor and spice, you can make another batch of the dressing and fold it in, or add to taste as you serve. Another way to add flavor is to add some nutritional yeast or plenty of hot sauce or salsa. If you like more salt accents, add salt and/or black pepper to taste.

If you want a warm and more casserole-like presentation, you can pour the mixture into a large baking dish, cover with foil and bake at 350 degrees for ten minutes to marinate all the flavors together and soften the veggies further. Otherwise you can serve as is, or even quickly warm further on the stovetop or even in the microwave.

Scoop the mixture into serving bowls over top a bed of leafy greens – kale or spinach works well. Add the chopped avocado over top. Add hot sauce or salsa to taste. You can serve this as a bowl, or add some corn tortillas for fiesta tacos. Crushing corn chips on top of your bowl is also a nice flavor-boosting option.