A bunch of different vegan smoothie recipes for you today!
I was craving some color and fun in the kitchen, so these Rainbow-Colored Smoothies happened!
Today I want to show you how to use sweet, antioxidant-packed fruit (and other plant-based ingredients) to create a smoothie in every color of the rainbow..
My Rainbow of Smoothies…
Pink and red smoothies…
Yellow and orange smoothies…
Green smoothies…
Blue and purple smoothies…
Onto these colorful Smoothie Recipes:
Bright Pink:
1 pitaya smoothie pack
2 frozen bananas
1 cup non-dairy milk
5 Brazil nuts
Light Pink:
1 ½ cups frozen strawberries, organic
1 frozen banana
1 cup non-dairy milk
5 Brazil nuts or ¼ cup walnuts
Orange:
1 cup frozen peaches
1 ½ frozen bananas
5-10 Brazil nuts or cashews
optional: pinch of orange zest
non-dairy milk to blend
Yellow:
Green:
1 cup non-dairy milk
1-2 teaspoon matcha green tea
2 frozen bananas
5 Brazil nuts or 2 tablespoon cashews
ice
Blue:
½ cup blueberries
2 frozen bananas
1 cup soy milk
5-10 Brazil nuts or cashews
a few drops of blue plant-based food coloring or blue algae (optional)
Purple:
Pride Smoothies
Oh hey rainbow smoothies, it just so happens that June is Pride Month, so cheers to these smoothie recipes being a perfect fit to celebrate any and everyone who identifies as being in the LGBTQ community – and their loved ones who support them as well. One of the greatest advances I believe that my generation has done is pave the way for equality, acceptance and celebration of this community.
I truly believe that everyone has a voice and it's so easy in today's world to forget how to use it.
Using my Voice
There is so much judgement, negativity and anger online, it can be a scary place to speak up for someone else or yourself, but I think it's important. Using my voice is something I continually work on – in all areas of my life. And it's funny, looking back on my life, no matter how scary, awkward or alone I felt – I can't think of one single time that I regret using my voice and standing up for myself – or other people.
Life is all about connection and communication, what are you choosing to say? And how can you share your POV?
And now I'm driving into territory I covered in this recent post.
More Colorful Smoothie Recipes:
RED/PINK:
YELLOW/ORANGE:
GREEN:
BLUE/PURPLE:
WHITE:
– Vanilla Shake (secret-ingredient)
CHOCOLATE/COFFEE/BEIGE:
– Chocolate Peanut Butter Smoothie Bowl
– Easy Energy Almond Butter Shake (fan fave!)
– Cinnamon Coffee Shake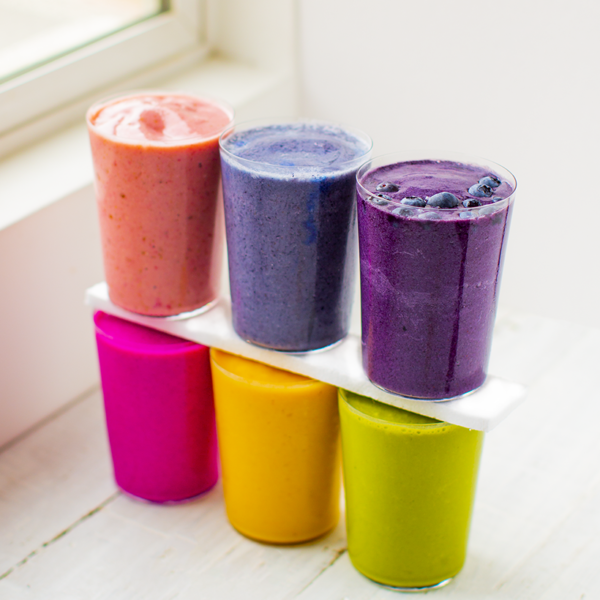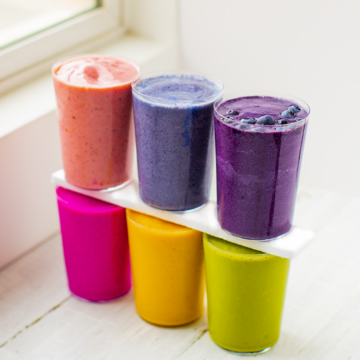 Rainbow Smoothies
These smoothies create a rainbow of colors, from fruits and veggies and other plant-based ingredients.
Print
Pin
Ingredients
red: pink pitaya

orange: peach

yellow: pineapple

green: matcha

blue: banana blueberry

purple: acai

pink: strawberry banana
Instructions
Blend up the smoothies and serve them in a rainbow formation. Offer up shots of each for guests or swirl them all together into tie-dyed rainbow concoctions, if you dare!Tip: When one color is blended, place it in the fridge or freezer to stay chilled while you blend the next flavors.
Pin this for later..
My cookbook 365 Vegan Smoothies is packed with smoothie tips, smoothie recipes and anecdotes!
The smoothie pour..