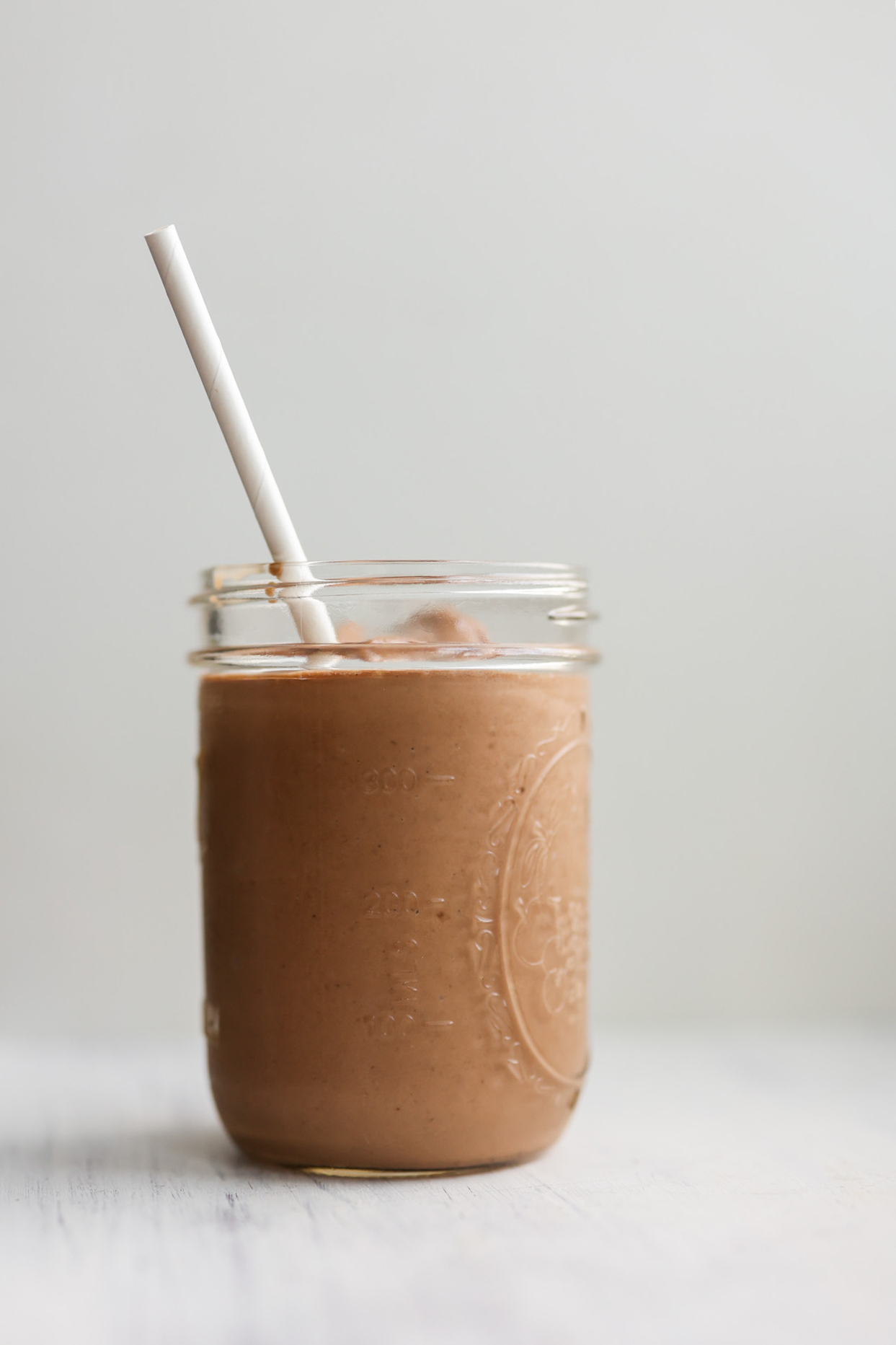 Frosty and creamy, yet light and hydrating, protein-packed and naturally sweet, this Simple Chocolate Protein Shake is one to add to your day anytime you need a protein boost that packs a chocolate-flavored punch!…
Hello! I'm alive. Promise. It's been a whirlwind six weeks after having miss Rosalie. And these days (and nights) have been some of the most exhausting and absolute BEST of my life. And while I could definitely go on and on about all the details of life these days, postpartum, today I just wanted to pop in and share a smoothie that I have been making pretty much every day these past few weeks…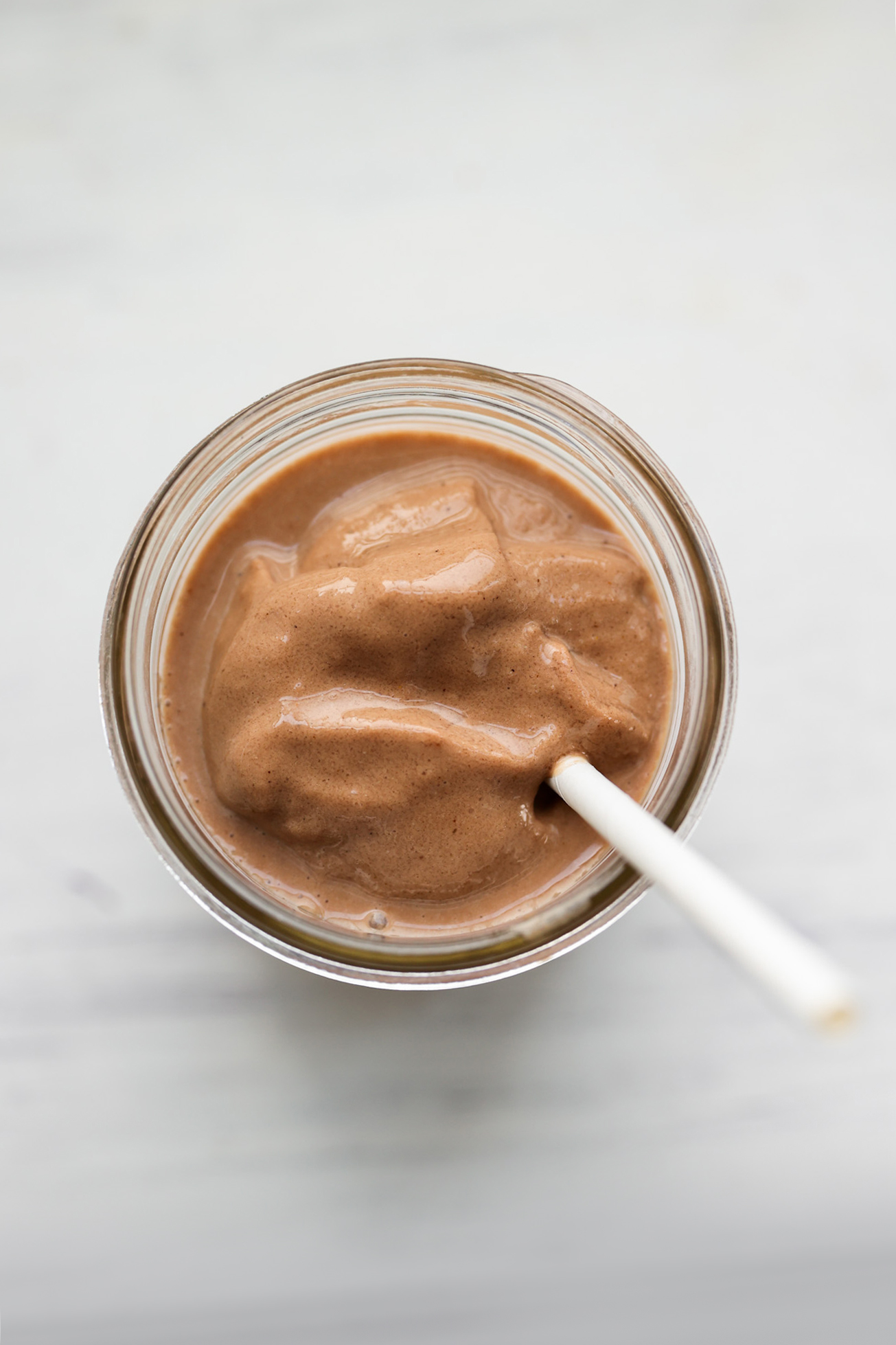 Do You Need Extra Protein?
The only person who can answer that with some true authority would be your doctor or medical professional such as a dietitian. And they can only answer that question by listening to YOU about your diet and lifestyle situation to assess protein needs. So awareness for what food you eat – is really important. Some people need to keep a food diary, while others (like me) just know what they eat.
I find that if you are the one shopping and cooking – you probably have a more accurate grasp on what your daily menu looks like.
But in general… "The recommendation for protein for adult male vegans is around 63 grams per day; for adult female vegans it is around 52 grams per day." – VRG

But protein isn't a one size fits all for any one stage of life or person. For example, when I was pregnant – and now postpartum, I need to get a bit more protein than I would normally need. Thus why I am loving this Simple Chocolate Protein Shake!…
Getting Extra Protein
So yeah, sometimes, something, will lead you to actually need more protein than usual. So how do you do that? Protein shakes are so perfect for making up that deficit in your needs!
So do you need protein powder for this Simple Chocolate Protein Shake??
Nope! But you can totally use it.
I actually haven't bought vegan protein powder, routinely, in a few years. I had really embraced it for a long time, adding it to every daily smoothie of mine, but then in recent years, I switched to focusing on whole foods (at each meal) for my protein sources. Beans, nuts and seeds – and all the plant-based foods I eat.
Even veggies like broccoli. One bunch of broccoli contains 17g protein!
Learn more about vegan protein sources in this post: Where Do You Get Your Protein on a Vegan Diet?
But since having Rosalie, and both being pregnant and now breastfeeding, I have definitely been back into the good old fashioned protein smoothie. One that packs a big protein punch in one tall glass.
How to Add More Protein to Smoothies
There are two ways to add protein to your fave smoothie…
Protein Powders
Protein-dense ingredients
Protein Powders
There are so many vegan options on the market. Most of them these days are sweetened with stevia – or sometimes monkfruit. I am not a huge fan of stevia, so it is a bit of a problem. I tend to lean towards the unsweetened powders. You can read my big protein powder review post here – though I admit it needs a bit of an update.
But more recently, I have been using two powders, mostly by chance. The VEGA Protein and Greens (I find it tastes way better than the Vega ONE, which I do not love these days). But the one I have been really loving is by Your Super – the Chocolate Protein. It doesn't contain stevia – yay! It has a nice chocolate flavor and contains plant-protein and mushrooms… "Pea Protein, Hemp Protein, Cacao, Cordyceps, Lion's Mane, Lucuma"
Another fave chocolate (stevia-free!!) brand I have loved in the past is Philosophie Cacao Magic. I haven't bought this one in a while, but I think it will be my next buy. Love is.
But really, you can add more protein to any smoothie using some basic vegan ingredients…
Protein-dense Plant Ingredients
Protein-dense smoothie add-ins for this Simple Chocolate Protein Shake are:
pumpkin seeds – these specifically
hemp seeds
walnuts
peanut butter
Brazil nuts
using soy milk as a base
Sweeten a Smoothie
If you are not using a sweetened protein powder (like stevia…) you will want to contrast the chocolate w your own sweet ingredients. My faves..
Medjool dates 1-3 per smoothie
an extra banana
agave or maple syrup
If you are using a pre-sweetened protein powder, you won't need the sweetener ingredients.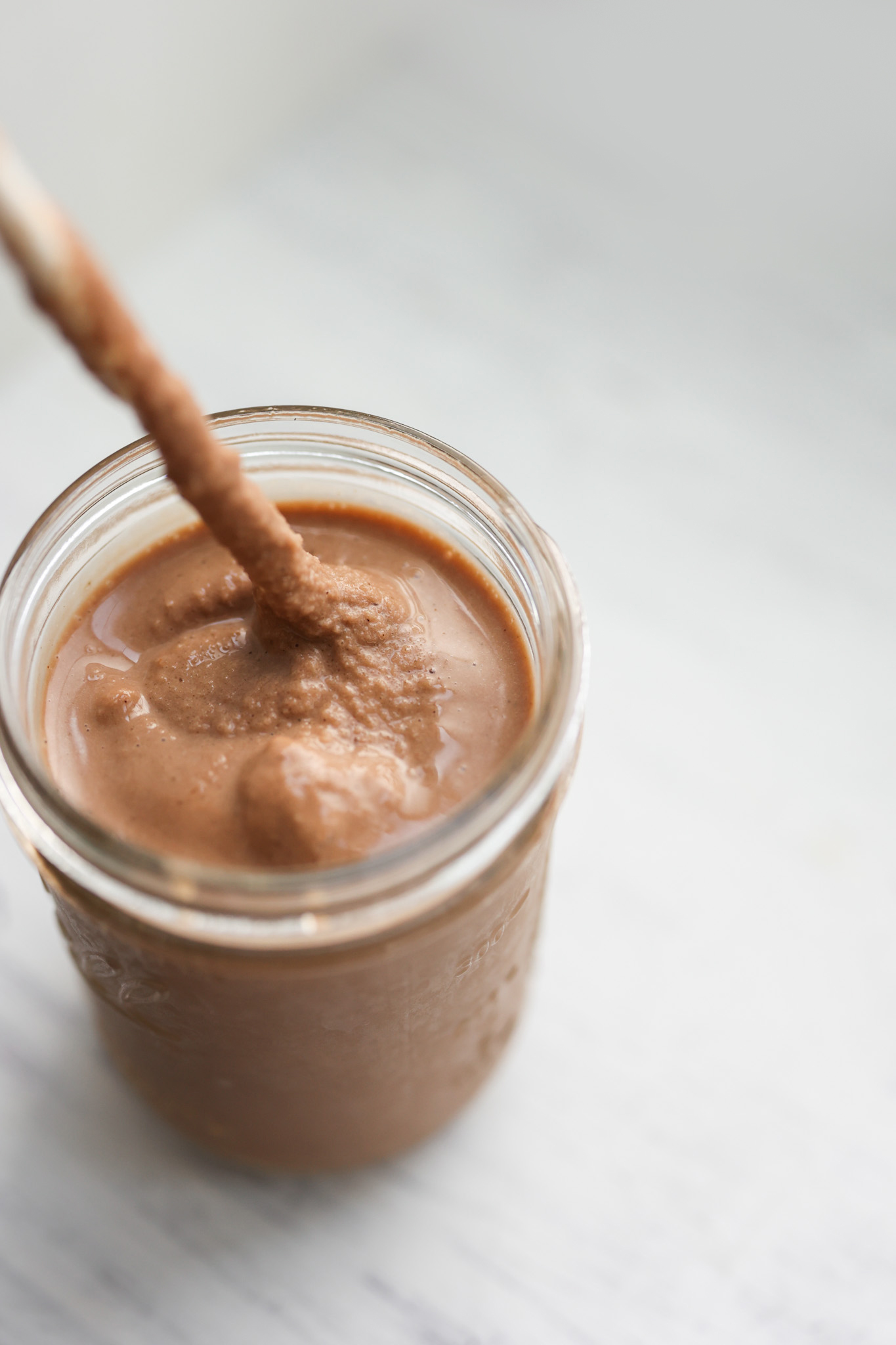 This Smoothie
This Simple Chocolate Protein Shake is a fave smoothie of mine because it is not too heavy! It is actually very refreshing and hydrating. The coconut water really helps with that. So I actually think it is a great pre or post workout smoothie! And I love it while breastfeeding because it helps me stay super hydrated.
How Much Protein is in it?
You can always add more protein ingredients to boost the protein, but as is, you will be getting at least 15g protein per Simple Chocolate Protein Shake – adding more is totally up to you. I usually add an extra scoop of unsweetened protein powder, adding about ten more grams of protein.
Just be careful adding more sweetened protein powder because it will increase the sweetness too much if you are not careful.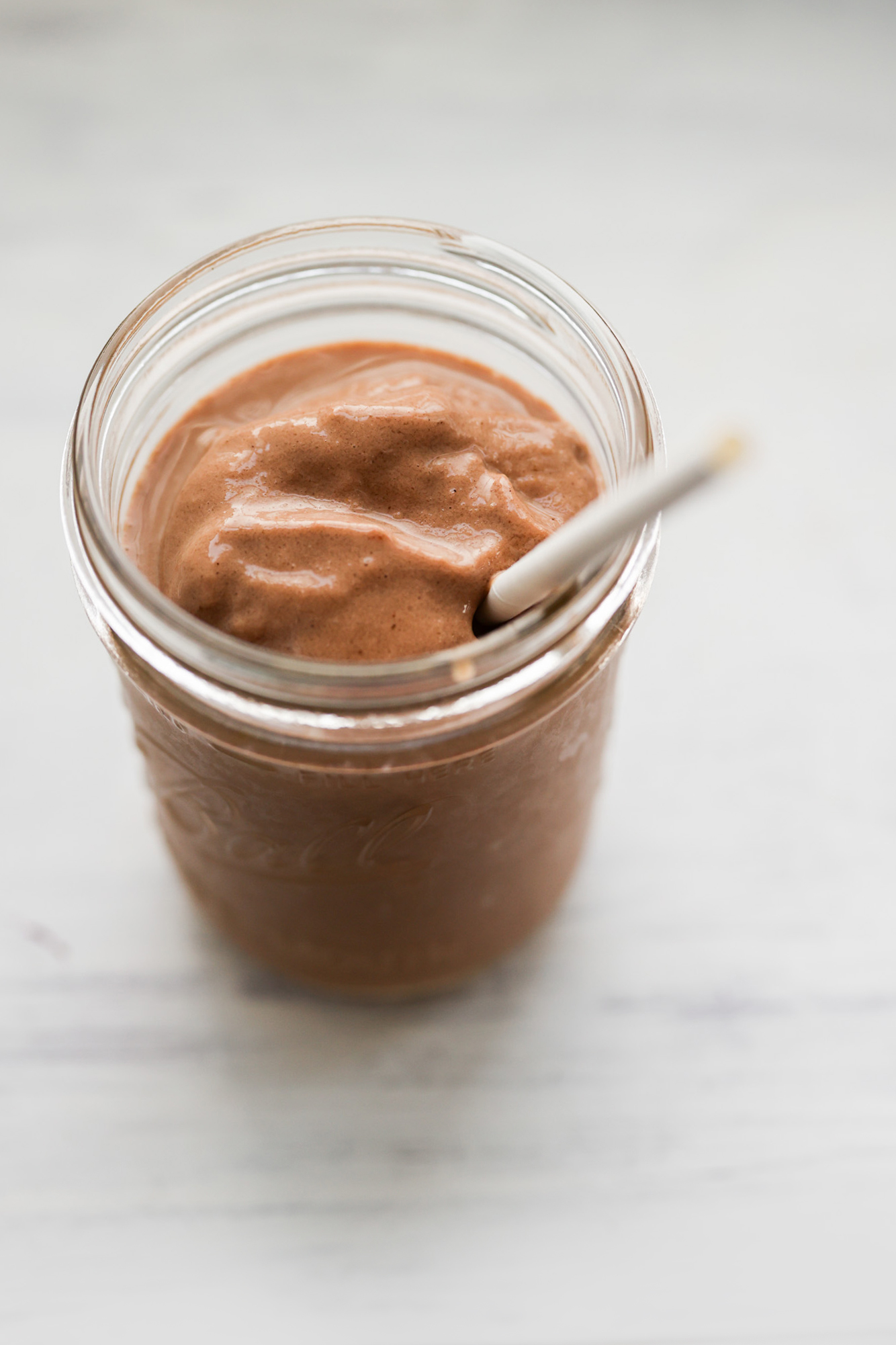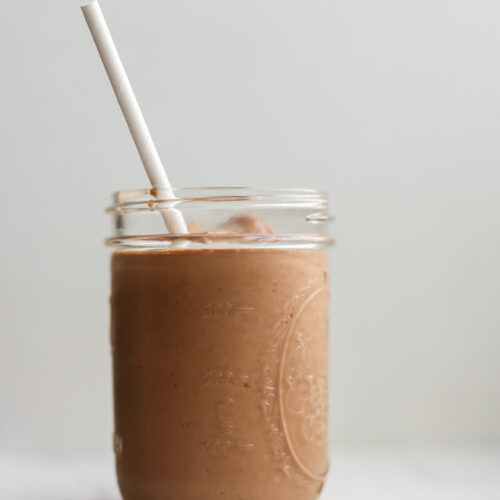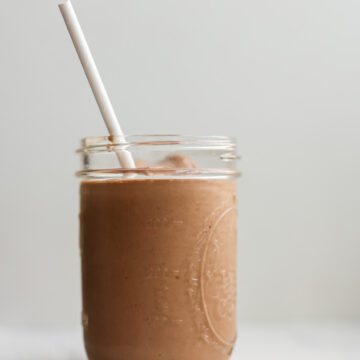 Simple Chocolate Protein Shake
Frosty, creamy and rich in chocolate banana flavor. This Simple Chocolate Protein Shake is packed with protein and perfect as a snack, sip or light meal.
Print
Pin
Ingredients
2

frozen bananas

¾

cup

soy milk

1

cup

coconut water

1

cup

ice

2

tablespoon

cocoa powder

,

unsweetened

2

dates

,

pitted, Medjool

2-3

tablespoon

pumpkin seeds

2

teaspoon

agave syrup

,

optional
Instructions
Add all ingredients to blender. Blend until smooth.
Notes
Modified Versions:
Sweetened Chocolate Protein-Powder: Use one large scoop of protein powder. Omit the dates and agave. Halve or omit the added cocoa powder, depending on how chocolate-y you like it. You can omit or keep the pumpkin seeds, depending on taste and texture preference.
Unsweetened Chocolate Protein Powder: Keep the dates and agave and halve the cocoa powder. You can omit or keep the pumpkin seeds, depending on taste and texture preference.
Protein Boosted Version: Keep everything the same as listed in the original recipe, but add in a half scoop of either sweetened or unsweetened protein powder. Flavor will vary, but this adds a bit more protein.
nutrition estimate | per serving
Calories:
324
kcal
|
Carbohydrates:
42
g
|
Protein:
15
g
|
Fat:
15
g
|
Saturated Fat:
3
g
|
Sodium:
336
mg
|
Potassium:
1237
mg
|
Fiber:
9
g
|
Sugar:
26
g
|
Vitamin A:
377
IU
|
Vitamin C:
6
mg
|
Calcium:
297
mg
|
Iron:
5
mg