Jumping on the seemingly endless rainbow-recipes bandwagon feels a little silly, until you actually start crafting a recipe and realize that there is a lot more to this rainbow thing than Instagramable-food. One of the most basic tips we hear for healthy eating: eat the rainbow! (And no, they don't mean Skittles.) The rainbow of plants. Fruit, veggies, spices, herbs.
Red berries, orange citrus, yellow peppers, leafy greens, blueberries, purple cabbage. The options are endless.
Today's Rainbow Veggie Sandwich with double hummus is not just pretty to look at, fun to make and totally delicious, but it also packs a rainbow-fueled punch of antioxidants and phytochemicals! In other words…. eating a real, plant-based rainbow isn't just fun, it is good for you! You can't get more magical than that.
Get the recipe plus today's musings on #LIFE and oh a Britney interjection of course..
This sandwich recipe is a super fun back to school recipe to perk up your favorite student during their busy school day, or use an an after school snack/meal. You could even make Rainbow Roll-Ups for younger kids.
Even people like me, a vegan food blogger, have to pause once in a while and make sure that I am eating alllllll the wide and vast ranges of the plant spectrum. From perky green avocado, spinach and cucumbers to deep purple cabbage, blueberries, oranges, yellow bell peppers and pineapples, red tomatoes and strawberries and on and on and on.
What are some of your favorite foods that match every color of the rainbow? (This is actually a great question to ask kids!)
Happy Things. So today I woke up extra early and went climbing stairs with a friend. It felt really good to 1) Wake up extra early for me because lately I had been sleeping in a bit too much. 2) Exercise with a friend. 3) Push myself! The stairs were steep! The climb a tall LA hillside. And my heart was pounding like crazy. I am used to yoga and running lately so hard core climbing really blew me away. Talk about cardiovascular workout. But in exercise, you get to that point where you think you have to stop, you feel like you just cannot go any further, and yet you keep going. You push. You sweat. You huff and puff. You roll your eyes at the pain. You groan. And you know what, suddenly you look back are at the top of the hill, the end of the mile. Life is a lot like that.
It was a good morning. Then I came back and popped on Britney and shuffled some Hamilton and whipped up this sandwich while sipping a blueberry protein smoothie.
Britney! Haha, you guys know I love her. Well did you see she sang a whole song, live a few nights ago! Very exciting, yes? No? Well, just pretend to be excited for me, ok? It made me so happy how she stopped her show and strutted with her vintage sassy attitude and sang live. Funny how such silly things can give me life. I am sure you have some very silly things that make you happy too. Share them with me if you feel inclined!! I would love to hear them.
Cheers to pop culture and escapism.
But wait…. did you prep all these veggies in ten minutes??
Answer: I did a shortcut that you should try too! I went to the salad bar at Whole Foods and loaded up on pre-prepped sandwich ingredients. Then I grabbed a roll from the bakery. I had made some DIY roasted red pepper hummus the day before, so that was ready to go. And I just sliced avocado and layered the sandwich. The salad bar ingredients only cost me $5 (and I had a good amount of overflow veggies) and the large ciabatta-style roll was $1.25. So I made this MASSIVE sandwich for around $6-7. And those are Whole Foods prices! I will guess that another chain might have even cheaper fresh salad bar fare.
If you want to prep everything yourself, obviously go for it. That is ideal if you have enough time. But really, the salad bar allows you to buy small bits of a lot of different plants. I mean getting just ONE roasted portobello cap is perfect for sandwiching for one person. And also, so even if you are not in a "salad" mood, you can turn a salad into a sandwich. Because bread makes everything better.
Prep a day ahead of time if you want to make this in a flash. I know a lot of you will prep large amounts of veggies for the week ahead. Good job! I am awful at prepping in advance, but my job allows me the luxury of kitchen time during the day.
Britney sings live. Solar eclipse week energy is real y'all. 🌘 🖤🎶 https://t.co/I6FzAZMN3R— Kathy Patalsky (@lunchboxbunch) August 22, 2017
So when you need a little boost, whip up a rainbow sandwich, pop on your favorite dance-y music and just soak in some good stuff. Happy week guys!
And if you are feeling extra Lisa Frank-y with your rainbow sandwich, try a Unicorn Frapp too!
Last month when I went to see BritBrit in Vegas..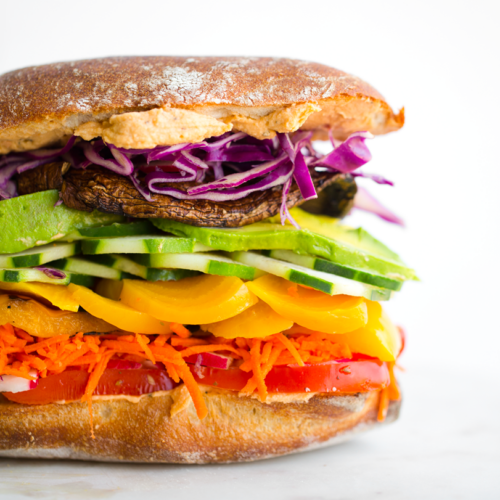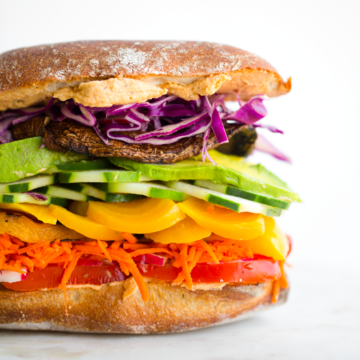 Rainbow Veggie Sandwich
This veggie-filled sandwich is loaded with healthy foods in all colors of the rainbow.
Print
Pin
Ingredients
2 slices of your favorite sandwich bread, or a crusty roll, sliced and lightly toasted

3-4 tablespoon hummus
Rainbow Veggies/Toppings to Add:
red: tomato, bell pepper, strawberries, shredded beets

orange: bell pepper, shredded carrots, sweet potato, orange slices

yellow: bell pepper, yellow beets, pineapple rings

green: leafy greens, sliced cucumbers, avocado, pickles

blue: roasted portobello mushroom cap, blueberries, 

purple: shredded purple cabbage, purple lettuce, purple sauerkraut

optional: splash of oil and vinegar and pinch of salt and pepper

optional: sprinkle of hemp or pumpkin seeds for added protein

optional: vegan cheese — aged or deli slices — vegan cheese guide
Instructions
Slather hummus on both sides of the bread.

Stack your rainbow using any of the options above. I used: tomatoes, radishes, carrots, yellow beets, roasted yellow pepper, cucumber, avocado, roasted mushroom cap, shredded purple cabbage.