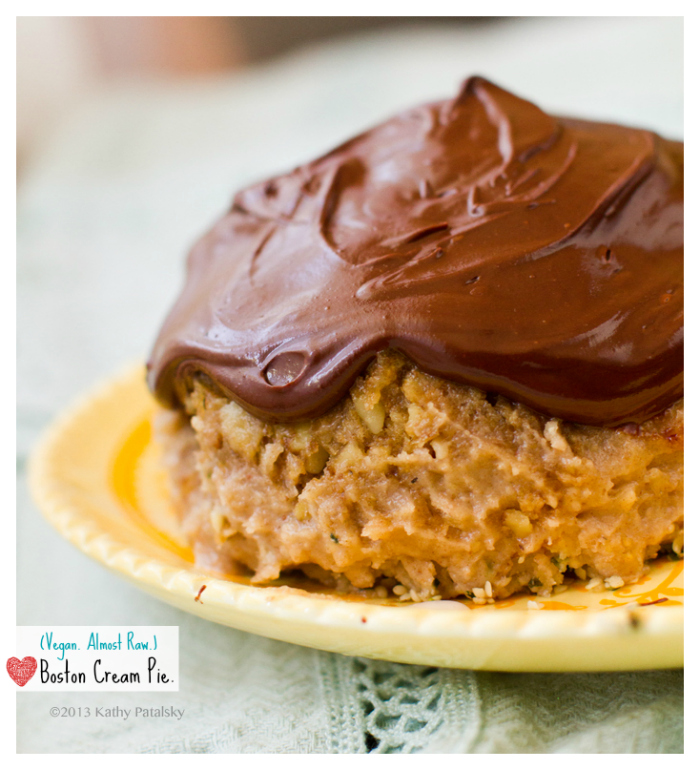 With Boston on my mind, this Boston Cream Pie popped into my kitchen. My (almost) raw dessert. The 'cake' portion is raw, including my cashew 'cream' layer. The chocolate ganache topping is simply a silky combination of melted dark chocolate chips and virgin coconut oil.
Why Raw? Yes I guess I could have cranked up my oven and prepared a classic Boston Cream Pie. But the thing is, I have these dates. These beautiful, squishy, velvet-y, sweet and luscious Medjool dates from the Farmer's Market and I was really hoping to use them in a raw dessert this week. So here it is. I hope Boston approves..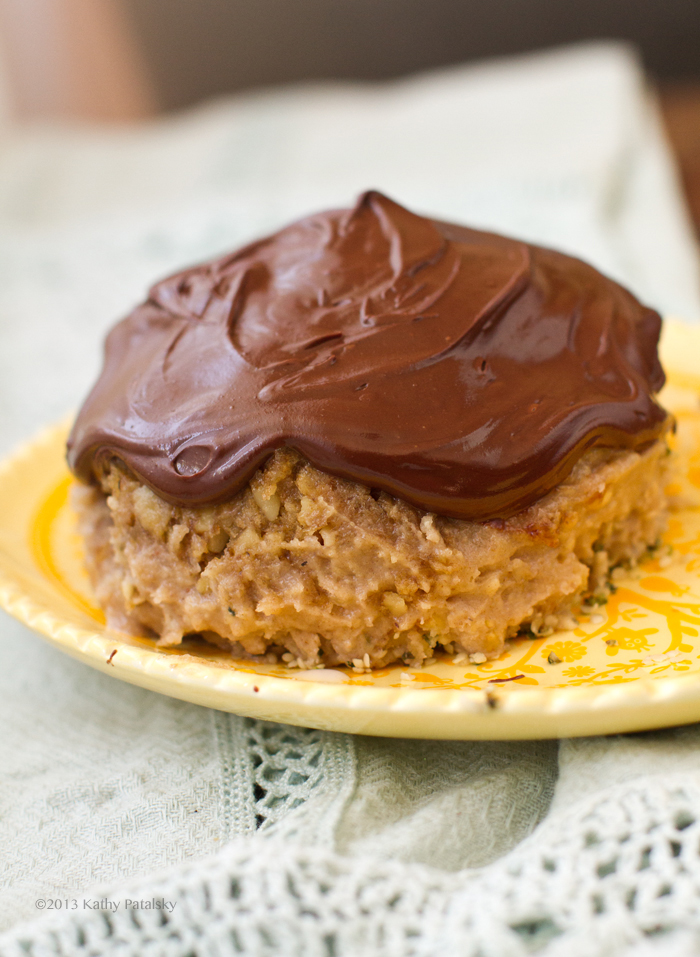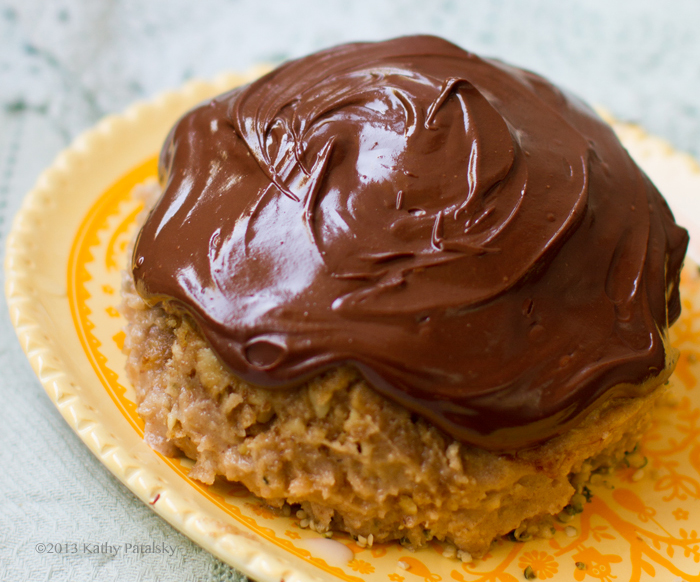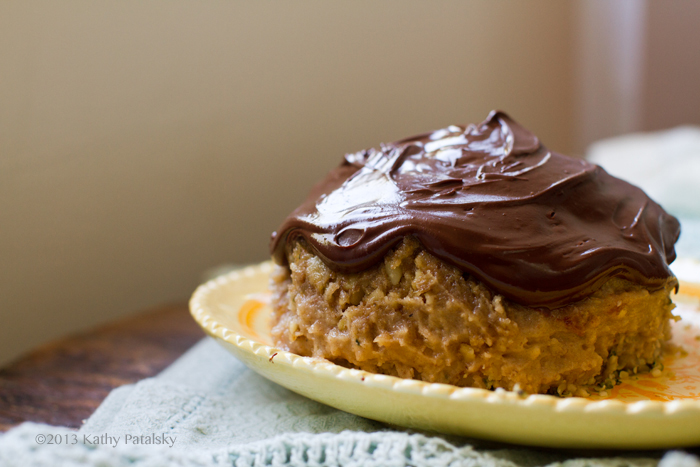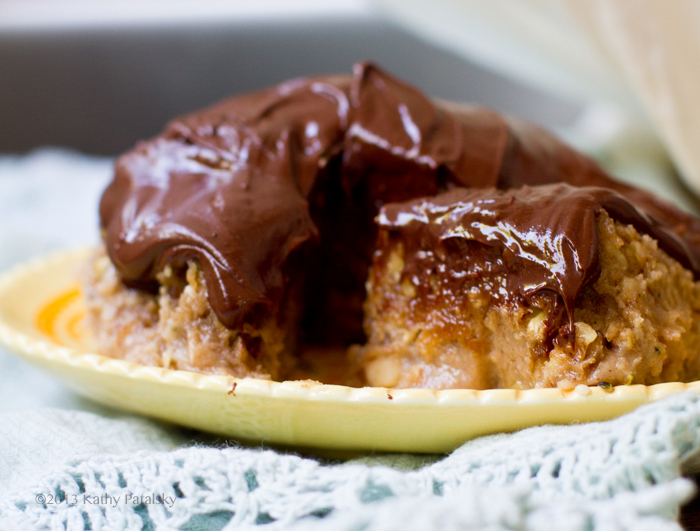 After things firm up in the fridge. You can see my "cream" center…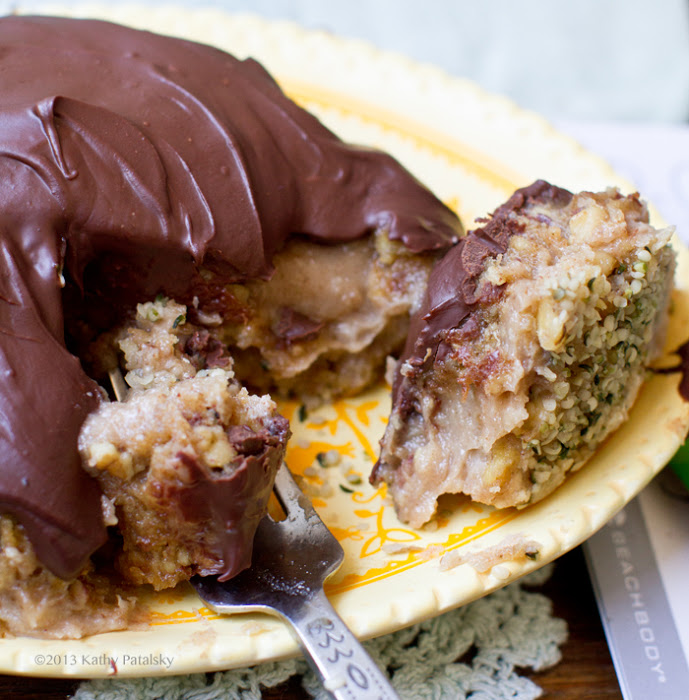 This was an experiment recipe, and while not as elegant as I'd liked, still very yummy.
Not a lot of words today. Just some love to all the people and any of my readers in Boston.
I. Can't. Even. Imagine.
I have one close friend who ran the race. Claire tweeted..
Thx for the messages! I am safe. Thank god I ran fast today (really tough race but managed 3:36) heard bombs not long after I finished. Wtf.— Claire S(@fightflightresp) April 15, 2013
Another tweet I loved..
What Mr. Rogers would want to tell us today huff.to/12hCno6 PHOTO: twitter.com/HuffingtonPost…— Huffington Post (@HuffingtonPost) April 16, 2013
Recipe. This was a total experiment. I'm not a highly skilled raw dessert maker, but this actually turned out pretty well for a new-to-me test. I mean really, when you are using delicious raw dates, nuts, coconut oil and chocolate -> it is impossible to make a bad dessert. Yes?
And oh those Medjool are fabulous.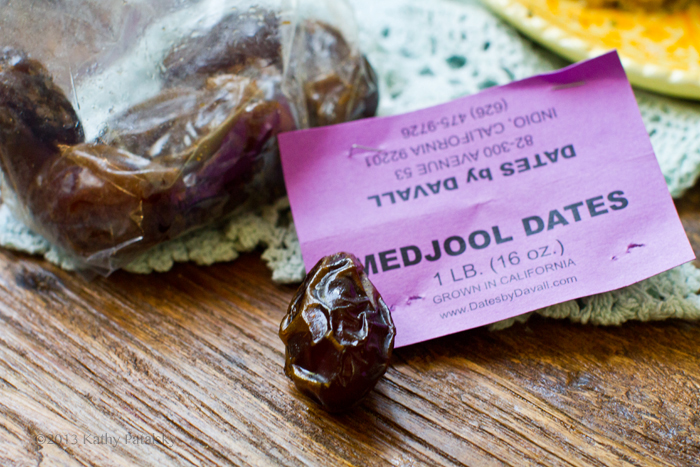 Love to Boston. This one is for you. (sorry it is not perfect, but much love in these nutty chocolate layers.)
(Almost Raw) Vegan Boston Cream Pie
makes one mini cake, serves 4+
Top Layer:
½ cup raw walnuts
4 large Medjool Dates, pits removed
2 teaspoon agave, maple or brown rice syrup
pinch of pink salt
1 tablespoon softened virgin coconut oil (organic)
⅛ teaspoon cinnamon
Cream Layer:
½ cup raw cashews***
2 ½ tablespoon hot water
2 tablespoon softened virgin coconut oil (organic)
2 Medjool dates (pitted)
1-3 drops vanilla extract or raw vanilla bean (optional)

***If you have time to soak your cashews -DO IT. Your cream will be MUCH silkier and softer than mine. I could only flash soak in hot water for a few minutes, thus my cream was a bit textured)
Bottom Layer:
⅓ cup raw walnuts
1 date, pitted
1 tablespoon raw hemp seeds (not blended)
Chocolate Ganache:
⅓ cup dark chocolate chips (vegan)
1 ½ tablespoon virgin coconut oil (organic)
pinch of salt
Directions:
1. Start by blending the nuts and date for your bottom layer. Set aside.
2. Oil up your cake bowl. I used a Matcha bowl which is about four inches wide and 3 inches deep (estimate) it worked well as a mini cake pan. You could use muffin tins and make several mini cakes even a wide coffee mug could work. Grease all side very well with coconut oil.
3. Combine all the top layer ingredients in blender. Blend until smooth yet still a bit textured. Transfer out of blender and press into your cake dish.
4. Blend the cream layer ingredients. I left my blender on low for a good 2 minutes to really make the ingredients smooth and creamy. Pour this layer over top the "top" layer.
5. Ad the crumbly "bottom layer" over top the cream layer and sprinkle hemp seeds over top.
6. Chill in the freezer for a good half hour to chill and firm. (I probably did not do this long enough since i was rushing, and so my cake came out soft and a bit morphed. I just molded it back together a bit.
7. Warm the chocolate and oil in the microwave for 30 seconds – 1 minutes. Stop heat and stir – every 20 seconds so the chocolate does not burn. When chocolate is silky and smooth it is ready.
8. Loosen sides of your cake and transfer onto plate. If you are having trouble removing, you can soak bowl in hot water bath for a few seconds to loosen the sides.
9. Pour chocolate over top the chilled cake. It will start to firm up once it hits to cold cake. Allow it to drizzle a bit over the sides.
Serve soft with melty chocolate OR place back in the fridge and serve at a more chilled state. I like to allow the chilled cake to soften a bit either way so the chocolate is silky and not hard.