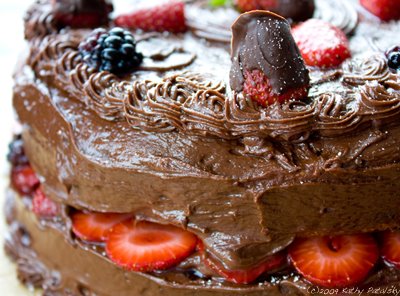 This past weekend was a special birthday, so I had to go all out and make an awesome birthday cake. The birthday boy is not vegan, but the cake is. He really only had two conditions for his birthday cake:
1. It must be chocolate.
2. Lots of chocolate.
…Oh, and it has to be chocolate.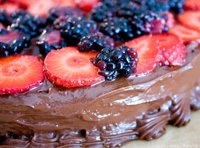 Chocolate-Covered-Berries. And what goes better with chocolate that fresh berries. Strawberries and blackberries to be exact. Thus my creation of this Chocolate Covered Strawberry Layer Cake. It's 100% vegan and incredibly decadent. To keep it extra-healthy, I made an additional portion of the mixed berries and served a few spoonfuls of them on top of the cake slices. Less cake, more antioxidant-rich berries. Yum.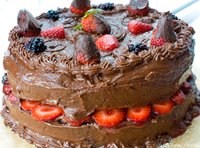 Chocolate covered Chocolate. I'm actually not a huge chocolate person, but I know that a double chocolate layer cake with creamy dark chocolate frosting will make a chocolate-lover drool with delight. This recipe is hardcore chocolate. But if you are looking for a lighter version, I suggest making the cake layers strawberry flavored. You'll still be keeping in the "chocolate-covered-strawberry" theme. Or do one chocolate and one vanilla layer to tone it down a bit. Your choice!
So click ahead for this delicious recipe…

Chocolate-Covered-Strawberry Layer Cake
vegan, makes 2 cake rounds, frosting and garnish for double layer cake.
Ingredients:
3 cups flour, unbleached
1 ⅓ cups vegan sugar
6 tablespoon cocoa, vegan
1 tablespoon baking powder
2 teaspoon salt
2 teaspoon apple cider vinegar
2 teaspoon vanilla extract
4-6 tablespoon canola oil
2 cups soy milk
3 tablespoon vital wheat gluten + 1 tablespoon water
*sub with an egg replacer OR 1 mashed banana
¼ cup chocolate chips*
Tools: 2 8 inch round cake pans, frosting tips and tube for decorating, cake stand, frosting spatula.
easy option: use boxed chocolate cake mix.
*Chocolate chips brands that I like:
365 'vegan' Whole foods choco chips, Sunspire, Enjoy Life Foods.
OPT'L NOTE: You can also substitute ½ cup of flour with ½ cup of ground almond meal. This adds a nice texture and flavor. (optional)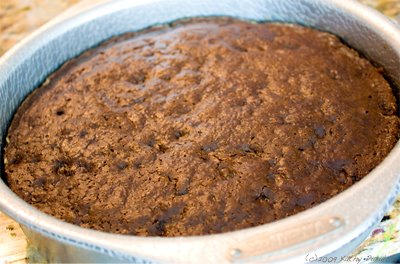 Berry Filling:
2 cups strawberries, sliced thin
1 ½ cups fresh blackberries, sliced in halves
2 tablespoon lemon juice
2 tablespoon sugar
½ teaspoon salt
*leave about 6-8 strawberries whole for chocolate-dipping garnish.
Chocolate Frosting:
⅓ cup vegan buttery spread, softened
2 ½ cups powdered sugar, unbleached for vegan
⅓ cup melted chocolate chips or high quality cocoa
2-4 tablespoon soy milk
1 teaspoon vanilla extract
1 teaspoon cinnamon
1 teaspoon salt
optional: cayenne for spicy chocolate
Chocolate-covered strawberries:
8 small strawberries, chop off stems (optional)
⅓ cup melted chocolate chips
3 tablespoon powdered sugar
1 tablespoon oil
pinch salt
Directions:
STEP ONE: CAKE
Mix all cake ingredients in large mixing bowl, until smooth. Fold in choco chips. ingredients: chocolate chips and/or chopped berries and/or vwg.
Pour into two 8 inch circle cake pans
Bake at 355 degrees for 30-40 minutes. Until cooked through middle.
Allow to fully cool before applying icing.
STEP TWO: Berry Filling:
Slice strawberries thin.
Slice blackberries in halves.
In large bowl add berries, lemon juice, salt and sugar.
Store in fridge until ready to use.
STEP THREE: Frosting:
In a small food chopper or processor add all ingredients. Blend until thick enough to spoon out. Add more sugar for a thicker consistency.
STEP FOUR: Choco-Covered Strawberries, garnish
Blend in small chopper of food processor, all ingredients: melted chocolate chips, powdered sugar, oil and salt. Add more or less liquid/chips/sugar to get a shiny smooth consistency. Should be thick, yet thin enough to pour. Dip DRY berries in chocolate and place on parchment paper. Allow berries to harden in fridge for 20 minutes before use.
Assembly:
Place first cake layer on cake stand.
Frost entire surface.
Apply a thin layer of berries to top.
Place second layer on top of berries.
Frost entire surface area of top layer. Keep berry layer in middle visible-do not frost crease of cakes.
With a pastry frosting bag apply chocolate ribbons around bottom and top layers.Apply additional designs as desired.
Place hardened chocolate-covered strawberries equally spaced on top of cake, and one in the center on a pillow of frosting swirl.
Apply additional berries to top, as desired.
Sprinkle lightly with powdered sugar before presenting.