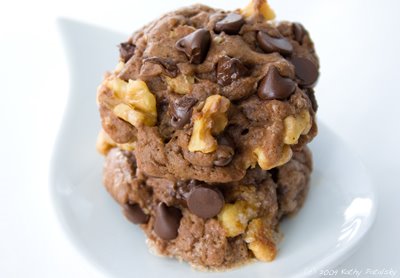 Goodbye Winter. Finally. The chill is finally melting away under the glowing spring sun. Shy pink tree blossoms have poked their heads through sturdy green buds. And my foodie daydreams have turned from hot soup to ice cold smoothies, crisp fennel slaw, and big bowls of fresh pineapple. But hidden away in my kitchen are stacks of half-used tubs of winter time cocoa. What to do!
…So with half a pack of vegan chocolate chips, a few candied walnuts and plenty of mint cocoa to go around, I whipped up some "Goodbye Winter" Mint Cocoa Cookies to celebrate the sun coming out….
Click ahead for more of this recipe adventure…


You Have Cocoa. I'm a sucker for buying a new package of cocoa at the store. On those cold winter nights, I was always asking: do we have cocoa at home? Better get more just in case. So, I've accumulated quite a cocoa collection this chilly winter season.

Post-Winter Cocoa Inventory: two tubs of mint cocoa from Trader Joe's, a tin of Mariebelle's Aztec Cocoa, some basic unsweetened cocoa, Spiced Cocoa and even some 80% Dark Chocolate Cocoa for my dark-chocolate obsessed husband.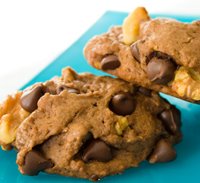 Here's my recipe. Think of this rich chocolate cookie recipe as your last stand before and endless wave of spring and summer time lemon bars, strawberry smoothies and blood orange sorbet desserts.
These cookies are a bit chewy and almost like a brownie in texture. If you want something a bit more crispy, substitute the buttery spread with canola oil and remove the vital wheat gluten. But as is, this recipe is divine and reminiscent of winter. Eat them in a bold sunbeam and get excited about spring.
"Goodbye Winter" Mint Cocoa Cookies
vegan, makes about 16 cookies
2 cups white unbleached flour
6 scoops mint chocolate cocoa hot chocolate mix, sweetened*
*I used trader Joe's brand
*If you don't have mint flavor cocoa, add 1 tsp mint extract.
1 cup sugar
1 cup chocolate chips
1 cup walnuts, *candied
1 tsp baking powder
1 tsp baking soda
1 tsp cinnamon
1 tsp salt
2 Tbsp vital wheat gluten
3/4 cup soy milk
3 Tbsp Agave syrup
1 tsp vanilla extract
1/4 cup softened vegan buttery spread
1 Tbsp canola oil
Candied Walnuts:
1 Tbsp canola oil
1/4 cup sugar
1 Tbsp agave syrup
1 tsp salt
1 cup raw walnuts, chopped
Directions:
First candy the walnuts:
Turn stove on high.
Use a saute pan and add oil.
When pan is hot, add agave, walnuts, sugar and salt.
Stir nuts and shake pan until the nuts darken in color and absorb the liquid.
Turn off heat and set nuts aside to cool.
Cookies:
Mix together all dry ingredients.
Add in wet ingredients.
Stir until a nice dough consistency is achieved. If needed, add more soy milk or flour to accommodate dough thickness.
Fold in chips and walnuts.
Spoon cookie dough onto greased baking sheets, or use parchment paper.
Bake at 350 degrees for 18 minutes.
Allow to cool before munching.
Last 'cocoa' night before spring sets in….