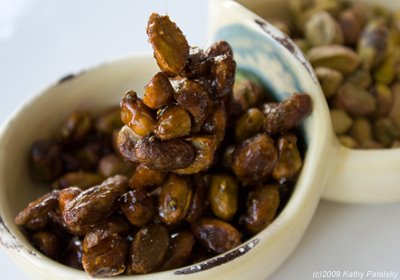 It is so easy and quick to make toasted nuts at home.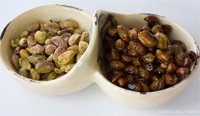 My favorite toasted nuts have a bit of spicy sweetness from agave or maple. You've heard of salt 'n pepper nuts, well here is my tasty recipe for Sweet 'n Pepper Toasted Pistachios. Shiny sweet glaze look – with a light crunch bite. Perfect as a snack or add these to salads.

Pistachios are healthy: high in B vitamins, fiber, manganese and copper.
The nutty nutritious recipe ahead….
Sweet 'n Pepper Toasted Pistachios
1 cup roasted and salted pistachios (de-shelled) (if using raw, add salt to taste during cooking)
2 tablespoon agave syrup (or maple syrup)
1 tablespoon oil (try safflower, olive or sunflower)
black pepper to taste
To make:
1. Turn stove to high and heat oil to a skillet. When oil starts to sizzle, add nuts. Shake pan back and forth as you 'toast' them. (shake continuously over heat during next steps.) Add agave and some black pepper. Shake/toast over high heat for 90 more seconds. Make sure all nuts are coated.
2. Remove pan from heat. Add remaining pepper. Toss nuts with pepper well. Pour in a small bowl. As nuts cool they will harden.
Serve warm or cool.