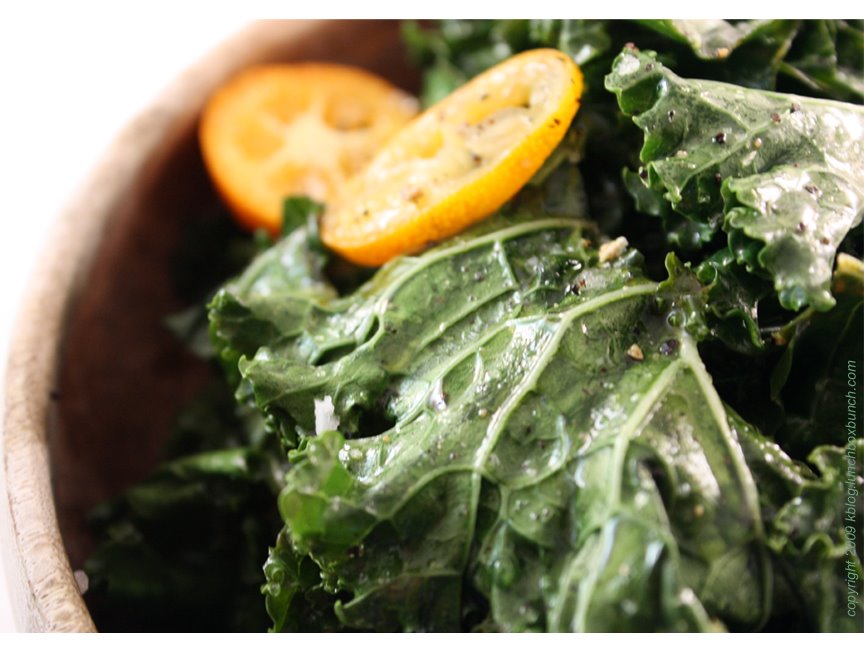 This recipe reminds me of my mom. She would make me kale with garlic, vinegar and olive oil every night when I repeatedly requested it as a child.
This is a super simple recipe for Tender Kale with Marinated Kumquats. You can even micro-steam the kale which makes this a 5 minute recipe!…oh and Kumquats and Kale are both super duper healthy. Keep reading for yum! photos and the recipe…
Recipe: Tender Kale with Marinated Kumquats
1 large bunch fresh raw kale
5-6 kumquats
3 tablespoon lemon juice
3 tablespoon red wine or apple cider vinegar
dash of olive oil
1 tsp. sea salt
black pepper
PREP:
Wash kale leaves. Chop off thick stems. Remove thick veins of leaves. Chop kale into strips.
Wash kumquats and chop into thin circles.
TO MAKE:
Marinate raw kumquats in lemon juice, salt, and vinegar. Add a dash of olive oil.
Stir briskly and allow kumquats to marinate in the mixture for a few minutes.
Add kale and kumquat mixture to large bowl. Toss briskly.
COOK:
Option 1) steam in a doubled pan, over stove top. Steaming takes only a few minutes.
Option 2) Cover micro-safe bowl, keep a small hole for vent. Microwave for 45 seconds. Test for doneness. Can be further microwaved if needed.
Add salt and fresh ground black pepper to taste. Serve warm.
Can also be refrigerated and served cold.