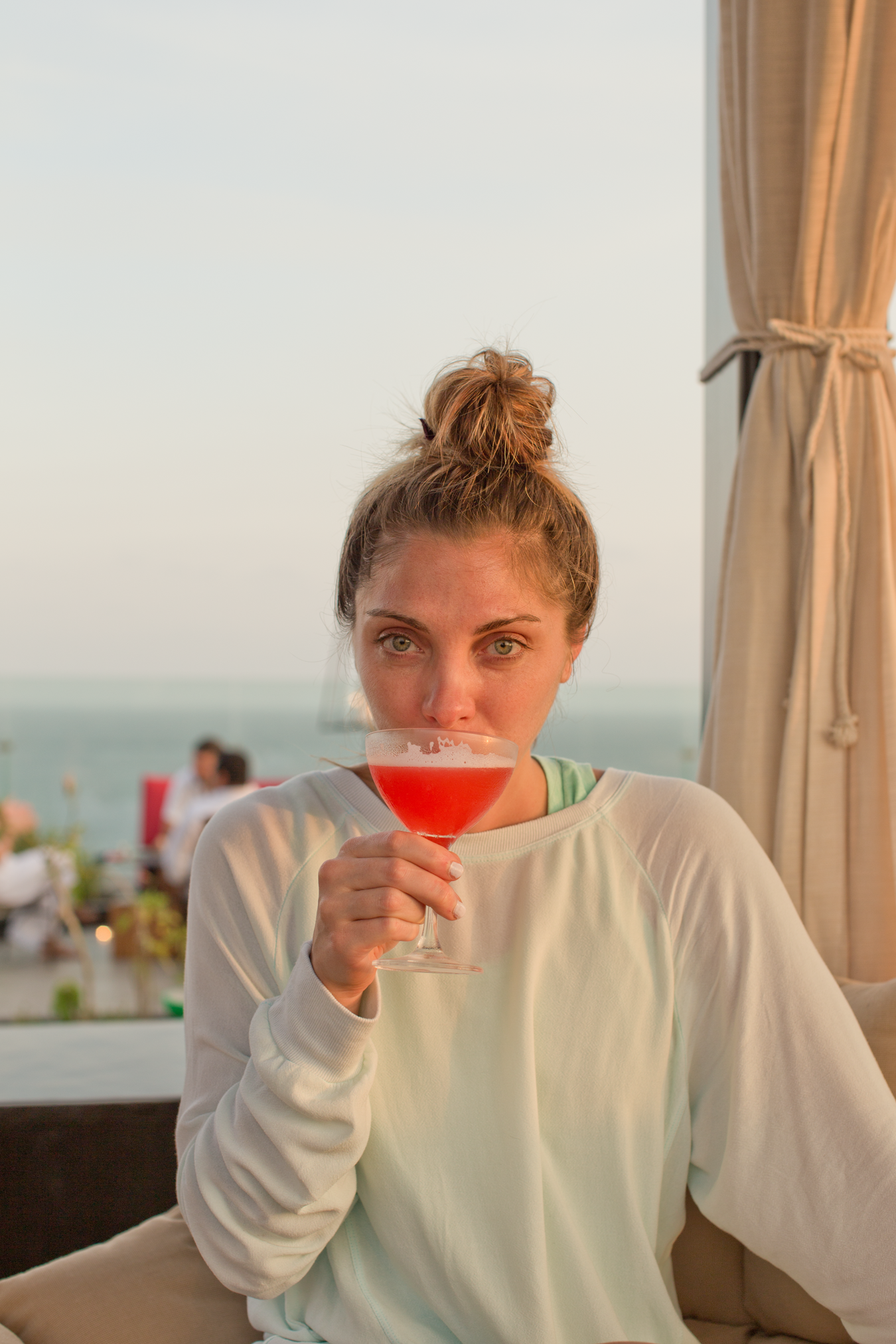 Last weekend my husband and I celebrated our ninth wedding anniversary in Cabo San Lucas Mexico. We stayed at the brand new Thompson Hotels property, The Cape Hotel.
The Cape is located on Monuments Beach, which is a popular surfing spot with loud, crashing, whitewater waves that melt into a crystal aqua ripple of sea. Nothing but blue ocean and the famous Land's End cliffs and rocks out in front of you. Let me share the food, the views, our adventures, allllllll my photos and a video in this travel feature of Cabo!..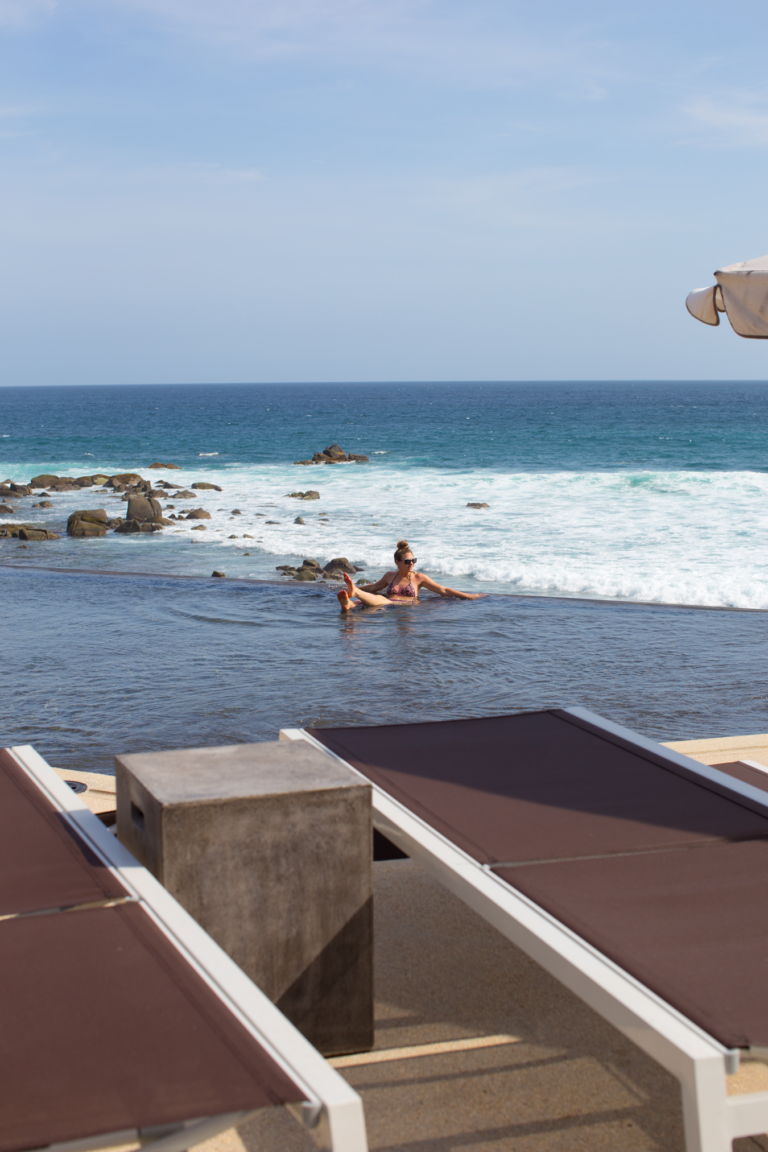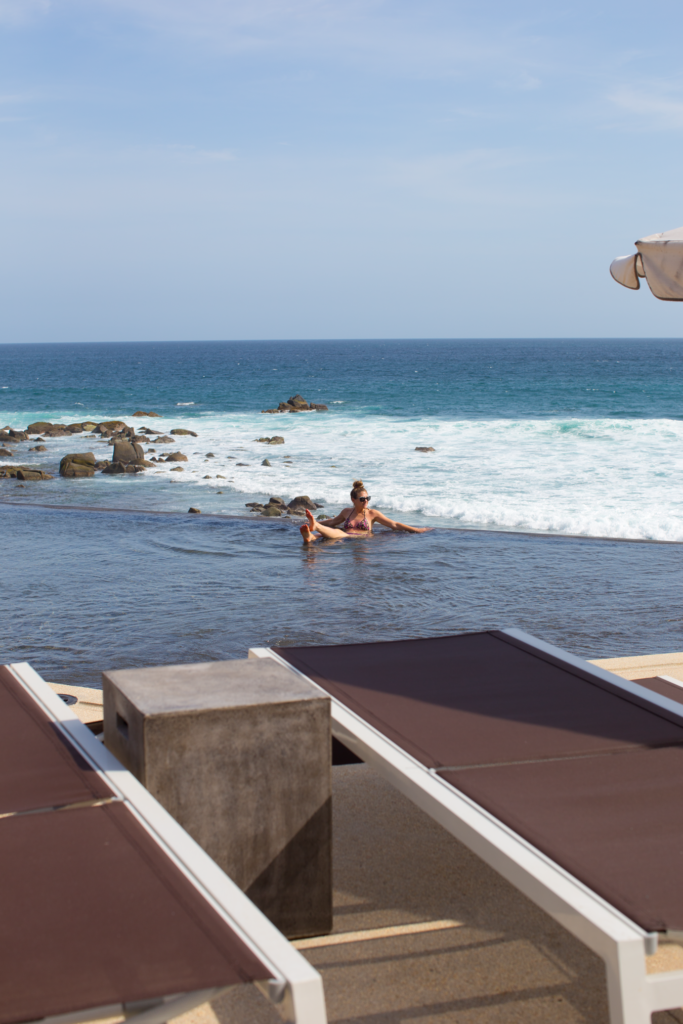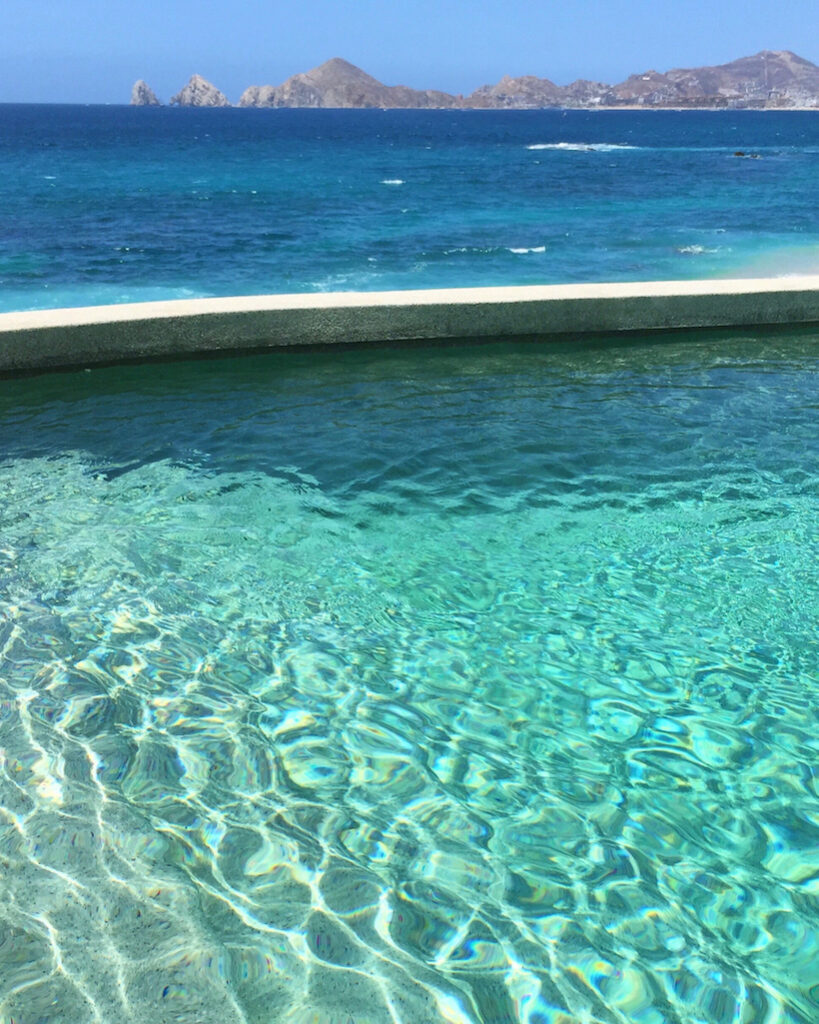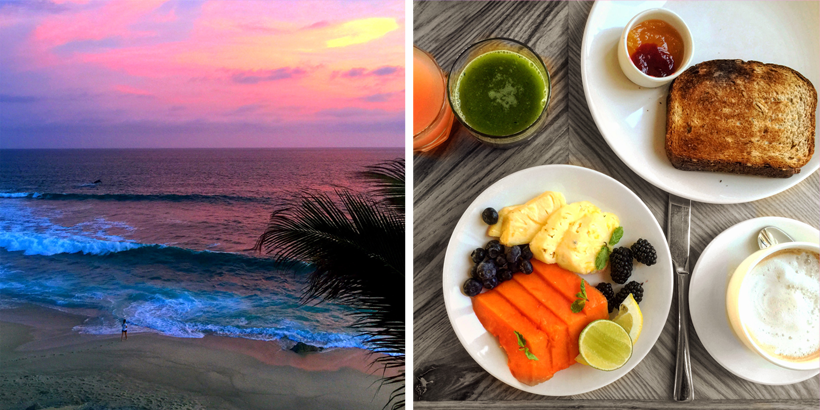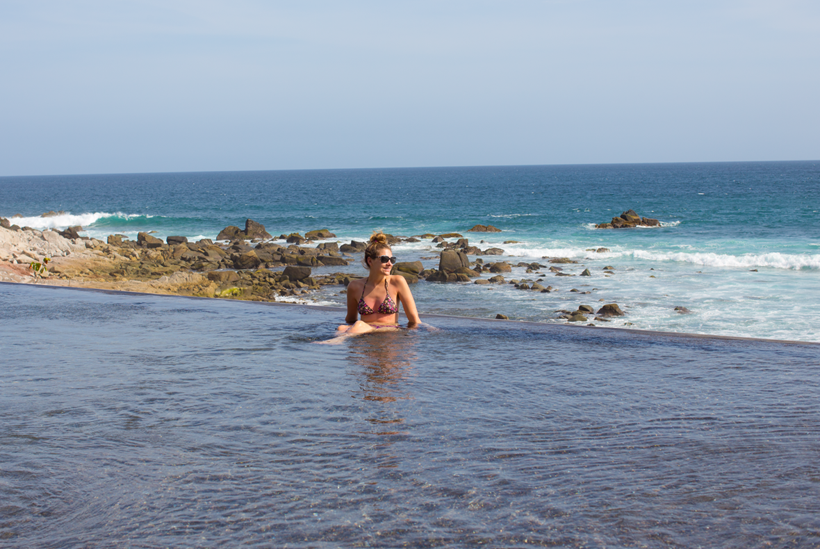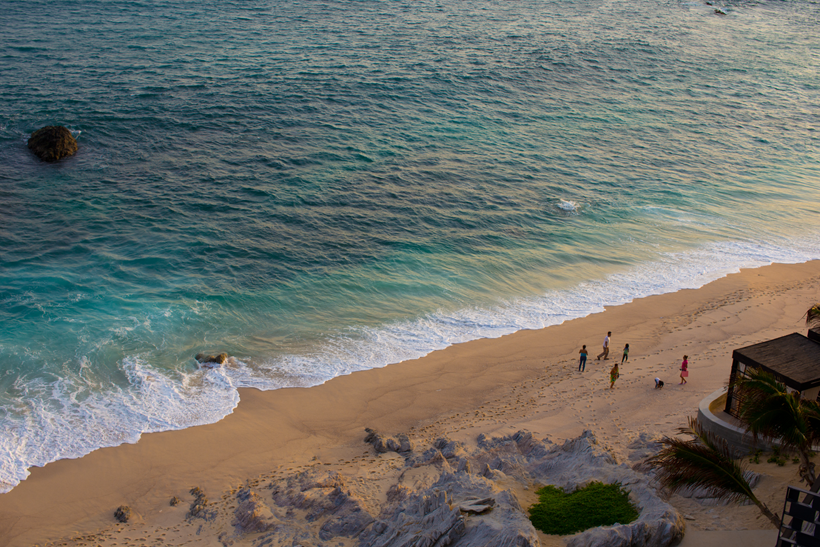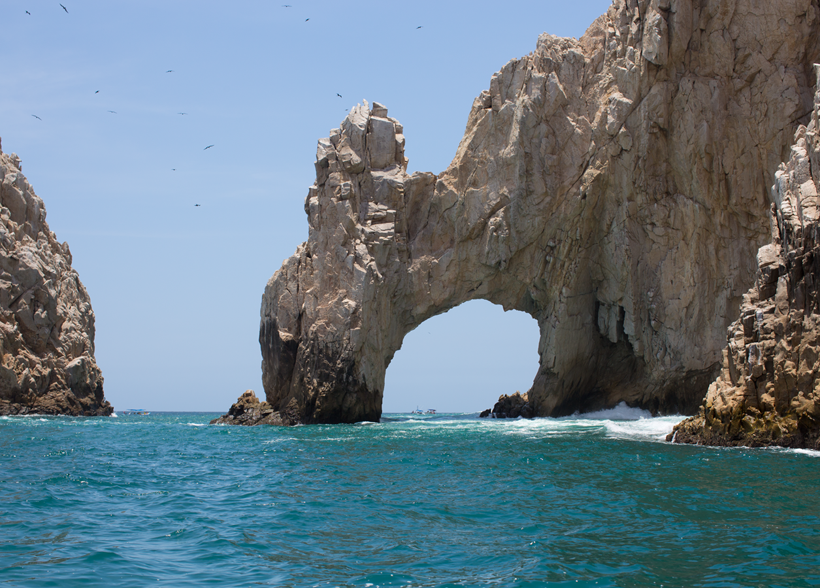 The Arch at Land's End..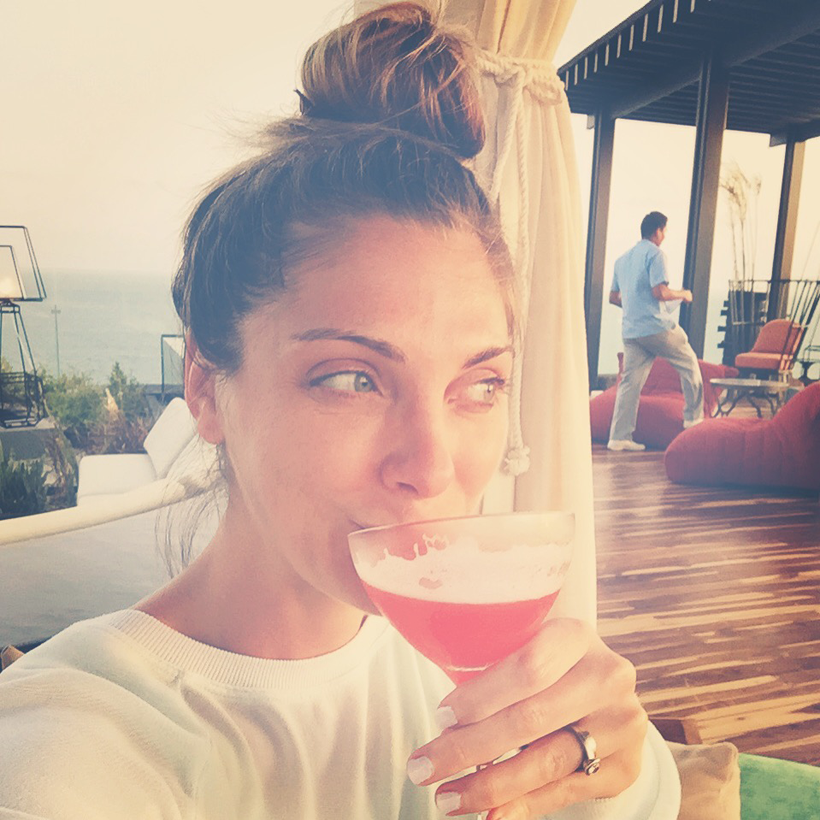 Amazing sunsets and drinks from The Cape Hotel's rooftop bar..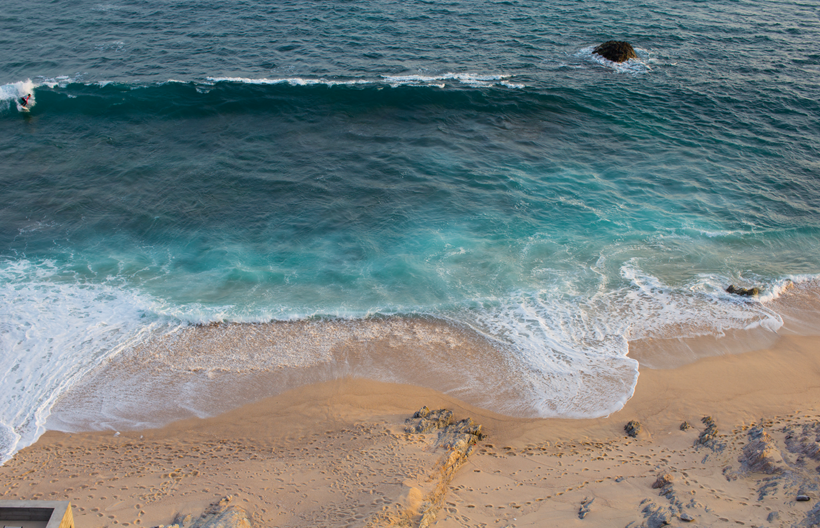 My favorite colors on display…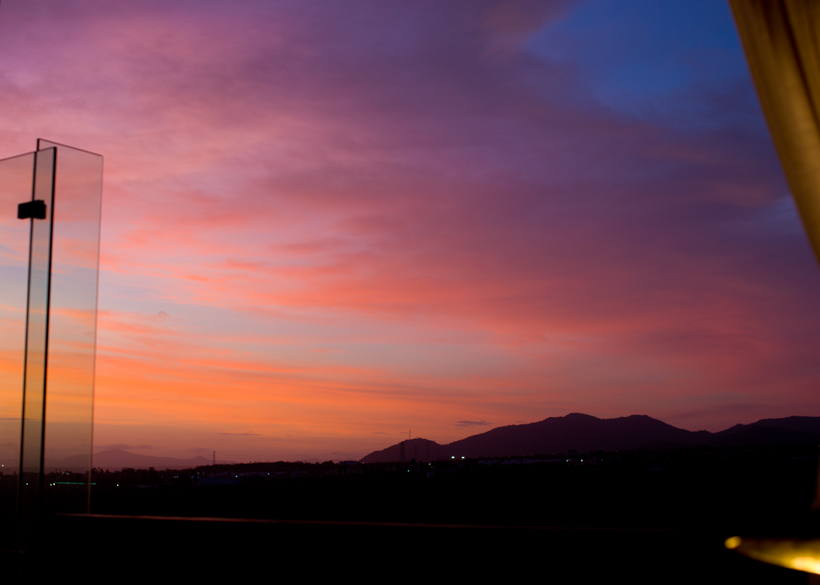 Rooftop sunset..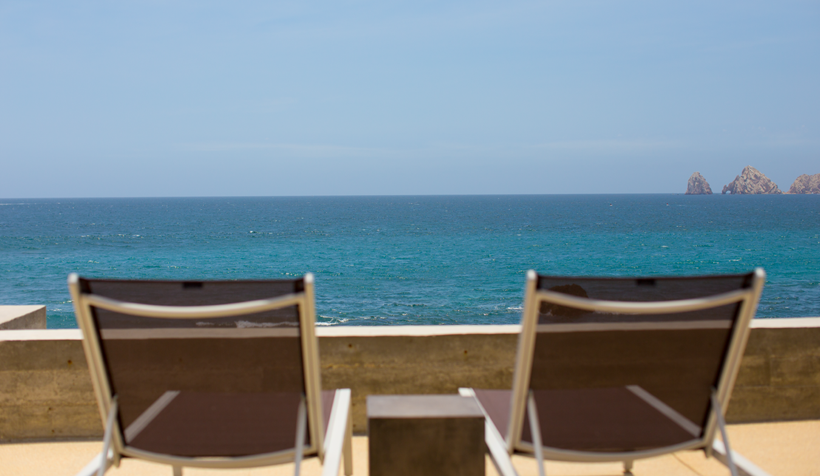 Cabo is kinda like this…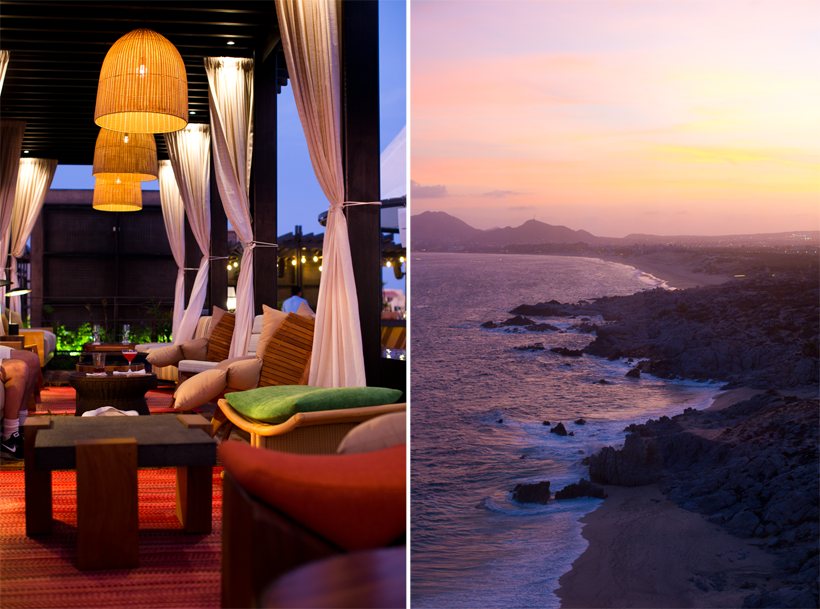 And this..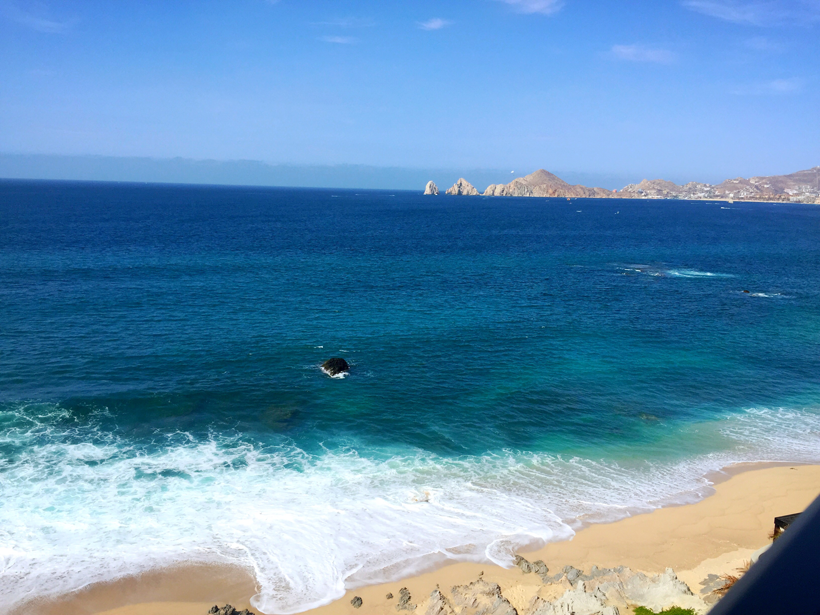 And this beauty… (view from our room)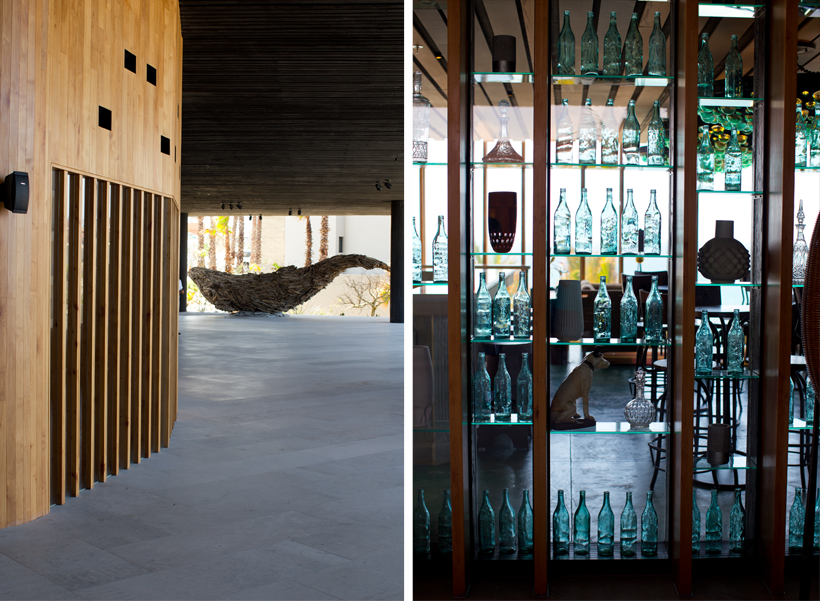 Loved the driftwood-art whale sculpture in the outdoor lobby and beautiful accents like green glass bottles catching the light..

Review: The Cape Hotel + Cabo San Lucas
We visited the last weekend in July, aka Cabo's "off season." So everything felt very tranquil and surprisingly serene. This was my first trip to Cabo and I actually expected a total college-spring-break-y, party-like atmosphere, but our hotel was mostly couples and a few large group of adults. At many times it felt like we had the entire resort to ourselves. This was mostly welcoming, however there were times when we had hoped for a bit more energy. Luckily, we embraced being able to skip down the halls unnoticed and have our choice of rooftop seating.
And remember, like I noted, the hotel literally opened only about a month ago, so I can only imagine how amazing and energized this property will be when operating at max capacity! The pools will be buzzing, the rooftop bar even more packed and the spa filled with Zen-seekers. But aside from the newness of the hotel, lets just stick to the facts..
Location: The Cape is located right on Monuments Beach. A prime spot for viewing Land's End, watching surfers, and during specific times of year – whale watching from your room! (Via binoculars.)
The view from every corner and crevice of the hotel = perfection…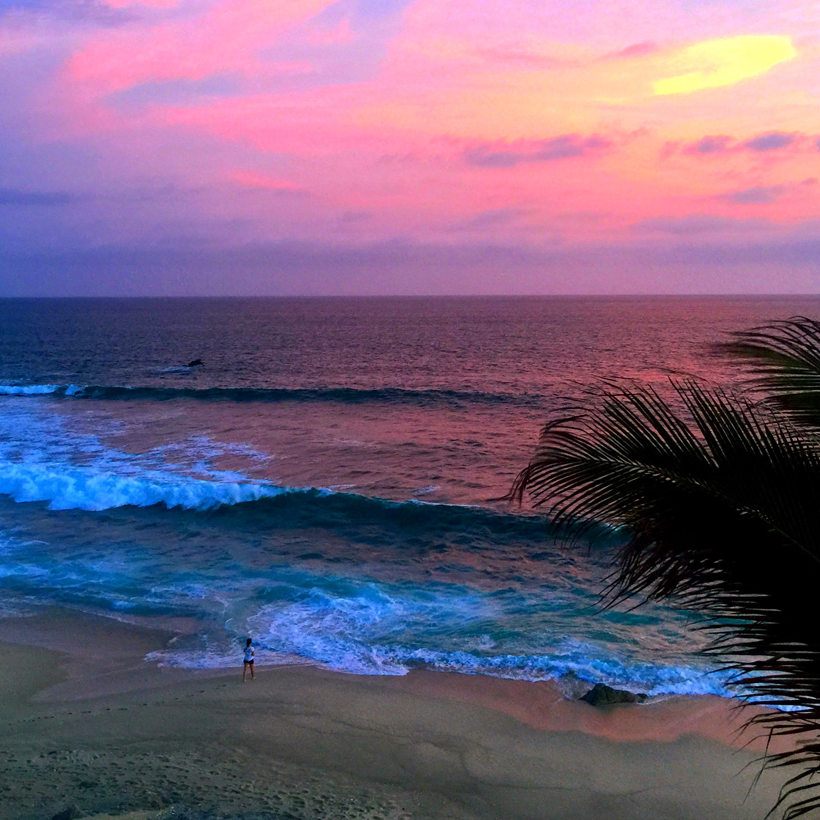 Our last evening gave us this rainbow-splashed sunset scene..

The Hotel Design + Vibe + Rooms: Modern, sleek, fun, gorgeous, sexy, smart. That roaring ocean is the star of the show as the black, grey and beige colored hotel wraps itself around that aqua sea and dry Mexico land out back. The hotel is beautiful. I loved just walking from place to place, viewing the ocean from the sleek lines, cool ceilings, and absolutely stunning tile floors. Those floors are incredible. My feet enjoyed walking on them.
To me, the hotel design reminded me of Miami, with a pinch of West Hollywood, a breeze of Vegas and a sprinkle of Hawaii. All churned together with those salty-blue Cabo waves.
The restaurants, bars and common areas have a very laid-back and cool vibe. There is an ocean-view pool table just off the lobby. The rooftop bar has that "living room" feel and plays amazing music as you sip colorful drinks and enjoy the 360 views of Cabo.
The rooms are not huge, but loverly. For example, the beautiful copper bathtub, set on the awe-inspiring sky-blue and white tiled floor, sat just a few feet away from the King sized bed. Gorgeous, but cozy.
A giant walk-in rain shower was also in the bathroom. One caveat, the bathroom did not have any privacy wall and the privacy curtain is very sheer, so basically, you will be showing for all to see. Which is fine for couples, sort've – I'm not really a fan to be honest, but it would be a really odd if you went with a friend or another family member. I am sure they probably have rooms with bathrooms that are more private – (though I didn't specifically ask).
Our room looked like a modern page torn out of Condé Nast magazine. I cannot believe I forgot to take photos, but I did. The tile floor was a highlight and everything felt beachy and modern. On your private balcony sits a giants swing lounger and a table.
One note that bothered us: we were in room 411 which was right next the a staff closet of some sort, so all night long there would be banging and doors slamming. We only realized it was the staff on our last night so we didn't say anything. But be warned in case you get that room .. maybe ask to switch.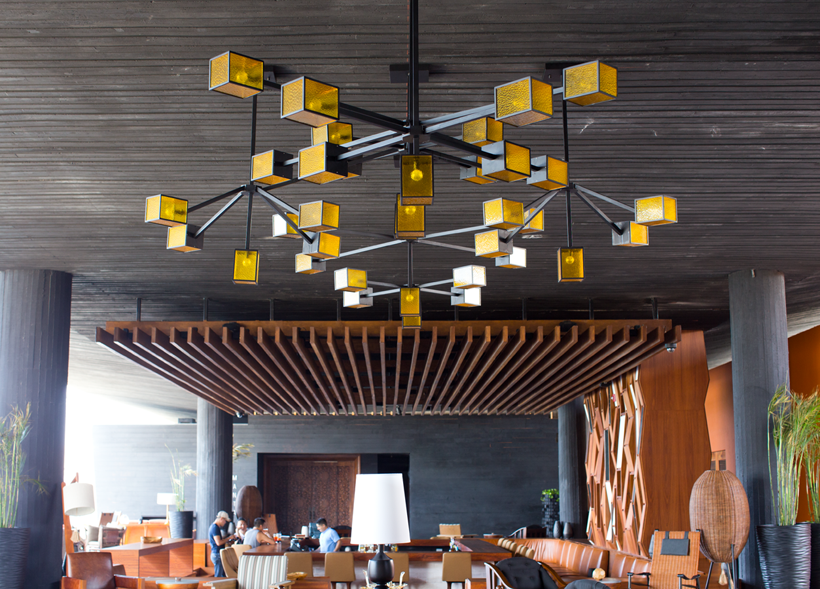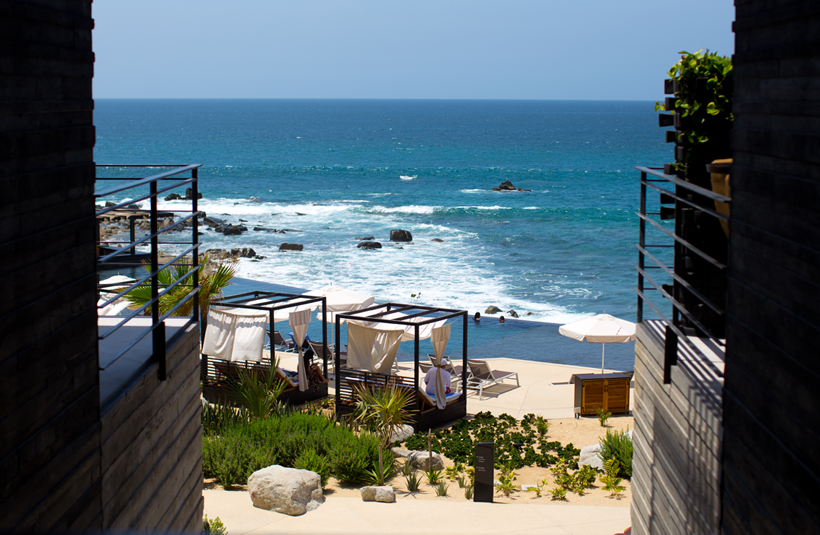 The Staff: Impeccable and kind. Super helpful and sincere. Everyone from the front desk, to the pool cabana servers, spa staff and restaurant staff – perfection.Willing and eager to please.
The Food: My favorite part. Fresh, delicious and loads of healthy options. The poolside menu offers guacamole and tortillas, fruit and salads for the vegans in the bunch. Iced tea with free refills, fruit juice or lemonade. Complimentary bottled water everywhere.
For breakfast we went to The Ledge, or as we called it, "The Glass Cube" and I got the buffet both mornings because it was exactly what I craved: loads of fresh fruit, juices (four varieties, even green juice!) and toast with homemade jam. I also got a frothy soy latte. The fruit was super fresh – papaya, pineapple, berries, melon and more.
For lunch we had salads by the pool – one day I had a quinoa, celery noodle and corn salad that was refreshing and delicious. Also fresh salsa and guacamole. Fruit smoothies and more are also available.
For dinner, both nights, we ate at the highlight dining option at The Cape. Manta. Manta is the fancy-yet-laid-back, fine dining option with views of the roaring waves. Comfy booths or outdoor tables await you. From the moment we had our complimentary small bite of this crazy-delicious avocado-infused savory-creamy puree and jalapeño-dotted crispy rice cracker, I knew I was in for a treat. The meal runs with courses. You can get 3-5 courses at various prices. There were actually plenty of vegan options even though this restaurant and the executive chef Enrique Olvera is known for his fish dishes.
I had these stand out dishes: a nopales salad (cactus), jicama peanut noodles with an assortment of beans and a mushroom consommé loaded with various types of shrooms and soba noodles. I did not go hungry! These were five star dishes, truly exquisite. The attentive wait-staff is also supremely perfect. I was in heaven. We finished our meal with some hot chamomile tea. Side note: I am IN LOVE with the white thick-rimmed dishes they serve their food in. I want to buy them all! If anyone knows where something similar can be found, let me know 🙂

This starter at Manta – amazing!…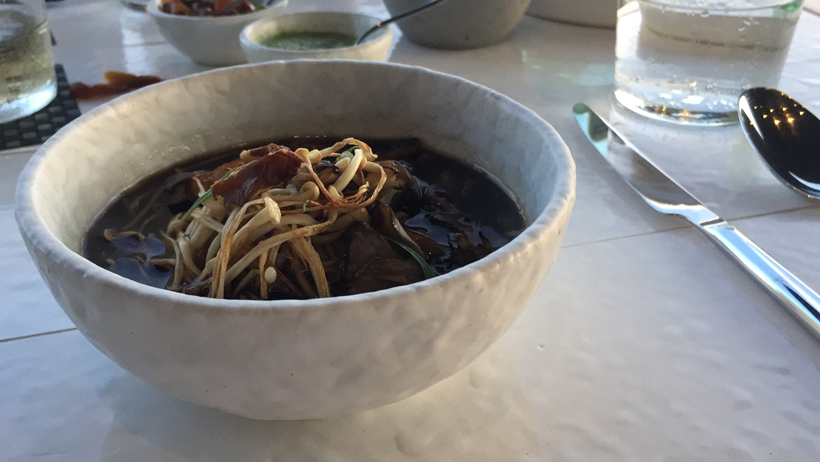 Mushroom consommé with soba..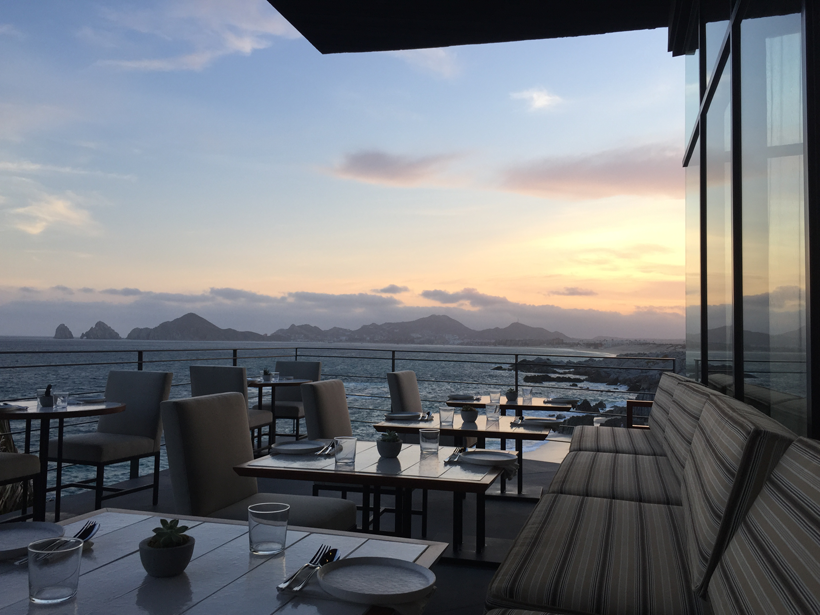 Our outdoor view the second night. Windy, which is why we were the only brave diners outside! My soup actually flew off its spoon! But it was soooo worth it to dine with this fresh air view…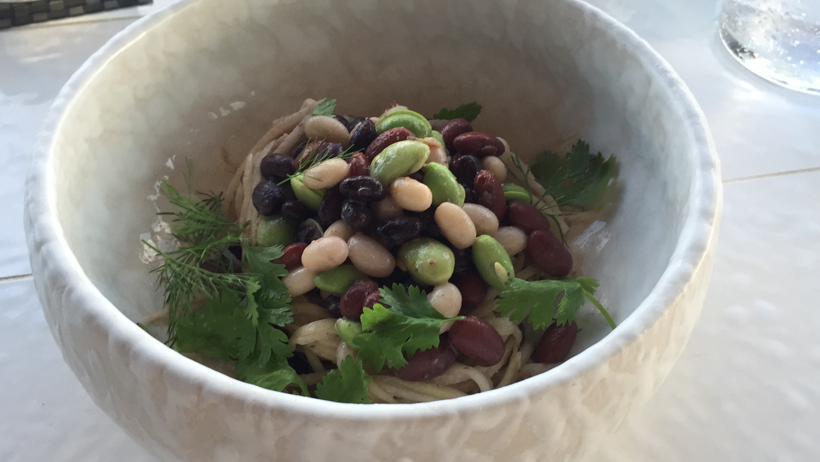 Beans and jicama-noodles in a peanut sauce. SO good. o. m. g.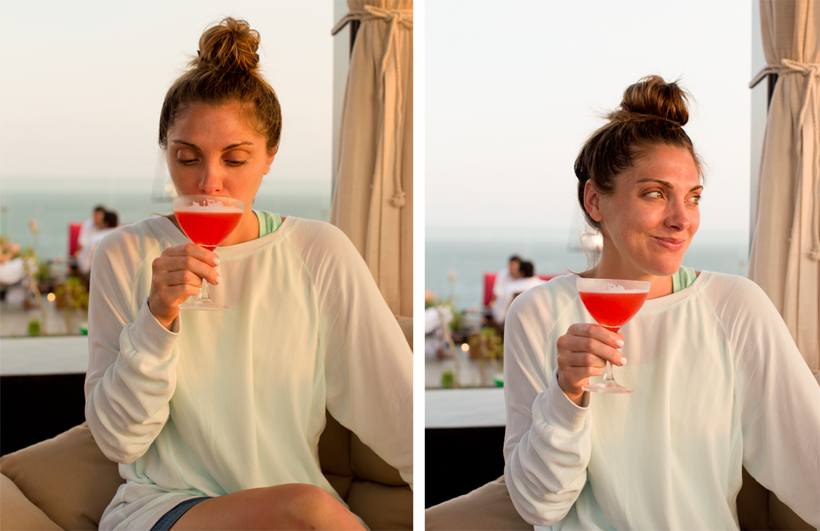 Rooftop sips..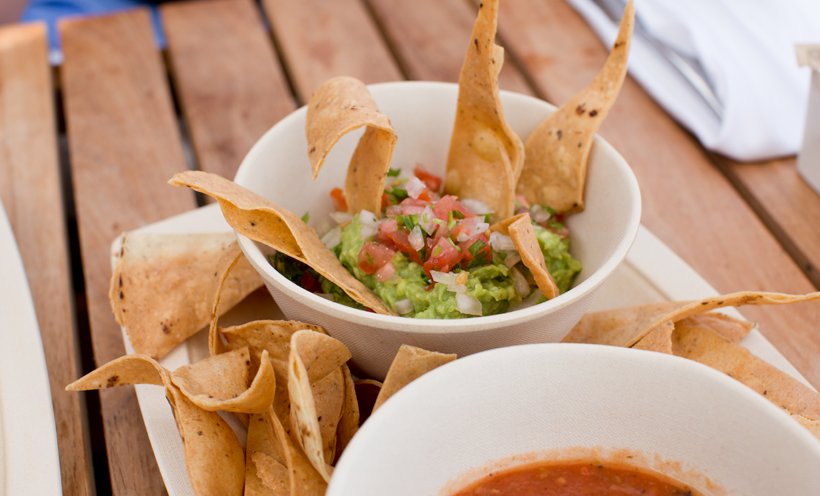 Poolside guac served with blue corn tortillas (not shown)..

Cabo San Lucas (Downtown + Marina): One day we left the hotel and took a cab to the downtown area to check it out. The downtown area is a bit gritty and mostly filled with touristy stores, bars, nightclubs, shopping and then the beautiful boat-filled marine. We took a boat ride out to The Arch at Lands End. The boat ride was about 45 minutes total. You get to see the cliffs and rocks up close, check out the locals on the tiny beaches and see the snorkling spots where plenty of rainbow-colored fish swim. There are even seals and loads of birds. Beautiful views and an easy boat ride. After the boat adventure, we checked out the Starbucks just for fun, and then took a cab back to our hotel to lounge by the pool.
Poolside: The pools are beautiful at The Cape Hotel. There is one very large infinity pool and one smaller salt water pool. The pool area is lined with cabanas and lounge chairs. There is a swim-up bar and staff on hand to get you drinks and food. I loved the salt water pool the most. The cabanas are very comfy and smartly designed. Lounging by the pool is easy to do alllll day long.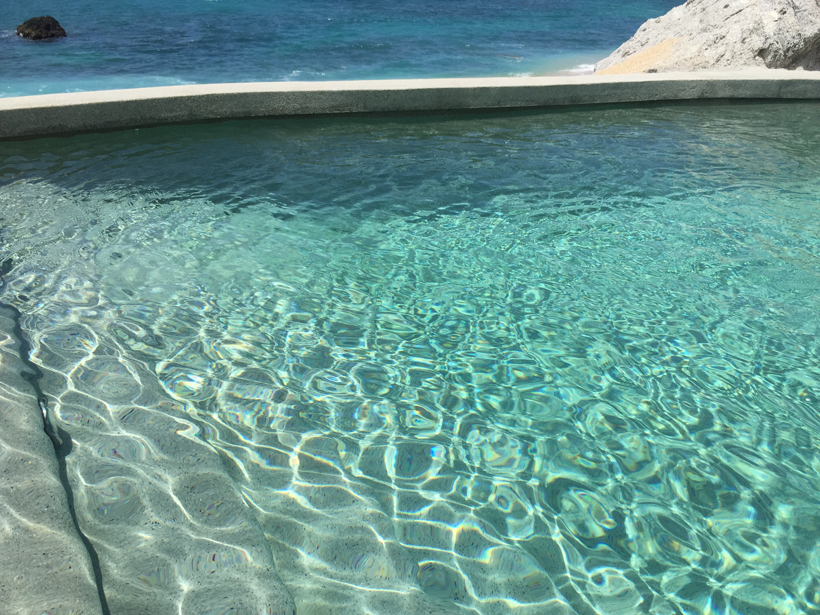 Sparkling Salt-water pool..

Spa: The freshly opened spa is stunning with charcoal rock walls, an outside-in feel, steam room, sauna, plunge pool and jacuzzis and treatment rooms. You can even get an ocean-side massage if desired. I had a 90 minute massage and it was great. The spa is a must-do if you stay at The Cape. I also loved that they carried Eminence skin care products. I love those and they are super natural and vegan-friendly.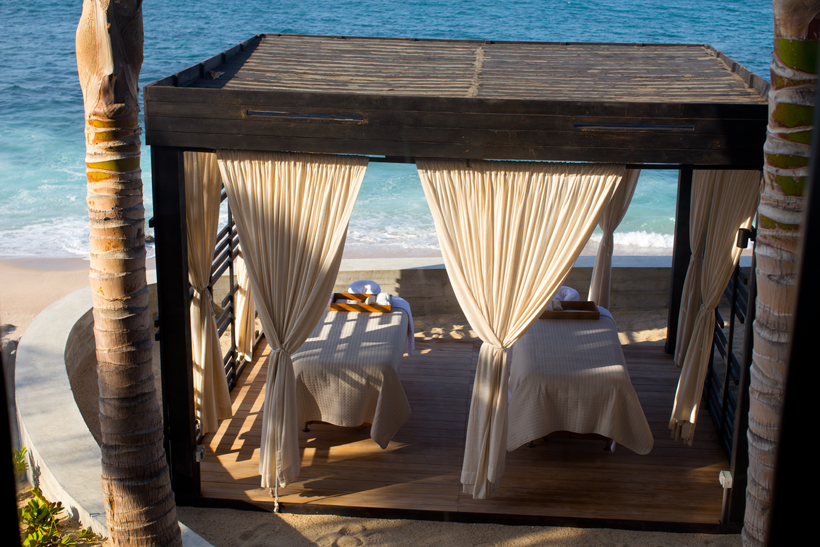 Would I Go Back: Absolutely!
Best For: Couples, big groups of girls of boys (girls or guys getaway style..), special events (honeymooners..), solo travel fans seeking beautiful views and serene relaxation.
Bottom Line: The Cape Hotel is private yet social, serene yet energized. It is modern and stunning, yet welcoming and minimalist. It offers amazing food options, beautiful rooms and all the amenities you expect in a first class tropical getaway hotel. Book your trip with confidence! Just be warned, you may not want to leave.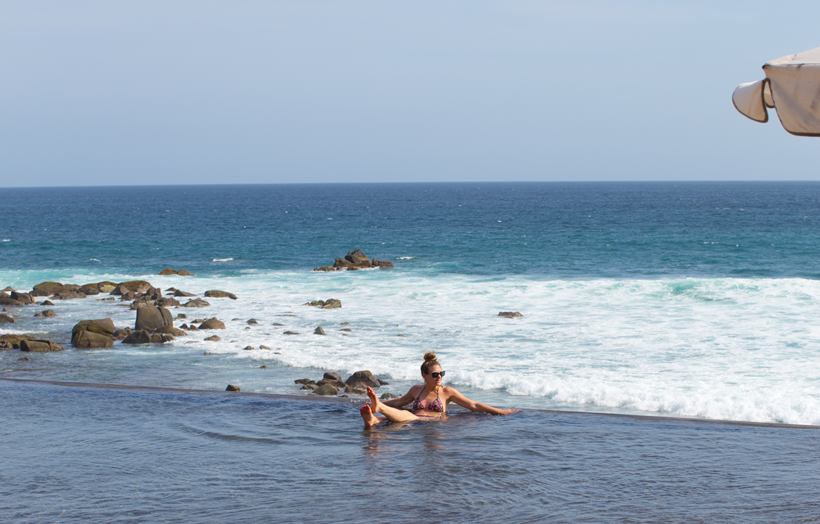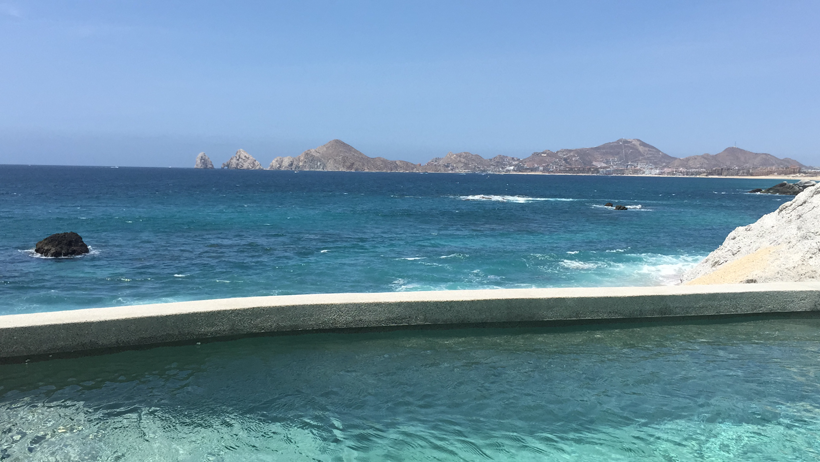 Ocean views … from the salt water pool.

Poolside salad..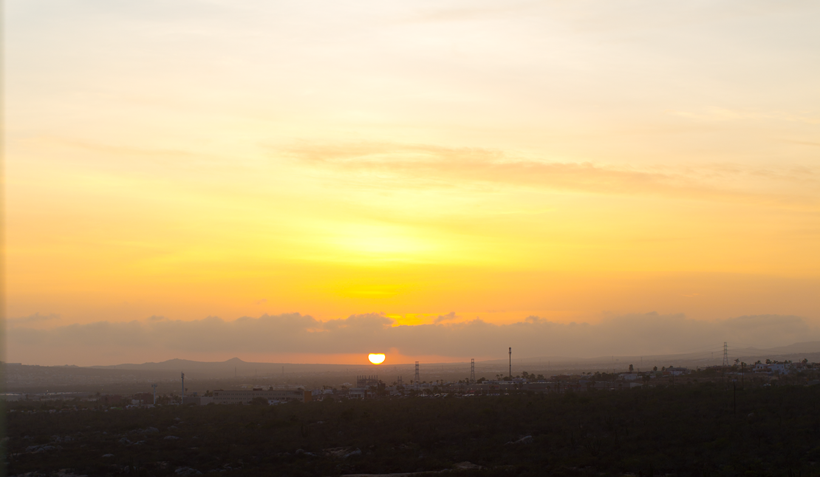 Sunset hour..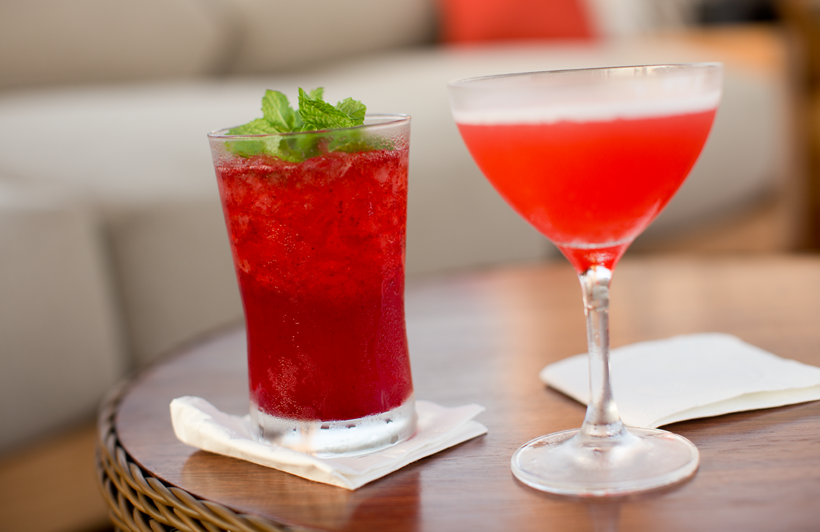 Pretty drinks..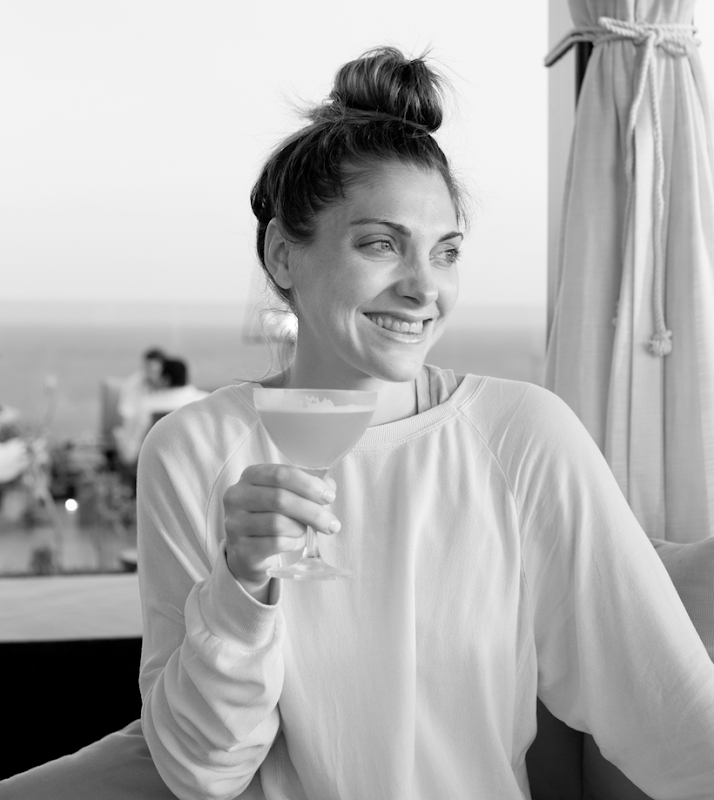 Messy bun season in full effect..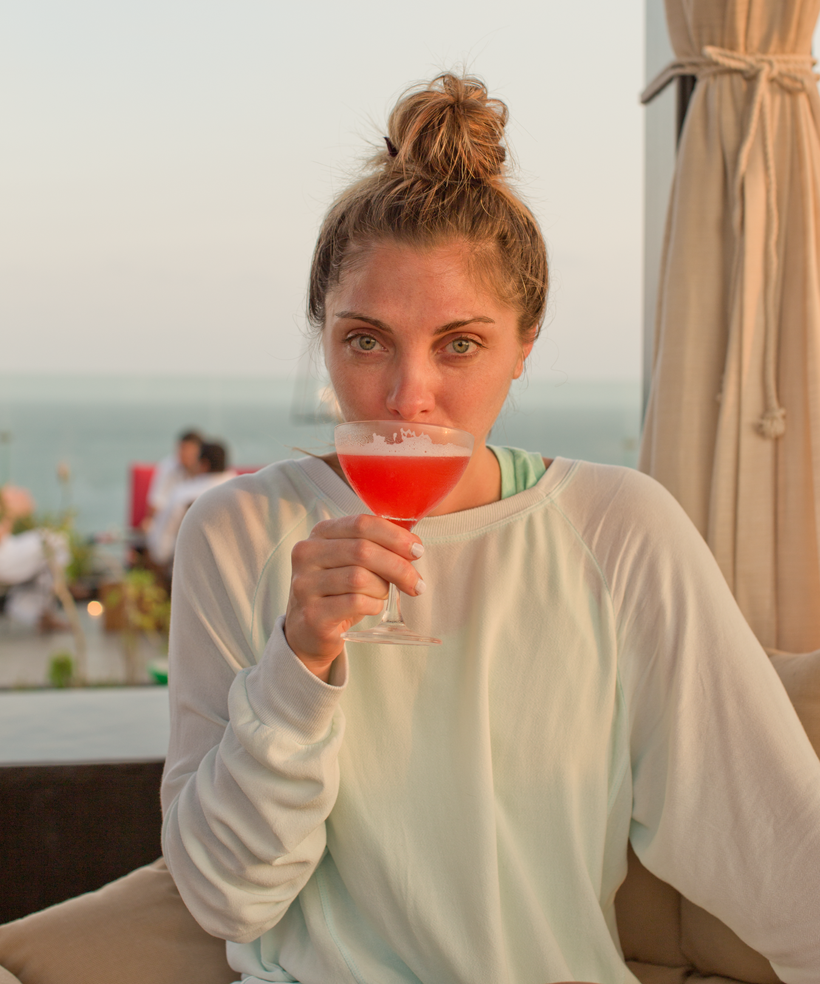 Summer beach travel means sun-kissed skin, casual wear all day and a cold cocktail in hand…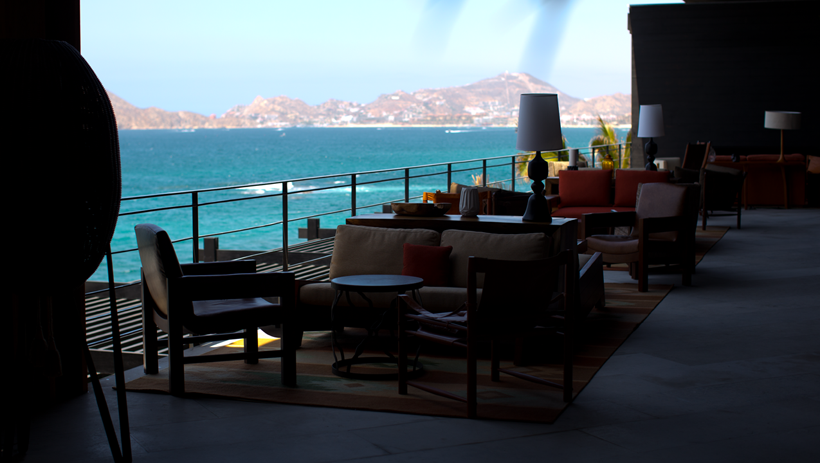 Views for days…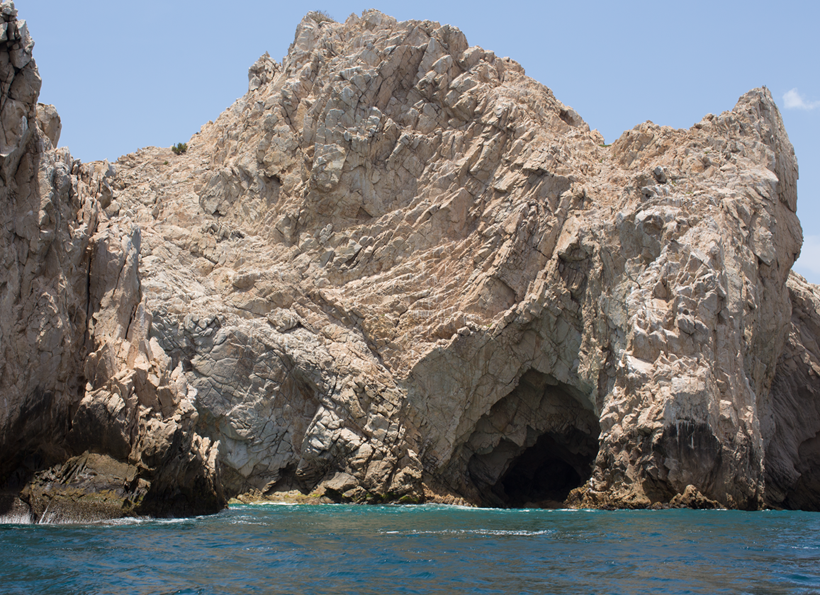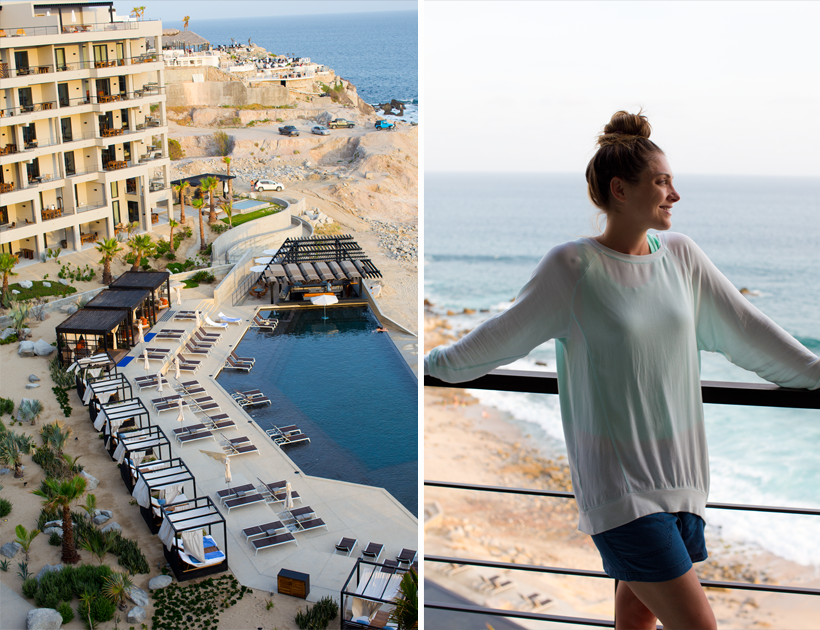 Rooms with huge views!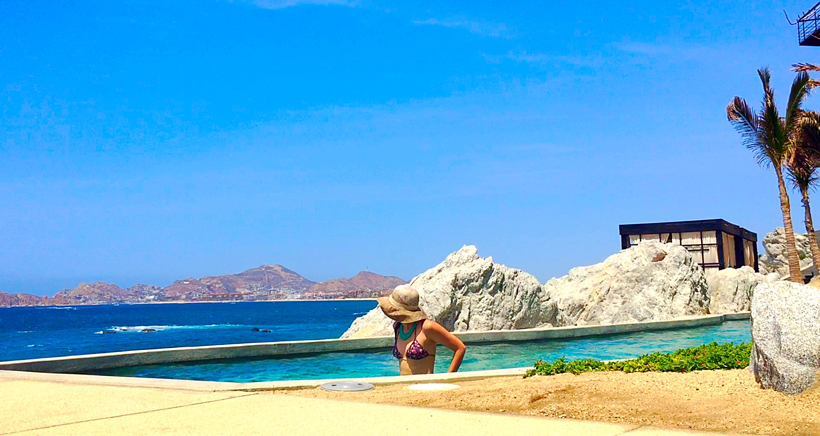 Living the life. Even if for a weekend..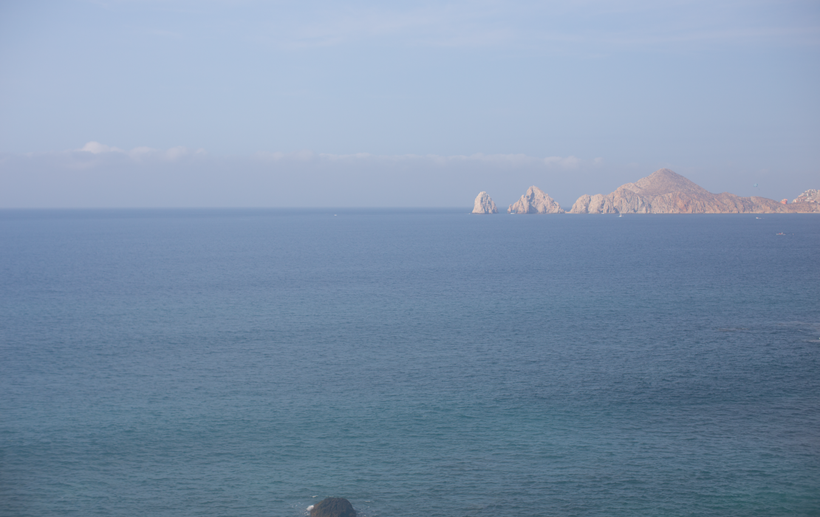 Misty morning view… salty mist on my camera lens..

The Cape Hotel online.
Read more of my travel features here! Like Maui...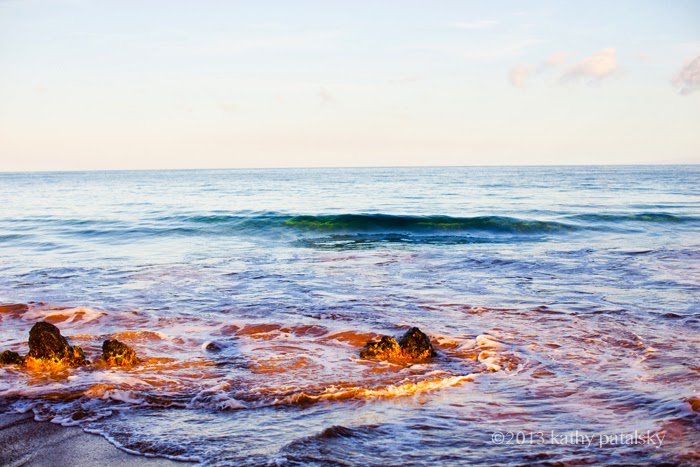 All photos copyright: 2015 Kathy Patalsky – no use without permission granted.