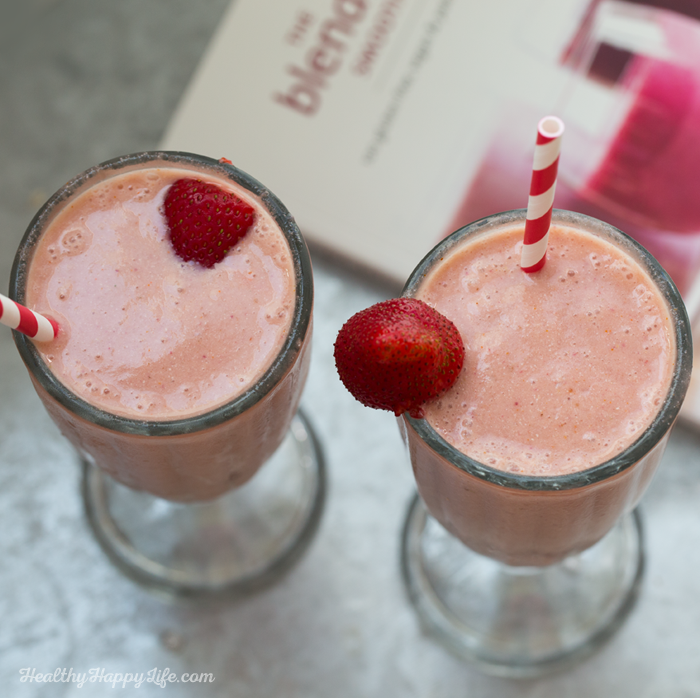 I am so excited to share TWO amazing recipes, some beautiful images and my book review of Tess Masters's new book, The Blender Girl Smoothies cookbook..
Take a peek at the first smoothie I blended from Tess's book.. yum!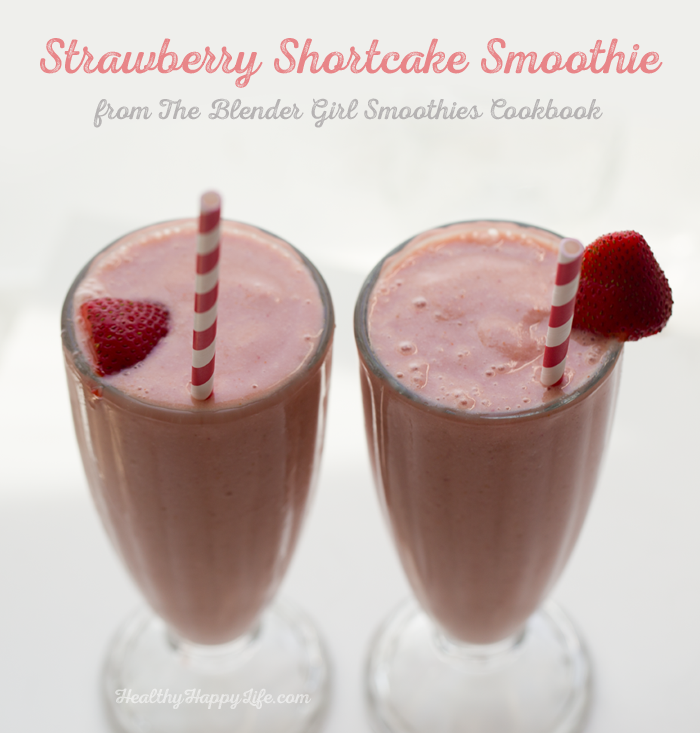 Lovely Pomegranate Slam it, from Tess's book..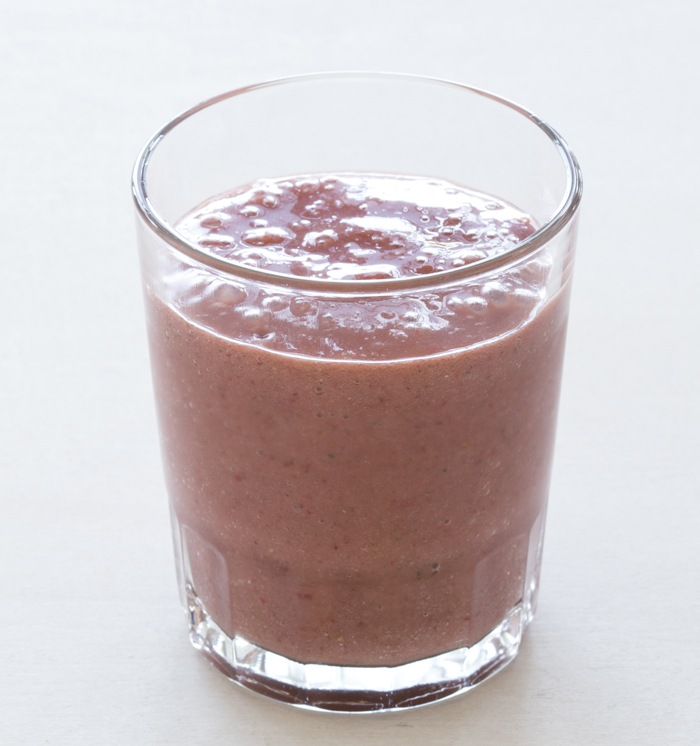 Copyright © 2014 Anson Smart
Hooray smoothie books! I have a huge soft spot for smoothie cookbooks. Ever since I was in high school I would buy them every chance I got. I loved flipping through the pages of colorful smoothie photos, fruity flavors, and inspiring nutrient-dense recipes.
Smoothies were also one of my favorite first recipes to play around with in the kitchen. In my own smoothie book, 365 Vegan Smoothies, I tell the story about how in 7th grade drama class everyone had to "teach the class something they were an expert in" – I chose to teach the class how to make the perfect smoothie. It was chocolate-banana-pineapple. Sassy, yes?
And thus why I am still inspired and delighted by every smoothie book I find today!
I think you can judge a lot about a person by what they toss in their smoothies. It is true! Every time I make a "green smoothie" with friends I am so interested to see how their "go-to recipe" is vastly different than my own. Smoothies on average are the same sort of thing. Liquid, plants, frozen, flavor accents. But how a person crafts their own smoothie is a completely individual thing. And I love reading other bloggers smoothie recipes and books. And learning others recipes definitely widens the creative culinary possibilities of my own smoothie game!
And the BEST thing about smoothie recipes and cookbooks – the recipes are forgivable. You can easily change up one or two ingredients and still make something delicious.
Cookbook Review. I adore Tess's new book. And I am so excited to finally get a chance to feature Tess here on my blog because I had watched her from afar for a long time in complete awe of her bender-focused brand. We are both smoothie girls and smoothie girls need to stick together! So I was so excited to finally meet her last year and find she is even more amazing, kind, fun and genius in person. And her cookbooks show all that talent off.
Tess's book covers all the basics, how-to build a smoothie, fave smoothie ingredients (with some super awesome-creative ideas like maqui, orange blossom water and more!) and plenty of must-have smoothie recipes that include lovable, crowd-pleasing flavors like banana, berries, sweet greens, chocolate, citrus, nut milk and more.
But some of my favorite smoothies in this book are the ones that are super creative and unique.
I really enjoyed how Tess took a few flavor chances in this book with recipes that you probably will never find on a Jamba Juice menu. (That is one of the best things about smoothie cookbooks – freedom for outside the blender container thinking.)
Some of those unique creations include the Salty Alkalaid, which contains a brisk assortment of greens, cucumber, avocado, lime, water, tomato, coconut, garlic and salt. Or Minty Green Kreme which includes kiwi in a creamy mint blend. And Spicy Gazpacho Grab, a savory blend of delicious veggie, citrus and spice-infused flavors. Basil Melon Mania which includes, yes, melon and fresh basil – and basil has always been an underrated smoothie ingredient in my opinion. And even a Rose Water Cardamom Lassi with creamy banana and vegan yogurt, rose water and cardamom.
These super creative creations are for me, what makes The Blender Girl so wonderful in her smoothie approach. You have to know what you are doing in a smoothie-making kitchen to start using those lesser-known flavor combinations and accents!
Design. I love how minimalist the photos are and elegant the book looks sitting on my table. Tidy, compact and inspiring.
So no big surprise, I love this book and hope you add it to your thriving smoothie cookbook collection! Get Tess's new cookbook today!
My first blend. My first blend from the book, since I actually had soaked cashews on hand, was this dreamy Strawberry Shortcake blend. I subbed in some frozen watermelon for the strawberries, based on ingredients I had on hand, but it still came out amazing.
..I LOVED it! The next smoothie I want to make is the Sleep Spell, a blend of sweet dates, nut milk, banana, pistachios and spices like cinnamon and ginger.
GIVEAWAY! In celebration of her book launch, Tess is hosting s $2,000 giveaway from KitchenAid. Enter here! Prize: One person will win a KitchenAid Stand Mixer, Food Processor, and Torrent Blender valued at $1,999.97!
And below, Tess shares TWO amazing recipes from her book for you to try today! No, really, make one today, like right now. Your body will thank you.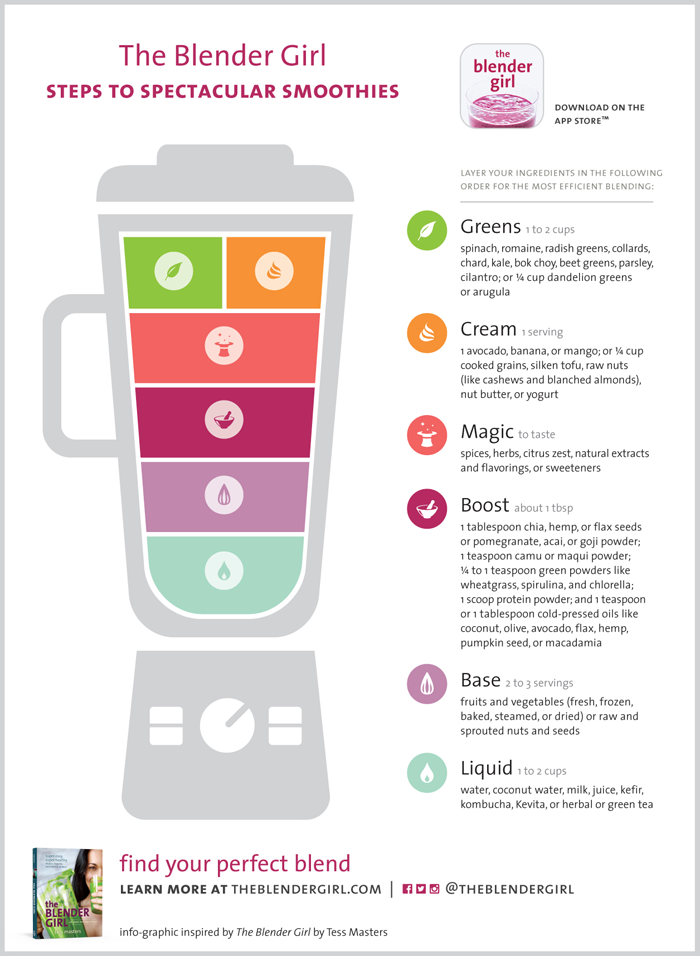 TWO RECIPES from The Blender Girl Smoothies..
rosemary melonade
This exotic blend sips like a fancy cocktail, but skips the hefty bar tab. Melon is hydrating, and rich in vitamin C and anti-inflammatory lycopenes, while rosemary contributes awesome flavor and antibacterial backup. The combination makes this your secret immunity agent! Throw in the jalapeño for an added cleanse and kick.
serves 2
3 cups (480g) chopped seedless watermelon, chilled
1 teaspoon finely grated lemon zest
1 lemon, peeled and seeded
1 1⁄2 teaspoons finely chopped rosemary
1⁄2 cup (80g) frozen pineapple
1⁄4 cup (80g) frozen strawberries
5 drops alcohol-free liquid stevia, plus more to taste (optional)
optional boosters
1⁄2 cup (60g) frozen raw cauliflower florets 1⁄2 teaspoon cold-pressed, extra-virgin olive oil 1⁄4 teaspoon finely chopped jalapeño chile
Throw all of the ingredients into your blender and blast on high for 30 to 60 seconds, until well combined.
nutritional facts (per serving)
Calories 115 kcal | Fat 0 g | Saturated fat 0 g | Sodium 4 mg | Carbs 29 g | Fiber 3 g | Sugars 21 g Protein 2 g | Calcium 42 mg | Iron 1 mg

rosemary melonade..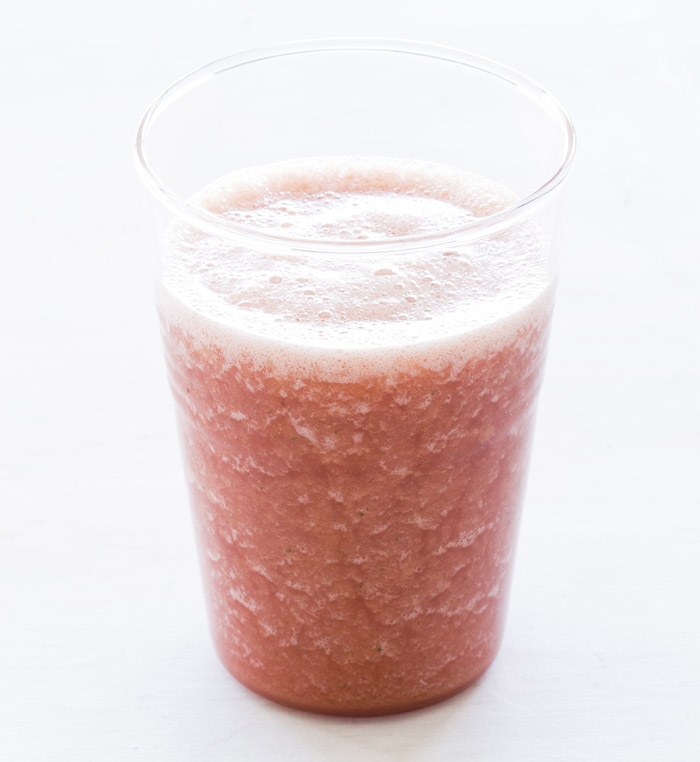 Copyright © 2014 Anson Smart
—
green mojito
This is a cold-and-flu buster and potent detoxifier, all in one zesty cocktail! The bromelain in pineapple suppresses coughs and loosens mucus, while mint clears respiratory congestion, soothes sore throats, and alleviates nausea. The vitamin C in limes has antibiotic power, anti-inflammatories in kale and pineapple combat arthritis, and ginger boosts immunity, aids digestion, and adds a powerful zing.
Serves 2
1 cup (240ml) coconut water or water
1 teaspoon finely grated lime zest
3 limes, peeled and quartered
1 cup (25g) torn-up curly green kale leaves (1 or 2 large leaves with stalk removed)
½ cup (18g) firmly packed mint
2 cups (320g) frozen pineapple
5 drops alcohol-free liquid stevia, plus more to taste
Throw all of the ingredients into your blender and blast on high for 30 to 60 seconds, until smooth and creamy.
optional boosters:1 teaspoon wheatgrass powder 1 teaspoon minced ginger 1 teaspoon coconut oil.
green mojito..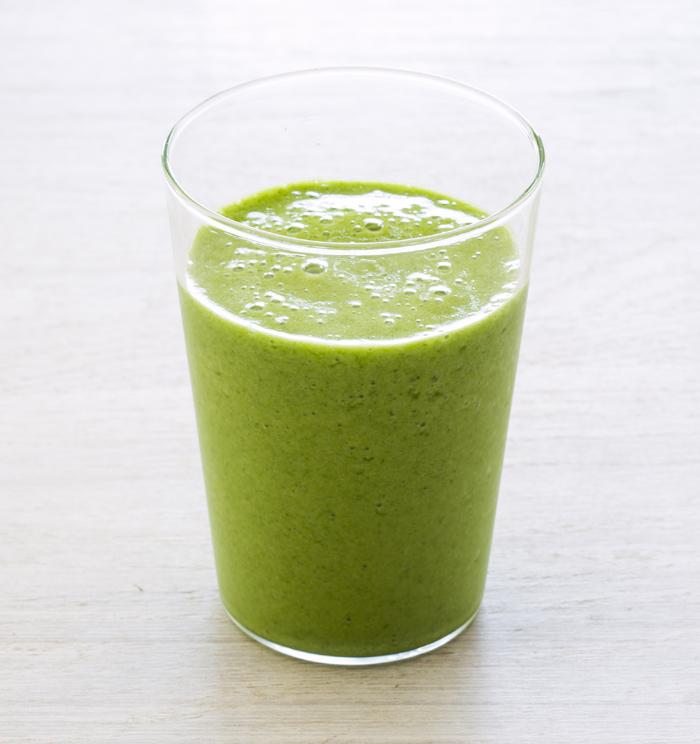 Copyright © 2014 Anson Smart

Above recipes – Reprinted from THE BLENDER GIRL SMOOTHIES Copyright © 2014, 2015 by Tess Masters. Photographs copyright © 2014 by Erin Kunkel. Published by Ten Speed Press, an imprint of Penguin Random House LLC.