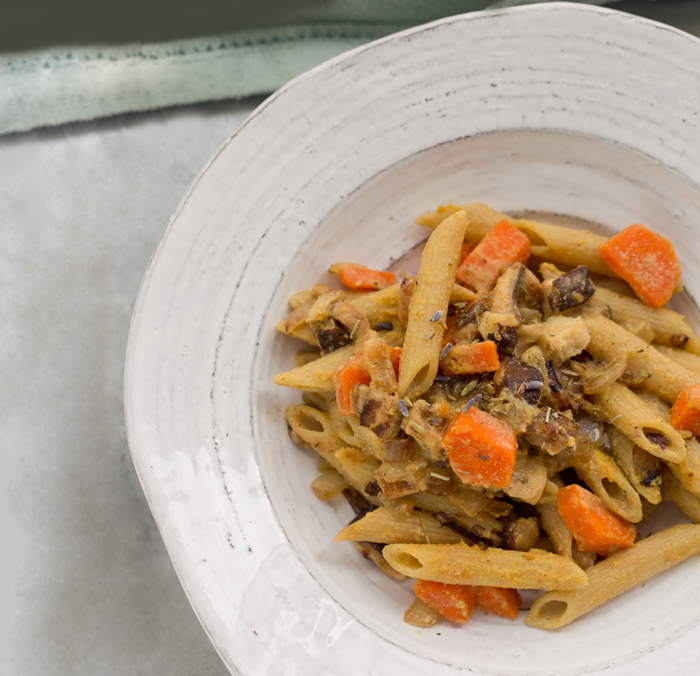 Rustic. Romantic. Vibrant. Savory. Sweet. Fragrant. This Herbs de Provence Garlic-Shiitake-Lemon Pasta is lovely summertime fare. The tender penne pasta is wrapped in a lemon-garlic herb sauce and studded with earthy shiitake mushrooms, caramelized onions and sweet carrots. This is a pasta dish I whipped up using "whatever I had on hand" but after tasting the results, this recipe will be one I will make again and again…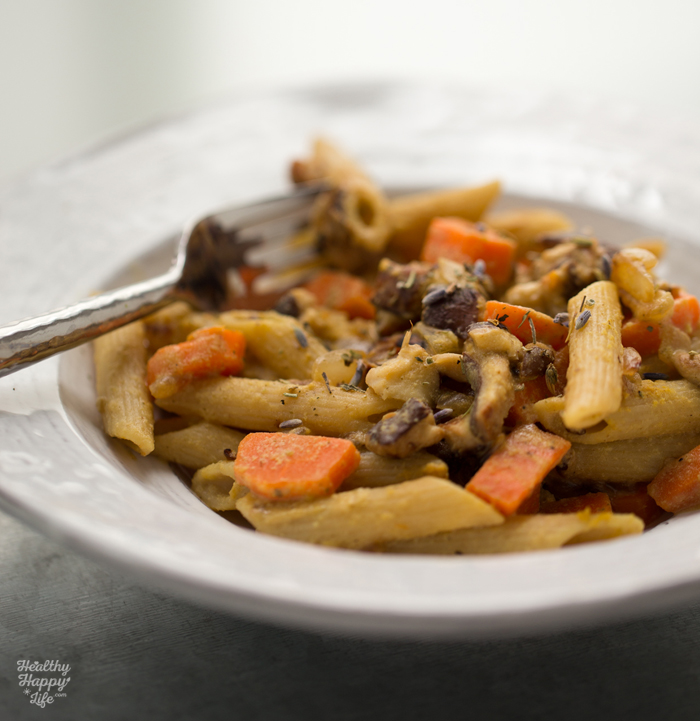 Herbes de Provence is a mixture of dried herbs typical of the Provence region of southeast France. Formerly simply a descriptive term, commercial blends started to be sold under this name in the 1970s.[1] These mixtures typically contain savory, marjoram, rosemary, thyme, oregano, and other herbs. In the North American market lavender leaves are also typically included, though lavender was not used in traditional southern French cooking. – wiki
I spent last week on Long Island, New York visiting my sister and her family. My adorable six year-old niece and my growing-so-fast nine year-old nephew. We skipped through flower fields, played tic-tac-toe using shells and beach rocks on a tiny Fire Island beach, splashed in the salty waves, played tennis, spent a day in the city – where the kids saw their first Broadway show ever, Wicked. We smiled at fireflies, enjoyed long twilight evenings with warm air and crickets, as clouds brought roaring thunderstorms to lull us to sleep.
Summer bliss.
And one stop we made was to a gorgeous lavender farm, Lavender by the Bay, where I picked up some delicious-smelling, lavender-infused, culinary herbs.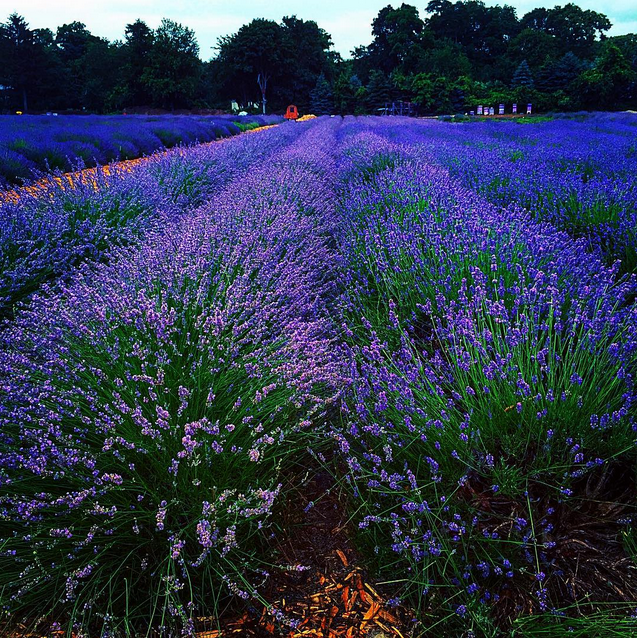 But whatever do I do with them?? When creativity escapes me.. Make pasta!
This pasta is perfect for summertime. Soothing. Cozy. Light and bright. Savory and rustic. With a bit of romance twirled into that flower-field inspired simple garlic-lemon sauce.
And if I told you that this pasta was infused with lavender, what would you think? Too weird? I thought so. But I gave the culinary herb blend a whirl and adored the outcome. The entire house smelled like southern France. Or I can only imagine…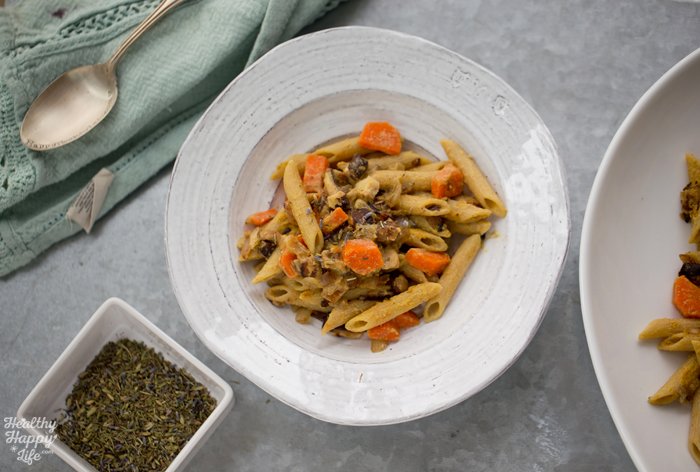 The inspiration.. lavender-infused herbs de Provence..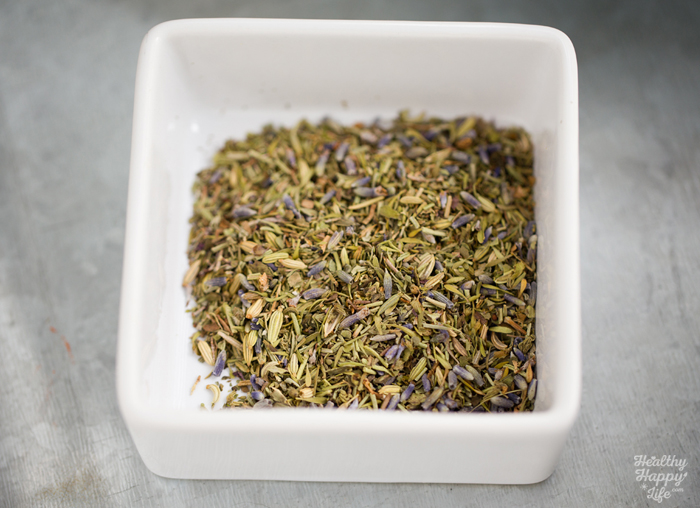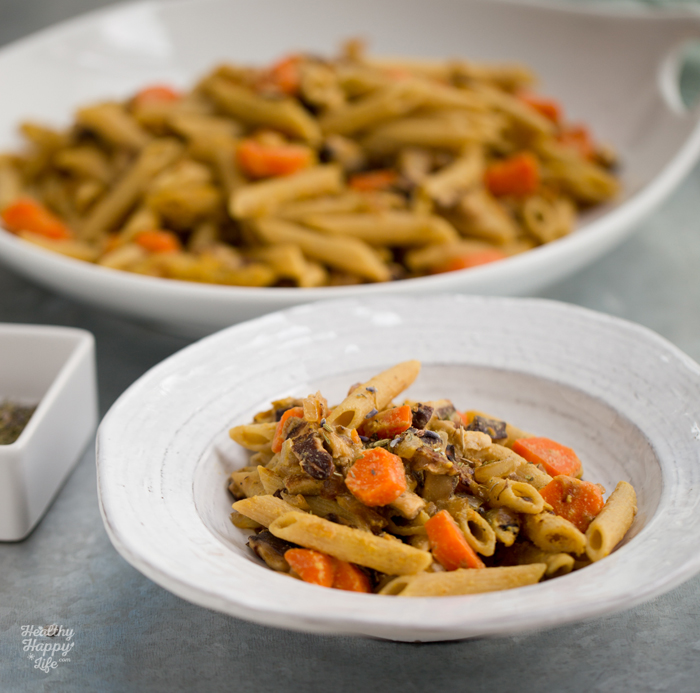 Earthy delights..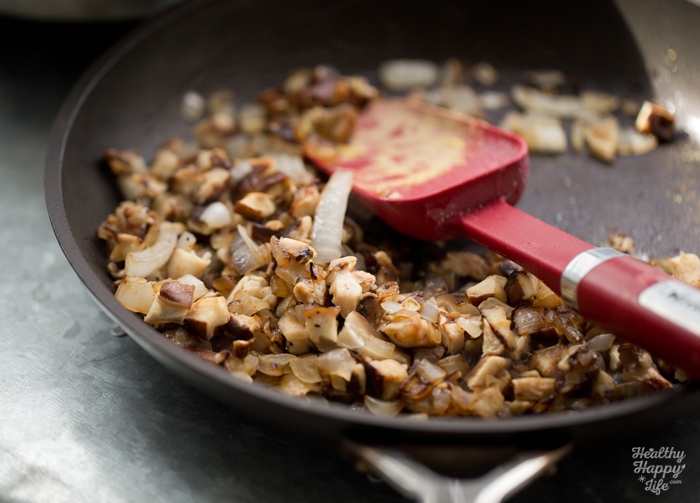 Vacation time flower-field skipping.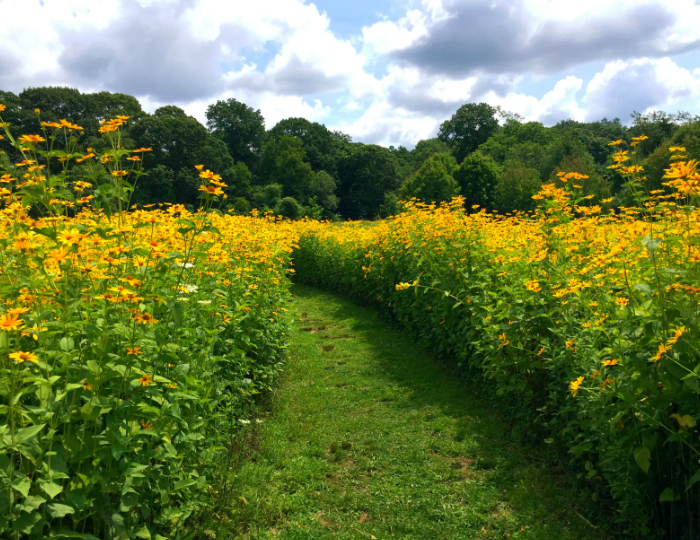 *Avalon nature preserve on Long Island
And lots of smiles. No makeup. Sloppy braids. Family time. Hot sun. Cold drinks. Laughter. Cities. Countryside.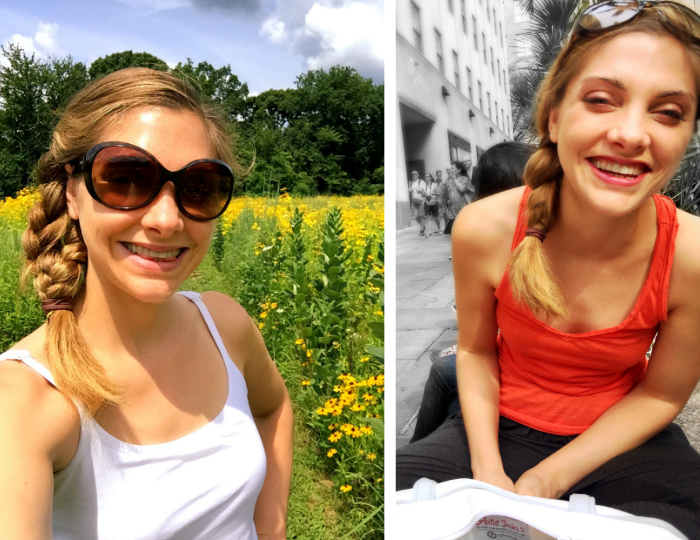 *right: photo credit my 6-year old niece.
Easy meal. Plated dish to serve a crowd..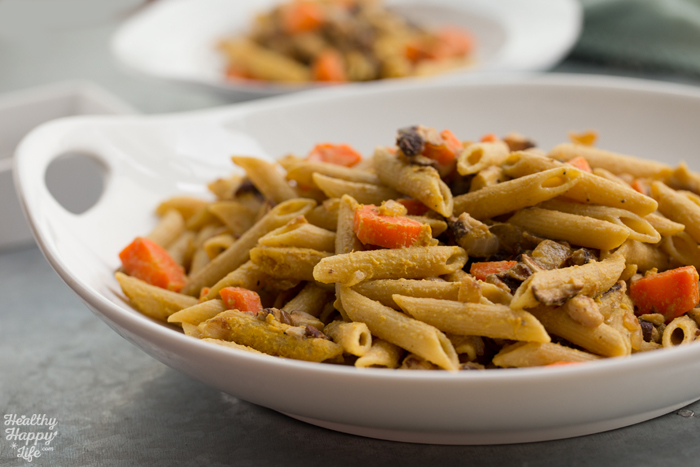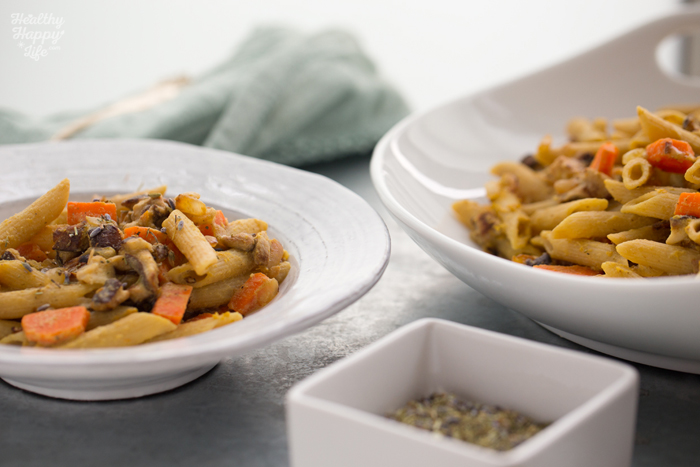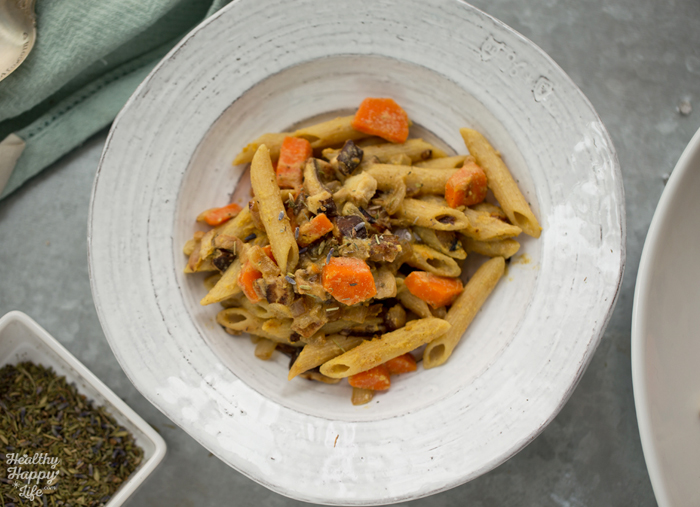 Herbs de Provence Garlic-Shiitake-Lemon Pasta
By Kathy Patalsky
Published 07/20/2015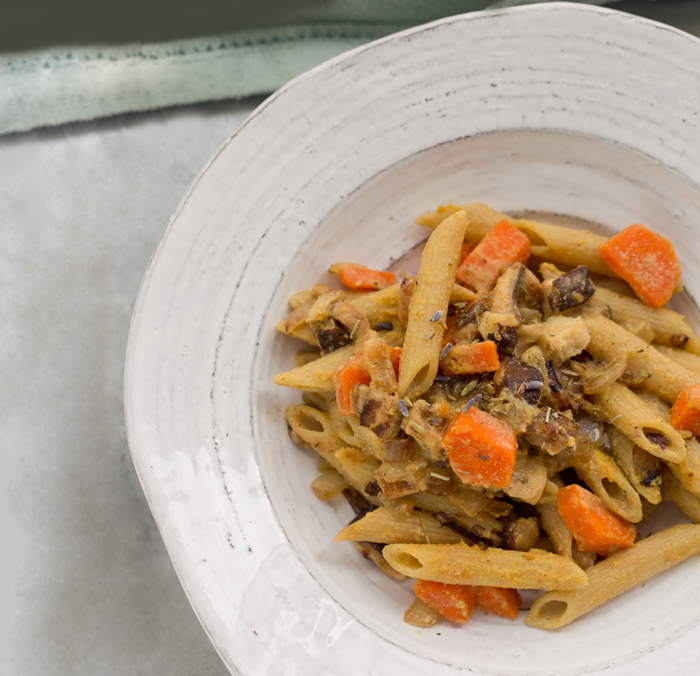 This savory, soothing pasta dish includes veggies like shiitake mushroom and sweet carrot, infused with lovely flavors of herbs de Provence , garlic, nutritional yeast and lemon.
Ingredients
Garlic Sauce:
5 cloves raw garlic
2 large lemons, juiced + pinch of lemon zest
1 teaspoon herbs de provence
2 tablespoon extra virgin olive oil
½ teaspoon salt
2 tablespoon pasta water (reserved from cooking the pasta)
Veggies:
2 cups shiitake mushrooms, diced
1 medium onion, diced
2 large carrots, scrubbed and chopped
1 teaspoon extra virgin olive oil (for saute pan)
¼ teaspoon black pepper
⅛ teaspoon salt
Fold in: ½ cup nutritional yeast (or to taste)
Pasta: 2 cups dry penne pasta, whole wheat used
Optional: 1 tablespoon white wine to mushroom saute, freshly chopped flat leaf parsley (not shown)
Spicy accent: Add 1 teaspoon red pepper flakes to the sauce if you want to add a spicy accent
Instructions
Start off by prepping your veggies. Dice the onion, carrot and mushroom. Set aside.
Bring a large pot of water to a boil and add the dry pasta. Cook until tender. About two minutes before the pasta is done, add the carrots to the pasta water to cook carrots.
While the pasta is cooking you can be sauteing the veggies. Warm a skillet over high heat. Add the teaspoon of EVOO and then the onion and mushrooms. Saute until the edges start to brown and onions caramelize. Add the salt and pepper just before turning off the heat. Optional: Add a few pinches of freshly chopped parsley to this mixture as well as a splash of white wine.
Now that the veggies and pasta are cooked, you can quickly blend the sauce. Add the sauce ingredients to a high speed blender and blend from low to high until smooth. You want the herbs de Provence to be finely blended so that the sauce is smooth and herbs are not gritty. It is important that your blender can process the herbs fine enough. Aka, Vitamix.
If you have not yet drained the pasta, do so now and add the cooked carrots and pasta to a large mixing bowl. Pour the blended garlic sauce over top and add the nutritional yeast. Toss well. Then fold int he veggie mixture.
Serve warm with a tiny pinch of the dry herbs over top for color. You can also serve with flat leaf parsley, fresh basil, fresh lemon zest or sage over top to accent.
Yield: 4 servings
Prep Time: 00 hrs. 10 mins.
Cook time: 00 hrs. 15 mins.
Total time: 25 mins.
Tags: entree,dinner,veggies,pasta,herbs de provence,lavender,vegan,carrots,mushrooms,lemon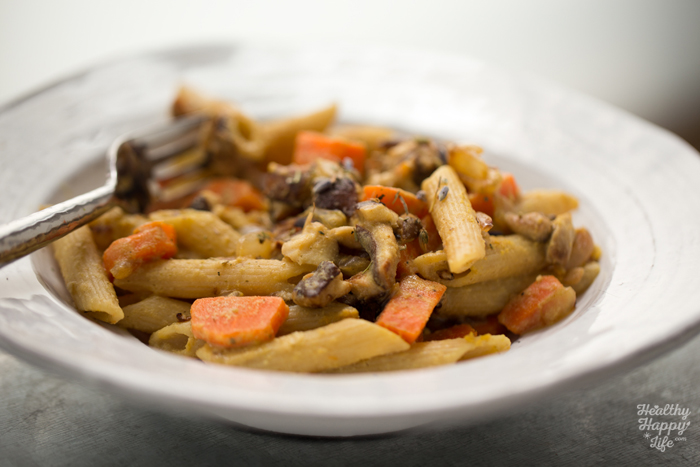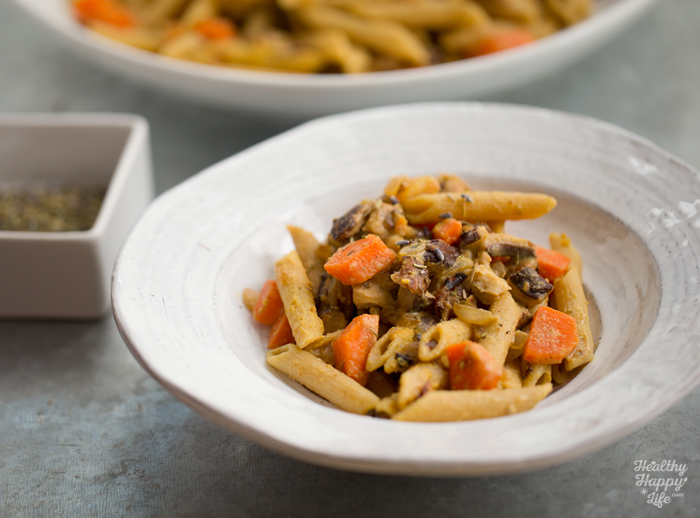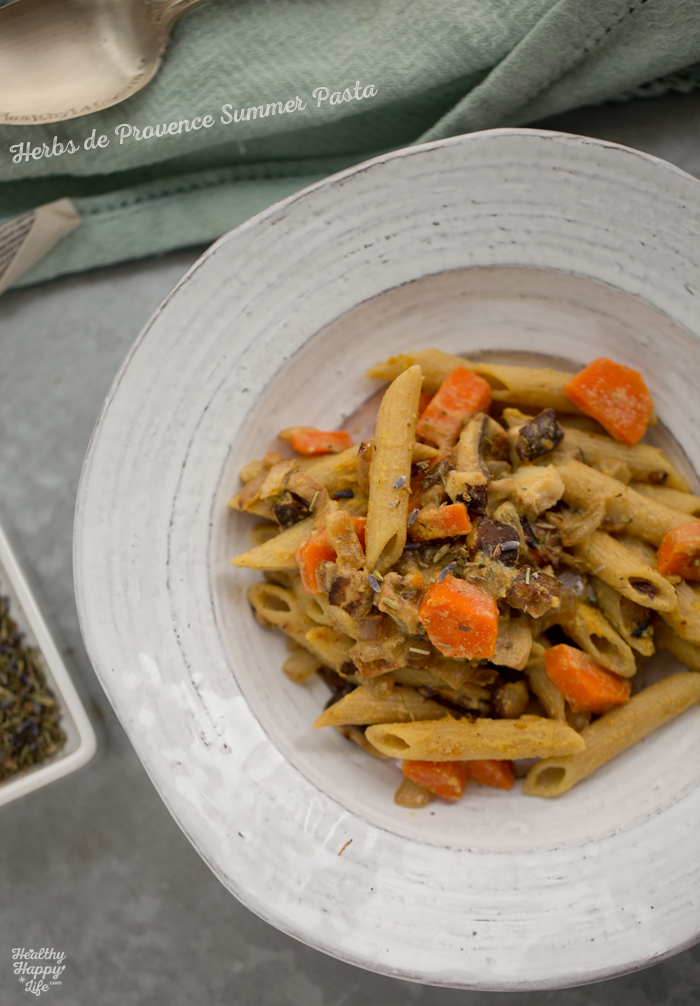 Buy herbs de Provence on Amazon!..

Disclosure: I am a Vitamix affiliate and any links to their products are via my affiliate account.