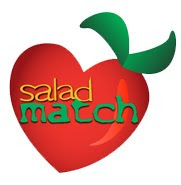 This is hilarious… If you thought they had thought of everything when it came to online dating sites – think again! Here is one more that just may perk your veggie foodie interests (and tummy) if you are single and looking for love – or your salad soul mate…
Single, and ready to… munch?
SaladMatch.com is the new online dating site from the makers of Just Salad – a yummy salad restaurant here in NYC. Find your true love based on your salad preferences… hehehe… check this out..
Salad Match lets you find love by finding your fave salad.
Love beets, carrots, cucumbers and garbanzo beans? Your salad match made in a salad bar line – just may be out there for you!
Luckily, I've already found my salad soul mate. Who ironically does not like many similar salad ingredients as me…but oh well. We do both love arugula, mushrooms, light on the dressing, croutons, pickles, tomatoes, sliced olives, watercress, onions, fresh pepper on top and a long list of other yummy things. But if he had seen green beans in my salad (I love them, he hates them), he probably would've ran for the door. hmmm.
I say, if you can find someone who appreciates a good veggie salad – that's a fabulous place to start.
Happy healthy salad eating and happy soul mate finding.

Check out Salad Match online here.
Just Salad website
If you aren't into the Salad Match theory…you can always try one of these Veggie Dating Sites…
* Veggie Date
* Raw Vegan Dating
* Veg Connect
* Vegans 4 U
* Vegan Passions
* Veggie Fishing
Some yummy salads to inspire your new relationship…

To-Go Salad with Cashew Nut Cheese Ricotta:

And FYI, found out about this silly, yet possibly practical site on one of my FAVE #BestVeganBlogs: Babycakes NYC