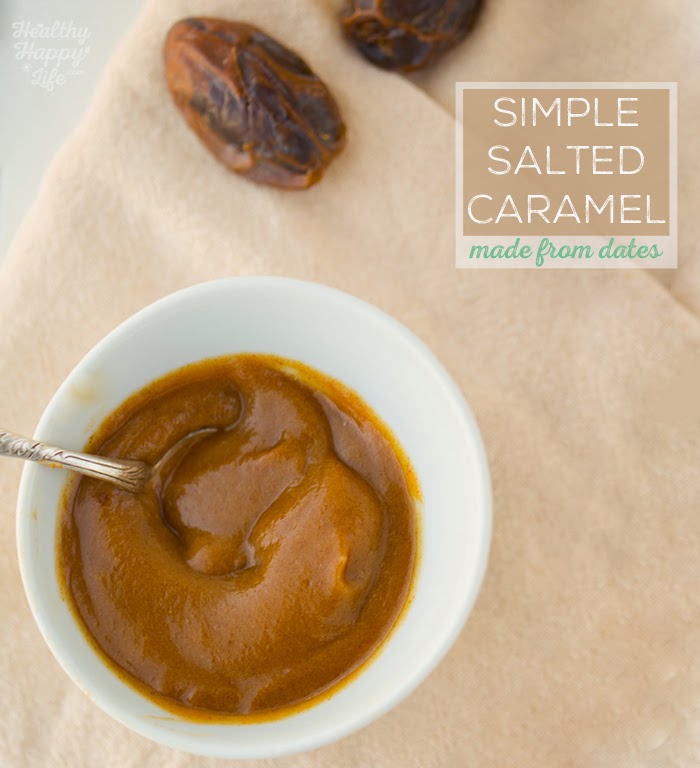 I am always trying to use Medjool dates in more of my recipes because I love them so much. They are so sticky-sweet and amazing all on their own – they don't need much! I love blending them for raw crusts for pies and tarts, stuffing them with cashew cheese, slicing them over top salads or nibbling them just as they come, as a super healthy dessert treat. But my absolute favorite thing to do with dates is to make this Medjool Date Salted Caramel Sauce. It is fat free, super simple in ingredients and blends up in about a minute. Slather it on pancakes, toast, over top cakes and brownies, on top of vegan ice cream or use it as a dipping sauce for fruit and even veggies! Natural sweetness for just about anything. Raw recipe, no heating involved. Get the recipe and check out my new blender review video which compares the Vitamix S30 to the NutriBullet Magic Bullet!..

Before the Caramel – a little video note! Last night I filmed my dinner cooking sesh and made it into a video! Please let me know if you like this series idea, I fondly call "Vegan Dinnertime with Kathy" – BBQ Tempeh Fajita Salad with bubbly blackened tortillas and avocado – SO good.. (and then try this salted caramel slathered on something like apple or toast or ice cream for dessert!)
And now for this dreamy caramel sauce made using Medjool dates. So simple, yet something you might not often make. Well, here and now I am proclaiming that I will made this stuff more often due to all the uses it has. I slathered some on my freshly chopped morning pineapple bowl and that was kind of fun. I plan of twirling a spoonful of this stuff into coconut milk yogurt, a dash of cinnamon, for dessert tonight.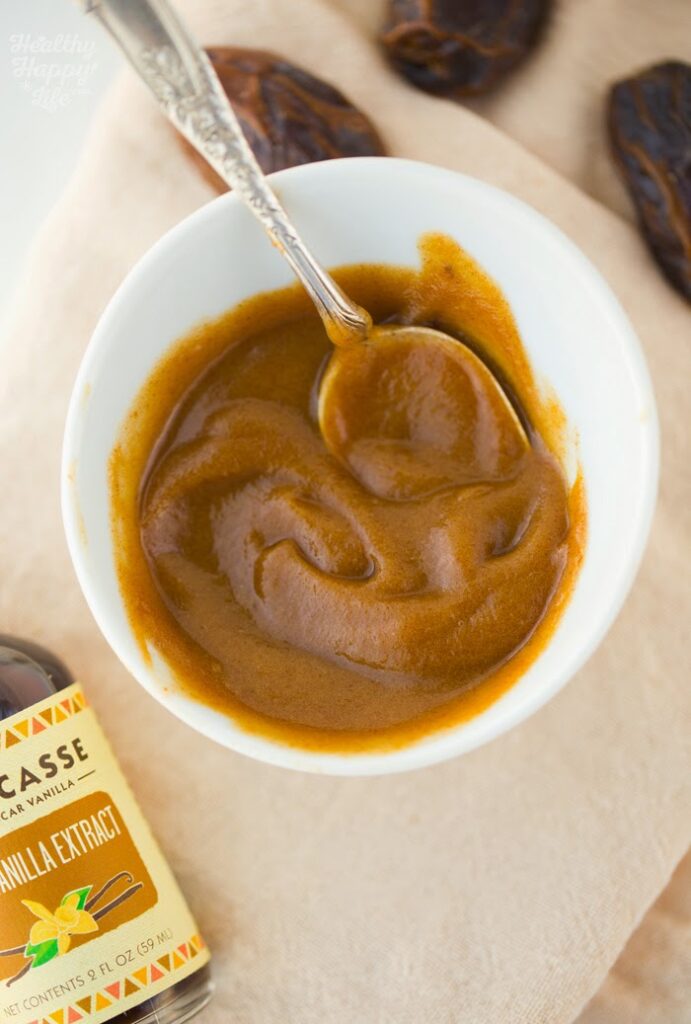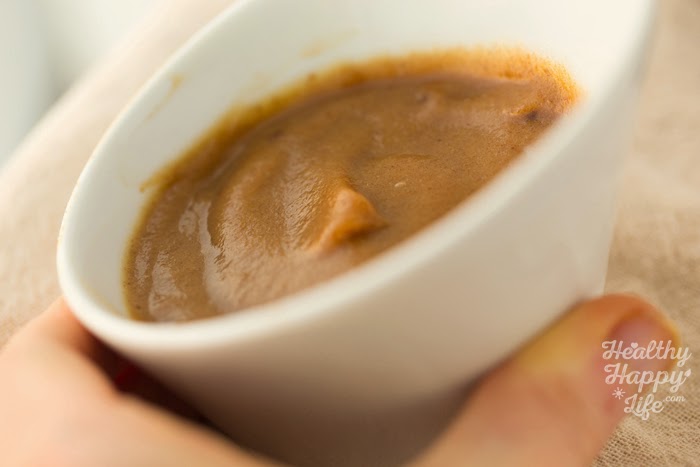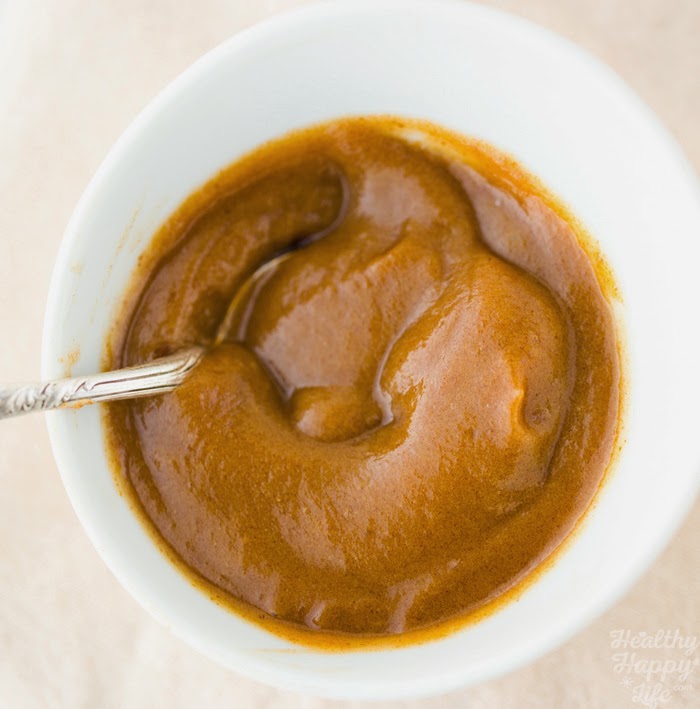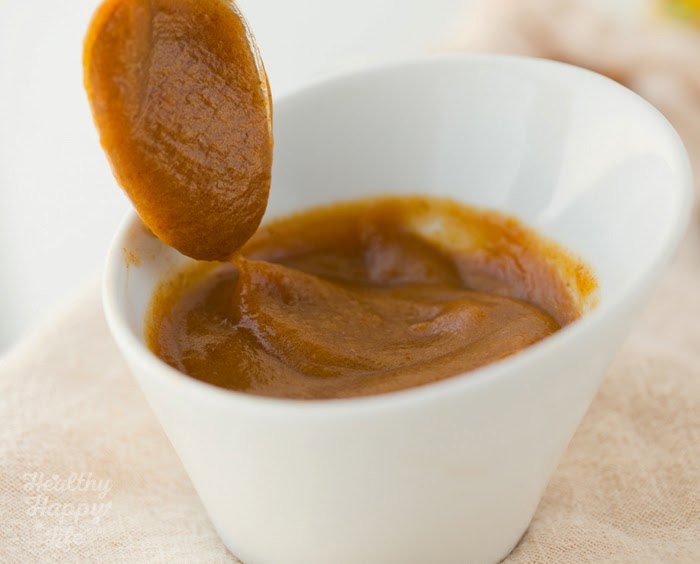 Blend Off. I am constantly trying to get my friends and family to switch out their "old blenders" for a Vitamix. So instead of rambling, I figured that "blend-offs" would be more effective. So I let raw Medjool dates do the talking!..
Blending raw, chilled, un-soaked dates with a bit of water is a great test for a blender. Today I compared the Nutribullet with the Vitamix S30 (the smallest model Vitamix). Check out who wins the blend-off!..
Medjool Date Salted Caramel Sauce
By Kathy Patalsky
Published 03/04/2015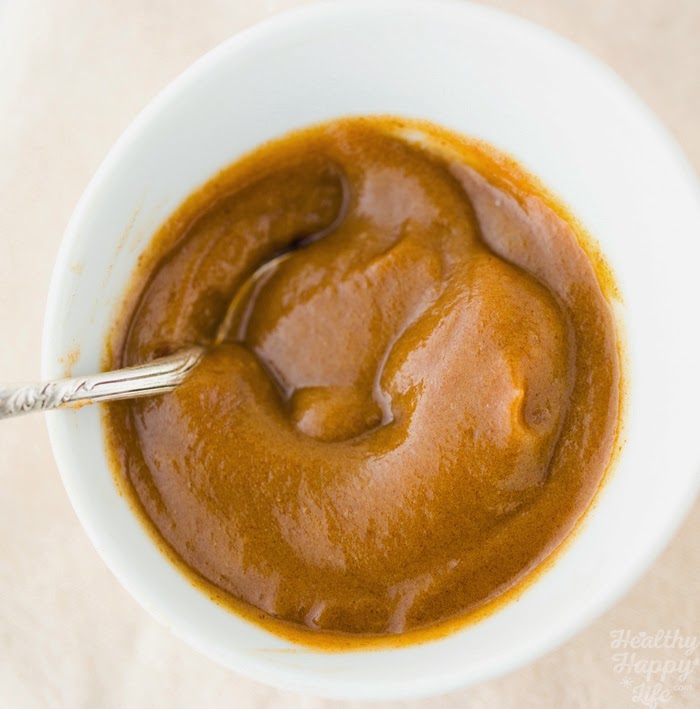 This super easy, silky, creamy, sweet and amazing salted caramel is made using Medjool dates. Blends up in seconds in a high-speed blender.
Ingredients
6 Medjool dates, pitted
⅓-3/4 cup water
¼ teaspoon pink salt
optional: ¼ teaspoon real vanilla extract or 1 vanilla bean, seeds scooped
Instructions
Add dates, ⅓ cup water, salt and vanilla to high speed blender, I used my Vitamix S30.
Blend on low for 10-20 seconds, then slowly turn blender to highest speed and blend for an additional 30-90 seconds. Add additional water as needed since dates will vary in size and dryness. You want a sticky and somewhat thick consistency, similar to a very thick and sticky applesauce. When done, sauce will be silky smooth with no chunks.
Serve right away or store in the fridge until ready to use. Serve on toast, over ice cream, as a sweetener for vegan ice cream milkshakes and smoothies, over vegan cheesecake, swirled into blondies (recipe coming soon!) and more!
Yield: ½ cup – nutrition based on whole recipe
Prep Time: 00 hrs. 02 mins.
Cook time: 00 hrs. 01 mins.
Total time: 3 mins.
Nutrition – based on entire recipe
Calories:

400

Dietaryfiber:

10g

Fat:

0g

Protein:

3g
Tags: sweetener,dates,medjool dates,caramel,vegan,easy,vitamix, blender recipes,dessert,side,howto
Reader Interactions