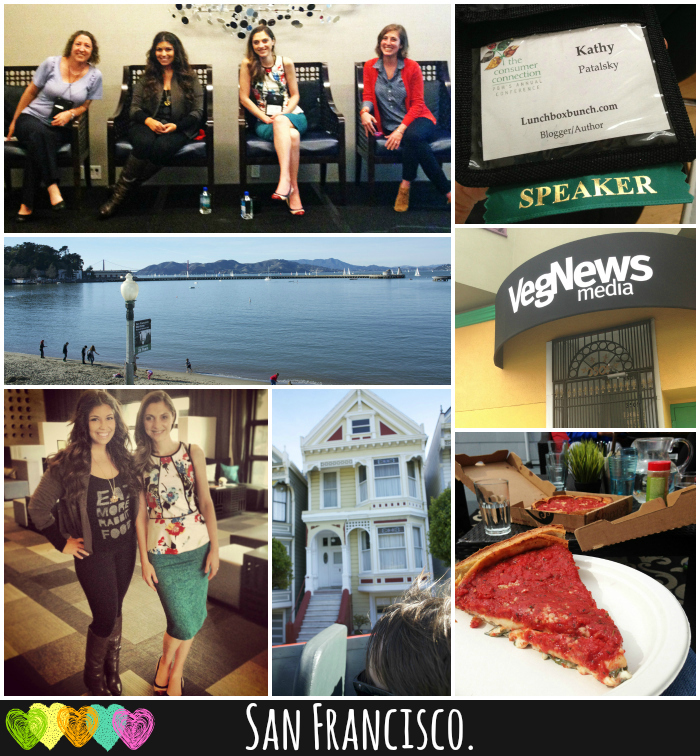 Last week I hopped on a flight to San Francisco for a few days. LAX -> SFO. I was asked to speak on a blogger panel at the Produce for Better Health Foundation's annual conference at the W Hotel. But instead of hiding out in my swanky hotel room, eyes glued to the screen – hotel wifi on the scene – I decided to make the most of my few days in the delightfully foggy, salty-sea-air-kissed city of San Fan and have some laptop-free, heavy Canon Camera-free, kitchen-free fun. Check out 19 awesome things that happened on my trip!
San Francisco Trip: 25 Awesome Things!
1. PBH Invite: Speaker Status. I was excited to be invited to the Produce for Better Health Consumer Connection event as a featured blogger. Three other food bloggers joined me, more on them in awesome thing #13. Panel info page.
2. The W Hotel. I got to stay at the beautiful W Hotel in SF. Loved it…
3. Veg News Visit! Plus Photo Sesh. Um, huge highlight of this trip was that I was invited to visit the VegNews Magazine staff at their (gorgeous!) office. I have been reading VegNews for over ten years so to visit the team that makes the magic happen was more than awesome. It was inspiring, exciting, fun and really a dream come true. I was given a complete office tour by Colleen Holland (the sweetest!) and I met the super cool team: Elizabeth, Sutton, Joe, Jennifer, Hilary, Anna, Melissa and Tommy – they were all so friendly and sweet. What a great place to work! I could feel the vegan love. Such a talented team of people, now I know exactly why their magazine ROCKS each and every issue. And their office really is beautiful..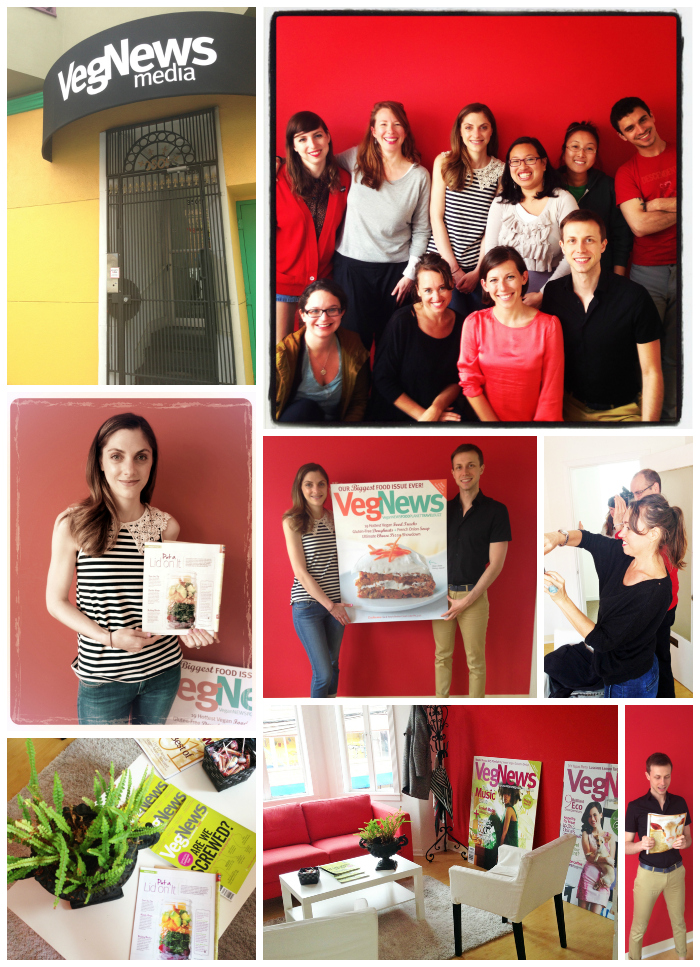 The photo session with the VegNews staff was fun. Nathan from Mercy for Animals was there too! I was excited to see my VegNews cover (the carrot cake issue) blown up to giant size, so I took a few pics with it.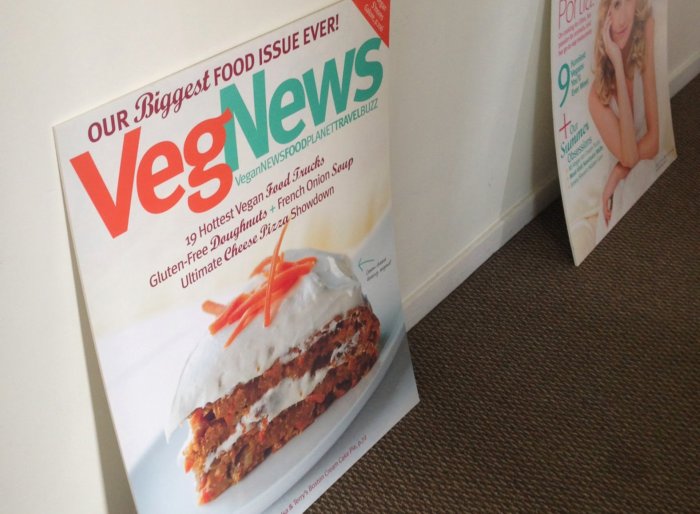 4. Pizza from Patxi's. While at VegNews, they served up a yummy lunch of vegan deep dish pizza on their lovely outdoor patio. Complete with vegan Parma on top. Thanks for a yummy lunch VN!..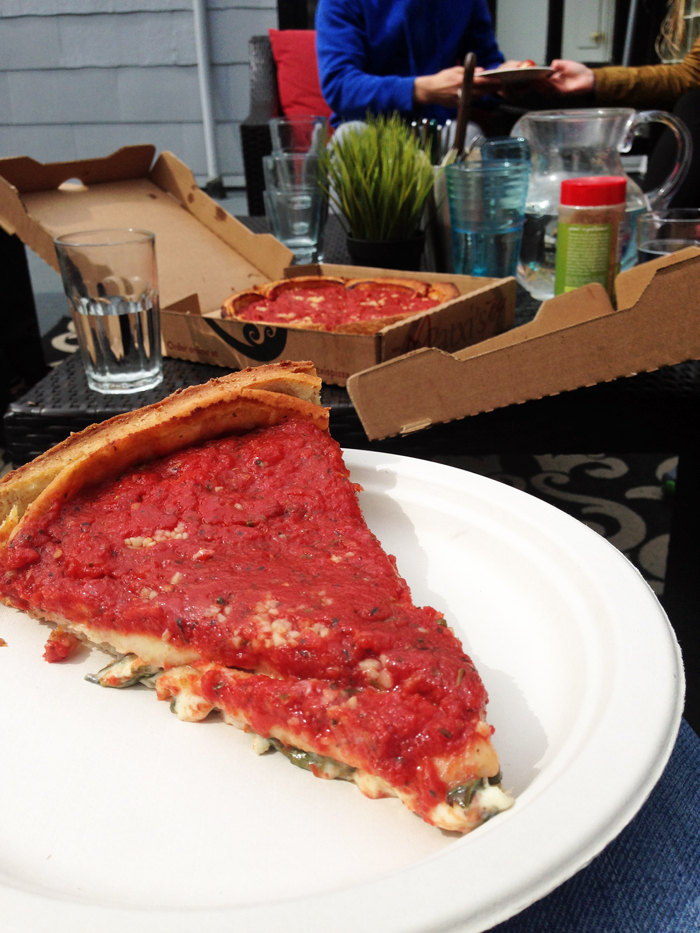 5. My Vaute Couture Coat. "Book" style in black. It travels so well. Soft. Cozy. Vegan. Love VC.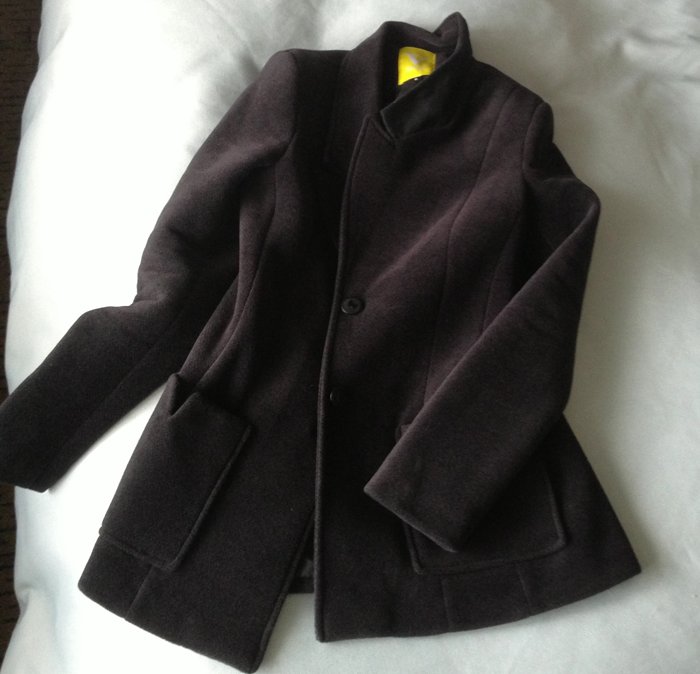 6. Meeting Cat! Catherine from the awesome veg blog Rabbit Food for My Bunny Teeth. There I was just lounging in the lobby of the "W" when this sparkly eyed brunette with a big glowing smile popped around the corner and shouted at me, "Kathy?!? I'm Catherine!!" My mellow mood was suddenly perked up as we chatted for hours about blog stuff and realized how well we get along. Catherine has an inspiring blog where she openly chats about healthy veg eating, her dramatic weight loss (she lost 80lbs!) and more. Cat and I had a lot of fun on this trip and I'm so glad I met her in person! And her blog shirt is THE CUTEST. She might even help me design an HHL tee since she is a talented graphic designer.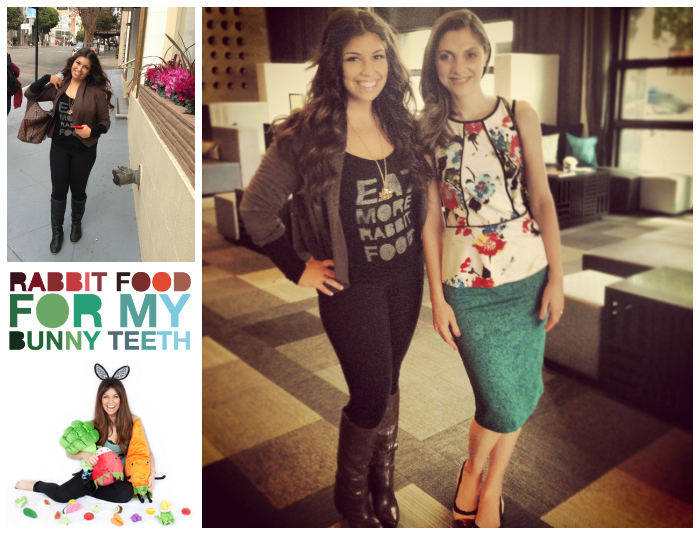 7. Girls Night. Since I grew up in Santa Cruz, Cali – just 90 minutes south of SanFran – I have many friends who live in the Bay Area. One of my high school BFFs and I got together for a fun night out. She introduced me to some amazing grapefruit cocktails at Tacolicious. (They also have delish salsa and guac. The salsa has an accent of mint which is so unique!)
Girls night-ing… Beretta Pizza, Drinks and Guac from Tacolicious: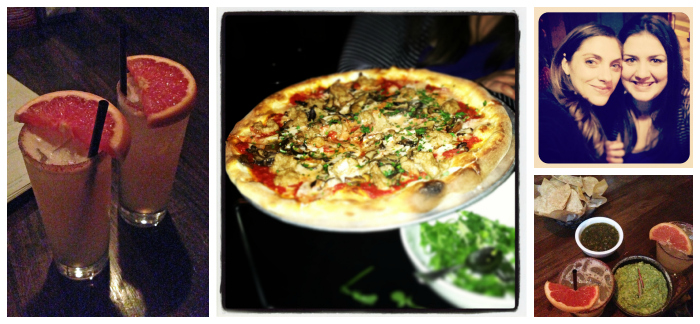 8. Beretta. That night we had vegan Mushroom Sausage Daiya Cheese Pizza + Arugula Fennel Salad at Beretta Restaurant. Loved it.
9. Hotel Bars. Some of the funnest people watching can be done at hotel bars, yes?

10. Laptop Free Weekday. Spent the entire first day laptop-free. Felt nice.
11. Solo City Strolling. I really do miss living in a walking-friendly city. When I lived in NYC for 3 years I went for a city stroll at least once a day. Mingling with the crisp air, brash yet alluring city sounds like honking horns, zooming cabs, chattering city dwellers, passing puppies and views of tall buildings for endless city blocks. I miss that! So strolling solo through SF was a nice change from the LA car culture I currently live with. Strolling..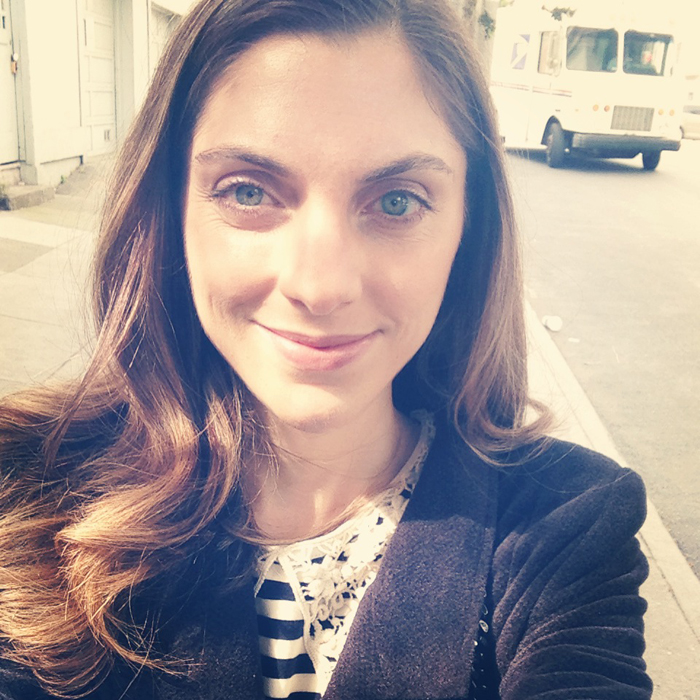 12. PBH. The produce conference was fun. Loads of people whose jobs and passions revolve around fruits and veggies and healthy eating. And I kinda gushed to the "watermelon people" because of THIS smoothie recipe. And it was so great working with the Dole folks again because I simply adore their brand and things like salad-tude and wellness.

13. Panel-Speaking. The panel went great! And I was thrilled to meet Cooking with Amy and Sodium Girl, the other bloggers on the panel. Bob Ochsner, who moderated the panel did such a great job. And I really liked when he said this… "Bloggers are the rockstars of the future…"

14. Saha. I have to thank the VegNews staff for the dining advice! I was told by Elizabeth that I HAD to try Saha, and now I know why! I went for our post-panel dinner and it was SO good. The eats: Cauliflower Coconut Lavender Soup. Stuffed Artichoke Hearts. Vegan Tagine. Mushroom Ravioli. Kale Quinoa Tofu Salad. Vegan Baklava. And more. We shared a few dishes but thank goodness we were starving from skipping lunch that day – not smart! So yes, when in SF, go to Saha. I even met the friendly Chef Muhammad.

Saha: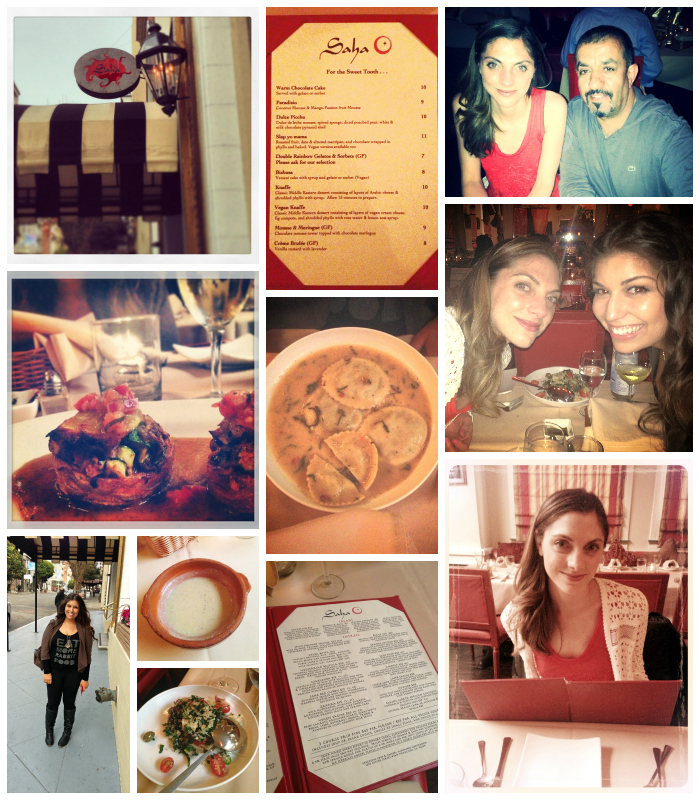 We jetted off to Saha right after the panel, we arrived at 5pm hoping to squeeze in early, but it doesn't open until 6pm! We were of course the first diners to arrive. By 7pm the place was PACKED!
STARVING post-panel bloggers..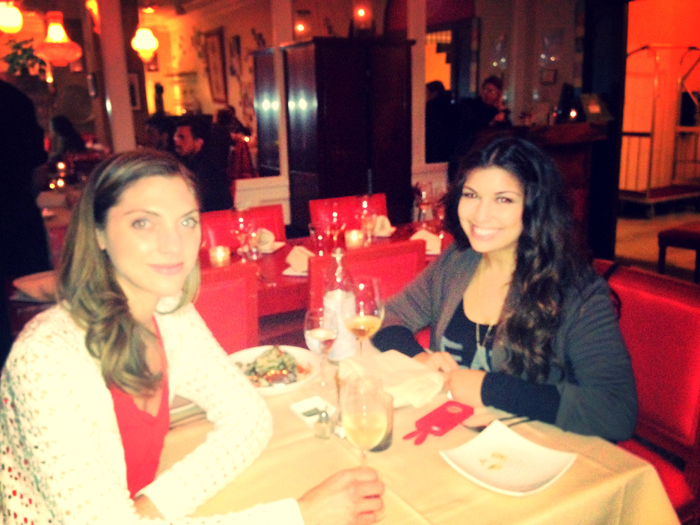 15. Matcha Lattes. Peets and Starbucks galore near my hotel so luckily I squeezed in matcha breaks.
16. Whatever Whenever. So I randomly tweeted the "W" and said I missed my Goji Lemon Tea. I hashtagged #whateverwhenever – which is their customer service slogan. Well that night when I got back to my hotel room, there was a message on my phone saying that I had a dining amenity waiting for me! It was Goji Berry Tea!! I was floored. So I delayed the delivery until the next morning and it was such a treat to have. Thank you "W SanFran!"
17. Sharing Cabs. Cat and I were able to spend the last day together and share a cab on the way to SFO. Such a fun way to end a nice trip to the city by the bay!

18. Arriving Home. As much as I love getting away. It is so nice to get home to my husband telling me how much he missed me and my kitty who gives me a million kitty kisses. Hot bath. Native Foods for an easy dinner and home is feeling quite refreshing after a very busy trip.

19. New Friends. In Person! Like I said, I made some new friends on this trip! From meeting the folks at VegNews, to the brands and bloggers at the event and more, I think the best part of heading out into the world is coming back to the very "online" world we live in and feeling a bit closer to those online screennames and Facebook profile photos that we see flashing on our screens daily. I love my very digital life, but as Colleen spoke about at the VegNews office, nothing really compares to a face-to-face interaction.
…ps. next time: Cinnaholic will happen!! 🙂
What do you do when you visit San Francisco?