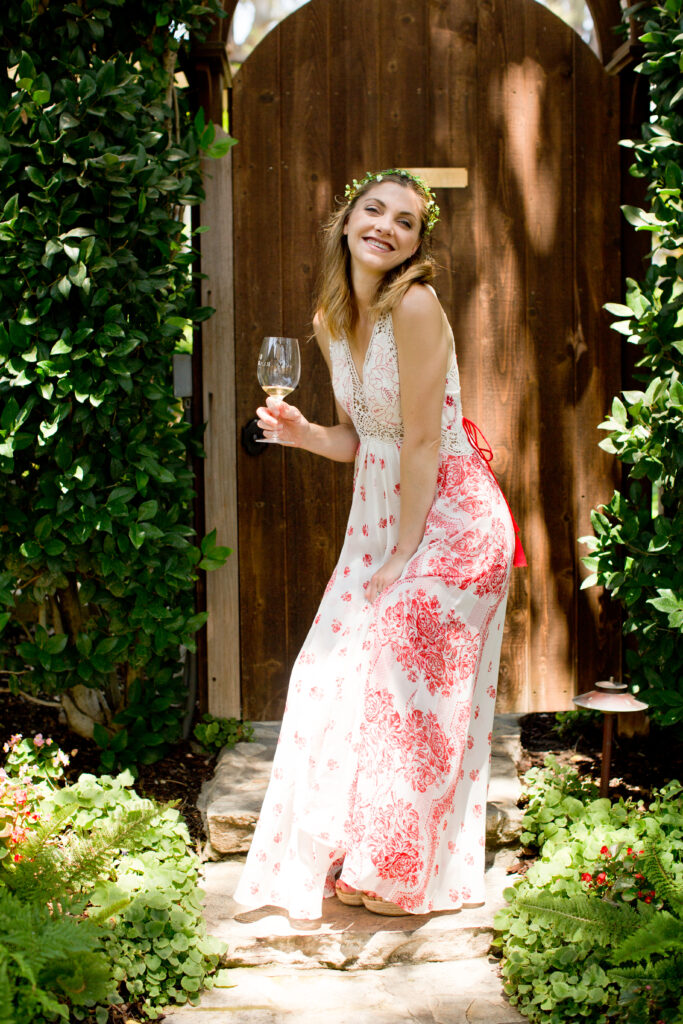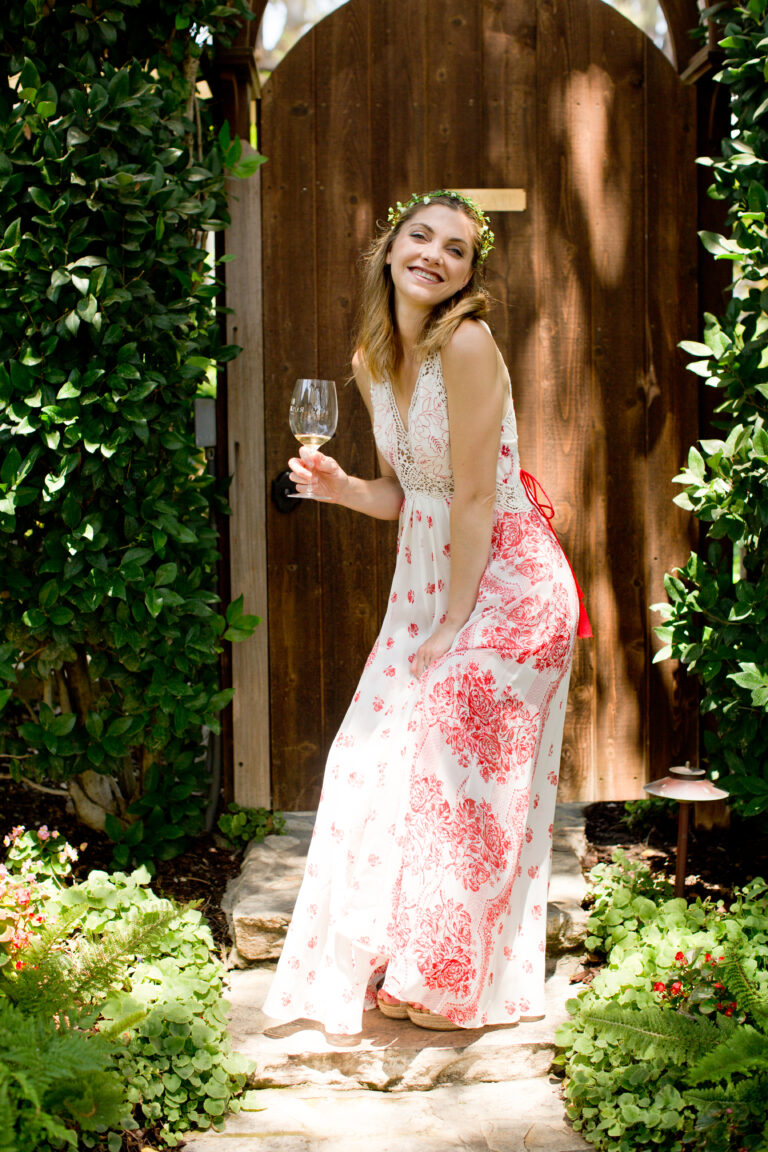 A few weeks ago I spent the weekend in Santa Barbara for a friend's bachelorette party. My party-planning superstar friend, Jen planned the whirlwind girlie getaway, and cheers to her because it was amazing. Here are some photos of the trip as well as 10 Things to put on your to-do list / places to eat list on your next Santa Barbara Weekend Getaway! (Including my researched list of vegan-friendly wineries!)..
Girls Getaway. From the moment I stepped out of my car and rolled my green suitcase across the hot asphalt to our cozy rented house, I was immersed in girl time bliss. Santa Barbara sunshine, dusty roads past rolling hill wineries, early morning fog, bursts of laughter around every corner, "Heads Up" games, hummus dip and card games, day dresses and high heels, jukebox music requesting and limo-ride singing, champagne toasts, frolicking down busy State Street, early morning matcha latte runs, flowers in our hair, late night dancing and cabbing home to collapse into bed only to wake up and do it all over again the next day.
Then arriving home on a foggy Sunday morning, taking Highway One past Malibu on my drive back to LA, to be greeted by snuggling kittens and a ready-for-brunch husband. Sometimes a girl needs to get away, just to come home again.
Best mode of transport for wine tasting: a limo of course.

Inside a few winery tasting rooms..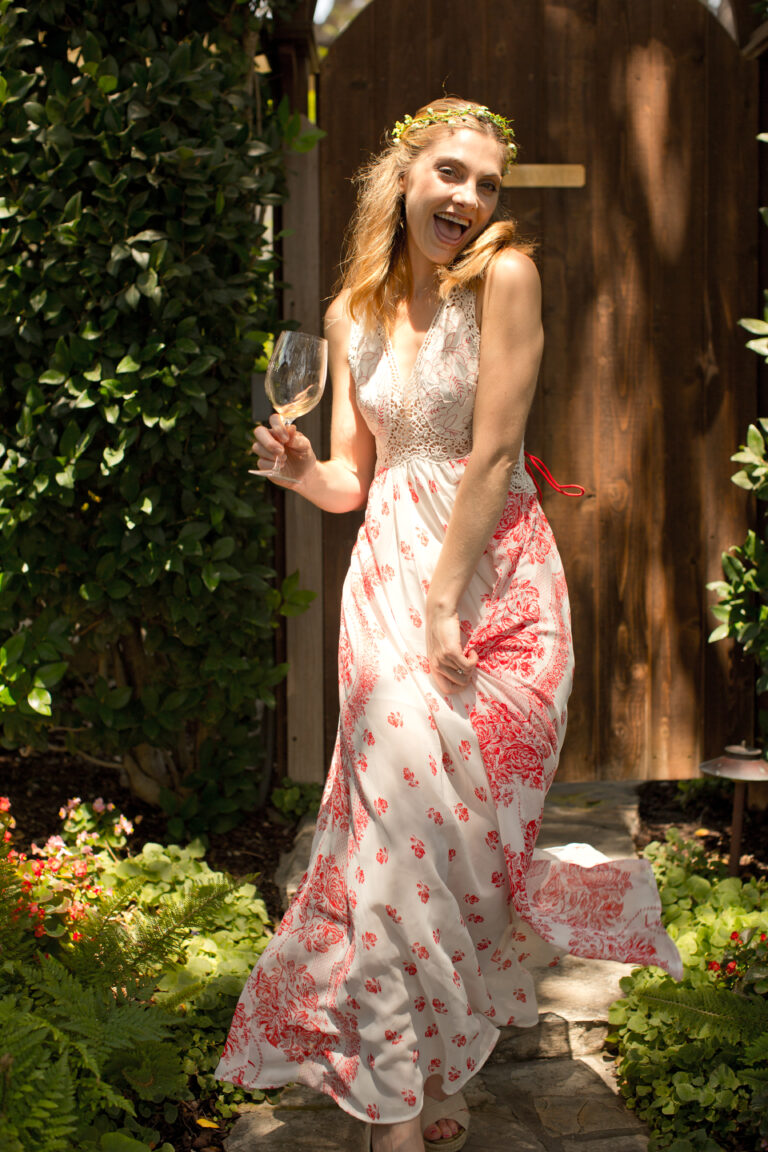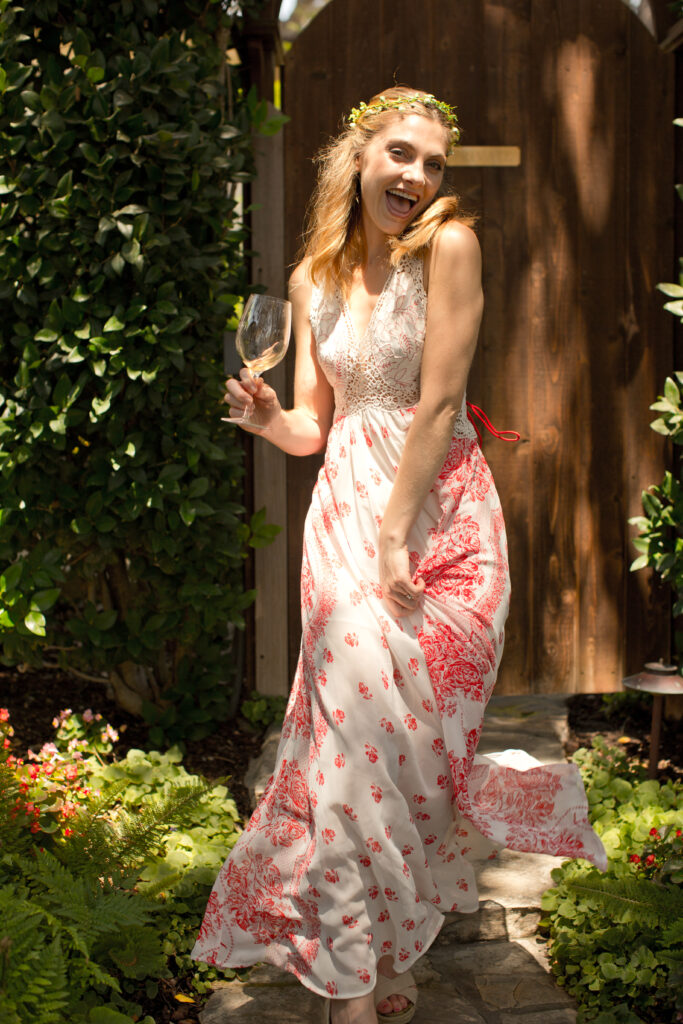 The beautiful bride-to-be!

Santa Barbara Getaway: 10 Things to Do / Places to Eat At!
1. Zaytoon. Some of the best lebanese cuisine (falafel, hummus, tabhouli, dolmas and pita) I have had in California. Beautiful outdoor seating, firepits at the tables, friendly service and a basically amazing food and drinks. Totally vegan-approved! I wish I had snagged more photos of the FOOD at this gorgeous restaurant, but you know how it goes, super hungry + beautiful food = no time to take photos.
All us girls at Zaytoon, showing off our silly sides..
2. Finch & Fork. Loved this restaurant for a mimosa brunch! I had an amazing grapefruit mimosa and vegan oatmeal with fresh berries, sliced almonds and golden raisins. Located inside The Canary Hotel. Great space and vegan-friendly options. Just ask your waiter about what they can veganize for you.
3. The Beach! Though we did not make it to the beach this time around, I have been to the SB beaches before and they are lovely. Since you are in such a beautiful coastal town, make time to check out the seashore.
4. State Street. For shopping, dining, frolicking, drinking and dancing, the State Street area is your go-to hub of all things exciting. You will find favorite stores like Anthro, Starbucks and more, with plenty of local favorites mixed in.
5. State Street Ballet. If you are looking for some artistic inspiration in Santa Barbara, check out SSB! One of my very good high school friends is a ballerina in their company and she is amazing, so I know State Street will always impress.
6. Wine-Tasting Tour. When you think of wine in California you most likely think of Napa and Sonoma. I know I do! I had an amazing wine tasting adventure in Napa last year. But this was my first wine tasting day-long adventure in Santa Barbara.
Visiting the actual winery as opposed to a tasting room "in town" makes a huge difference too. You step out of your car or tour vehicle and walk across the ashy ground, view the endless rows of grape vines, settle into a winery seat or table, sit outside, enjoy the view and breathe the fresh air. Wineries are basically farms for grapes and wine-making facilities! So the take up a lot of land, and are therefore very spread out. So it is a journey to get from winery to winery, but once you arrive, it truly makes a huge impact on you to experience the wine in its natural habitat. If you have never taken the trek out into the horizon to a working winery, search for one in your area, or plan a wine-tasting trip, it is a fun experience you will cherish and remember every time you take a sip of wine.
We had several wineries lined up, but due to our leisurely pace, we only made it to two spots during our 7 hour limo ride. Saarloos and Rusack. I tried looking up these wines on the Barnivore.com website (after the trip) to inquire about their vegan status, but they were unlisted.
I try very hard to buy vegan wine, but sometimes, due to the lack of ingredients info on-label for wine, it is difficult. I wish so badly that it was easier to find out if any wine was vegan. But even Barnivore can be lacking. And so that leaves us vegans with some tough questions. Do I really refuse the champagne at a wedding since I do not know for sure if it is vegan? Alcohol is tricky simply because you really have to ask the winery for the full ingredients list, the waiter or sommelier cannot simply look on the bottle (most times).
The solution: I think the more vegans ask about vegan ingredients in wine, the more wineries might realize that there is a demand there, and produce vegan vintages. So keep asking, inquiring and supporting the full disclosure wineries if you are interested in wine as a vegan. There are plenty of AMAZING wines that are vegan, so clearly animal products are not needed to produce delicious wines. From emails and in-person chats with winery staff, I seem to get the feeling that "traditional" wine making uses certain ingredients, and wineries are hesitant to experiment or switch over to animal free ingredients.
That all being said. I did research every winery in Santa Barbara for you..
Vegan-Friendly Santa Barbara Wineries List:
I cross-referenced the SB Wineries listings with Barnivore.com. The list below shows the confirmed vegan wineries. (There may be more that are not listed on Barnivore as confirmed vegn or vegan-friendly.) Some wineries only have a select number of vegan-friendly wines, so always ask the winery staff for details. And obviously, vegan-friendly status is subject to change.
Vegan-Friendly Santa Barbara Wineries:
* Babcock Winery
* Joseph Carr Wine .. love this quote "No animal products what so ever and not sub contracted. My daughter is vegan."
* Municipal Whites, not the reds.
* Melville
* JScott Cellars Reds, not the whites.
* Alma Rosa
* Ampelos Certified organic and biodynamic.
* Andrew Murray Vineyards
* Presidio
* Buttonwood Winery
* Tres Hermanas
* Stolpman
* Byron Wines
* Pres'Quile
7. Dancing! Santa Barbara is a college town and therefore has LOADS of young energy. Pop into any of the dancing-style bars and restaurants and take advantage of that energy by kicking wearing your fave dancing dress (or dancing outfit for boys) and getting in some cardio on the dance floor. And even better if you make it out during their annual Fiesta Fiesta celebration like we did.
8. Drink Smoothies! I love the Blenders in the Grass smoothie shop. You can find a few locations in Santa Barbara, including one near State Street.
9. Rent a House! Where to stay in Santa Barbara? For our big group of girls, the perfect solution was to rent a house in a nearby neighborhood. You could try AirBNB or another home rental site. There are also loads of cute hotels in SB. If you have stayed in a cute SB hotel, let me know in the comments!
10. Santa Barbara Brewing Company. OK, so maybe not a MUST do. But somehow we ended up here and I was THRILLED to see an entree called The Urth Burger on the menu, "vegan burger" was in the description. I was giddy. And it actually tasted pretty amazing for bar food.
Have you been to Santa Barbara? What was your favorite thing to do?
High up in the hills, there are little spots to find and experience. Like this little spot that takes you way back in time..

Our limo driver, loved him.