Sometimes you just want a sandwich.

I am keeping things simple today with this Simple Vegan Sandwich.
My dad worked from home when I was a kid. Sandwiches were his specialty. That, and taco night and a few rounds of BBQ-ing on the deck. But sandwiches were his every day, go-to lunch. I feel like if he wasn't working or on the tennis courts, he was in the kitchen making a sandwich. Oh the things we remember from childhood.
He would be down working in his office all day, then pop up around lunchtime to make a sandwich. I imagine, it was kinda like my smoothie breaks – a nice little break from things with a meal he loved. He would climb up the stairs to our sunny little kitchen. Pull out his goodies from the fridge. Pour a tall glass of soda and ice and have his lunch. Maybe a few potato chips too…
Today I hope I can inspire you to break out the mustard, open up the pickle jar, find some ruffly leaves of lettuce and make your own Simple Vegan Sandwich!..
I feel like I don't make as many sandwiches today as we did back then, growing up. Fat-stacked, fully loaded sandwiches. I remember the deli near our house made a mean "veggie sandwich" with avocado and endless layers of veggies, all on soft California sourdough bread.
Making a sandwich is pretty fun. It is kinda like making a smoothie. You can switch up the ingredients quite easily and use a bit of your own creativity in each preparation. No heat required … unless you toast the bread and maybe melt some vegan cheese.
If I had wanted to get more fancy for this sandwich I would have added two things..
Tempeh Bacon (Or shiitake bacon)
Sliced Avocado
Maybe next time.
Cheese! Need some vegan cheese advice for your sandwich? Check out my Big Vegan Cheese Guide
ps.
– DIY cream cheese – here is a great recipe from Yup it's Vegan
– The bread I used, because I know someone will want to know how I found gluten-free ciabatta, is from a local bakery, Rising Hearts. They rock my world.
Don't miss my post on Beautycounter and all the amazing vegan skin care and beauty products I am raving about. Plus, the mission and facts behind the company are really eye opening and carry some info that I think every family should know.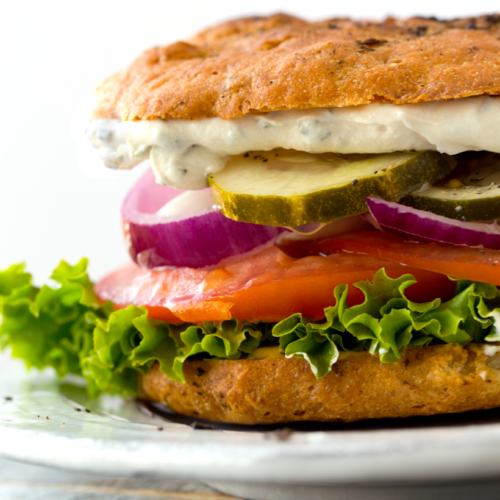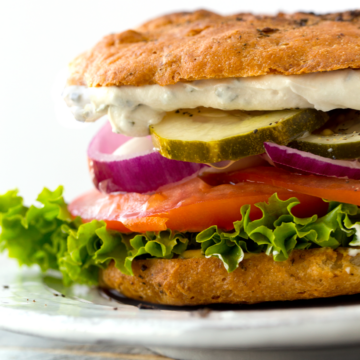 Simple Vegan Sandwich
This is a favorite simple vegan sandwich that I love to make. It combines my love of a cream cheese slathered bagel with the heartiness of a fully loaded veggie sandwich. Vegan! Gluten-free option.
Print
Pin
Ingredients
1 sandwich roll or 2 slices hearty bread – I used a gluten-free ciabatta

2-4 tablespoon vegan cream cheese – store bought or homemade, I used Kite Hill

6-8 pickle slices – I used bread and butter pickles bc I like salty/sweet

2-3 tomato slices

2-3 red onion slices

3-4 curly green lettuce leaves

fine black pepper

optional: Dijon mustard or a spicy brown 
Instructions
Slather on vegan cream cheese and optional spicy mustard.

Add the veggie toppings, top with black pepper.

 Close sandwich. Slice. Enjoy!