Pasta always tastes amazing at restaurants. What is their secret? Well besides usually having amazing chefs in the kitchen, there is one trick you can easily do at home with just about any fave pasta recipe. The trick is to cook the entire pasta entree in a skillet before dishing it out into a serving bowl. And today I will show you my steps. Anyone can try this.
Ahead, my recipe for Garlicky-Spinach Roasted Red Pepper Penne Skillet Pasta..
Skillet pasta, here we come. The steps are pretty simple, but make a big difference in flavor and texture!..
Skillet Pasta with Veggies

1. Cook pasta, drain.
2. Sauté sauce base – alongside any sturdy veggies and flavors like onion, pepper, mushrooms, whole garlic cloves etc.
3. Keep sautéing. Add in any more delicate veggies like leafy greens, sliced olives, capers, fresh tomatoes, minced garlic, a pre-made fresh pesto or tomato sauce, etc. If I am not adding a thicker sauce at this point (like a marinara) I usually add in a few tablespoons of veggie broth to moisten things up a bit.
4. Add pasta to skillet.
5. Toss well over medium heat to mingle all those flavors together.
6. Add any fresh herbs or cheezy sprinkle like nutritional yeast or veggie Parm. (I love how the nutritional yeast absorbs and extra moisture and intensifies the flavors.)
7. Plate pasta, hot from the skillet, all steamy and amazing.
8. Garnish with fresh herbs or more vegan cheese. Serve!
You'll be amazed at the difference in flavor and texture from doing a sauté of your pasta dish before plating it!
The skillet trick, as confirmed from Epicurious's 7 Pro Chef Pasta Tips article:
"Simmer Your Sauce and Noodles in a Pan. A pan is the best method to combine noodles and sauce. Period. Not a giant pot, and certainly not the bowl you'll be serving in. Heating the pasta and sauce together in a skillet helps infuse the pasta with the flavor of the sauce, melding them together into a flavorful whole. Using jarred sauce? Same deal. Instead of heating up the sauce in the microwave or a pot, do it in a pan and add cooked pasta directly to it."
And off we go, click, click, click of the gas stovetop turning on..
Start with the shallot, mushrooms, peppers, anything that you feel takes longer to caramelize and cook down..

Then add in greens or more delicate veggies that can just wilt or lightly cook..

Then add the pasta and optional "cheese" flavors like nutritional yeast

Toss all together..

Serve!

Add cheese! I love the vegan Parm in the purple shaker bottle, by Go Veggie. Or you can DIY vegan Parm by blending nutritional yeast with walnuts, using a high speed blender..

Here is a variation using spinach and mushrooms and loads of garlic..

And if you want to crank up the richness and restaurant-y-ness even more, do what they do .. add butter! Of course I mean Vegan Butter Spread, aka Earth Balance. Pasta gets even more fluffy, velvet-y and flavorful when you add some additional or more melty vegan butter to the skillet.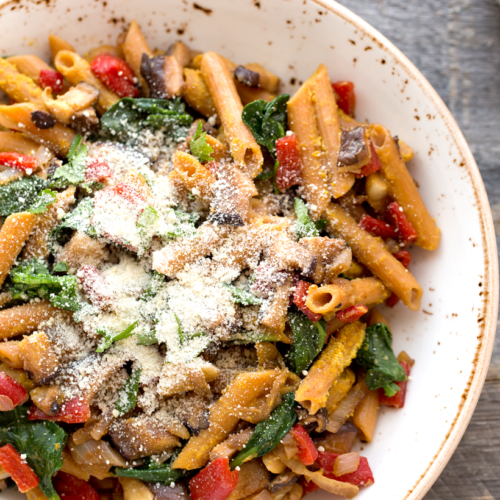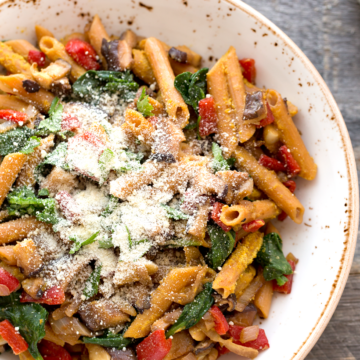 Garlicky-Spinach Roasted Red Pepper Penne Pasta
This entree pasta includes gluten-free high-protein penne pasta along with veggies like mushrooms and spinach, all in a light garlic-shallot sauce.
Print
Pin
Ingredients
1 tablespoon vegan buttery spread or extra virgin olive oil (or a mix of the two)

1 medium shallot, diced

3-4 cloves of garlic, chopped

1 cup shiitake mushrooms, diced

2 cups baby spinach, chopped a bit

¾ cup roasted red bell pepper, diced

3 tablespoon veggie broth (optional)

2-3 tablespoon nutritional yeast or veggie Parm

¾ teaspoon italian herb blend seasoning (salt-free) — I used Penzey's Spices Frozen Pizza Sprinkle

½ teaspoon red chile flakes (optional)

3 cups of cooked penne pasta – I used a lentil-based high protein, gluten-free pasta

garnish: vegan Parm cheese as desired

garnish: flat-leaf parsley, finely chopped

sea salt to taste
Instructions
Cook the pasta and set aside. The pasta should cook up to about 3 cups.

In a large skillet, over high heat, add the shallot and vegan butter or oil. Cook for 2-3 minutes or until the shallot begins to caramelize. Add in the garlic about halfway through this cooking time, so that the garlic also softens, but does not burn. (Salt Note: If you used olive oil instead of vegan butter, you may want to add a few pinches of sea salt. I like fleur de sel or pink salt for my pasta dishes.)

Add in the mushrooms and bell pepper. Also add the italian herbs and optional red chile flakes. Cook for another 2-3 minutes, just until the mushrooms are cooked down and their texture begins to caramelize and brown around the edges as well. Fold in the spinach so that it wilts down. (Note: If you want the spinach cooked a bit more, you can add it in earlier with the mushrooms. Try not to get too caught up in when to add which veggies, as long as everything cooks down and absorbs some yummy flavors you should be good!)

Add in the pasta and veggie broth. Saute everything together for 2 minutes, until the veggie broth completely absorbs. Then add in the optional nutritional yeast or veggie Parm.

Turn off heat and pour the steamy pasta dish into serving bowls.

Add the garnish: vegan cheese and chopped parsley.