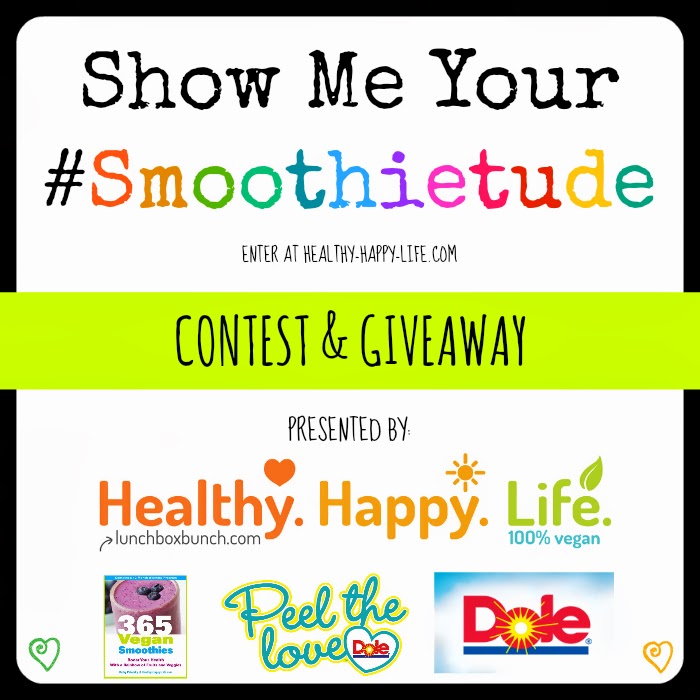 A few days ago, I hinted at a big announcement. Well here it is.. In the spirit of 365 Vegan Smoothies, I am happy to announce my DOLE Bananas & DOLE Salads "Show Me Your Smoothietude" Contest & Giveaway! $2000 in prizes to be awarded.
Prizes: (3) $449 Vitamix's will be given away, (2) $150 Smoothie Lover Kits, (6) 365 Vegan Smoothies books & an HHL tee! (whew!)
All you have to do is -> Show me your smoothietude! ….. So what is smoothietude? To me it is.. Love, excitement and enthusiasm for smoothies. And how smoothies make their way into your daily routine to mingle with your mood, personality and culinary cravings.
You may remember my DOLE-sponsored "Show Me Your Salad-tude Contest" .. well this is like that, only with smoothies. And Vitamixes. 🙂 Entry details + see my example entries for the contest..
All for the love of smoothies…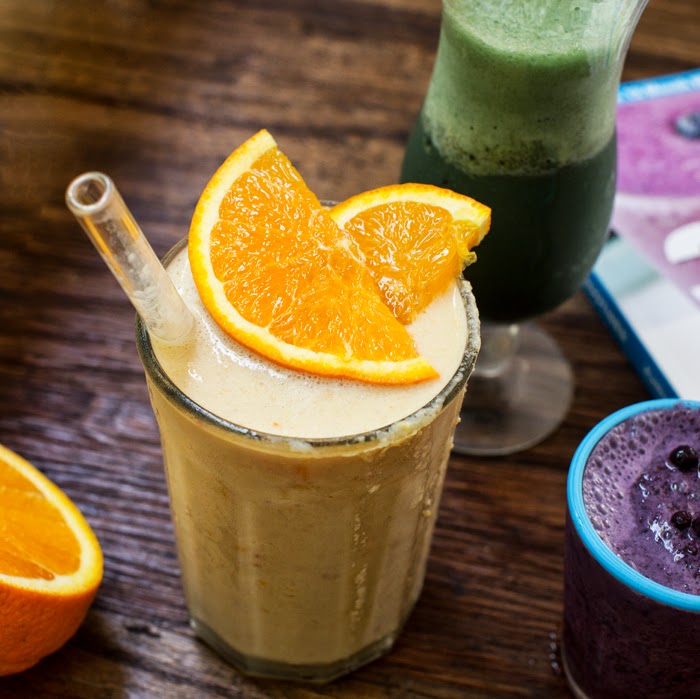 Showing off my #smoothietude (contest entry examples)..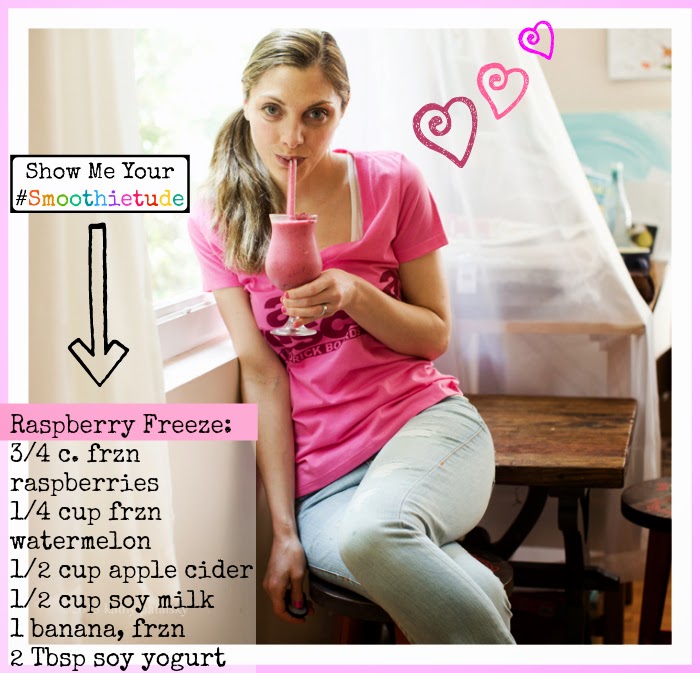 ..this recipe is direct from 365 Vegan Smoothies…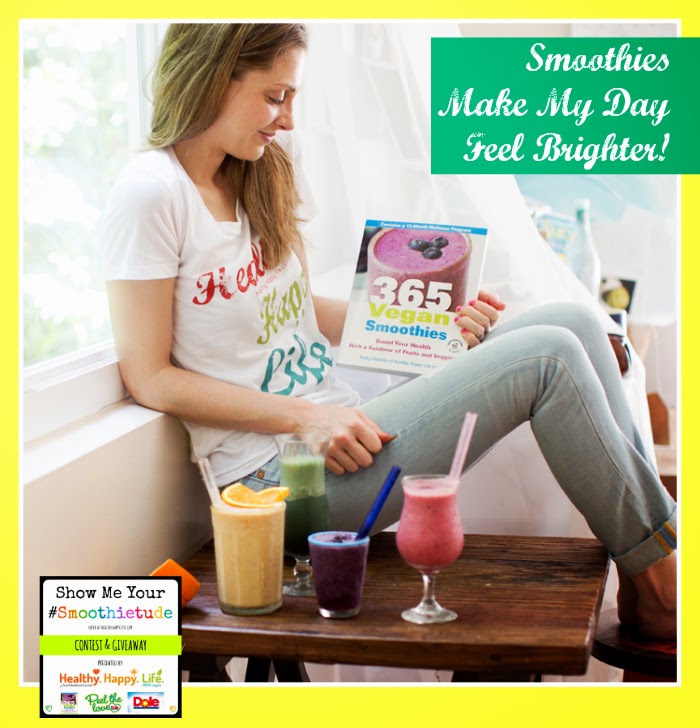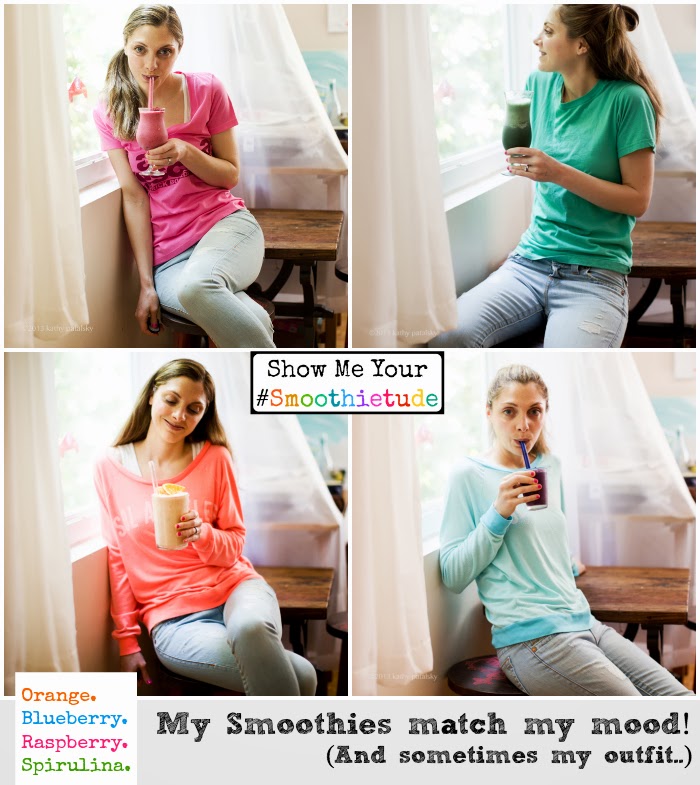 I like my bananas speckled for making smoothies. DOLE calls these "cheetah" bananas!..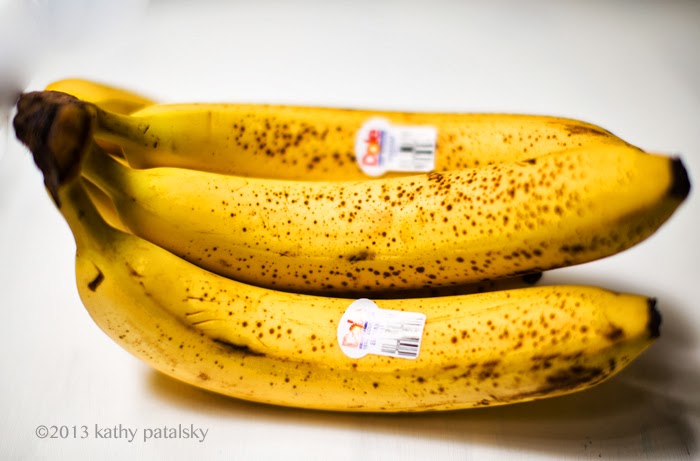 Of course they are oh-so-pretty like this too..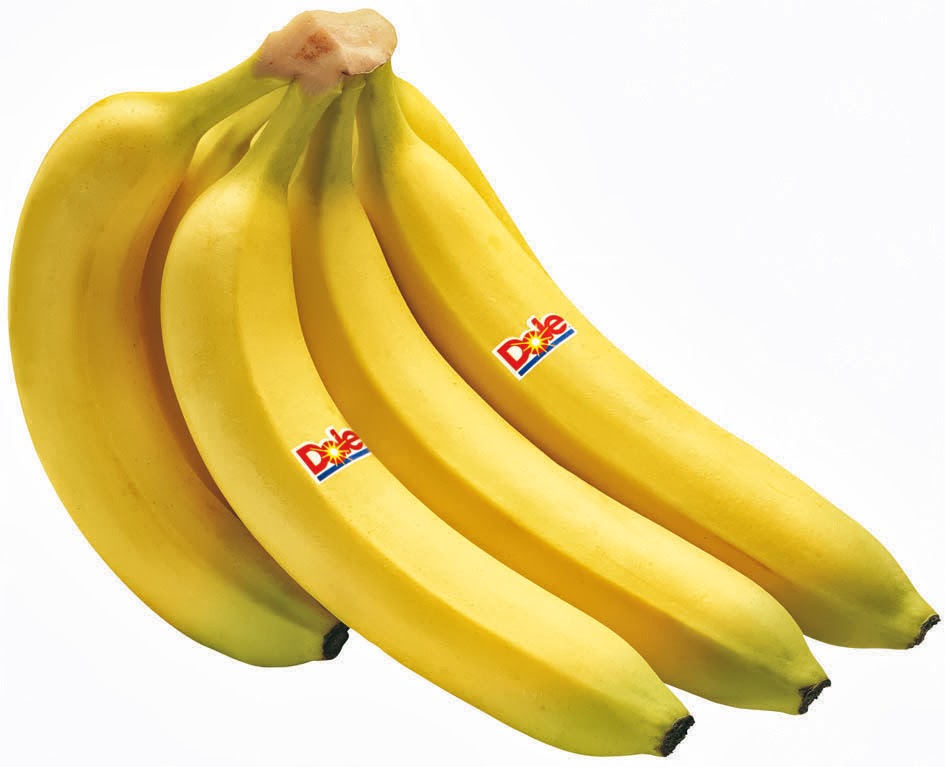 About the prize-sponsor: Thank you to DOLE Bananas and DOLE Salads for contributing this generous array of prizes! DOLE Bananas: Peel the Love – Bananas make every smoothie so much better. I always have a giant bowl of frozen bananas in my freezer and a few ripening bananas in my fruit bowl as well. The motto in my house: you can never have too many bananas.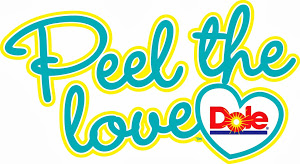 DOLE salads can also find a way into your smoothie blends via one of my faves: green smoothies! (And sidenote: be sure to check out DOLE Salad's Taste of Spain summer contest going on now too….)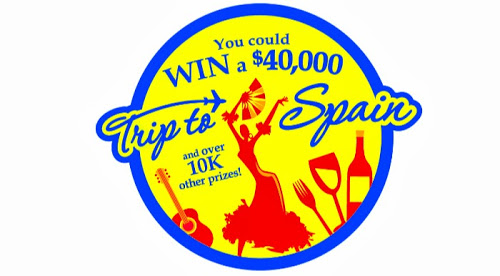 NOW, lets get to the #smoothietude contest!.. Show Me Your Smoothietude Contest Entry Details:
entry period: May 23-June 23, 2013
Three Ways to Win: –> (giveaway, pin-it-to-win-it & featured contest)
1. GIVEAWAY. Enter the giveaway via the Punchtab App below. One winner, chosen by a random drawing.
giveaway prize: (1 winner, random drawing) – Vitamix TurboBlend VS
2. PIN IT TO WIN IT! Enter by pinning the image of my new book 365 Vegan Smoothies – image below. Be sure to tag your pin #smoothietude to be entered. Image should link back to this post / page URL. (Make sure that your Pinterest account has some way to contact you enabled.)
pin-it-to-win-it prize: (1 winner, random drawing) – Vitamix TurboBlend VS
Pin-it Image of 365 Smoothies!..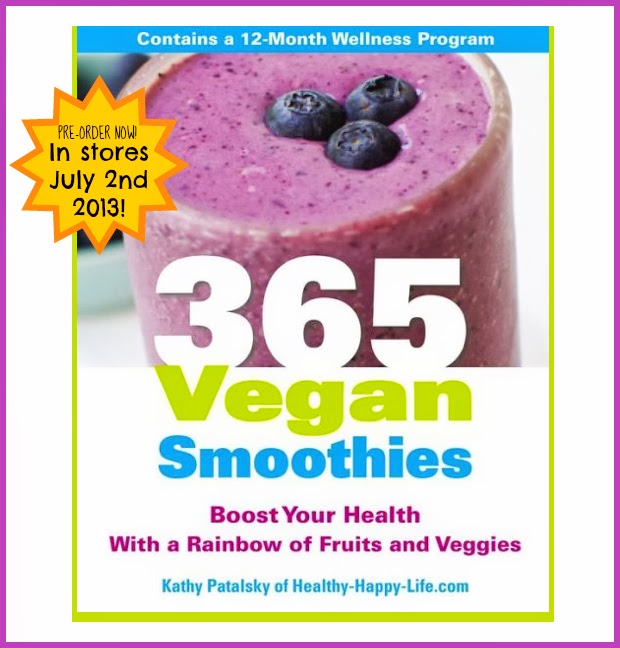 3. FEATURED CONTEST. Show Me Your Smoothietude! Contest. Get featured on HHL as a finalist + enter to win amazing prizes!
How to enter:
1. Make it. Head into your kitchen and make your favorite smoothie.
2. Photograph it. Grab your camera and snap a few photos of you enjoying your smoothie .. aka showing off your smoothietude! Get creative and have fun. Note: you must create a new and original image for the contest and you must be in the photo since you are showing off your smoothietude.
3. Edit it. Edit your photo(s) and be creative. You may add text, a recipe or more. (See entry samples below!)
4. Make it official. Add a "contest badge" somewhere on your photo entry.
5. Share it. Post your photo entry image somewhere online. Options: Feature it in a blogpost, pin it on Pinterest, share it on Facebook, Instagram, Tumblr or Twitter. (note: privacy settings for your photo must be public if sharing via a social network account) Use the hashtag #smoothietude
6. Enter it. Email the URL/permalink to where you shared your entry online -> email to [email protected] along with your name, email address, state. You can submit up to 5 entries. Enter by June 23, midnight PST.
-> Who wins: a selection of finalists will be chosen by me. Then co-judge Gena Hamshaw and I will decide together on the final prize winners – announcement of winners in late June. (I am happy to have Gena help me choose the contest winners since she wrote the foreword in 365 Vegan Smoothies.)

featured contest prizes: (8 winners, chosen by judges)
(1 winner) Grand Prize Winner: Vitamix TurboBlend VS (or a culinary store gift card for $449.00 in value) + copy of 365 Vegan Smoothies + an HHL tee + featured in blogpost on HHL!**
**If the grand prize winner already has a high-speed blender they can request a gift card of equal value in its place.
(2 winners) First Prize Winners: $150 Smoothie Lover Kits: includes and assortment of ingredients & products (hand-selected by Kathy)
(5 winners) Honorable Mentions: Kathy's 365 Vegan Smoothies Book
CONTEST BADGES: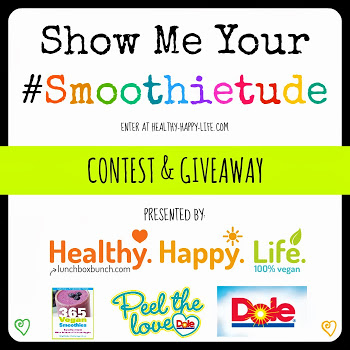 More Smoothietude Contest Examples!..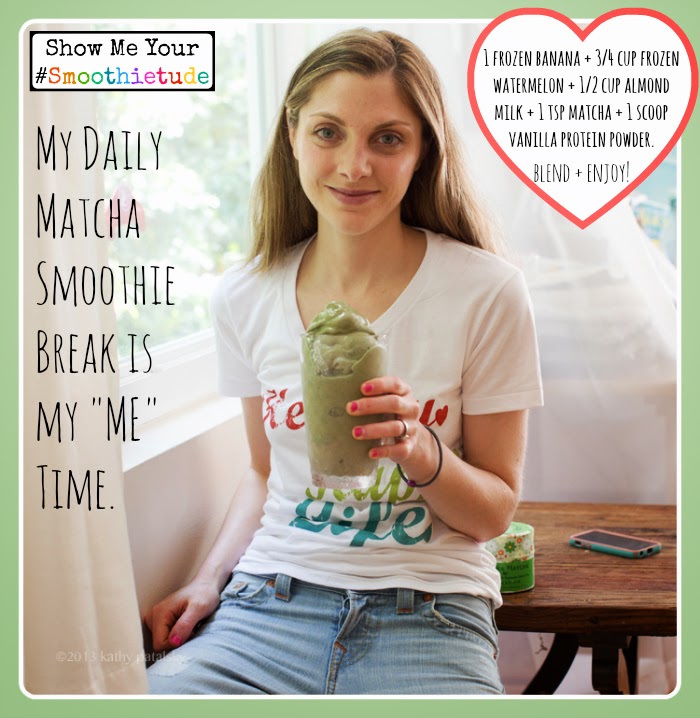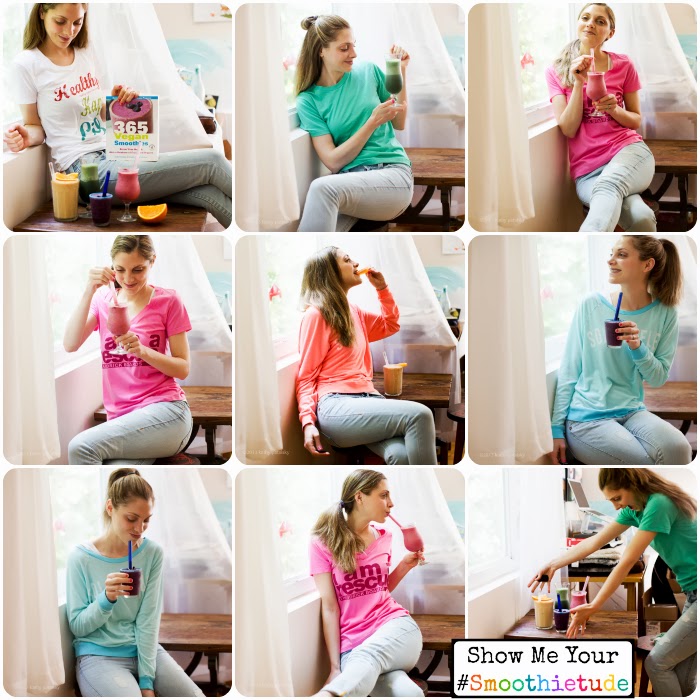 I cannot wait to see your smoothietude! 🙂
RULES, REGULATIONS & DISCLOSURE:
* Contest and giveaway open to USA and CANADA only. (for shipping reasons)
* You must respond to claim your prize(s) within 14 days or prize will be forfeited.
* HHL is not responsible for lost entries or communication errors upon prize notification.
* This contest/giveaway is hosted by HHL and the prize is sponsored by DOLE Bananas and DOLE Salads – Taste of Spain and Peel the Love. This is not a sponsored post and no fee was retained for this contest. Only prize donation was administered.
* Judging of contest will be based on: creativity, recipe quality (if included) – note only vegan-friendly entries please, photography
* HHL has the right to exclude entries that do not meet the criteria for entry or are inappropriate in any way.
* entry period: May 23-June 23, 2013, midnight PST for contest entries
—-
Want to enter another cool contest? Check out DOLE's Taste of Spain Contest. Want to win a $40,000 trip to Spain? (Ya, me too!!) Well you can enter to win that and a wide array of other prizes on Dole's Taste of Spain page. Taste of Spain game..

I even embraced their "Taste of Spain" inspiration by blending up a Sangria Smoothie! Check out my sangria smoothie recipe below.
Spain-inspired smoothie.. Sangria Smoothie Mocktail – recipe..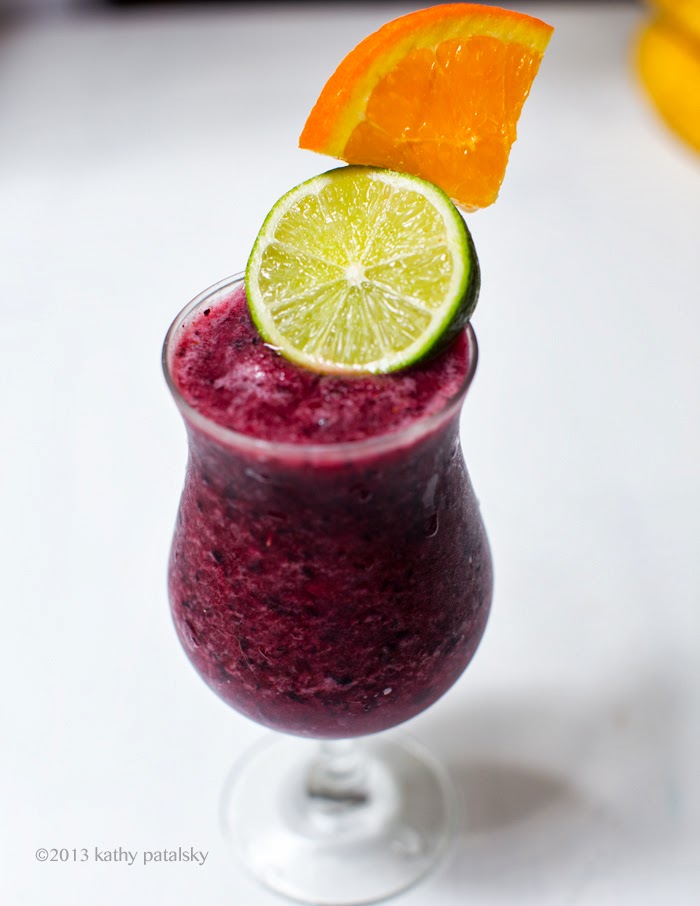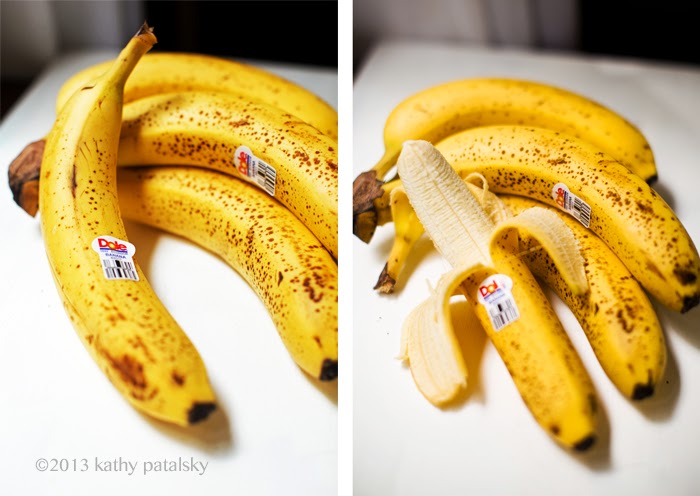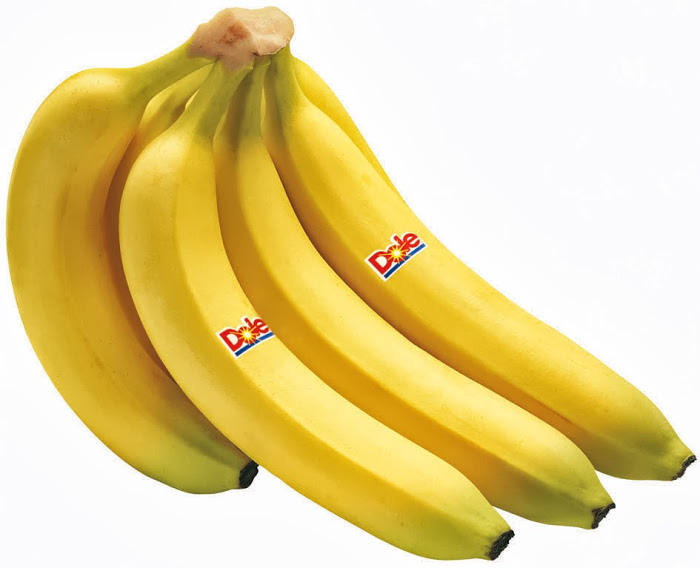 Also check out how to stock your smoothie kitchen: 10 Things Every Smoothie Lover Needs in their Kitchen And be sure to pre-order 365 Vegan Smoothies so you will be one of the first to receive it!