On the ninth day of Vegan Treats, my true love gave to me, nine Snowflakes Dancing,
Eight Snowman Crispies,
Seven Flutes of Cinnamon,
Six Soy Nogs swirling,
Five Gol-den Fuyus,
Four Coconut Snowballs,
Three French Toasts,
Two Cups of Cocoa,
and a North Pole Peppermint Chai (just for me.)
Spelt Sugar Cookies. With Cashew Cream Frosting. The taste is sweet. The memories are sweeter. Get the recipe…



Taste: Sweet. Memories: Sweeter. Sugar cookies are a nostalgic treat for most people. It was a family affair for me. My sister and I spun around our house in delight on sugar cookie day each winter season. I remember rolling out a big pile of creamy white dough – sometimes freshly made and sometimes from an easy open tube (a la Pillsbury). We sprinkled flour around the kitchen, on the floor, the counters, on the tips of our fingers and even a pinch for my sisters nose to match the dusty specks caught up in her hazelnut hair. The more flour, the easier it was to roll out those tricky mounds of crumbly dough. The more we rolled, the soggier the dough would get, but we somehow managed.
We'd then start stamping out stars, hearts, candy canes, santas, Christmas trees, gingerbread men, wreaths and more. Decorating the cookies was always the sunniest part of the activity. We gathered our colored sprinkles, tubs of frosting, crunchy silver balls, white sugar bits and bowls of colored sugar. Like santas elves we'd attack the cookies. We couldn't wait to get our hands on those fresh from the oven cookies, still warm, the frosting always melted over the edges. We'd giggle and gawk at eachothers disfigured candy canes, morphed reindeer or quite unperfect green-sprinkled trees. Then we'd munch on the cookies until we plopped over in a heaping sugar crash. Not exactly the healthiest of memories, but there's joy, heart and goodness in there if you look deep enough.

Sugar Cookies 2010. It's not easy to make 'sugar' cookies perfectly healthy. Inherent in the name, is the presence of a good amount of sugar. I've tried low-sugar recipes in the past, and while they turn out fine, there's just something nostalgic about a classic sweet sugar cookie (with a few necessary vegan changes and updates here and there of coarse). Changes: spelt flour instead of white. Vegan sugars and butter are used. Vegan decorations and frosting. Animal product free cookies. These cookies are sweetly satisfying for that once-a-year sugar high craving.
Spelt Flour. I'm a big fan of spelt flour. I love it in pizza crusts and biscuits. It is also known for being more tolerable by gluten-sensitive folks. I love its nutty flavor and hearty texture. Similar to whole wheat flour, it has 4 grams of fiber and 4 grams of protein per ¼ cup. I love whole wheat flour, but just like my proteins and veggies, I like to diversify my grains. I used to feel like I'd go into soy protein, baby carrot, bagged spinach and whole wheat grain overload – then I started choosing a wider range of proteins (pea, hemp, grain, etc.) veggies (kale, arugula, sprouts, so many more) and a wider range of grains (wheat, spelt, corn, oat, quinoa, etc.) You get the idea: diversity is good.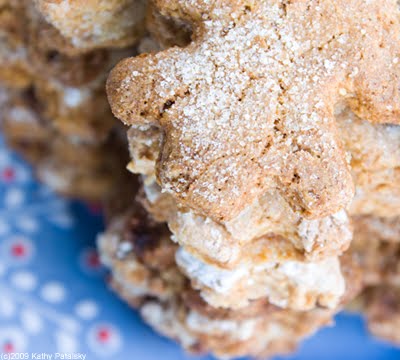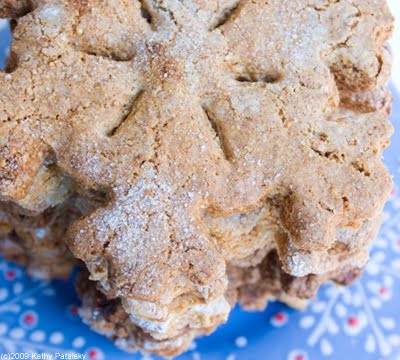 Spelt Sugar Cookies w/ Cashew Cream Frosting
vegan, makes 9 extra large snowflakes
dry:
3 ½ cups spelt flour
*I used Bob's Red Mill
1 cup cashew meal, from raw cashews
¾ teaspoon salt
1 teaspoon baking powder
wet:
1 teaspoon vanilla
5 tablespoon soy milk
1 cup vegan sugar
4 tablespoon vegan buttery spread
Frosting
1 cup powdered sugar
1 cup raw cashews
2 tablespoon maple syrup
2 tablespoon vegan buttery spread
6 oz. cream cheese (soy-based)
¼ teaspoon vanilla extract
¼ teaspoon apple cider vinegar
¾ teaspoon salt
Topping: Cashew Cream Frosting (recipe above), colored sugar (from natural plant sources), sprinkled white sugar, powdered sugar.
Directions:
1. In a large mixing bowl, mix all your dry cookie ingredients. Set aside.
2. Chop 1 cup of raw cashews in a food processor. I use a mini food-chopper.
3. Add your wet ingredients to the mini chop with the cashews. Blend on medium until smooth and wet.
4. Add your wet mix to the dry mix. Stir and fold by hand until well blended. You should have a nice sticky ball. I then part my dough into two balls. Add as much flour as you need to be able to properly handle the dough into a nice ball. Wrap both dough balls in wax paper or place in a lightly greased bowl. Place in fridge and allow to firm up for at least 1-2 hours (or until chilled enough to be rolled out – the freezer can speed up this chilling process).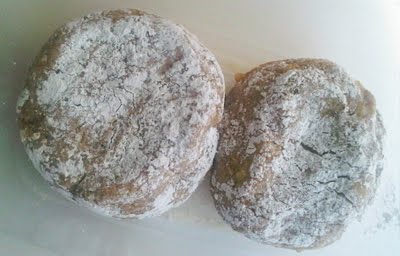 5. Make your frosting by combining all the ingredients in a food processor. Store in the fridge until ready to be used. At least 1-2 hours of 'cooling and firming' is ideal.
6. Back to the cookies: Roll out your dough on a surface with a ratio of 2 parts flour, 1 part powdered sugar. Since this dough is so delicate, and I was making such large cookies, I actually hand pressed out the dough (using my snowflake cookie cutter) for about 2 cookies at time. Use whatever process works best for you. Note: I actually used a pancake mold from Crate and Barrel, snowflake shape. Loved it. Makes pretty pancakes too.
7. Lay your cookies on a wax paper lined baking sheet. Bake in a 375 degree pre-heated oven for 15-20 minutes. *Smaller cookies will take less time. Bake until edges brown. Cookies will harden after cooling.
8. Now the fun begins! Pull out your frosting, sprinkles, sugar, crushed candy canes, choco chips, whatever you'd like to fuel your yearly sugar-cookie-sugar-high with. Decorate and plate. These cookies should be stored in the fridge or freezer.
Sugar cookie highs are best suited to weekends and snow days when you can fully enjoy your sweet treat.
Special Delivery Snowflakes. These oversized snowflakes would make a beautiful gift for friends and family. Wrap in cellophane and tie with a pretty ribbon. You know you've seen Whole Foods selling frosted holiday sugar cookies for $5 a pop, so break out the tools and craft your own sugar cookies with some homemade love you certainly can't buy in a store.