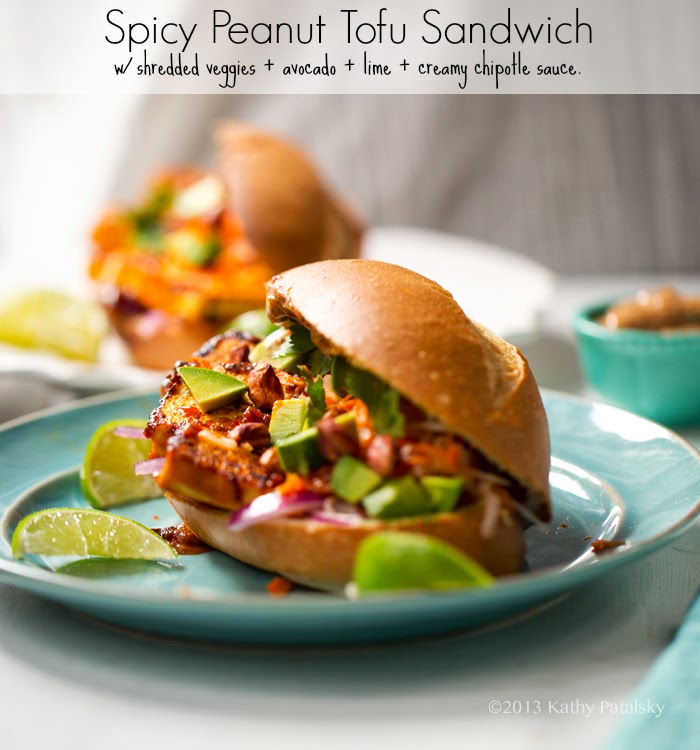 This Spicy Peanut Tofu Sandwich reminds me of a "bánh mì" Vietnamese sandwich due to the crunchy shredded veggies mingling with fresh cilantro all served on a hearty baguette style, long sandwich roll. But really, this protein-infused recipe has an identity all its own.
Entree Sandwich. Spicy sauteed rectangles of firm tofu have been smothered in my spicy peanut sauce. Crispy browned edges and spicy, nutty peanut flavor in each bite. The bold and flavorful tofu is layered inside a toasty warm sandwich roll along with some lime-infused shredded carrot and daikon, a chipotle vegan mayo sauce, crunchy peanuts, fresh cilantro and some buttery avocado cubes as well. This sandwich is a meal! Easy to make and ready in under 20 minutes.
And if you think tofu isn't for you, check out some encouraging tofu facts and insight. Plus get my tips for vegan nutrition success!..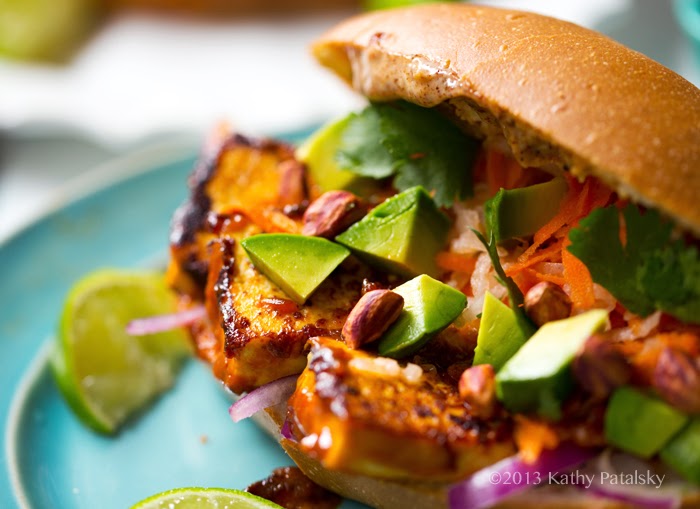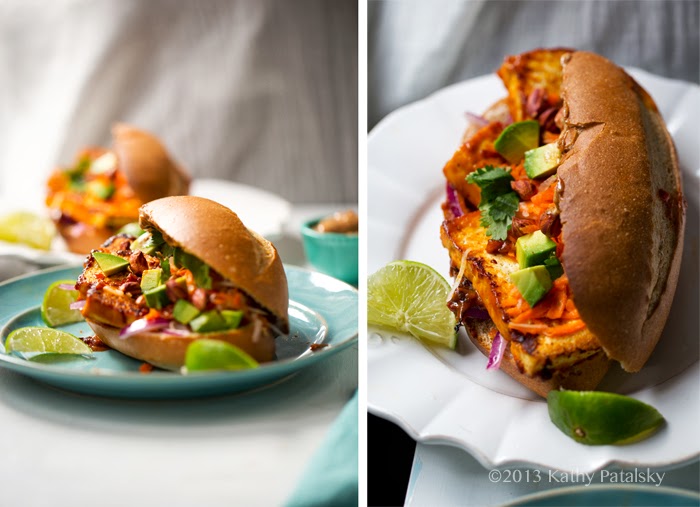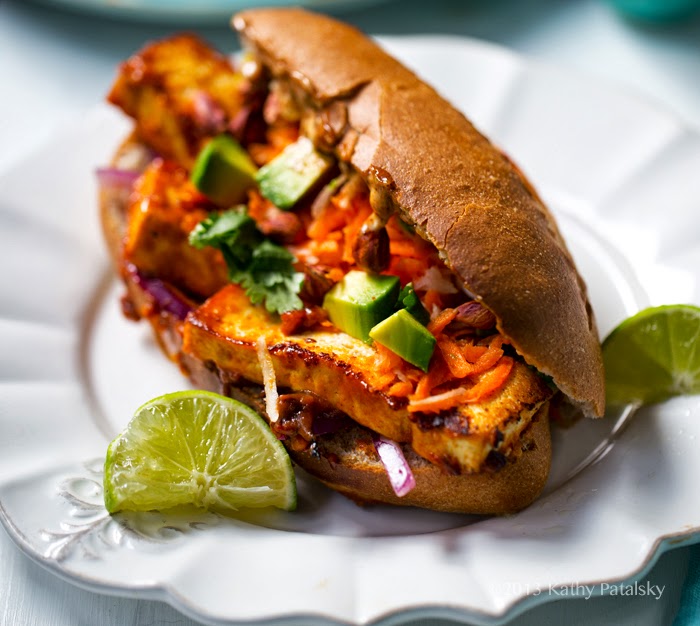 Reading Notes. I just picked up a copy of Ginny Messina's "Vegan for Her" book. Ginny is also known as The Vegan RD. The book, I love it! Some great nutrition advice for women who are either already vegan or are considering making the leap to veganism.
Like Sailor Brinkley! Yay for vegan pride + newbie tweets..
Officially full vegan. Waiting for my congratulations from @peta— Sailor Brinkley Cook (@sbrinkleycook) August 6, 2013
Vegan Nutrition for Newbies. But if you make that big leap you have to do your homework. You have to read up on plant-based nutrition and know exactly what the pitfalls may be when switching over to a vegan diet. Things like vitamin D and vitamin B12. (Personally I have tested deficient in vitamin D in the past but never for B12. But since carefully supplementing my vitamin D I have been at healthy levels in my blood work.)
And while supplements are helpful and even necessary at times, there is really no substitution for including healthy whole foods in your diet. So don't slack on nutrition just because you take a multi-vitamin. Uncertain about your levels? Only a doctor has the tools to tell you if you need specific supplementation. Communicate with your doctor or other health care provider that you are vegan (be bold. be proud. do not hide it!) and he or she will be able to add certain tests to your blood work – like vitamin D and b12.
..(And if your doctor gives you crap about being vegan, tell him or her to go to this summit: The Plant-Based Nutrition Healthcare Summit! Dr Neal Barnard will clue them in.) 🙂
To experience the full nutritional benefits of a vegan diet you really do have to pay attention and include legumes, healthy fats, diverse whole grains, fruits, veggies, leafy greens and seeds in your diet. Nutritionally lazy veganism will only get you so far, and probably lead you to feel like crap. I know, because I was there for my first few years. I dove into "vegan" without a trusty go-to nutrition guide. Though I had a lot of nutrition knowledge from school, I still found myself blindly crafting my diet, hoping that it all worked out. My busy college student lifestyle caught up to me and I found myself not including as many diverse whole foods in my diet as I do now. I couldn't possibly figure out why I was falling asleep in class, had an endless feeling of exhaustion and couldn't keep on any muscle mass .. all while I was surviving on vegan snack and frozen foods, modified take-out salads and sandwiches, some fruit, soy lattes and quickie breakfast microwaved oatmeal. No time to cook, meant convenience foods and take-out were king. Hmmm… Hindsight is crystal clear!
The difference in the way I feel now is like night and day.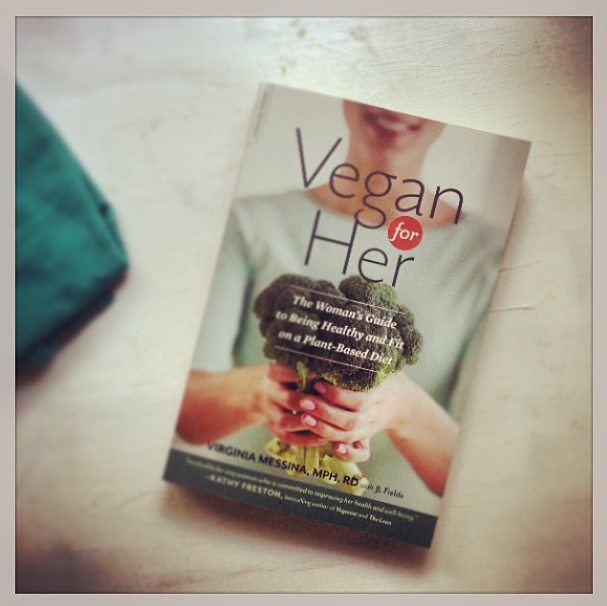 Easy starting point -> if you want some hardcore nutrition advice in the palm of your hand, Ginny's new book is a great resource.: Vegan for Her! JL Fields also contributes. Guys (and girls), you may want to pick up Vegan for Life by Jack Norris with Ginny Messina. And of course my favorite book Marilu Henner's Total Health Makeover, which I've chatted about a lot lately.
And since today's recipe includes tofu, lets chat about that, yes?
To Tofu or Not Tofu? Soy has received some negative press in the last few years and I'm guessing that a few of you reading this have scaled back your "soy" intake and now reach for alternatives like homemade almond milk instead. Diversity is great and I too adore my almond milk! But personally, I still love certain soy foods. Creamy soymilk is still my favorite for foamy coffee beverages like lattes, and soymilk works great in smoothies too. -> I embrace (non-gmo organic) soymilk, organic tofu, tempeh, miso, tamari/soy sauce and edamame beans. I avoid highly processed soy products like faux soy "meats" and soy "fillers" like soy protein isolate, soy lecithin and soybean oil.
Some soy articles if you are curious to learn more: Zen Habits on soy studies and their link to The Weston Price Foundation — Experts: Dr. Barnard, Dr. Weil, Dr Fuhrman
In Ginny's book, I learned some excellent info on soy as she chats about how to include it as part of a healthy diet. One new fact I learned: tofu is an excellent source of tryptophan.
Ginny writes in her chapter called "Feeling Good: Managing Stress and Depression" -> "Tryptophan is an essential amino acid that is needed to make the neurotransmitter serotonin, and low levels of serotonin might help relieve depression – or at least that getting too little of this amino acid could make depression worse." … "While it is true that meat is higher in tryptophan than plants, a well-balanced vegan diet is almost guaranteed to provide more than enough.."
Then on the next page she shows a chart with levels of tryptophan in common vegan foods. Number one: Tofu!
Vegan Foods Rich in Tryptophan
(Women require 300-400mg of tryptophan daily)
*via chart from pg 222 in Vegan for Her
Tofu (½ cup) = 155mg tryptophan
Oatmeal (½ cup cooked) = 118mg
Soymilk (1 cup) = 105mg
Beans (½ cup cooked) = 70-90mg
Baked Potato = 80mg
Peanut Butter (2 Tbsp) = 80mg
So.. My spicy peanut tofu sandwich includes a nice dose of serotonin-promoting tryptophan. Who needs "turkey" (the classic tryptophan-infused meat food) when you can enjoy tofu and peanut butter? So now that you are extra excited about peanut butter and tofu, lets get to this sandwich!..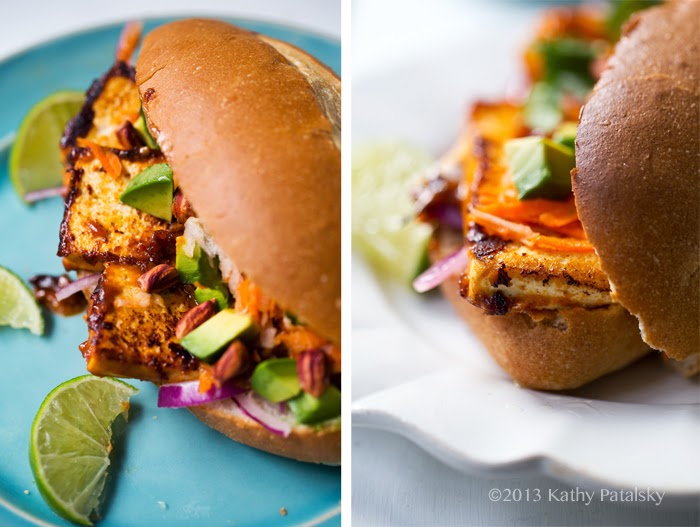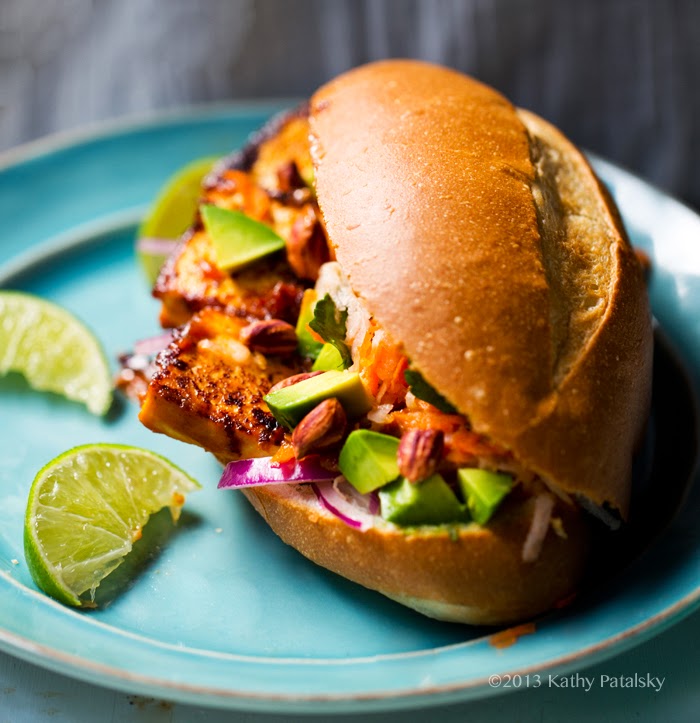 Spicy Peanut Tofu Sandwich
vegan, makes 3 sandwiches
Tofu:
Tofu: 12oz, sliced and pressed
Spicy Peanut Sauce:
3 tablespoon peanut butter, creamy/organic
2 tablespoon tamari (or soy sauce)
3 tablespoon fresh lime juice (or sub with apple cider vinegar)
1 ½ tablespoon vegetable oil (safflower or peanut)
3 teaspoon agave syrup (or brown rice syrup)
spices:
½ teaspoon ginger powder
¼ teaspoon garlic powder (or 1 clove, finely chopped)
pinch of hot curry powder
pinch of cayenne
pinch of crushed red chili flakes
pinch of fresh lime zest
*add more cayenne, curry powder and red chili flakes for more heat
optional: to give your peanut sauce a more BBQ sauce-ish flavor, substitute 1 tablespoon of tomato paste for 1 tablespoon peanut butter)
Sandwiches:
3 long sandwich rolls or slice a baguette into three sections – whole grain or nutty, rustic grain blends work best
*Bread – You can really use any variety of bread or a roll. Sprouted grain hamburger or hot dog buns would be quite nice – or rustic whole grain crusty bread sliced thickly would work too.
2-3 tablespoon vegetable oil (for tofu saute pan)
2 limes (1 juiced – 1 for presentation, sliced)
Sandwich Toppings:
1 avocado, diced and tossed in lime juice
½ cup shredded daikon + ½ cup shredded carrot tossed in lime juice and a pinch of salt/pepper
3 pinches of fresh cilantro (chopped or whole leaf sprigs)
3 teaspoon peanuts or crushed peanuts (I used raw peanuts)
Spicy Chipotle Mayo Sauce:
3 tablespoon vegan mayo (Vegenaise)
1 teaspoon agave syrup
½ – 1 teaspoon chipotle powder
Directions:
1. Warm your oven to 350 and place your rolls or sliced baguettes in the oven to toast and warm for about 5-8 minutes. When they look toasty and crisp on the outside you can turn off the oven and let them sit in the warm oven until needed.
2. Whisk together your peanut sauce. You can also blend in a vitamix of food processor for a creamier texture.
3. Grab your block of tofu and press it out with a tofu press or a handful or paper towels. Slice the tofu into about eight rectangle slices. Again, gently press these slices out with some paper towels to dry them – removing excess water and surface water. This helps the peanut sauce absorb into the tofu.
4. Turn your stove to high and warm a large skillet. Add one to two teaspoons of vegetable oil. When the oil is hot, add the tofu slices. Saute until browned on both side.
5. Lower the heat of the stove to medium and add your peanut sauce. Add about 1 heaping tablespoon of sauce for each slice of tofu. You can flip the tofu if you'd like or simply allow for one side to be coated in sauce. The peanut content in the sauce makes the sauce burn and brown very quickly, so be aware that the tofu will only need a few minutes until the sauce starts to thicken and brown on the tofu.
6. Turn off the heat and allow the tofu to sit in the pan until needed. Scrape the sides of the pan if there is peanut sauce turning dark brown. Moving it around will help prevent burning.
7. Grate your daikon and carrots and toss the shredded veggies with a squeeze of lime juice and some salt and pepper. Set aside.
8. Whisk together your chipotle mayo.
9. Prep your avocado by cubing or slicing and tossing in lime juice. Add a pinch of salt or chili salt if desired.
10. Start assembly: Slice open your bread and slather chipotle mayo inside. Then add your tofu. Three tofu rectangles per sandwich should do it. The add a handful of shredded veggies, a few avocado cubes, some fresh cilantro and crushed or whole peanuts.
Serve while warm with fresh lime wedges. Note: If you are not serving right away you will want to toast your bread a bit differently to prevent it from getting soggy. Slice your bread open before toasting so that both the inside and outside of the bread gets crispy.