This post is sponsored by House Foods Tofu.
Hello from the airport! I am waiting to board a flight to usher me home after a long, super adventure-filled weekend in Northern California. I can't wait to share it with you in an upcoming post!
But for now I am swooning over this recipe I whipped up for a Spicy Southwest Tofu Quinoa Bowl with Medjool Date Lime Dressing. This go-to meal bowl has everything you could ever want. Delicious crispy, sassy-sweet cubes of protein-rich tofu, plenty of luscious greens, spicy accents and protein-rich hearty, cozy quinoa too. The citrus-sweet dressing is so good too! Light and vibrant. Try this for your next salad craving meal!..
This Arizona-inspired, spicy southwest bowl contains flavorful cubes of extra-firm tofu and a sassy-sweet Medjool date and lime dressing. Veggies like spinach and bell pepper accent. Buttery cubes of avocado on top. Flavorful meal bowl for lunch or dinner.

My '50 Plates of Tofu' Posts so far:
– California Avocado Toast
– Southwest Tofu Burrito with Avocado
– Creamy Cashew Tofu Pot Pie
– Gooey Butter Cake
– Cherry Tofu Parfaits
Also follow along on the House Foods Facebook Page.
disclosure: this post is sponsored by House Foods Tofu's 50 Plates Series, but all opinions are my own.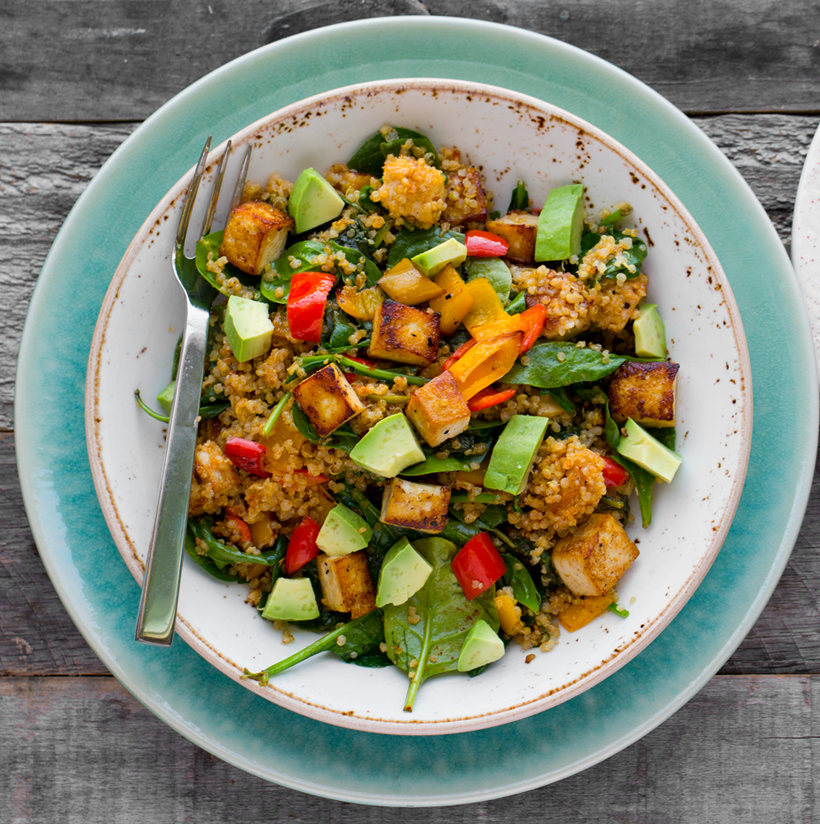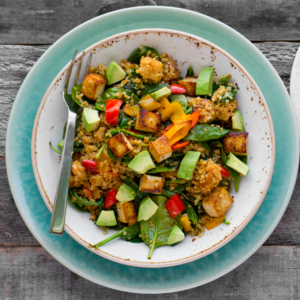 Spicy Southwest Tofu Quinoa Bowl with Medjool Date Lime Dressing
These flavorful vegan meal bowls contain southwest-inspired ingredients, protein-packed tofu and quinoa too. 
Print
Pin
Ingredients
Quinoa:
1 cup dry quinoa

2 cups water

pinch of salt
Skillet:
1 small red or orange bell pepper, seeds removed and chopped

4 cups baby spinach
Also:
½ – 1 avocado, diced


hot sauce (optional)
Tofu Cubes:
1 package. House Foods Tofu, extra-firm


1 ½ tablespoon tamari 


1 ½ tablespoon maple syrup


⅛ teaspoon smoky paprika



Salt and pepper to taste



Tiny pinch of cayenne (optional)
Dressing:
4 Medjool Dates, pitted


¼ cup fresh lime juice

3 tablespoon extra virgin olive oil


⅛ teaspoon cayenne


¼ teaspoon sea salt

Additional extra virgin olive oil for pan
Instructions
At least an hour before you make the dish you want to marinate the tofu. Remove the tofu from package and wrap it in a paper towel or clean dish towel. Gently squeeze tofu to remove any excess liquid. Unwrap tofu and slice into small cubes. Place the cubes in a shallow dish and pour the tamari and maple syrup over top. Toss the tofu around a bit to coat all the sides. Cover dish and place in the fridge to marinate for at least an hour – longer is even better.



Prepare your quinoa. Add 2 cups of water to a large pot. Add the dry quinoa. Add a pinch of salt. Bring the mixture to a bowl, then cover with a lid and reduce heat to low. Allow to simmer on low for 20 minutes. At the 20 minute mark, turn off heat but do not remove lid. Just allow the quinoa to sit and fluff in the steam for at least five minutes, then you can finally remove lid and fluff with a fork or spatula. 
Optional: add a pitch of lime zest to the quinoa.

Prepare your dressing: Remove pits from dates and soak them in warm water for about two minutes. Drain water and add dates to blender. Add the lime juice, oil, salt and cayenne. Blend the ingredients until smooth, yet still a bit textured. For a thinner dressing, or if your dates were still a bit dry, add a splash of water to thin things out.



Skillet: Warm a large skillet over high heat. Add 1-2 teaspoons of extra virgin olive oil. When oil is hot, add your pre-marinated tofu cubes. If there is any marinade liquid left you can add this over top, just be careful to watch for splattering. Toss tofu a bit and cook for 2-3 minutes and flip the tofu again. You want the edges to start to caramelize and become light brown in color. When you tofu is just about done, taste one cube and add salt and pepper to taste. Finally, add the smoky paprika and optional cayenne to the tofu and toss gently.

Using a spatula, remove tofu from skillet and set aside in a bowl. Turn stove to medium and in the same skillet, add the bell pepper. Saute for 2 minutes, or until tender. Add the quinoa to skillet. The bell pepper and quinoa will soak up the excess oil from the tofu. Toss together. Lastly, add the spinach to the pan. Fold gently with a spatula. Turn off the heat and allow the spinach to very lightly wilt with the hot ingredients.



Add all the skillet ingredients and the tofu to a large mixing bowl. Add 1-2 tablespoon of the dressing and mix well.

Pour the mixture into serving bowls. Add the fresh avocado on top. Add additional dressing if desired. Serve warm! For extra spiciness, add a drizzle of hot sauce on top.